How many different types of wallets for men are there?
There's been a lot of talk about how much is moving to digital, but you wouldn't know it from the sheer range of wallets now available.
Below, we'll look at different wallet types across style, material and overall function. One thing you'll notice is that wallets seem to be getting smaller and much more unique.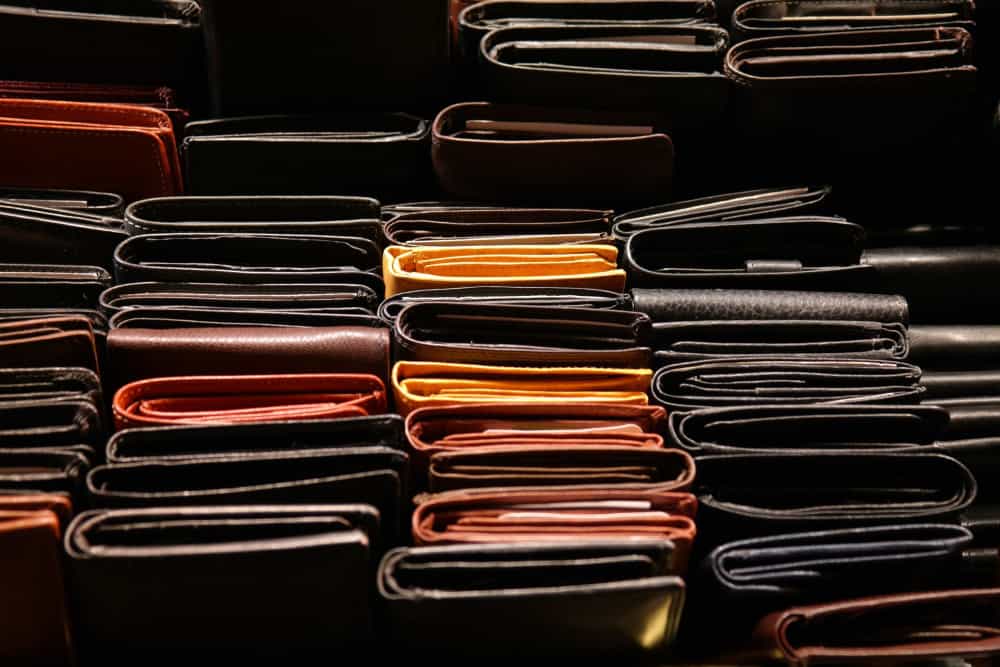 The range of different wallet styles available to the modern man is huge. It's debatable if wallets were ever a purely functional device, they've always been seen as a signifier of status and personality, which is why expensive wallets have always been a thing.
This trend has exploded in recent years however, and the wallet is now firmly fixed as a style and fashion accessory that makes a statement about its owner.
---
Types of Wallets
Let's start by looking at the major wallet design choices. Pretty much every wallet will fall into one of these main types (even these amazing, unique choices).
Here are the 9 most commonly used wallets in the world.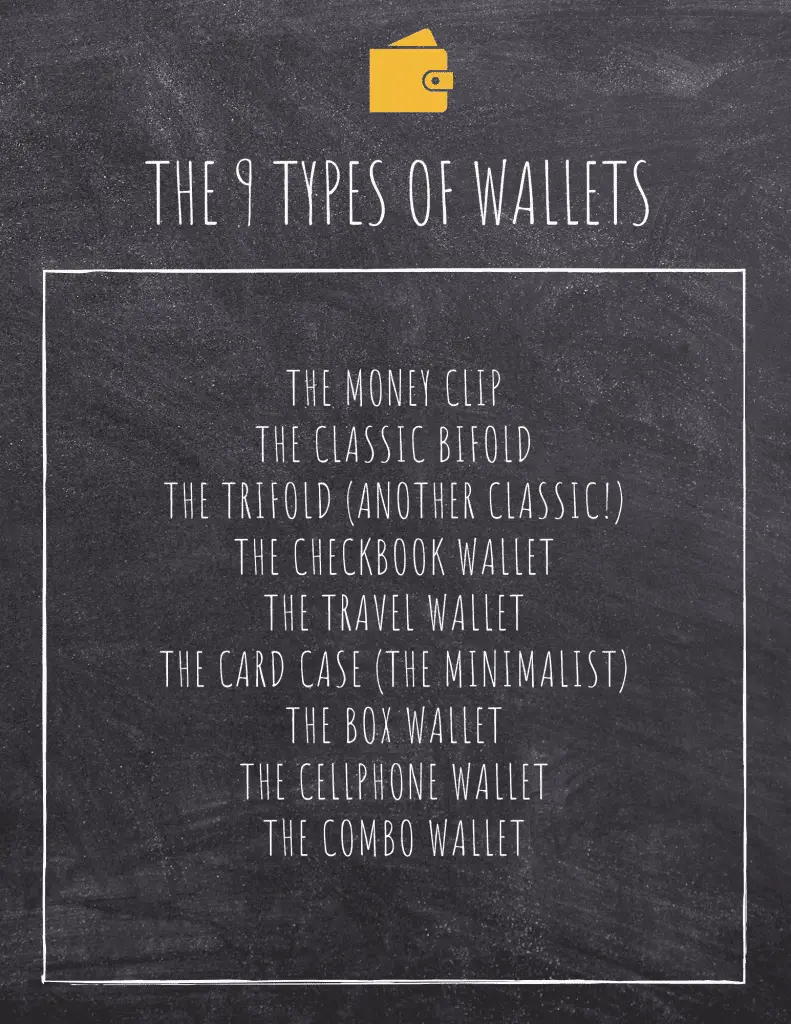 The Money Clip
The money clip can trace its origins back to ancient Mesopotamia. 
Yes, we were shocked to find this out too.  The clips were used by traders to keep all of their papers in place when they traded or sold their product(s).  Similar applications have been found in early Japanese history as well.
The "modern" money clip didn't really see adoption in the US until the early 20th century.  Paper money was in wide circulation at this point and the money clip was a great way to keep all of those bills organized.
The clips were typically fashioned out of fine metals, such as gold or silver.  As such, the money clip turned into a status symbol for the men carrying them.  They had enough disposable income to spend money on their money carrier.
Nowadays, the money clip is often overlooked.  It's simple, yet refined.  Durable, yet classy.  Material wise, money clips are still made from the finer metals, such as gold and silver, but a lot more are made out of things like steel, aluminum or titanium.  We've even seen some really cool money clips made from carbon fiber. 
The things that all of the materials above have in common – strength, weight and aesthetics.
The money clip is the best choice if you…
Carry a lot of cash
Travel often and need to tip frequently
Are nostalgic and like the finer things in life
Another common take on the money clip is to integrate it with a card case or bifold (see below)…and get the best of both worlds.
---
The Bifold Wallet
The bifold is a classic design. As the name implies, these have two sections, with a single fold down the middle. Banknotes will be folded once, and both sections usually have card holders or possibly coin pockets.
These wallets are about as diverse as they come. There are some that can hold 15-20 cards, plus cash.  Others, however have a much smaller footprint and are better suited for 8-10 cards, plus bills.  Some bifolds are tall, while others have a shorter height profile.
The bifold is the best choice if you…
Like a traditional wallet, but want a slimmer option than a trifold
Carry a good mixture of cash and cards
Are looking for a ton of options to choose from
The bifold is definitely traditional, but we've seen some really cool takes on it lately.  Bellroy has some great bifold options, such as the Slim Sleeve and Note Sleeve.  You can still go the traditional route with a bifold that will handle cash, cards and receipts, but we recommend really slimming it out and thinking about what you need.
Is a Long Wallet a unique wallet type?
Ah, we had some debates on this one. Ultimately a long wallet is almost always a bifold, so for our purposes here we will say the long wallet is a special case of the bifold that is vertical, hence allowing notes not to be folded. It's not a separate category.
And we are prepared to arm wrestle anyone who argues otherwise.
We think that server books fall into the same long-wallet category, as do wallets with notepads.
OK, how about the Chain Wallet then?
Wallets that include chains give the wearer an edge, as well as keep their wallet secure.  They're actually really practical if you ride a motorcycle.  Think about it, who wants to be riding down the road on a bike and wondering if your wallet is still in your pocket? 
A quick glance through them though, and it's clear that the chain wallet is always a bifold or trifold, just with a chain. So again, we'll call that a sub-type, not one of the main types.
---
The Trifold Wallet
The trifold of course, has three equally-sized sections, with two folds bringing the two outer pieces into the center. Cash gets folded at two points, and each of the three sections will typically have spaces for cards.
A classic wallet to be certain, the trifold wallet has been around since at least the late 1970s.  Credit cards were in full swing at that point and people starting to carry more and more of them.  The appeal of the trifold is that it allows you to carry cash (full length), but when folded over twice, the wallet has a narrower width.
The problem?  You're folding leather twice and no matter what way you look at it, you're going to increase the bulk. The width may be narrowed, but by the Law of Conservation of Wallet Space (OK, we just made that up) the depth naturally increases.
Trifolds lend them themselves to people stuffing their wallets.  Although there's a wallet for everyone, we usually recommend guys stay away from a trifold option simply because it's too bulky.
The trifold wallet is the best choice if you…
Have to carry a lot of cards, cash and receipts
Don't mind having a bulky wallet
Wish that your last name was Costanza
---
Checkbook Wallet
We may use our phones for most things, but we still use checks now and then. In fact, there are still times when a check is really the only viable option.  How many times have you needed a check, but just didn't have them with you?
A checkbook wallet resembles a long, bifold wallet, but has a specific purpose, namely the protection of the checkbook inside. Some even have pen holders.
It's likely that the number of people who regularly need to have a checkbook with them is probably going to keep dropping as more and more digital options are used. If we had to pick the "most endanged" type of wallet, this would probably be the one.
---
The Travel Wallet
This is really a "secondary" wallet.  That said, more and more people are using them, so we decided to include them on this list.  Travel wallets are just what they sound like…wallets for travel. 
Typically, this will involve some sort of international travel that requires a passport, otherwise they would just be … a wallet.
Our standard wallets are not designed to incorporate a passport because they'd be way too big.  Some travelers opt for a passport case and while those are fine, you still end up needing to carry two wallets. 
This is where the travel wallet comes in to play.  It basically allows you to carry your passport alongside your credit cards, ID, etc..  It's a true "multi-function" wallet. 
We definitely recommend looking at these if you're doing to be doing any sort of travel that requires a passport.  It's not something that you need every day, but when you do…they're really nice to have.
The travel wallet is the best choice if you…
Travel internationally at least once a year
Are tired of carrying two wallets when you travel
---
The Card Case, or Minimalist Wallet
The card case is one of the first takes on a slim or minimalist wallet.  We saw them as early as the 1980s, although they were not very common at that time.
The concept is simple. It's roughly the size of your credit or debit card, and has card pockets sewn in to both sides (usually). It can accommodate cash, but it's definitely not the money clip.  Bills can be folded in half twice and tucked neatly inside the middle pocket.
It's a great concept for a wallet and paved the way for many of the innovative wallets we see today.
The card case is the best choice if you…
Rarely carry cash or bills
Wear slacks to work (lightweight)
Only use about 3-5 cards
The card case is a great choice for guys looking for something suitable for a few cards (usually less than 4-5), but not This trend towards minimalism is likely to continue as more and more functions move to our phones, although we are confident the wallet is here to stay in one form or another.
---
The Box Wallet
A box wallet is a simple concept that builds on the idea of the card case by encasing it in a sturdy frame, typically metal or carbon fiber.
Ridge was one of the first, with their take on a slim, metal card case.  It was the first aluminum modular wallet in production and was well received.  They continued to innovate and brought along new materials such as carbon fiber and titanium, as well as a ton of new colors.
Many companies have followed in this path, adding new twists such as the ejector wallet (where a mechanism 'fans' out the cards for easy access). (See Ekster for a good example of this style.)
The point is this: designers have started to rethink the way that we carry. 
Wallets are now looked at as a fashion statement, an accessory, or a cool gadget, rather than just a functional item. Designers are thinking well beyond the traditional image of an elegant leather wallet as a signifier of power and status. 
You'll definitely see elements of all wallets mentioned above in the box wallet style, but they've incorporated them in a way to make them unique and overall "fun" to carry.
The box wallet is the best choice if you…
Carry a few cards, but not much cash
Like to try new things
Enjoy quality products
Have embraced carrying less
Have an interest in style
---
Cellphone Wallets
OK, technically these might be considered a version of the minimalist wallet, but given the way these wallets are used is so different to the traditional pocket storage, we felt this was becoming a new category in its own right. Cellphone wallets fall into two main categories:
Wallets that attach to a phone
These wallets are detachable from the phone or phone case, and are best used as a temporary carry device (for example, heading out to grab some lunch with a single credit card and your work ID badge). There's a little more risk of losing this sort of wallet, so we would not use it as a full-time replacement for a wallet.
Stick-on: These wallets were at one point very popular branded merchandise items – we got a bunch at them at various conferences. These literally use a gum-like material to adhere to the phone or phone case. iPhones now often come with a MagSafe point which allows a strong magnetic connection to hold a wallet to the phone
Detachable: these come in two parts. First, an anchor point that adheres very strongly to the phone or phone case, and second, a detachable wallet that fits onto this anchor point. PopSockets for instance does a version we like a lot that is swappable – you can attach different wallets or grips and change the look of your phone.
Wallets that are an integral part of a cellphone case
These look a little more like a traditional bifold at first (albeit a bit thicker). The case itself is typically in two parts, the main cover for the phone and a cover that folds over the screen. This does provide some extra protection for the screen itself, which is a nice bonus.
As these are an integral part of the phone, they are much less likely drop off and get lost, and so are a better option for those looking to use as a regular carry.
There are obvious risks associated with this of course, namely that if you lose your phone you've lost your cards as well, which makes it that much more urgent that you call your bank and cancel all the cards that were with your phone.
We're more inclined to carry a separate, minimalist wallet in a separate pocket to the phone to reduce the risk of suddenly having nothing. This is why we believe wallets will never be obsolete.
---
The Combo Wallet
Finally, a popular option that made its way into the mainstream is the combo wallet.  Now, what exactly are we talking about here?  This type of wallet is one that combines two of the styles above to meet the needs of the gent who needs a bit more out of his wallet, or just wants something different.
We typically see the money clip combined with either the card case or the bifold.
When the money clip is combined with the card case, the result is a slim profile wallet that can handle cash if needed.  If you carry cash (even occasionally) the card case might be off limits for you.  If you add in a nice money clip on one side, you now have the option to carry 5-10 bills comfortably.
The same can be said when carrying a bifold.  Although a bifold is much more accommodating to cash, it's still not as "easy access" as a money clip.  The solution?  Attach a money clip to the wallet.
The combo wallet is the best choice if you…
Want flexibility
Don't always carry cash, but do often enough
Still desire a slim wallet
---
Materials
OK, so we've explored the different types of men's wallets. Now let's move on and look at the range of possible materials.
Leather
Leather is obviously the most traditional material when it comes to wallets.  Have you ever wondered why?  It's malleable yet durable.  It's relatively lightweight and ages gracefully if you know what quality leather looks like.  If you don't, read this helpful leather guide.
Metal
Metal wallets started becoming popular around 2012/2013. If you would've told us this twenty years ago we might have laughed. 
At first glance, metal doesn't seem like a great material to construct a wallet mainly because it's rigid.  Well, that's actually what makes it great. 
You see, around this same time, folks starting to minimize their wallets and carry them in their front pockets.  Metal allowed these makers to create a strong wallet that will carry cards, keep them secure…all while minimizing the footprint.  Materials such as aluminum, titanium and steel have all become extremely popular.
Carbon Fiber
Much like the metal that we mentioned above, Carbon Fiber is a surprisingly great choice for a wallet.  It's also super strong, but extremely lightweight.  We have a great review featuring our favorite carbon fiber wallets, but a few of the brands to watch out for are Ridge, Elephant & Fidelo.
Wood
Say what? Yes, there are makers out there that are currently constructing wallets out of wood (take a look at the Fusion 2 for instance). 
We'll be the first to admit that they don't seem exactly "practical". They aren't as tough as metal but they are just as inflexible.  That said, they're really cool and maybe we need to taker a closer look.
Cork wallets are a little different, see the section on vegan wallets below.
Velcro Wallets
Velcro wallets are known for being lightweight, inexpensive, and secure.  They're typically made of various types of canvas or nylon, with velcro as the sealing mechanism.  Although they're great for kids and teenagers, they're also really practical if you carry a lot of change.
Tyvek Wallets
Tyvek is actually the envelope packaging material that shipping companies use so that people can't rip into their shipments.  Well, the same security that it provides for them, it will provide for your wallet.  These types of wallets are desirable because they are a combination of lightweight, ultra slim and virtually tear-proof.
Vegan Wallets
Vegans used to not have any options when it came to wallets.  Leather was the name of the game twenty-odd years ago.  Now, things like metal, Tyvek, and wood are all Corkor making a leather-like substance from the cork tree, other products are made from recycled plastic, pineapple leaves, and of course, lots of companies use PU leather.
Even those who are not necessarily looking for a fully vegan option have been taking a long look at how leather is manufactured, with vegetable-tanned leather growing in popularity as more people become interested in the sustainability of the products they buy.
Duct Tape Wallets
We almost included these above, they are vegan friendly after all.  That said, the duct tape wallet typically has a different type of customer.  They're really suited for guys who like something different and have a DIY type personality. 
We've seen some crazy different takes on this wallet.  The best part?  If you mess up you can roll out some more and start over.
Of course, no matter the material, wallets come in a variety of color choices. For fun, we put together this list of red wallets just to show the range (some think red is a lucky color after all!) 
---
Functions
How well does your wallet suit you? What's in your wallet? Do you carry a lot of cash? Mainly cards? Do you like to keep every receipt? Or just your ID and a card or two?
These are all questions you have to ask yourself when selecting the perfect wallet for yourself. Often times, there isn't one answer…or wallet…that is an ideal fit for every situation.
As men (and women), we have more than one pair of shoes, belt, etc – mostly determined by what we're doing that day. Why not more than one wallet? 
More and more of our readers are electing to own multiple wallets. We started asking ourselves why? Well, we've come to the conclusion that guys and gals have different needs for their wallet…at different times. So why not get a wallet for each situation?
We've narrowed it down to three main areas of consideration when selecting the functionality of your wallet.
What kind of clothes do you normally wear?
What items do you need to have in your wallet?
Daily carry wallet…secondary wallet?
What's your dress code?
The Businessman. If suits and slacks are a staple for you, we suggest getting something slim and lightweight. With wool or cotton pants, too many things in your pocket can really weigh them down. Most of the guys we've talked to like this say they prefer a slim card case, money clip or lightweight front pocket wallet. You may have to ease up on the amount of cash you carry, but overall your suit or slacks will look and feel much better without that bulky wallet weighing them down.
The Casual Friday. If denim is a main part of your wardrobe diet, then you have some flexibility here. Although we always encourage everyone to slim your wallet as much as you can, jeans allow you to carry your wallet front or back pocket – with plenty of support. So, you need to ask yourself what do you really need in your wallet? If the thought of carrying more than 2-3 cards make you cringe, then a slim wallet like the Bankr is an excellent option for you. If you absolutely have to keep plenty of cash and 4 out of 5 receipts, then you might consider the Hide & Seek wallet by Bellroy. From one end of the spectrum to the other, these wallets are both slim and completely functional.
The Beach Bum. If shorts and and flip flops are a daily occurrence, then we'd first like to say congrats. But seriously, you have some things to consider. If you mainly wear shorts without pockets – board shorts or workout shorts – then it might be a good idea to get something smaller and lightweight. Of course these wallets aren't going to have quite as many features, but it's "less wallet" for you to lug around. Maybe a great velcro option?
What do you need in your wallet?
The Minimalist. We feel there are different levels to this category, but we're mainly talking about the Card Case guy or gal here. You've thought about it, and all you really need is your ID, Debit Card…and that's it. You'll never have to worry about that wallet weighing your clothes or taking up all the room in your pocket.
I need some cash. We get it, sometimes you just need to some cash in your pocket. Whether it's for leaving a tip, getting a coke or just for comfort – you like to have actual bills in your pocket. Money Clips or Slim Front Pocket Wallets are both options for you, without weighing you down. You'll need to fold your cash (and not carry a bunch of singles), but you can carry bills and still have a slim wallet.
My wallet is my personal safe. You have several credit cards, health insurance, ID, loyalty cards and business cards. You also have to carry cash and you like to keep receipts. If this is you, you need top get into a full feature, standard bifold wallet. We never recommend a trifold – in our opinion, the trifold is the very essence of the "Costanza Wallet". It can lead to bulky pockets, back problems and an unorganized mess. There are plenty of bifolds that will meet your needs, but not weigh you down.
I like to actually use my wallet in a pinch. This is a situation for a nice tactical wallet.  There are some really cool options that come with paracord, an integrated multi-tool and even a bottle opener.  If you want your wallet to do more than just carry cash then these are definitely for you.
Is this a Secondary wallet?
The Card Case. At The Wallet Shoppe we recommend that everyone has one. It doesn't even have to be your primary, but it will come in handy in a ton of situations. Going to the gym, vacation, ballgame, amusement park for the day? It's nice to have a smaller wallet. It has everything you need for the day/week and nothing you don't. Consider it.
The Travel Wallet. If you've ever used a passport before, or traveled through multiple airports, you know how important it is to keep track of everything. Most standard wallets aren't equipped to handle your passport, tickets, receipts, extra documents, etc… We suggest consolidating the contents of your current wallet with travel documents in a nice Travel Wallet or Passport Sleeve. 
---
Before You Go …
So, there you have it.  The wallets above are the different types of men's wallets that we see most frequently used around the world.  There's not a right or wrong choice for anyone, but as we've shown above, you need to understand the benefits and limitations of each wallet style. 
On that note – one of the biggest developments in recent years has been the rise of minimalist, metal wallets. Check out our next article to find out more!
Metal Wallets – the Pros (And The Cons!)
Related Articles
All product names, logos, brands, and trademarks are the property of their respective owners