Thinking about ditching your overstuffed wallet for an ultra-minimalist approach?
Or maybe you're looking for a great gift for a special occasion? Whatever the case may be, we've compiled a list of our favorite high-end money clips.
Each of these luxury money clips uses quality materials and features innovative and functional designs for optimal organization, durability, and – of course – great style.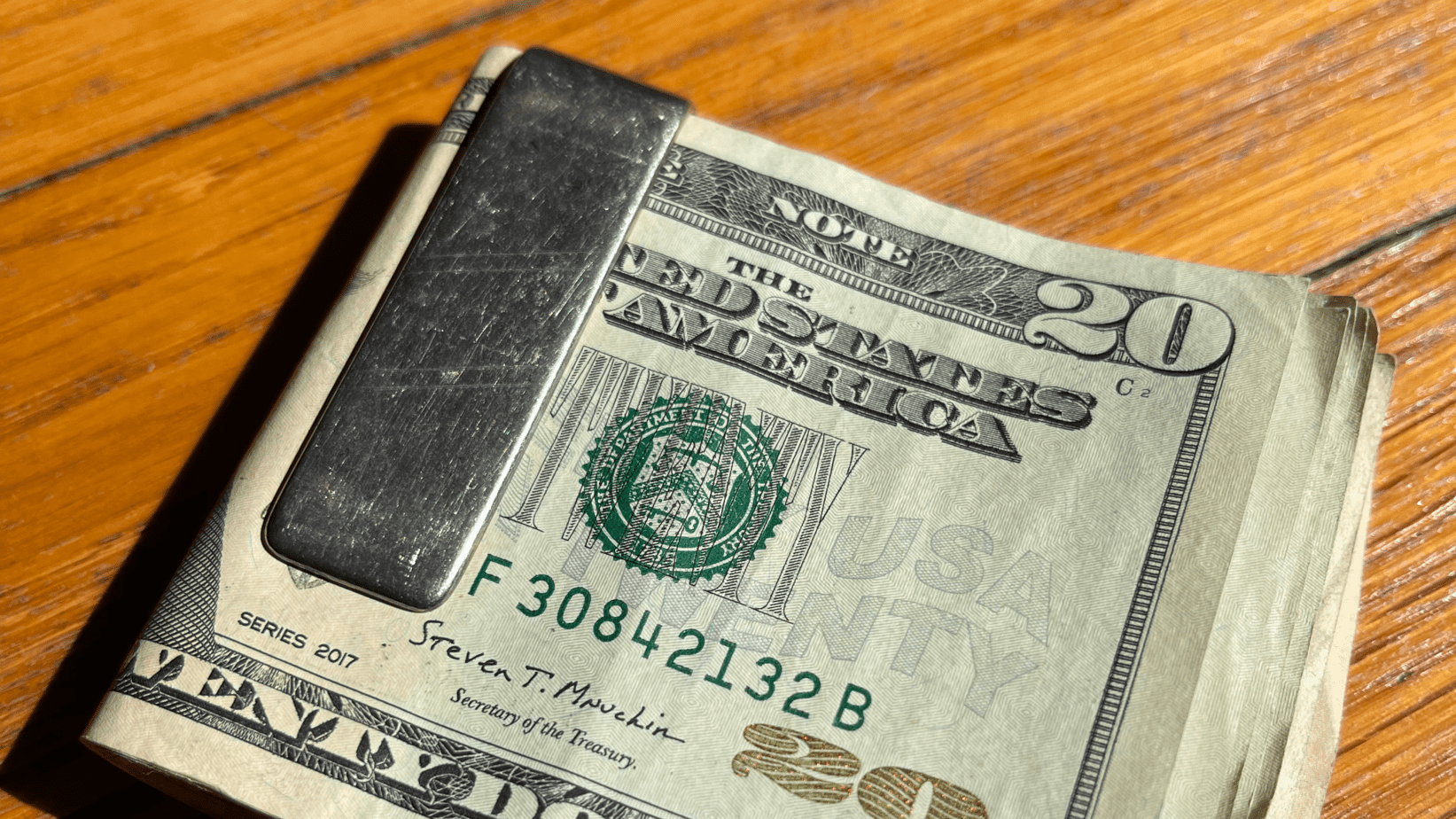 Best High-End Money Clips – The List
OK, let's dive straight in with a look at one of our favorite brands, M-Clip.
Three M-Clip Money Clips
M-Clip In Lightweight Aluminum
M-Clip Stainless Steel / Carbon Fiber
M-Clip Stainless Steel / Herringbone
M-Clip In Lightweight Aluminum
M-Clip Stainless Steel / Carbon Fiber
M-Clip Stainless Steel / Herringbone
We like the M-Clip style a lot.
This clip comes in a variety of styles and finishes (my favorite is the carbon fiber). The aluminum version is a little lighter, the heat-tempered stainless steel is a little tougher. The great, and somewhat unusual, feature of the M-Clip is that the clip has extenders that can alter the clip's width depending on what you're carrying (e.g. 10 cards, 5 cards and a set of bills, etc.)
The inside of the clips has a small rubberized pad to ensure a good grip. The spring is also heat-treated to ensure a long life, although we would want to ensure a minimum of a few cards/bills to ensure nothing moved around. All in all, a great design.
---
Sabrina Silver – Sterling Silver Morgan Dollar Coin Money Clip
If you're looking for an unusual or unique money clip, or you're a United States history buff, this Sabrina Silver clip is for you.
Sporting a sleek design, the clip spotlights a real, vintage Morgan Dollar coin. The Morgan dollar coin was minted in the US between 1878 and 1904, with a one-year reprise in 1921. Its face features Lady Liberty in profile with the words "E. Pluribus Unum" over her head.
The coin dates will vary, but the clip is designed so that the coin can be removed and cleaned or replaced. The clip itself is made from durable sterling silver and has an elegant high polished finish. And, as a nice bonus, there's just enough room on the back for engraving.
---
Three Sterling Silver Money Clips
As Seen in Casino Royale!
Cunill Sterling Silver Money Clip
WithLoveSilver Sterling Silver PaperClip Money Clip
Sterling Silver James Bond Money Clip
Cunill Sterling Silver Money Clip
WithLoveSilver Sterling Silver PaperClip Money Clip
As Seen in Casino Royale!
Sterling Silver James Bond Money Clip
We have three variations on the classic sterling silver money clip here.
The Cunhill is the simplest, an absolutely classic design that you can't go wrong with. The "paperclip" from WithLoveSilver is a fun design that provides a very lightweight and minimalist option, and then there's the James Bond clip.
Oh yeah, we're big fans of Bond (I mean, who isn't, really?) This money clip is featured in the 2006 reboot of Casino Royale, where Daniel Craig first stepped into the iconic role, and you can even see one of these clips at the Bond In Motion exhibition in the London Film Museum.
Who wouldn't want a little piece of the Bond lifestyle?
---
Tightwad Men's Black Carbon Fiber Money Clip
This sleek, modern clip is manufactured from carbon fiber making it durable and–more importantly–super light.
Though it only weighs 21g, this clip has a large surface area and uses a patented "aperture design" rather than a traditional "lip." Just insert your thumb in the opening and push up to open the clip.
It also comes with a German craft paper card protector, so you won't have to worry about scratching the magnetic strip or surface of your credit cards. If black carbon fiber isn't quite your style, Tightwad has a stainless steel version, as well.
---
Tokens & Icons TPC Sawgrass Golf Ball Money Clip Wallet
This is the perfect gift for a golf fan in your life (or maybe yourself!).
Combining the functionality of a wallet and slimness of a money clip, this clip wallet is made from top quality pebble grain cow leather with polyester lining. Each clip wallet features an authentic ball recovered from the water around the 17th Hole Island Green at TPC Sawgrass and is officially licensed by the PGA Tour.
Not only does this clip wallet look amazing, but it's also super functional, too. In addition to an inner pocket and two card slots on the back, its front clip is fully magnetic, making storing cash and extra cards a breeze.
---
The Ridge Wallet – Burnt Titanium
This combination money clip and cardholder is made from grade 5 titanium that's been hand torched and hardened for superior durability and style.
Slim and lightweight (clocking in at only 2.5 oz), it holds between 1-12 cards in an expandable elastic track that is sandwiched between two interior aluminum plates. These interior plates attach to the anodized titanium outer plates with stainless steel T5 screws. It also features an exterior money clip for trifolded bills.
Exceptionally modern styling and quality craftsmanship make this Ridge wallet tough but eye-catching.
---
Bosca Old Leather Collection – Magnetic Money Clip
Made from luxurious old leather, this Bosca money clip offers a luxurious twist on the classic money clip.
A deceptively simple fold in the center brings the two arms together. Strong magnets then take over and hold the arms tightly against notes and credit cards. With its compact dimensions, this Bosca wallet fits perfectly in your front pocket and comes in a variety of colors, including black, cognac, and dark brown.
Note: Here's why you shouldn't worry about the magnets demagnetizing your cards.
---
Black Bow Jewelry Company 14k White Gold Polished Fold-Over Money Clip
Have you heard the old joke about how many miles to the gallon that a Rolls Royce gets?
"If one has to ask, one can't afford it."
This money clip is the priciest in our collection, but this is the best "high-end" money clips after all.
At a slim 15mm and weighing just over 11g, Black Bow Jewelry Company's money clip is minimalism at its most luxurious. Made from 14k white gold, it features a classic fold-over design that is suitable for personalized engraving (this is definitely a "mark a special occasion" kind of gift).
This clip's beautiful, classic design and rounded edges will never go out of style.
---
High-End Money Clips – That's a Wrap
All right, that's a wrap. Hopefully you found something in the list above that you liked, or that inspired you.
Regular readers will know we're big fans here of slimming down your wallet. There are a lot of great minimalist wallet options out there, but there's nothing quite like a high-end, luxury money clip (that's my own silver money clip in the header image – heavily used as you can see!)
All product names, logos, brands, and trademarks are the property of their respective owners
Last update on 2023-09-15 / Affiliate links / Images from Amazon Product Advertising API