Looking for wallets that hold a lot of cards? Find the perfect wallet for you in our updated list! From slim designs to spacious options, we've got you covered!
OK, let's get one thing out of the way at the start.
We've long been proponents of slimming down your wallet, not expanding it! We've promoted minimalist wallets for years (since 2013 in fact.)
So what's the story here?
Well, there are legit reasons why you might need to carry a lot of cards. If you're a small business owner for instance, it's common to have multiple credit cards to separate personal and business expenses.
You might also be carrying multiple cards to take advantage of different rewards programs (we know a few people who treat this as a game – how to absolutely maximize the benefit of every purchase).
And while you can put these all on your phone these days, some people simply aren't comfortable with that, and are looking for wallets with lots of card slots.
Fair enough.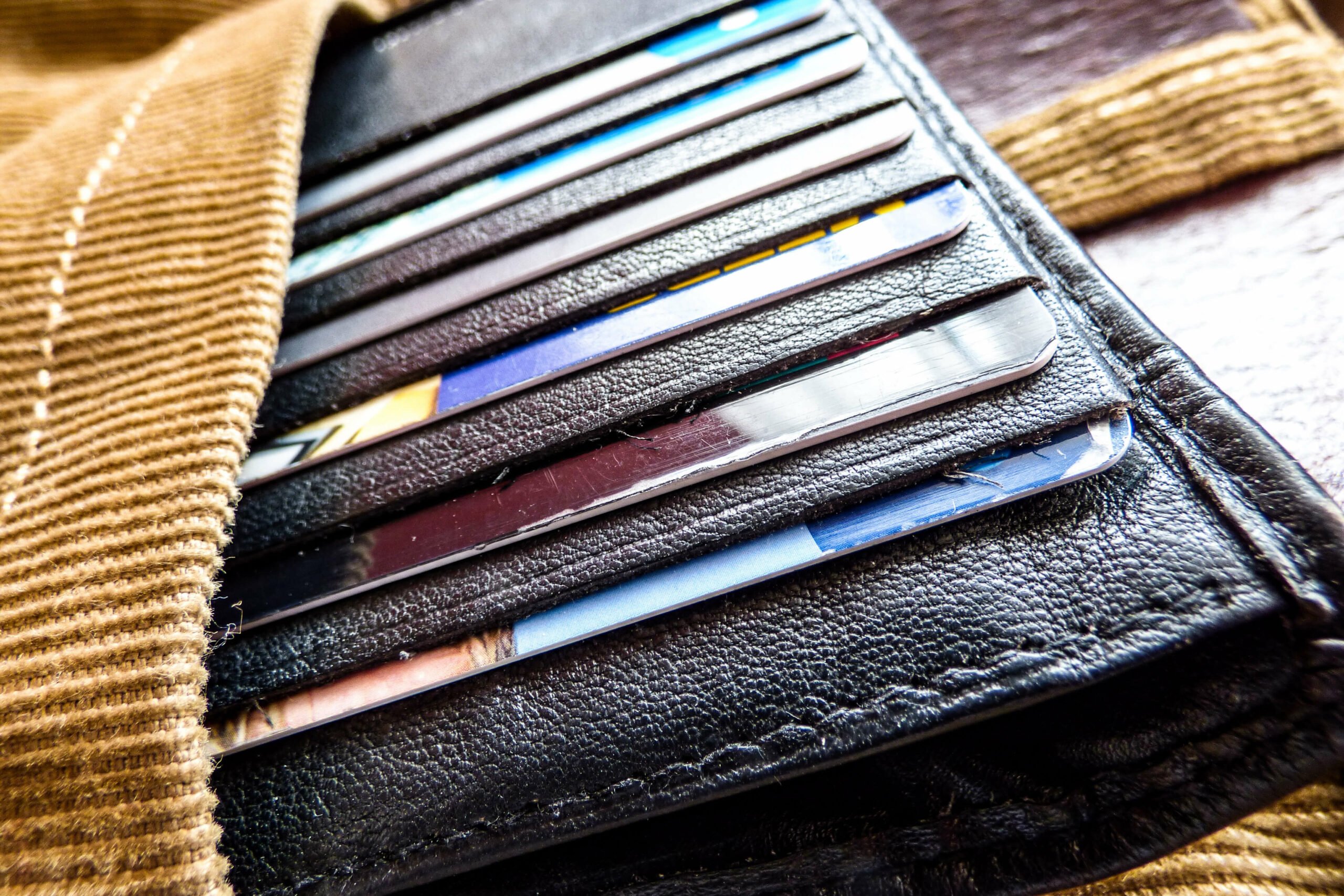 So – given you've made the call that you need a good wallet to carry a lot of cards (we'll call ten or more "a lot") what are your options? After the jump, we're going to cover these wallets:
12 Card Slots, Coin and Bill Pockets
11 CC Slots, 2 ID Windows
13 Card Slots, Classic Style
9 Card Slots, 2 Slip Pockets
10 Card slots, 2 ID Slots
The largest capacity here!
High-quality aged leather
Surprisingly slim, we think this is the best overall
Budget option with high-end features
Rugged, durable - this is the no-bs option!
Guaranteed to turn heads!
What Types of Wallets Hold a Lot of Cards?
So how did we choose this list? There are a few different options here:
Wallets With Lots Of Card Slots
We'll cover some of these below. This is where clever designs and materials come into play, to ensure a wallet doesn't get too bulky when full, and to provide easy access (typically with pull tabs or other cool tricks.)
Sometimes these wallets have sections that "fan out" with cards in them. That's a little "old school" in the design, but there are modern spins on this approach too. We'll take a look at some.
Wallets That Are Really Designed As "Card Holders"
Back in the day, a road warrior sales person would carry a lot of business cards. Thats still popular in some circles today, but a lot less than it used to be.
Wallets made for this typically would incorporate a single deep pocket to hold a bunch of cards in one spot. These wallets can easily be repurposed to hold a bunch of credit cards – but we don't recommend this.
Why? Because it doesn't matter which one of fifty identical business cards you pull out of the pocket, but it's hard to find just the one credit card you need. So you end up pulling all of them out, and fanning through them.
OK, maybe that's all right if you also have a few extra card slots. That means you can have your "main" cards easily accessible, and the less-used ones in a pocket. But if you need to constantly switch between cards, this is not ideal.
Long (Breast Pocket) Wallets
Finally, the other way you can carry a lot of cards is to carry a long wallet in your jacket breast pocket. There's a lot of great long wallets out there, and we wrote a whole article with some great choices!
See our long wallets article here!
In this article though, we're focusing on the slimmest, smallest wallets we can find that also hold a lot of cards.
So with no further ado – lets get into the list.
Wallets That Hold a Lot of Cards – the List!
Big Skinny Men's Slim Wallet
Dimensions: 4.4″ wide (folded) x 5″ tall
Capacity: 35-40 Cards
First up is this huge capacity wallet from Big Skinny. Looking like a standard bifold, this two-over-two design lays out the different pockets over a larger surface area than, say, a trifold would be able to.
Incorporating a clear ID window with a thumb slider (when was the last time you were able to just wave your wallet to show ID without removing it?), a large "hidden" pocket and a deep area with a divider to store bills, this top-grain leather wallet pretty much defines the "Large Capacity" wallet style.
The interior lining is part of how they make this a skinny wallet. They use a nylon material with a rubberized coating (this helps hold cards and bills inside – it stops them slipping).
Using this ultra-thin material on the inside makes this wallet feel incredibly slim, while retaining the leather look and feel on the exterior. It's a clever design choice that is echoed throughout Big Skinny's wallet range (I mean, it's right there in the name …)
Pros: Largest overall capacity of the wallets we're covering today, in a surprisingly slim package
Cons: The pockets "stack" cards inside them, meaning that you do have to pull out the cards in the relevant section to go though them if the card you want is in the back. There's also no RFID blocking.
---
Fossil Men's International Bifold Wallet
Dimensions: 4″ wide (folded) x 5″ tall
Capacity: 12 Card Slots, Coin and Bill Pockets
This "Derrick" model from Fossil is a lovely looking wallet. The stitching is solid and the leather is high quality and has a nice, almost "pre-aged" look. In addition to the card slots this wallet sports a coin pocket, a bill pocket with a divider, and three side pockets for slipping receipts etc into.
The design of this wallet is a little unusual. Its got three layers, but is not a trifold. Its essentially a tall bifold with a middle layer like a single page in a book – that holds extra cards.
This extra middle layer is also made of leather, and that's really the only thing we're less happy with. Not with the quality, it's well-made and looks purposeful, but it naturally makes the wallet thicker.
Pros: Easy access to all cards, the divided bill compartment is nice too. Provides RFID blocking.
Cons: That middle layer makes this a little too thick for our tastes
---
Bryker Hyde Bifold Top Flip Travel Wallet
Dimensions: 4.5″ wide (folded) x 3.5″ tall
Capacity: 11 CC Slots, 2 ID Windows
This little beauty from Bryker Hyde is our favorite in this list. With eleven slots it might not be the right choice for everyone, but (spoiler alert – they do a 14 card version too).
Clearly designed for travel (although its not a passport wallet), this wallet features two easy-access ID windows in the same panel (you flip the panel up to reveal the other ID on the underside). Why two? Think driver's license to show boarding the plane and another for the office ID. This wallet also features RFID protection – which again, is more of an issue when traveling.
We like the high-quality distressed grey top-grain leather, but this wallet comes in a wide range of color options beyond this.
All in all, the design feels to us like the right compromise. The cards are not laid out as broadly as the Big Skinny (the layout has them partially stacked in a classic layout), so its a little thicker, but its not as thick as the Fossil.
Pros: We like that this wallet stays slim when filled, we like the leather quality, and the double-ID window is a nice touch you don't see often
Cons: It's not the largest capacity wallet, so this might not be right for everyone visiting this list
---
F&L "Hipster" Wallet
Dimensions: 4.25″ wide (folded) x 5″ tall
Capacity: 13 Card Slots, 1 ID WIndow
Next up is this F&L classic leather bifold. Hitting a more budget-conscious price point, the quality of this product is still very high, and this wallet even manages to incorporate RFID blocking.
Talking a fairly standard design approach, this wallet features two slip pockets, a bill pocket with a divider, and an ID window with a thumb-slider.
The way this design manages to stay relatively thin when loaded is by sacrificing size in a different dimension – namely its longer than some of the others on this list. The cards are stacked efficiently, and not doubled-up so you can see and access whichever you're looking for immediately.
Pros: Classic design, slim execution at a budget-conscious price point
Cons: This design works well, but it's getting a little close to a long wallet style
---
Levi's Men's Slimfold Wallet
Dimensions: 4.25″ wide (folded) x 3.5″ tall
Capacity: 9 Card Slots, 1 ID window
Sporting that iconic Levi's "Batwing" logo on the front, this is a rugged. no-nonsense, classic bifold. Like a lot of the "extra capacity" wallets, this little number adds extra card slots through an extra "page" in the middle of what otherwise is a standard bifold wallet.
That extra layer naturally adds a little to the thickness, but its not excessive and the smaller dimensions compensate somewhat. This won't work as a front pocket carry for a smaller person, but a bigger guy could get away with it.
The ID window is on one side of the central page, with extra card slots on the reverse. This wallet won't win any design awards, but its durable, provides easy access to cards, and even comes with RFID protection.
Pros: The coated leather makes this a wallet that can handle tough environments, wipes clean of spills
Cons: A little thicker, not the highest-quality leather
---
House of Jack Extra Capacity Bifold Wallet
Dimensions: 4.25″ wide x 3.5″ tall
Capacity: 10 Card slots, 2 ID Slots
OK, we admit we're big fans of House of Jack. That said, those skull designs won't be for everyone – you'll either love them or move straight on by.
But…
We think it would be a mistake to pass straight by.
HoJ produces high quality goods – those skull designs are embossed into high-grade leather that will only develop more personality with age. The design is not just about looking like a rocker or a biker, it's carefully thought out, from the flip-up double ID window to the easy-access slip pockets.
And we love the screenprinted HoJ tagline on the inside of the bill compartment:
Pros: Guaranteed to turn heads
Cons: Guaranteed to turn heads
Wrapping Up
OK, we hope you enjoyed reading through those!
There can only be one winner though, and our favorite is (drum roll please….):
Sale
Bryker Hyde Bifold Top Flip Travel Wallet
We like that this wallet stays slim when filled, we like the leather quality, and the double-ID window is a nice touch you don't see often
Well-made, RFID Protection, generous (but not crazy) capacity
The Bryker Hyde is our overall winner!
Before You Go
We're big fans of these slim, multi-card wallets, but they're not the only options. Maybe the stylish look of a breast pocket wallet is just what you've been looking for? Check out our next article for our roundup:
Related Articles
All product names, logos, brands, and trademarks are the property of their respective owners
Last update on 2023-11-13 / Affiliate links / Images from Amazon Product Advertising API