Okay, you're a guy, you're a teenager… and you're looking for a wallet.
You don't necessarily want to spend a lot of money, but you'd like to get something cool. Before we get started looking at the best wallets for teenage guys, let's talk about what types of wallets are available for teens.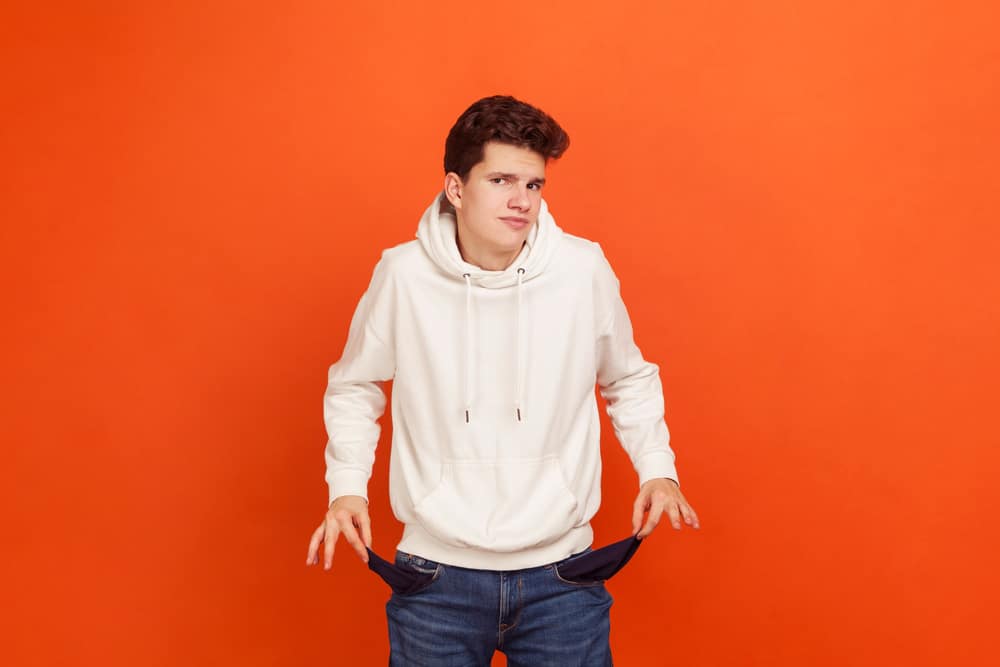 Types of Wallets for Teenage Guys
Hands down, one of the best options for younger boys is going to be the velcro style wallet. They're lightweight, colorful, and easily keep your cash secure. Not to mention they won't break the bank. We'll dig in deeper to a few hook and loop or Velcro-style wallets below, or take a look at our full review of Velcro wallets here.
The standard bifold is a great option for slightly older teenage guys because it typically will have a long pocket to carry bills and space for a few cards. The choices below won't look like your grandfather's wallet though. Most of them are still on the slim side and they all have tons of personality and a modern style.
Another great choice is just a simple money clip. As we mentioned above, most teenagers don't carry around a bunch of credit cards. There are some pretty cool options below that you're bound to like.
PARENTS: Why Do Teens Need a Wallet?
Depending on their age, there are a few reasons why your teenager needs a wallet:
To keep their cash safe and secure
A place for their driver's license (once they pass that milestone!) and/or student ID
To teach them the responsibility of keeping up with money
Help them feel independent
Look cool while doing all of the above…
Most of them haven't opened a bank account and they most likely don't have a credit card. Our point is this, they don't really need a wallet with a ton of card slots. We will look at all sorts of wallets, but most of the wallets will be those that have the ability to carry cash longways. Taking note of everything we mentioned above let's get started looking at the best wallets on the market for teenage guys.
---
Velcro Wallets
Who doesn't love a good velcro wallet? They're tough and flexible, and the range of styles is enormous – you can be sure of finding something that says "this is my wallet".
Let's jump in with a few of our favorites – here's a quick table, with the full reviews to follow:
Rough Enough Canvas Wallet
JEMINAL Camo Printed Bifold
Cool accessories, great style for boys
Sturdy construction, lots of card slots
Perfect for the more mature teen
Lots of vibrant designs for the gamer in the house!
---
 Rough Enough Canvas Wallet
There's a good chance you'll want a wallet with a little personality. The good news: the wallets from Rough Enough deliver on this. The first ones we'd like to look at are these camo-style wallets.
These wallets are your standard style hook and loop style in the trifold footprint. This actually works quite well for this style of wallet because of it being a canvas material, it remains slim. Once fully opened there is a full-length pocket for your cash. The thing we really like about this wallet is that there is a zipper running along the top of the bill's pocket. The zipper is perfect for keeping everything secure.
Moving from left to right when the wallet is open, it starts with another small zippered pocket where you can stash your change, maybe a house key or something small that you need to keep safe. Next to that or three card slots. This is the perfect amount of cardholders because like we mentioned teenagers don't generally carry a ton of cards.
Moving along to the right side of the wallet there is an ID case for a driver's license, or perhaps your school ID as well. On top of this is a little loop that holds a carabiner clip which is great to hook inside of a backpack or perhaps inside of a pocket hooked to a belt loop.
Pros: Cool accessories, great style for boys
Cons: Some buyers felt the wallet was a little on the large size
---
JEMINAL Camo Printed Bifold
The Jeminal is the next wallet on our list. This wallet is another camo style, but bifold instead of trifold, so even slimmer.
Each wallet is made of a super-strong canvas so it should stand up to everything you can throw at it! This canvas wallet is secured with two snaps. There are actually two different versions of this wallet both with similar functionality. It's really a matter of preference in terms of which one you get.
Both styles come with five card slots as well as a window for your ID. We also like that the pocket for cash can be secured by a zipper.
In terms of colors, these wallets are all going to be various tones of browns, blues, or grays.
Pros: Sturdy construction, lots of card slots
Cons: Some buyers felt the cash pocket was only just barely big enough for U.S. currency
---
Vans Wallet – The Slipped
This wouldn't be a complete list without the Vans Slipped wallet!
This wallet comes with classic checkered Vans styling — it's basically ICONIC. The two colors we looked at were a black and white checkered as well as a gray and black checkered.
This classic wallet has been around for more than 25 years and will probably be here 25 years from now!
Functionality wise it comes with three card slots, a clear ID window and a little pouch for keeping change or keys secured.
This is another super lightweight trifold canvas wallet that also has a long pocket for bills. There is no zipper on this wallet but the wallet is secure enough without it and the added style factor makes it worth it.
Pros: Iconic Vans styling, good set of pockets and ID window
Cons: No zipper on cash pocket
---
Timberland Trifold Nylon
This little wallet by Timberland is definitely more on the mature side. There are no wacky designs, although it does come in four different colors. The colors consist of Olive, Khaki, Navy, and Black. The traditional timberland logo is on the bottom corner of the wallet.
This wallet functions similarly to the other trifold canvas styles in that there is a long pocket for full-length bills as well as an ID window. The wallet actually comes with 8 card slots, although no secret/secure stash pocket. The Timberland Trifold Nylon Wallet makes a great gift or an incoming senior or older teenager.
Pros: Lots of capacity, great for older teens
Cons: No secret stash pocket
---
Fortnite Canvas Wallet
Ten years ago people wouldn't understand why this wallet is cool. But after its launch in 2017 Fortnite has taken over the world! We can't think of a better way to celebrate it than to put the original stylings on this classic canvas wallet. This wallet comes in multiple versions, so be sure to check the options out.
The wallet opens like a traditional trifold. The features moving from left to right include a clear ID case, a stash pocket, and three card slots. The recognizable Fortnite logo is featured on the bottom of the outside of the wallet.
Like other traditional trifolds, this wallet is perfect for storing cash across the folds, so long as you don't have too many bills. Admittedly, that was never a problem for me as a teenager …
The wallet comes in a cool vintage Fortnite packing which makes it a great gift too!
Pros: Great styling, perfect for younger teens (well, gamers of all ages really)
Cons: Fewer compartments than some other wallets on this list
---
Classic Bifold Wallets
All right, moving on now. If canvas wallets aren't your style, let's take a look at some modern versions of the classic billfold. It's a classic style for a reason.
Let's jump right in. Here's the quick summary as a table, the detailed reviews are right after:
Fossil Derrick Brown Wallet
House of Jack Skull Bifold
Corkor Cruelty-Free Slim Bifold
Zitahli Minimalist Wallet
Lots of capacity in a surprisingly slim form
Slim enough for front pocket carry and stylish to boot
This wallet has capacity as well as personality!
Cruelty-free material and a wide range of styles
High quality with a dual canvas/leather look
Slim, stylish, well-priced
Bryker Hyde Bifold
This little bifold is our favorite on the list!
It has the capacity of a much larger wallet, but woah, such a small footprint! The wallet comes equipped with two ID holders as well as nine total card slots. There are even two hidden stash pockets behind those.
The wallet sounds like it would be bulky, but it's really not. Even loaded up to capacity it's still comfortable to carry in your front or back pocket, and holding true to bifold functionality, cash can be carried longways.
One of our favorite features on the Bryker Hyde is the leather itself. It's comprised of super supple pebble leather that is stitched extremely well. So well, in fact, the wallet comes with a lifetime warranty. We're not saying that you have to carry the wallet your entire life, but it's nice to know that it will last if you want it to.
This wallet comes in eleven different colors and finishes. Various shades of blacks, browns, blues and grays are featured. They are finished off slightly different ranging from a pebble leather finish to one that is more distressed.
Pros: Lots of capacity in a surprisingly slim form
Cons: Some buyers report the RFID protection is not very effective
---
Fossil Derrick Brown Wallet
This is a great option as a quality wallet, but won't break the bank cost-wise.
The wallet itself is really simple. It comes with six card slots and a full length pocket for bills. This is actually the reason that we really like this particular bifold wallet, no extras that will go unused.
The leather is a classic shade of brown and has a rustic aged look to it. It really does look much more expensive than it is. This is not one of the more minimalist wallets on our list, but that most likely isn't top on the list of priorities here.
Pros: While not the most minimal of wallets, this is slim enough for front pocket carry and stylish to boot (it even comes in a wide range of colors)
Cons: Some versions of this wallet come with an internal money clip. Some buyers commented that the positioning of the money clip could damage an ID if pressure was applied
---
House of Jack Skull Bifold
Okay, this is probably the edgiest wallet on the list. We really love it though. The skull wallet makers definitely had the teenage mentality in mind when they created it, even though a lot of the buyers will will be older (in years, anyway).
The skull itself is centered on the outside of the wallet. This looks really cool because when the wall is closed you only see half of the skull from either side. The entire wallet is a vintage brown that looks like aged leather right out of the box.
This wallet probably has a few more card slots than are necessary for a high school kid, but this is the type of wallet that they can grow into. It comes with eight card slots +2 ID holders.
The double ID holders are actually convenient, especially for someone who already has their drivers license. One side for a drivers license and the other side for a student ID makes this wallet great for someone in high school.
This wallet definitely isn't for everyone, but it also could be the perfect gift.
Pros: This wallet has capacity as well as personality!
Cons: OK, that styling isn't going to work for everyone
---
Corkor Cruelty-Free Slim Bifold
Moving right along, the next wallet on our list stays true to the slim theme.
This bifold wallet by Corkor is a standard bifold with six card slots. The wallet opens like a normal billfold with a long pocket for bills. It's worth noting that there are four extra stash pockets as well. Two on the exterior, and two on the interior.
The unique material of this wallet is what makes this a standout! Corkor produce a range of cruelty-free products beyond wallets, including belts and bags, all made from a material derived from the cork oak tree.
The material actually feels and wears like leather, and the majority of their products are designed to mimic leather, but we loved this version that looks like the cork it's made from. Be true to yourself we say!
Pros: Cruelty-free material and a wide range of styles
Cons: Some have noted the cork leather does not seem as durable a genuine leather
---
Carhartt Passcase Wallet
One thing for sure about Carhartt, they make quality products. Their bifold wallet is no different. The wallet we reviewed comes in many colors, largely black and tan.
The wallet is made from about half leather and half canvas. This really gives the wallet a cool contrasted look. It's finished off with white stitching as well as brass rivets on the spine of the wallet. Basically what we're getting at, this wallet is built to last.
Moving to the inside of the wallet you'll find six card slots as well as a removable ID holder. We really like the fact that the ID holder is removable, because sometimes you may not want to carry around a school ID (or any other ID for that matter). Removing the holder simply makes the wallet slimmer. That's never a bad thing.
Another cool feature on this wallet are the double bill pockets to keep your cash secure. Larger bills can be kept in the back, while singles and fives can be kept in the front. Although we never had anything larger than a $20 when we were teenagers … (have I mentioned that already?)
Pros: High quality with a dual canvas/leather look
Cons: Some buyers had issues with the stitching over time with heavy use
---
Zitahli Minimalist Wallet
This next wallet is the perfect wallet to bridge the gap between our bifold selections and our money clips. The wallet is just that, a pressed-leather bifold with an interior money clip
One of the main reasons that we picked this wallet is the color range. This wallet comes in THIRTEEN different color combinations. We won't list them all here, but just know that they are various shades of black brown gray, and blue.
Function wise this is one of the more minimalist wallets on the list. It stays super slim, even with bills tucked away inside the money clip. There are five total card slots plus an ID window on the opposite side.
A great feature of this wallet is the push-up thumb window which releases those tucked away cards that you don't use that often. Teens probably won't use this all that much, but it's a nice feature to have if you need it to save space.
Note that Zitahli make a range of these wallets, see our Zitahli Wallet review for more details.
Pros: Slim, stylish, well-priced
Cons: Some buyers found the card slots too tight, making it difficult to pull cards out
---
Money Clips
The last three wallets on this list aren't exactly wallets. If your teen will typically carry cash instead of cards, let's take a look at three money clips that will work well while still being cool.
We'll look at three different materials as well, including titanium, carbon fiber, and stainless steel. If you're interested in money clips, we have our take on the best high-end money clips as well.
As usual, here's the list as a table, with the details to follow:
Sturdy, available in different styles
Tough, looks great, and personalized too!
---
TI-EDC Money Clip
If you want a material that can stand up to anything you throw at it, what better way to go than titanium. Titanium is one of the most lightweight yet high strength elements out there. This wallet will be super durable, resistant to corrosion, hypoallergenic, and not affected by magnets.
Functionality wise, the money clip works like your basic traditional money clip. Bills can be folded and sandwiched in between for secure carrying. The nice thing about a money clip is that although it lends itself to carrying bills, it's definitely easy to stick a driver's license and card in between the bills…they'll stay secure no problem.
Aesthetically speaking, this is a beautiful money clip. It's primarily made of a brushed titanium outlined with polished titanium. It makes the money clip appear much more expensive than it really is.
Pros: Stylish, but well-priced
Cons: Some buyers found it scratched too easily, so not made for heavy use
Carbonlife Money Clip
Staying along the same lines of strength and durability, next to titanium you won't find a better material than carbon fiber.
It really makes the perfect money clip, because of its strength and light weight. Another thing that's nice about this carbon fiber money clip, is that it will always return to its original shape. You can fold as many bills as you need (ok, slight hyperbole) and you'll never bend it out of shape.
The money clips by Carbonlife come into different finishes – matte and polished. They also have various shapes and sizes to fit your particular preference.
Pros: Sturdy, available in different styles
Cons: Some buyers found the clip was too tight, making it hard to insert bills and cards
Visol Money Clip
This last money clip on our list makes a great gift. Coming in three colors (chrome, black, gunmetal) the clip also comes with a free engraving from Cisol. They allow up to 15 characters, so it's good for most guys' first name.
The clip is made from super-strong stainless steel, which the manufacturer says can hold up to 10 bills.
Super-tough, cool-looking and personalized – any way you look at it, this is a great money clip for a teenage guy.
Pros: Tough, looks great, and personalized too!
Cons: Note the engraving is on what most people would regard as the "back" of the clip
---
BONUS: TRAYVAX Original 2.0
This wallet is too cool to leave off the list. If you're looking for one that is multi-functional crazy slim and as durable as they come, look no further.
Trayvax is known for making quality wallets. Adding this metal wallet to their original line has taken them to the next level.
The wallet comes equipped with an easy-access ID window durable multi-tool, all sandwiched in between aircraft-grade aluminum.  Although it won't hold Bill's longways, the wallet boasts being able to hold over 20 bills and up to 15 cards.
We really love the Trayvax because it's made in the USA and comes with their awesome 65 year warranty.
Pros: Great styling, ultra slim model
Cons: This is for people who want something "a bit different", definitely not for everyone, and probably not good as a "first wallet"
---
tl;dr: There are a ton of great wallets for teenage guys out there…it's almost overwhelming!  We hope that our list helps to pare down your search to find a great wallet that will last, but not break the bank.
Before You Go…
Somewhere on that list above is the perfect wallet for teen boy! As we said earlier though, for the youngest set (or the young at heart), the velcro wallet style is a great option. We have a bunch more options if you're interested in this style, so be sure to check out our next article:
The BEST Velcro Wallets Anywhere!
Related Articles:
If we've whetted your appetite with the list above, check out some of our other articles!
Bonus Video!
All product names, logos, brands, and trademarks are the property of their respective owners
Last update on 2023-11-13 / Affiliate links / Images from Amazon Product Advertising API