It's no secret we're big fans of Bellroy Wallets.
Each of their products combines clever design aimed at versatility and functionality with a flawless minimalist style.
Why carry around a bulky "Costanza" wallet when you can carry one of these hip, slim, modern ones? With colors that match every personality and a variety of organizational options, there's a carry option for everyone.
Bellroy Leather Quality
And Bellroy doesn't mess around when it comes to quality. Made from a variety of leathers sourced from gold-rated Leather Working Group tanneries, all of Bellroy's products have a 3-year warranty. They use four types of leather in their products.
"Naked" leather, available in seven shades, harnesses thousands of years of tanning traditions for a leather that reveals its grain and develops a beautiful patina over time.

Their "Dressed" leather is a semi-aniline leather that has a higher resiliency to scratching than the "Naked" variety and is available in four natural shades.

The "Designers Edition" leather is an environmentally-certified product tanned in the Netherlands, and have a complex texture and soft feel. Available in three shades.

Finally, the "All-Conditions" leather offers fantastic protection in the toughest environments. Repelling water and wear through a unique tanning process, they are immensely durable and come in four beautiful shades.
Bellroy has featured this last, the All-Conditions Leather, in a line of products aimed at protecting your most valuable items. With phone pockets, sleeves, wallets, and covers, these products feature their water resistant leather and a water-resistant zipper to keep everything clean and dry whether you're relaxing at the beach, hiking a trail, or climbing the side of a mountain.
---
The Men's Wallet Line by Bellroy
We've tried to review and break it down for you as easily as possible, but below you'll find their men's wallet line, their women's wallet line, their bags, accessories and more…  The Bellroy Wallets Review we've provided will hopefully get you started off on the right foot.
The Card Sleeve
This little wallet is perfect for the minimalist wallet aficionado. It fits very comfortably in your front pocket, back pocket, shirt pocket…any pocket. It easily fits two cards + driver's license and some cash. Really though, what more do you need? This is a great wallet for teenage guys as well.
---
The Slim Sleeve
The Slim Sleeve takes the best things from all of Bellroy's wallets and rolls it into one little package. It holds up to 12 cards, two in easy-access sleeves and the rest can be accessed with a handy pulltab. The Slim Sleeve also has space for bi- or tri-fold bills without getting too bulky. Bellroy keeps it slim with what they call the "nude approach," which uses less leather overall to keep the wallet as slim as possible.
---
The Note Sleeve
The Note Sleeve is the Rolls Royce of the Bellroy wallet line. It has everything but manages to keep it all superbly slim. 11 cards. Flat bill storage. Three quick-access slots. We mean everything. And with its soft leather and a full selection of Bellroy colors, this wallet's classic style has something for everyone from the edgy guy to the classy gent.
---
The Coin Wallet
Are you the kind of guy who opts for cash over cards? This slim coin fold is just what you've been looking for. With flat bill storage and a coin pocket that opens easily with a pinch, the coin fold stores a good amount of cash without becoming bulky. As is true of most of their products, Bellroy designed the coin fold with maximum functionality in mind. They've cleverly included a leather ridge to prevent any coins from falling out. The coin fold also has easy storage for your two most used cards and a hidden pocket for up to six others.
---
The Card Pocket
Have a few more cards to carry? Still like the idea of a small card case? The Card Pocket is a combination of the two. With room for tons of cards (and cash) — this little guy can handle all you can throw at it. The style is less traditional, but definitely a statement-maker.
---
The Hide and Seek
Do you prefer the traditional wallet style? If so, the Hide Seek is for you. Getting its name from the tons of hidden pockets…the Hide and Seek lacks not in the storage area. If you carry fairly heavy – cash, 4-8 cards, Driver's License, insurance card, receipts, etc — you'll love this wallet. The Hide & Seek is a good everyday wallet for the guy who doesn't want to compromise storage and maintain the slim… and cool factor.
---
The Travel Wallet Line by Bellroy
All right, moving on now. Bellroy has a very cool range of travel gear also.
The Passport Sleeve & Travel Wallet
Must-haves for the seasoned traveler. Where is that passport when you need it? Need a pen? How about a place to store those documents as you travel? We've covered passport wallets before, but this Bellroy Travel Wallet is perfect for organization on the road.
---
The Travel Folio
The Travel Folio has a unique design that is functional and versatile. This larger-size wallet, a zippered portfolio style, has room for up to 16 credit cards, flat bill storage, and coins. The internal pocket is an ideal place to store train and bus tickets, business cards, or receipts, with an internal divider to hold your smartphone and passport. There's even a dedicated loop to hold a pen (it comes with a micro pen, but it can store a full-size if you prefer).
---
Work Folio – A5
Keep yourself organized with Bellroy's impeccably designed work folio. Measuring roughly 6 by 8 inches, the folio fits a size A5 notebook–and everything else you might need. There's an easy-access pen holder, pockets for a small e-reader or tablet, and your smartphone. Did we mention it also fits six cards? Ideal for work and play alike, the folio makes an excellent travel storage solution, as well. Bellroy has included sleeves to give you easy access to your passport and a printed boarding pass. And it's all zipped shut so you don't have to worry about losing a thing.
---
The Women's Wallet Line by Bellroy
The Folio Wallet
Bellroy's Folio Wallet sports a classic and timeless shape but keeps all your modern necessities in perfect order. This wallet has six dedicated card slots as well as two larger sleeves for extra cards (up to 16 total) and flat bill storage. There's also a nice zippered section for your loose change. Best of all? This wallet has a dedicated space for your smartphone. Kiss that bulky handbag goodbye!
---
The Folio Mini
A smaller version of the Folio, Bellroy's Folio Mini might be smaller, but it isn't short on clever design features. Opening fan-style, the Folio Mini also features a central divider, but this divider does double duty as a coin slot. Up to 12 cards and bi-folded bills fit neatly on either side and everything is secured with a sturdy YYK zipper.
---
Zip Wallet
At first glance, this wallet looks very similar to the mini Folio above. It is however, a smaller version again. This slim wallet holds up to 8 cards, together with bills and coins. The coin holder snaps shut with a magnetic closure and there are three "quick access" card slots for your most commonly-used cards.
---
Bonus Section – Bags & Backpacks by Bellroy
A good backpack can be hard to find. Bellroy's just made it a ton easier. Their Classic Backpack combines excellent storage, ingenious design, and minimalist style for a bag that's tough to beat. This backpack features a dedicated laptop sleeve (holds laptops up to 15"), padded tablet or A5 notebook storage, and a roomy main compartment.
Bellroy has also included a pen sleeve (right next to the notebook storage!) and an internal zippered compartment for snacks or other necessaries. Finally, there's an external zippered compartment at the top of the backpack for sunglasses or anything else you want to keep within easy reach. Constructed using venture weave polyester and Bellroy's environmentally friendly leather, this backpack is also made to last.
---
The "Melbourne" Compact Backpack
Perhaps you're a minimalist about your backpack storage as well as its style. If so, check out Bellroy's Slim Backpack. Adopting some of the same primary features as the Classic version, including the laptop sleeve and tablet/A5 notebook and pen storage, the Slim has just one large main compartment. And instead of zipping shut, Bellroy uses a stylish magnetic snap closure. They've also included a hidden external zip pocket on the side of the backpack for sunglasses, keys, or your smartphone. Get ready to turn some heads with this one.
---
The "Tokyo" Duo Totepack
Say goodbye to your bulky backpack and hello to Bellroy's sleek, slim, and exceedingly versatile Duo Totepack! This tote features padded storage for a laptop (up to 15") and tablet and well as a number of zippered compartments with built-in organization. Easily store your computer charger, keys, and pens inside the main compartment. There's an easy-access external compartment for your phone, keys, and wallet. Best of all, the totepack features a unique expandable design and two ways to carry: stowable backpack straps or easy hand straps.
---
The Messenger Bag
Like the Duo Totebag, but for those who want a more classic briefcase look that easily transforms into a messenger bag. With storage for laptops up to 15" and two internal sleeves for a charger and notebook, the Duo Work Bag keeps you easily organized. It also sports two external pockets–one zips and another snaps closed. There's a stowable messenger strap, too, so you're ready to go from meeting to bike in no time at all.
---
Bellroy Wallets and Bags – That's A Wrap
We could go on of course. Bellroy have more bags (Totes, Cross-body bags) and accessories (phone cases, toiletry bags), and more. All in impeccable designs.
Hopefully you found something you liked, or inspired you in our round-up.
If you're interested to find out more about the company though, do read on!
---
Why are Bellroy Wallets so Expensive?
Do you remember your parents telling you that you "get what you pay for"?  That wise old adage rings true because, well…most of the time, it is true.  What is value?  We believe it's what someone is willing to pay or offer for something that solves a problem for them. 
That's exactly what the founders of Bellroy set out to do when they started the company.  What problem?  Helping people like you and me to slim down their wallets without having to sacrifice function.  It's as simple as that.  But as you'll see, the process that goes into crafting these beautiful pieces of "carry art" isn't quite as simple.
We'll look below at three areas areas of craftsmanship that Bellroy regard as their "secret sauce".
The Design
Fifteen or so years ago a group of friends (who also happen to be designers) sat around together discussing and designing how to make the perfect wallet.  They looked at things like eliminating unnecessary layers in the wallet, as well as better functionality and positioning for your cards. 
This made them easier to carry and actually use when you need them (but not in the way when you don't).  In 2010, their efforts brought forth the Note Sleeve – their first slim wallet.  Fast forward eight more years and they've come a long way since their humble beginnings.  They employ an entire team of designers that are constantly pushing the limits to innovate the way that we carry.
The Leather
You can't have Bellroy without their famous, vegetable tanned leather.  It affects design, ensures quality and is environmentally sustainable.  From a functionality standpoint, they use some of the thinnest leather we've seen.  The thought behind it is this…what's the point of designing the perfect wallet with minimal layers, if the layers you do have are super thick?  No need to worry about that here.
They have always used extremely high quality top-grain leathers. We've seen some confusion online as to whether they use top-grain vs full-grain and they definitely use "top grain".  Both leather grains are of the same quality, but the finish out is different.  Full grain is leather in its rawest form, so to speak.  They maintain the entire structure without any buffing.  Top-grain, on the other hand, buffs out the leather nicely to create a smooth finish.  If you've ever felt a Bellroy in person, that's one thing you'd notice – how smooth the leather is.
Environmental Impact
Bellroy cares about the environment and sustainability.  They are committed to only working with tanneries that adhere to gold-standard LWG (Leather Working Group) environmental protocols.  These are an organized set of guidelines and standards that leather tanners follow to protect the environment from harsh chemicals that other tanneries might use.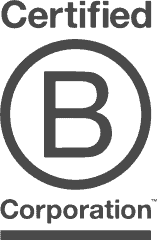 Even more so, Bellroy is a certified B Corp company – this is a group of companies committed to using their company to effect change in a positive way both socially and environmentally.
How do they do it?
Make products that last.
Super strong stitching, quality wearing leathers and sturdy hardware.
Eliminate chemicals and toxins.
No uses of dangerous chemicals, heavy metals and others toxins known to cause harm.
Recycle well.
They design their products with the end in mind.  All materials are easily recyclable.
Reduce waste and energy consumption.
Use technology to reduce business travel, work efficiently (local employers, etc..)
Intentional.
They are always looking to align themselves with experts, making sure they're doing all they can.
Continued Expansion & Innovation
Bellroy seem to be constantly coming up with new ideas for ways to carry.  And while they are always releasing new wallets (or improvement on old ones), they don't stop there.  Bellroy now offers bags, backpacks, multi-purpose pouches, portfolios (folios) and tech carry for tablets, phones, etc… 
Their end goal?  The make the way you carry truly better.  Making things slimmer, creating innovative functionality and using materials that last, the sky truly is the limit with this little (actually, by now, not so little) carry company out of Australia. 
---
All product names, logos, brands, and trademarks are the property of their respective owners