This is your captain speaking… are you looking for the best under seat backpack for your next flight? You're in the right place.  This comprehensive article will show you what works, and what doesn't.  Sit back, relax and enjoy the flight.
Let's face it, flying can be a pain. 
The crowds, the security checkpoints, weather delays — there is a lot that can go wrong.  Add to that the nightmare of checked baggage fees and lost luggage, and well, that's enough to ruin any trip.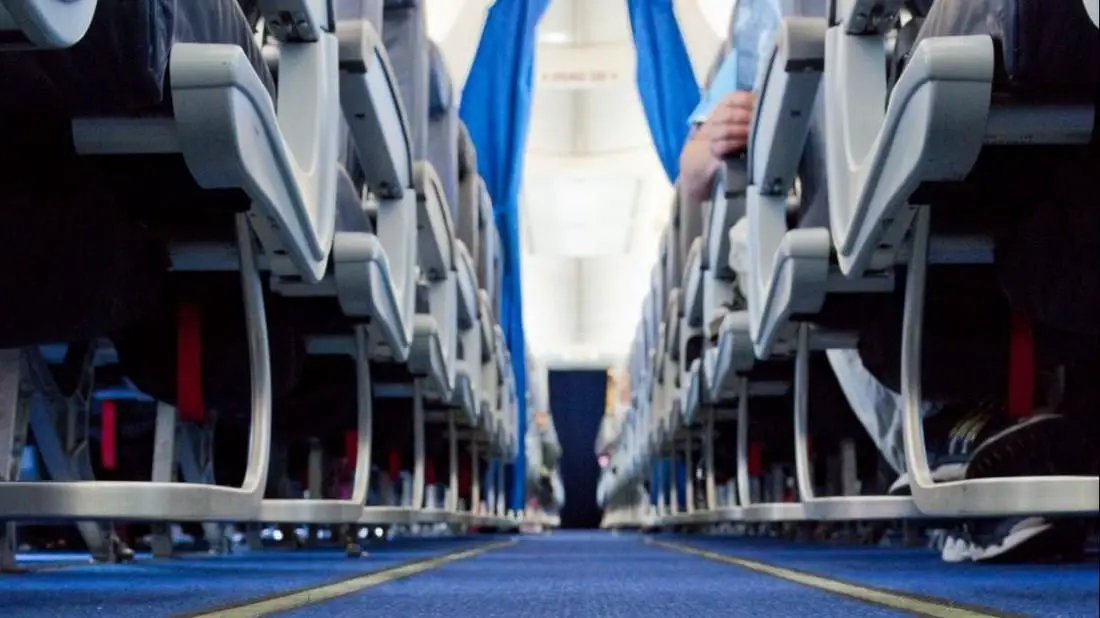 A DOT report estimates that there were 180,459 incidents of lost or mishandled baggage in a typical year (the last few years have been anything but typical in terms of the number of people flying so we'll use the older data!) 
While this works out to 3.08 cases per 1000 passengers, a mistake like that can ruin your plans and your whole trip.
The Best Under Seat Backpack
One thing you can do to make it slightly easier, especially for a quick business trip or weekend away, is to carry aboard your baggage.  I fly many times a year and I try to never check a bag.
Generally speaking, each passenger is allowed one carry-on bag per flight — unless you're flying on one of those super-budget airlines (*cough, Spirit) and then you can't check any. 
But everyone's been on a flight where the overhead bins are full … so under the seat in front of you is a great option!
We Have 12 Choices, and One Winner!
We have a list below of 12 great choices, and what's right for one person might not be right for everyone. Nevertheless – if you want the top choice first, this is our overall favorite:
SwissGear 1900 Scansmart
For its ergonomic design, ventilated back panels, its RFID-protected pocket and TSA-friendly lay-flat-for-scanning features, the SwissGear 1900 is our choice for the best personal item backpack for under an airplane seat
And for those that want a little more detail, read on! We'll take you through our list in three different size ranges:
Let's get to it, shall we?
---
Each airline sets their own size restrictions, so you'll want to check with your airline prior to arrival to see what they allow, but there are some guidelines we can look at here.
Can A Backpack Fit Under An Airplane Seat?
Yes, so long as it fits the definition and sizing of a "personal item".
First, let's get those definitions out of the way.
What's a "Carry On" Item?
This is pretty well understood – one piece of luggage, typically 22 x 14 x 9 inches (that's the American Airlines carry on size, but it's pretty standard), that must go in the overhead compartment. There's the standard "baggage sizer" (the frame you have to be able to fit your bag into) at every check-in counter. How many times have you side-eyed those and hoped the check-in person wouldn't make you test your luggage? No? Just me?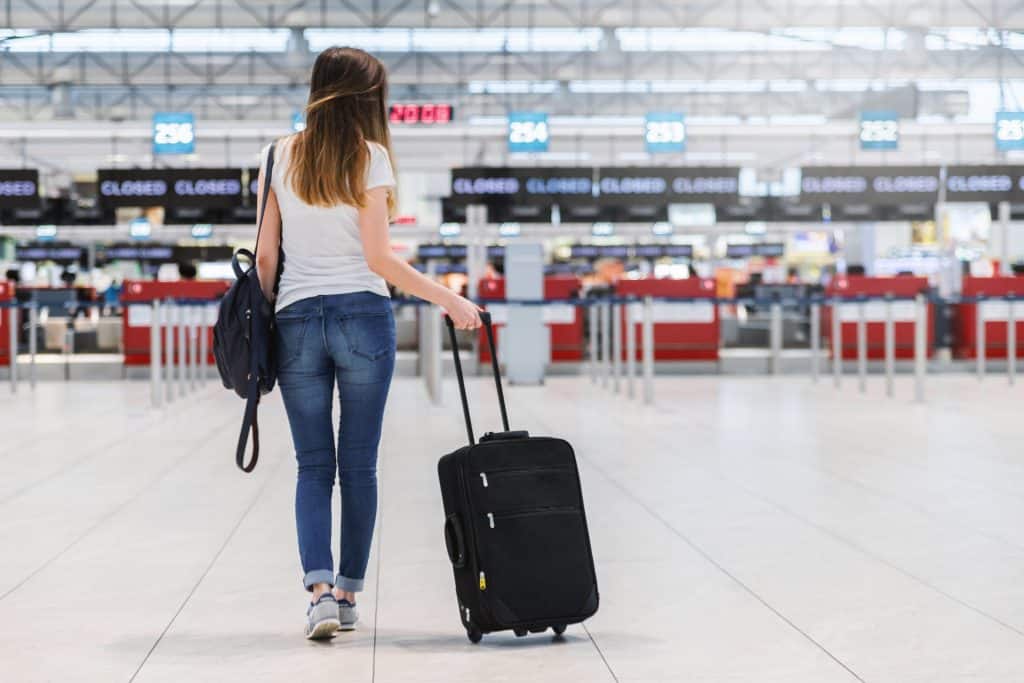 What's a "Personal Item"?
Ah, now, that's a bit more complicated.
The guidance from the different airlines varies quite a bit, partly because of different aircraft, partly because the seat configuration is one of the ways they can make your life miserable … sorry, "differentiate their services".
For our purposes a "personal item" is something like a bag or backpack that can be stored under the seat in front of you. This is a safety issue of course, they want everything stored away for takeoff and landing in case you have to, ah, de-plane rapidly.
What Size Backpack Fits Under Airplane Seats?
Let's look at just domestic U.S. airlines for now. International carriers tend to have slightly more room, so anything that works for a domestic flight should be fine for international.
So a smaller backpack (say 16 x 10 x 8 inches) should be able to go under the seat on most airlines as a "personal item". A slightly larger one will be fine on some airlines (more if it can be squashed a bit).
Don't be tempted to push this too far. If it doesn't fit, they will take it away and put it overhead – somewhere.
---
Best Under Seat Backpack (Comfortable Fit)
Any of the following backpacks should be a slam dunk as a "personal item backpack". They should be no issue with under seat storage, so it's really all about functionality, durability, and looks.
The workhorse of this group
Let's go through those in more detail:
Hynes Eagle 38L Flight Approved Weekender
| | | |
| --- | --- | --- |
| Dimensions | Weight | Volume |
| 18.9 x 13.4 x 7.9 inches | 2.3 lbs | 30 liters |
Product Description:
This bag is designed to make your travel easy. 
It's made from water resistant polyester and available in a variety of colors.  It has a roomy main compartment that has inner tie-down straps and a zipper mesh pocket for maximum organization; a middle organizer compartment that will hold up to a 15.6" laptop and up to a 10.5" tablet as well as documents or books; and a zippered front compartment with interior pockets for things like boarding passes, passports, etc. 
The external compression buckle straps allow you to adjust the height based on your needs.  The bag has mesh padded shoulder straps, and there is an adjustable sternum strap and waist strap for added comfort and support.  You have multiple carry options though because the bag has top and side handles and suppressible shoulder straps so it doubles as a duffle bag. 
Pros: Comfortable to carry; functional compartments
Cons: No water bottle holder; some people really don't like the branding embroidery!
---
SwissGear 1900 Scansmart 
The specs:
| | | |
| --- | --- | --- |
| Dimensions | Weight | Volume |
| 19 x 14 x 9 inches | 3.3 lbs | 31 liters |
Product Description:
This backpack is made from durable 1200D polyester fiber and built to last. 
The ScanSmart lay-flat design allows quick laptop-in-bag screening through TSA X-ray machines.  In addition to the large main compartment, the dedicated laptop compartment holds a computer up to 17", while the TabletSafe tablet pocket keeps smaller electronics secure.  This bag also has multiple interior and side accessory pockets to keep your items organized on the go, and a padded media pocket with headphone port so you can stay connected. 
The bag is ergonomically designed with padded shoulder straps and a padded yet ventilated back panel for comfort and support.  Finally, it is available in multiple colors to suit your preference and backed with a 10-year extended warranty. 
Pros: Lay-flat design is TSA-compliant; comfortable to carry; lots of organizational compartments
Cons: Some users have found that the bag does not stand well if only lightly packed
---
Samsonite Pro Backpack
The specs:
| | | |
| --- | --- | --- |
| Dimensions | Weight | Volume |
| 17.5 x 13 x 7 inches | 3.09 lbs | Not listed |
Product Description:
The Samsonite Pro Standard Backpack is a fusion of organization and technology. 
This bag has several strategic compartments to keep all of your belongings well in order.  The main compartment has a 1.5" expandable gusset and offers file organization. 
The tech features include: a lay-flat padded compartment that holds up to a 15.6" laptop and can be adjusted as needed; a wireless charging pocket to fit your phone and battery; a detachable cord pouch to keep all your wires organized; a padded tablet sleeve; an RFID pocket to safeguard from identity theft; and an integrated USB socket for on-the-go charging (note that the power bank is sold separately). 
The S-curve comfort straps and padded back panel make carrying this a breeze, and the SmartSleeve allows you to attach it to rolling luggage if needed.  This really is a tech lover's bag.
Pros: perfect for organization of tech products
Cons: We've seen some suggestions that Samsonite durability isn't what it used to be
---
Timbuk2 Never Check Expandable Backpack
The specs:
| | | |
| --- | --- | --- |
| Dimensions | Weight | Volume |
| 14.17 x 11.42 x 11.42 inches (max) | 2.6 lbs | 24 liters |
Product Description:
As the name implies, this bag is made to carried on a flight, never checked!  (Sounds perfect for our needs.)
It has expandable volume made possible by a wraparound gusseted zipper.  In addition to your clothing and accessories, it will hold a 15" laptop, a 9.7" tablet, and the internal slip pocket allows for additional organization.  There are also external pockets for quick access on the go. 
It features padded shoulder straps and a back panel for comfort and weather-resistant zippers for added durability.  Add in the lifetime warranty, and the Timbuk2 Never Check Expandable Backpack may just be the right pack for you! We like the Night Blue version, but lately they seem to be having supply chain issues and it's out of stock. never mind – the Jet (get it?) Black version is still available.
Pros: Comfortable to wear, spacious inside
Cons: front buckles are not useful; some users found the straps didn't stay tight
---
Best Under Seat Backpack (But Might Be Pushing It a Bit)
Stepping up a bit in size, these backpacks should be ok for under an airplane seat on most flights, but you might find it a squeeze on some carriers.
"The Commuter" is great for travel, tough and water-resistant
Great price, but it's really a mini-suitcase
Let's go through those in a bit more more detail:
The Ridge Travel Backpack with Laptop Holder
The specs:
| | | |
| --- | --- | --- |
| Dimensions | Weight | Volume |
| 18 x 12 x 6in  inches | 2.42 lbs | 15L |
Product Description:
This bag is primarily marketed as "The Commuter" by our old friends at Ridge. Everything that makes it a great commuter bag though, also makes it a great underseat travel backpack.
The bag is well thought-out, balancing access and security. Apart from the basics (the bottle holder and luggage strap), there's also an interior powerbank pocket for charging accessories and an external USB port for charging (the powerbank is a separate purchase), a hidden RFID-blocking pocket, and last but not least, a padded laptop protector pocket.
And when you leave the plane? This bag comes in a weatherproofed 600D nylon, with YKK "Aquaguard" zippers to prevent rain getting at your belongings inside.
All in all, this is a great option, from a company known for producing durable wallets and other accessories.
Pros: Spacious; well-designed; excellent materials
Cons: Some felt the straps were a little small, more "fashion" than "function
---
Amazon Basics Carry-On Travel Backpack
The specs:
| | | |
| --- | --- | --- |
| Dimensions | Weight | Volume |
| 21.5 x 15.75 x 8.25 inches | 3.64 lbs | 45-50 liters |
Product Description:
Pros: Made of polyester, this backpack is ultra-flexible and lightweight, making it easy to carry with you on your travels. With an internal, zippered laptop sleeve, your laptop will stay secure and protected while you're on the go.
The main compartment of the backpack features a zippered mesh space, optional midway shelf, and internal/external compression straps, allowing you to pack everything you need while keeping your belongings organized and secure. The front pocket and front-top pocket make it easy to access your documents and travel liquids, while the main upper packing compartment comes equipped with an organizer and expandable storage space, along with a tuck-away ID pocket.
The backpack's padded shoulder straps are easily detachable and can be stored away in the zippered back pocket. In addition, the backpack comes with a removable sternum strap, waist belt, and shoulder strap for ultimate comfort and support. The well-placed exterior handles make it easy to pick up and carry the backpack, and the full-expansion zipper creates 10% more packing space in case you need a little extra room.
Cons: This is certainly pushing it size-wise on some carriers, or even some seats on the same flight. It's also not going to be tough enough to cope with repeated over-stuffing. But then, the price can't be beat!
---
Oakley Men's Kitchen Sink Backpack
The specs:
| | | |
| --- | --- | --- |
| Dimensions | Weight | Volume |
| 20 x 14 x 8 inches | 4.05 lbs (shipping weight) | 34 liters |
Product Description:
This bag is built to last, with abrasion-resistant fabric and durable outer materials. 
There is a spacious shoe compartment at the bottom, a hard media-player/phone compartment at the top, a padded side access panel to fit most 17" laptops, a front-zip pocket with accessory organizer panel, and a built-in optics holder (makes sense they would protect glasses and sunglasses given thats probably what Oakley are best known for). 
The compression-molded back panel and adjustable shoulder straps keep you comfortable while carrying.  If you are looking for a rugged style and diverse function, the Oakley Men's Kitchen Sink Backpack may be the choice for you.
Pros: lots of compartments for organization
Cons: the structure isn't terribly rigid
---
Pacsafe Metrosafe LS450 25 Liter Anti Theft Laptop Backpack
The specs:
| | | |
| --- | --- | --- |
| Dimensions | Weight | Volume |
| 19 x 11.8 x 6.7 inches | 1.84 lbs | 25 liters |
Product Description:
This Anti-Theft Laptop Backpack is designed to keep your belongings safe and secure while you travel, commute, or explore the world. Equipped with a padded 15″ laptop sleeve, this backpack is perfect for anyone who needs to carry their tech essentials in style and comfort.
Constructed from 100% durable polyester, the Pacsafe Metrosafe LS450 features a cutting-edge anti-theft design that includes lockable zippers and lightweight steel mesh material to deter theft and pickpocketing. The RFID blocking pocket protects your credit cards and IDs from digital theft, ensuring that your personal information stays safe while you're on the go.
The backpack boasts numerous organizational features, including three lockable zipper exterior pockets, a padded and suspended interior notebook sleeve, two side pockets for water bottles or umbrellas, two zipper interior pockets (one RFIDsafe), and a key/wallet clip. With its roomy capacity, the Metrosafe LS450 can easily hold your notebooks, MacBook, iPad, iPhone, ebook, smartphone, purse, camera, travel accessories, and souvenirs.
Designed for comfort, the backpack's padded shoulder straps can be adjusted from 26.8″ to 36.2″, making it ideal for travelers, day trips, adventurers, office and college commuters, and as a carry-on for both women and men.
Measuring 18.9″H x 11.8″W x 6.7″D and weighing 1.84 lbs, the Metrosafe LS450 is crafted from soft, water-resistant, and easy-to-clean polyester that ensures secure and long-lasting usage. It also comes with a 5-year Pacsafe warranty.
We like the backpack's well-made construction and versatility for smaller individuals who want to travel light. One reviewer commented that the Metrosafe LS450's 25-liter capacity can "fit a month's worth of essentials while remaining easy to lift overhead and carry around".
(OK, to me that "month" is excessive, but you get the picture – it's roomier than it looks.)
Pros: Lots of thought has gone into the anti-theft features; roomy and comfortable to wear
Cons: The lengthy design might make this inappropriate for people of smaller stature
---
Best Backpacks That Are Carry-On Sized
And finally, what if you just have too much stuff, but you don't want to have yet another wheeled carry-on?
The following are a couple of great options for hands-free carry that are officially carry-on sized (so they will go in the overhead bins, even if they can't go under an airplane seat).
Great budget option: a basic but high-quality carry-on
Perfect for longer trips: a 3-in-1 travel backpack, suitcase, and shoulder bag
Great budget option: a basic but high-quality carry-on
Our Favorite!
Perfect for longer trips: a 3-in-1 travel backpack, suitcase, and shoulder bag
Let's look a little closer at those:
Matein Carry on Backpack, Extra Large Travel Backpack
The specs:
| | | |
| --- | --- | --- |
| Dimensions | Weight | Volume |
| 19.5 x 14 x 6.5 (exp. 7.5) inches | 2.6 lbs | 29 liters (exp. 39 L) |
Product Description:
This bag isn't flashy, but it will definitely get the job done, and its budget-friendly too (we know a little something about budget backpack options). 
It has a large capacity to hold up to a week's worth of luggage and an interior accessory pocket to aid in organization.  The hide-away shoulder straps, top and side handles, and optional chest strap make carrying this bag easy and enjoyable. 
The durable waterproof polyester and metal zippers ensure longevity which is supported by the lifetime warranty.  If you are looking for a basic high-quality carry-on, give the Matein Large Carry-on Backpack a try!
Pros: Great value; solid and dependable option
Cons: No specific laptop pocket
---
Standard Luggage Co. Travel Backpack
The specs:
| | | |
| --- | --- | --- |
| Dimensions | Weight | Volume |
| 21.5 x 13.5 x 7.5 inches | 3.7 lbs | 35 liters (exp. 45 L) |
Product Description:
This last pack is a 3-in-1 travel backpack, suitcase, and shoulder bag.  The main compartment has a full-perimeter zip that allows you to pack it like a suitcase, holds 5-7 outfits, and expands up to 10 liters for added space when needed. 
It's built with 1680D water-resistant nylon and comes with a rain cover for durability, and features YKK lockable zippers and a safety whistle built into the sternum buckle for added security. 
The included neoprene laptop sleeve fits up to a 15" laptop and is detachable for convenience.  The backpack is padded and there are 6 points of adjustability on the straps. The bag also comes with a removable hip belt, thus resulting in maximum carrying comfort. 
Give the Flight Approved Backpack a chance to earn your seal of approval!
Pros: Very spacious; includes lash-down straps and daisy chains
Cons: Limited organization in the interior
---
It Is Now Safe To Move About The Cabin
And that's a wrap. Not all travel backpacks are made alike and whats right for you will depend on whether your focus is budget, security, capacity or convenience.
Hopefully this list will help you whittle it down when choosing the best backpack for under airplane seats!  But as we said before, there can only be one winner:
The Best Under Seat Backpack
SwissGear 1900 Scansmart
For its ergonomic design, ventilated back panels, its RFID-protected pocket and TSA-friendly lay-flat-for-scanning features, the SwissGear 1900 is our choice for the best personal item backpack for under an airplane seat
Before You Go:
Backpacks that can fit under an aircraft seat are a great solution, but that's not the only approach you can take. It's no secret we're big fans of messenger bags – so if you feel like taking a different approach altogether, check out our next article:
Best Messenger Bags for Air Travel
Related Articles:
Bonus Video:
All product names, logos, brands, and trademarks are the property of their respective owners
Last update on 2023-09-14 / Affiliate links / Images from Amazon Product Advertising API