We were super excited to get our hands on a couple of Axwell's newest line of minimalist wallets, and they didn't disappoint! Read on for our full review (and a discount offer for WalletShoppe readers…)
The first time I saw Axwell wallets mentioned, I did a double-take. It took me a few minutes to work out that I wasn't going crazy – I had actually seen them before, but under their old name.
Who Are Axwell?
The company previously went by the Armour Supply Co – and they had a great reputation for producing tough, high-quality minimalist wallets and other everyday carry items. Their Armour Wallet designs were highly recognizable, hence my double-take.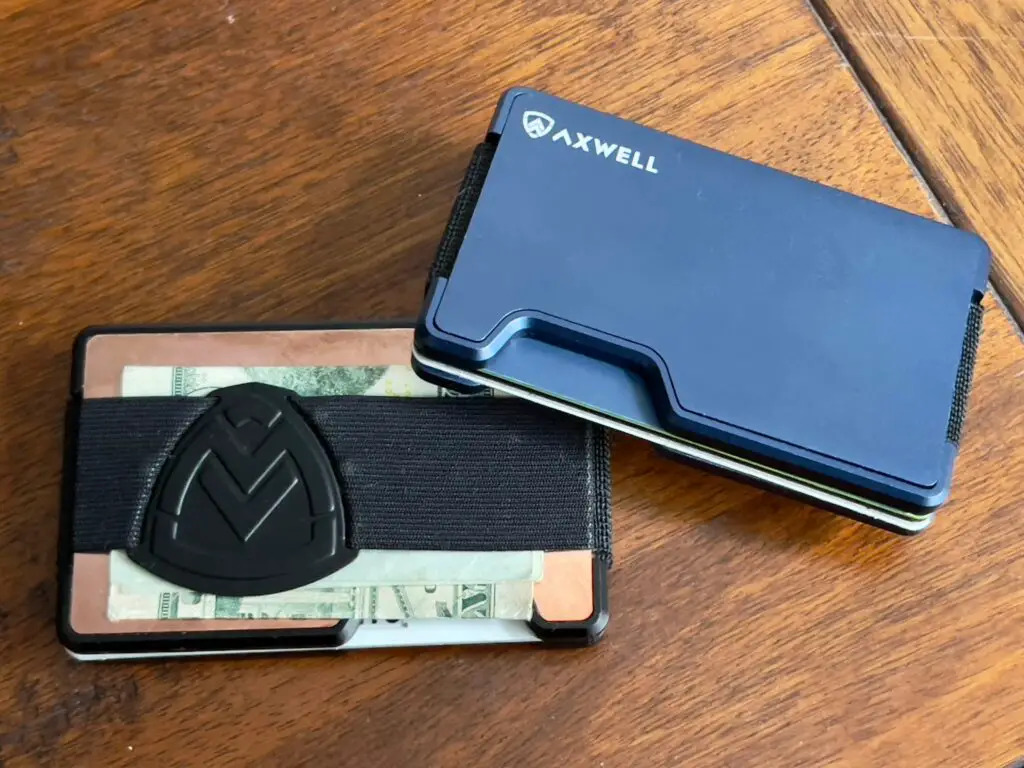 So now the company has grown, taken on a new name, new logo, new range of products. How do these stand up in a rapidly-changing marketplace?
Materials and Specs
Axwell Wallets come in three main materials:
Copper
Aluminum
Carbon Fiber
The Aluminum is the main material used. If you visit their site, you'll see there are several different colors in the aluminum (e.g. Navy, Black, Gunmetal, Olive, and a fabulous hunter's Orange) as well as several "special edition" models.
The gorgeous copper version and "forged carbon" fiber are unique looks constructed in the same format (shape, access features, etc) as the aerospace-grade aluminum wallets.
Dimensions and Weight
All the wallets are the same size when empty: 3.39 x 2.13 x 0.31 inches (86 x 54 x 8 mm).
That's just a little bigger in height and width than a standard credit card. This size has become the default for wallets like this now – not really surprising as you can't really go smaller than the credit cards you're trying to hold.
They do vary quite a bit in weight though:
Copper is the heaviest, weighing in at 5.35 oz
Aluminum: weighs 2.6 oz
Carbon Fiber is the lightest at 2.25oz
Axwell claim the wallet holds 1-12 cards:
With some designs, having only one or two cards means you run the risk of some falling out (they use the pressure of multiple cards to help hold them in place)
We also wanted to check the maximum number of cards you can really keep in there comfortably, (as opposed to the theoretical maximum)
In this case, the wallet outer plates are held together tightly and a single card seemed perfectly fine (but that's taking minimalism to an extreme, even for us!).
Adding more cards seemed to be no big issue either, though we wouldn't recommend the stated maximum of 12. It might be technically possible, but we think that sorting through fanned-out cards starts to be an issue when you have more than 6-8.
Design and Features
There's only so much you can do with a minimalist wallet to make it stand out, but the designers at Axwell have to their credit made something that doesn't look just like all the Ridge-wannabies out there.
Looks
There are the standard two plates held together by an elasticated binding strip, and a cutout to thumb cards out with of course, but the surfaces are smooth (without rivets) and even the cutout looks a bit – more elegant, somehow?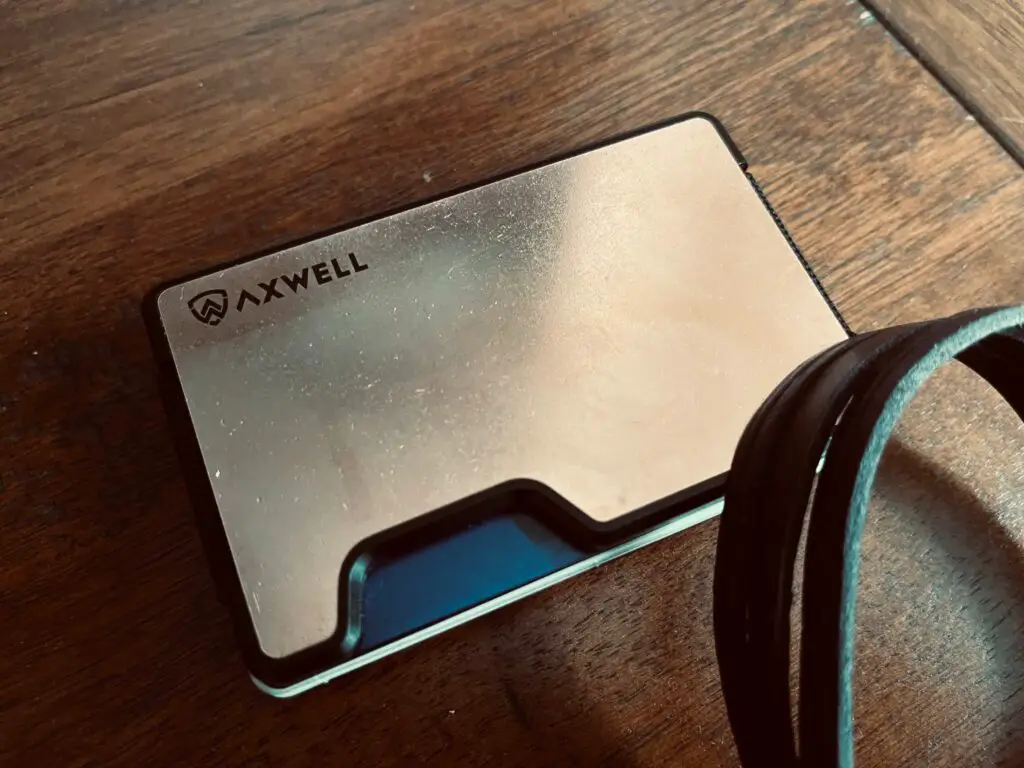 The faceplates click on magnetically using a proprietary technique called Mag-Lock™ – a cool feature that means you can easily change the faceplates to a different style or color without changing the whole wallet.
The looks aren't all they have going for them though. This wallet does seem to have been very well thought through. Take the cash strap and money clip for instance.
Cash Strap and Money Clip
For a start, the standard wallet comes with both options in the box, which is a nice touch. Don't know which you'd prefer before ordering? No problem, have both.
Switching between them is easy too. As we said, the cover plates are held in place magnetically, which means you can simply remove the plate and swap the strap for a clip. No screwdrivers needed …
I originally thought this might be a point of weakness. Would the plates stay in place as the wallet saw real-life use?
We talk about our experiences below (spoiler alert: no, they didn't come off)
RFID
We've said before that RFID shielding seems to be less of a necessity than people think, but if you have any concerns then the good news is these wallets all come with RFID protection as standard.
Accessories
There's a nice range of accessories and EDC extras that you can pimp out your wallet with too:
A Chipolo GPS wallet tracker.
A slide-in tray for coins/keys/other thin stuff
A credit-card size multi-tool
My favorite is the coin tray – although I use it a little differently. More later …
Our Test Axwell Wallets
Our test wallets were a sleek navy aluminum and one of the completely beautiful copper models. In order to get a couple of different takes, my wife took the navy for a spin and I took the copper.
Both of us tested the cash straps, and then flipped them to money clips to try that approach out for a few days.
I think its fair to say we both preferred the cash straps. I keep my wallet in my front pocket, and for me, lightweight and easy to access are the two things that dictate my day-to-day experience.
The money clip is easy to switch to, but for me it makes the wallet feel slightly thicker, and slightly more likely to catch on the fabric of my pants pocket.
My wife carried hers in a handbag, so didn't have that issue, but we both preferred the cash strap access. Your mileage may vary of course – it's a personal thing more than one approach being better (or better implemented in the design).
I also tried out a different approach. Since I often only tuck a twenty into my wallet for emergencies, and don't carry any other cash, I removed the cash strap and just used the coin tray: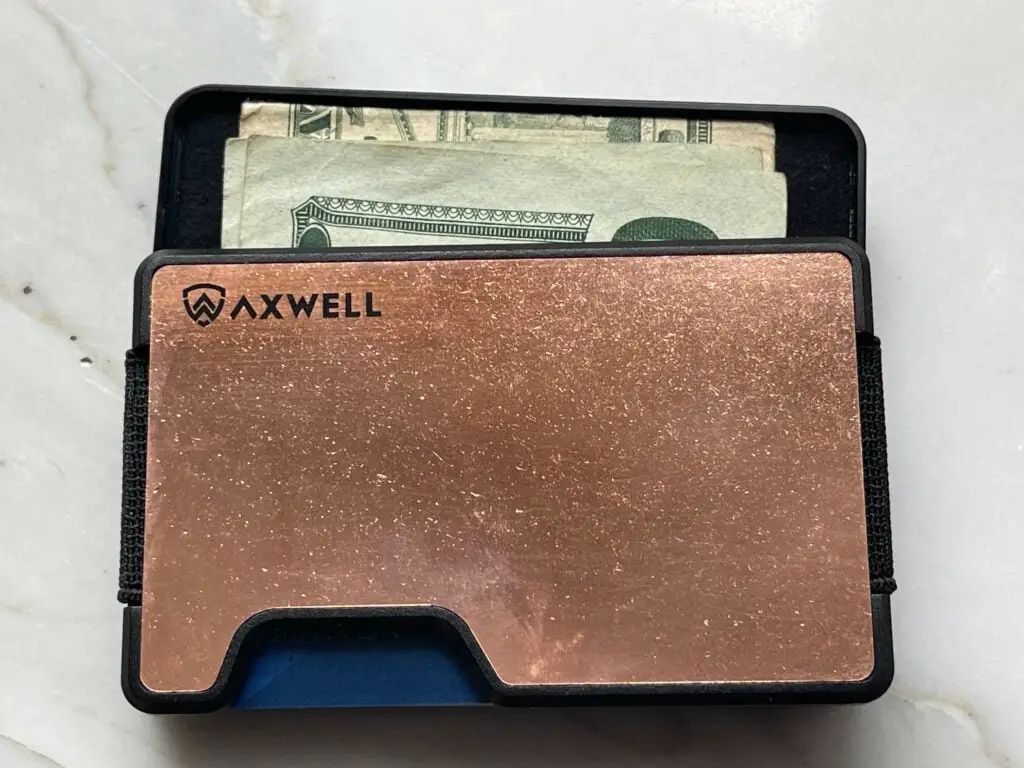 This worked very well. This obviously made the wallet a little thicker, but losing the external strap or money clip compensated nicely. Won't work for everyone, but I like it.
Our Experience
OK, we both loved these new toys! Since we're both minimalist-carry people anyway, it's not like we needed convincing about slim wallets, but that doesn't mean every implementation works.
We both found the wallets easy to carry, and the thumb cut-out is a good size to allow for a satisfying "fan" of the cards you're carrying.
The elasticated binding strip that holds the plates together was very strong. I wondered if it would be too strong, but if you slide the cards in rather than try to prise it apart we didn't find any issue.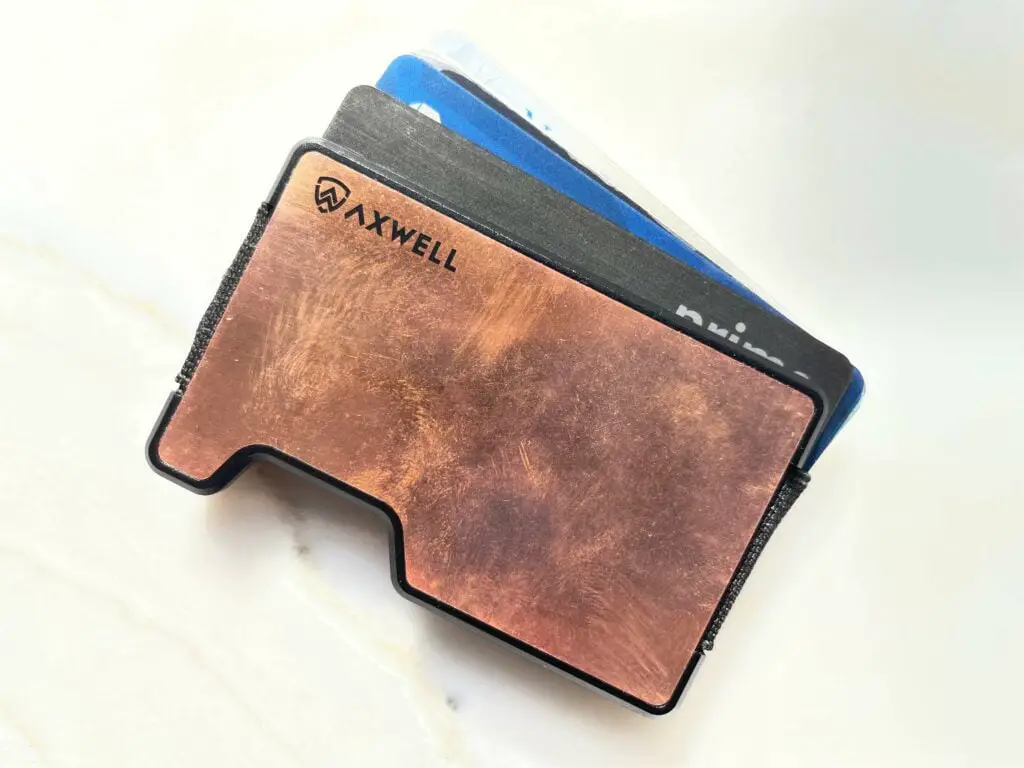 Durability: We haven't had these for long, so we can't give you a definitive answer as to how they hold up over time.
Seems reasonable to assume the weak point will be the elastic strap that holds the plates tightly together. There's an inexpensive replacement available on the website, but the lifetime warranty also says it covers "elastics" so presumably you're covered in the event that the elastic dies unreasonably quickly.
Update: we checked this with Axwell, this was their response:
"[Y]es we will fully replace any parts that break or rip for life. We are so confident in the quality of our product that we guarantee it will operate forever and if it does not we will repair or replace it free of charge."
Can't argue with that.
They also made an interesting comment that I hadn't thought about at first.
Unlike the Ridge, Axwell don't have elastic on the bottom. The elastic looping around the wallet will put less pressure on it as the wallet opens, which should allow it to last longer. The sides of the inside shell plates where the elastic sits are beveled also, to help prevent the elastic from ripping over time.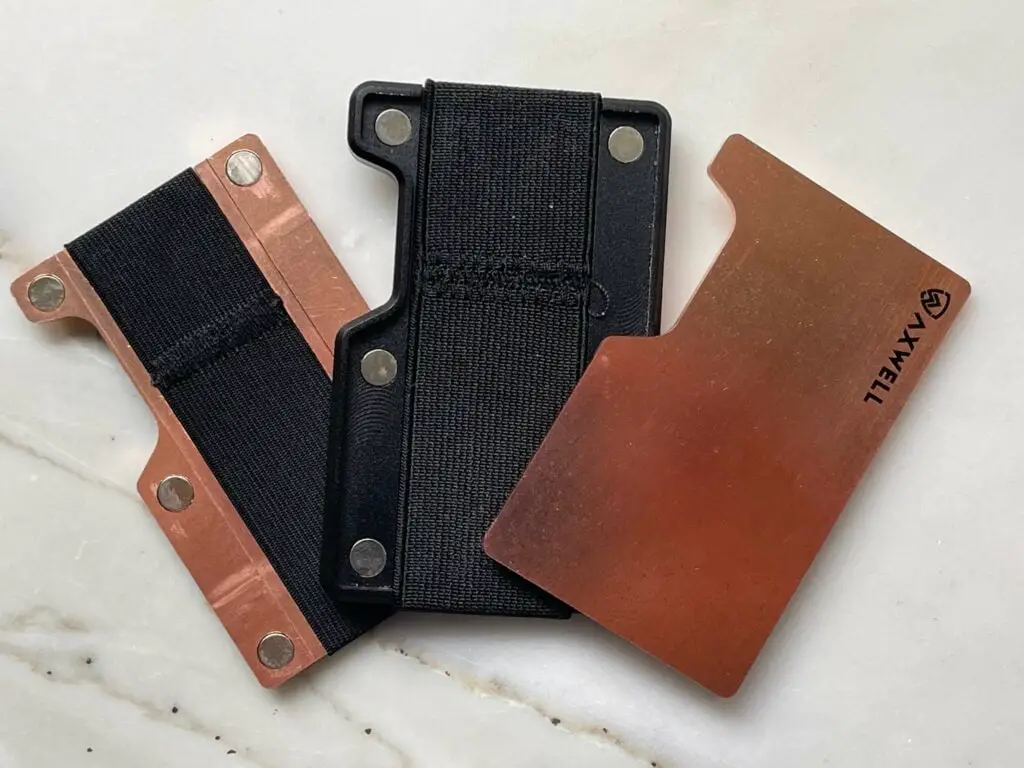 The rest of the wallet is solidly made and feels like it will last longer than me…
The Verdict
Pros:
These are solid, well-made, very attractive and usable wallets, and we would certainly rate them a strong buy.
• Holds 1-12 Cards + Bills
• Blocks RFID (wireless theft protection)
• Ultra-slim, Lightweight, Indestructible design
• Money Clip and Cash Strap included
• Available in aerospace-grade aluminum, copper, and carbon fiber
• Mag-Lock™ replaceable Cover Plates
• 50 Day Risk-Free Guarantee
• Donation to Homeless Veterans
• Backed by Axwell Lifetime Warranty
The flexibility of quickly switching from money clip to cash strap, and changing the faceplates to mix and match and create a new look is a great bonus.
The price point is lower than the Ridge, but these are certainly not inexpensive. That is the point though. This is no cheap Ridge substitute, it's a different product aimed at people who want a tough, durable wallet that will last and look cool while doing it.
Cons:
My only real issue is with the copper wallet being a little too heavy for my tastes. It's twice the weight of the aluminum (and the carbon fiber is even lighter). I found that once I'd loaded it with cards and a coin tray it felt noticeably heavy in a front pants pocket.
Don't get me wrong – it looks amazing, and if I was carrying it in a bag of some kind that would be a no-brainer. But as a front-pocket carry I would recommend one of the aluminum models. (You might not notice if you were going from a larger, traditional wallet to this of course.)
I mentioned this to my wife. Her response? "Yes, you should get one then."
Guess she's keeping the navy wallet …
Where To Buy
Another feature we like about Axwell is the way they give back. A portion of the proceeds from every sale goes to helping homeless veterans in the US and Canada, as well as a discount for military, law enforcement, and first responders.
All in all, we're big fans.
We even scored a discount for WalletShoppe readers – enter THEWALLETSHOPPE at checkout for 10% off!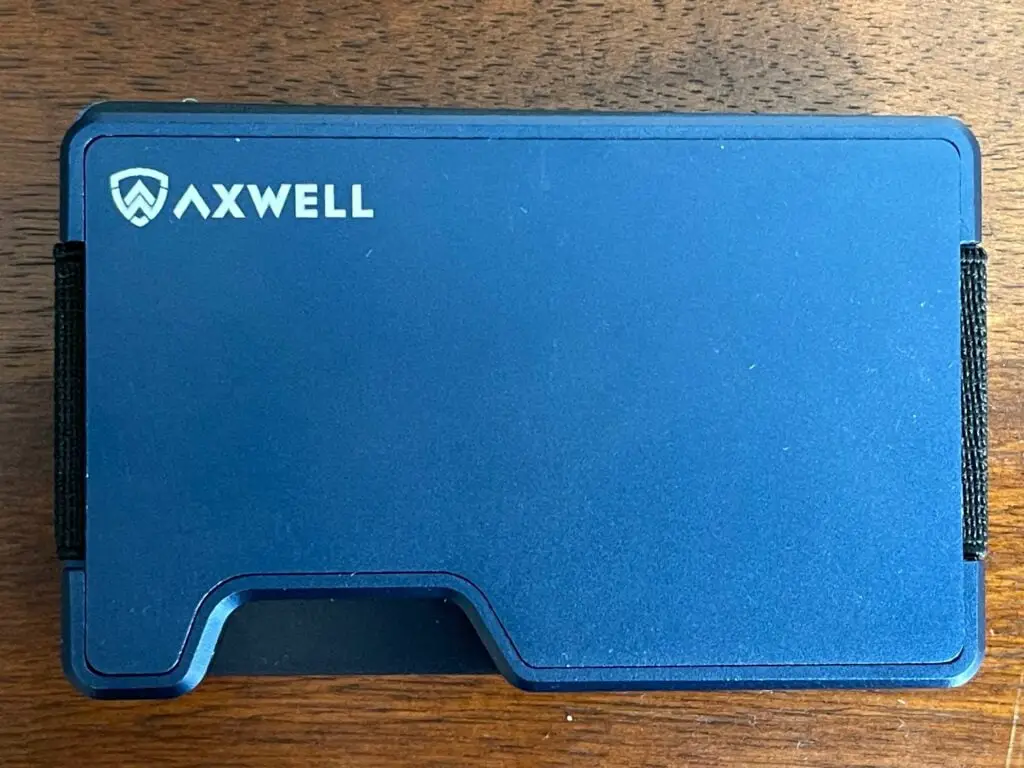 Before You Go…
Axwell have not been resting on their laurels. Check out our next article for a roundup of some cool new accessories:
Axwell Wallets – New Models and Accessories!
Related Articles
Bonus Video!
OK, this video showcases a feature we didn't expect to see!
All product names, logos, brands, and trademarks are the property of their respective owners