Here are some great choices that all stand up well compared to the original Secrid Wallet collection. We tried to come up with wallets across the pricing spectrum that truly compare to the Secrid. 
Looking for Secrid Wallet Alternatives?
Each of these wallets has a similar mechanism or functionality to the original (mainly focussing on the card-ejectors), but each is slightly different in their own way.  We'll look at the materials they're made of, their practicality, the cost and much more. 
The main thing we want you to realize … if you're looking for Secrid alternatives you have a good range of options.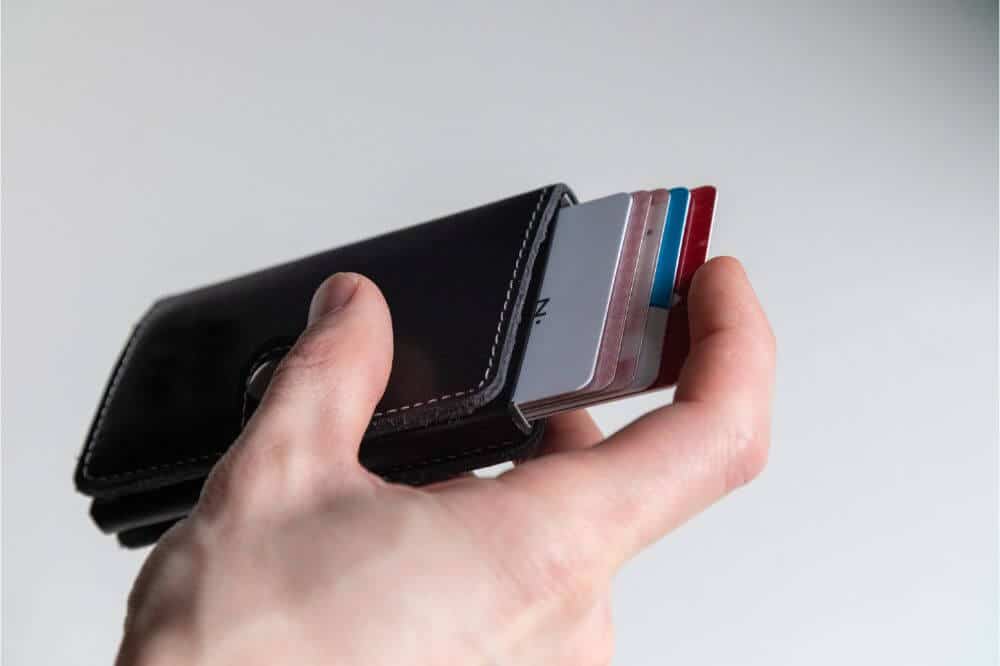 For those that just want to jump in, these are the wallets we're going to review. More details on each of these after the table.
Best of Both Worlds - Metal Frame, Leather Wallet
Probably our Favorite Option, but Pricey
OK, lets go through those one by one:
---
Fidelo Minimalist Hybrid
Dimensions: 4.3 x 2.6 x 0.32 inches | Weight: 1.7 Ounces
The Fidelo Minimalist Hybrid is the best of both worlds, with a slim and streamlined cardholder and a top-quality leather case.
Review
The Fidelo minimalist hybrid wallet gives you the functionality of an ultra-slim Ridge-style front pocket wallet. The inner wallet is made of lightweight aluminum that blocks RFID, with a slide trigger system allowing you to grab the selected card with the flip of your finger. 
The inner aluminum wallet holds 5 embossed cards or 7 flat cards, with a band for easy cash storage. When you want more style or more storage, slip the aluminum wallet into the included premium top-quality leather case.
The case holds another 1-2 cards or 1-10 bills in the front pocket, with a back pocket that holds another 1-2 cards. The leather case is also tap-payment enabled, so you can use your favorite card without removing it from the wallet case.
This hybrid system gives you the best of both worlds, with a minimalist wallet function when you need it and a stylish luxury case with more storage that doesn't add bulk.
The Fidelo hybrid wallet comes in a wide range of colors and materials for every style and includes an extra cash band and a luxury gift box. It is also backed by a lifetime guarantee.
Pros
Hybrid design combines a slim aluminum wallet with a premium leather case
Durable spring trigger system with a lifetime guarantee
Versatility to increase storage with tap payment when needed
Cons
Spring function works most easily one-handed when the wallet has 4 or fewer cards
---
Ogon Wallet: Cascade
Dimensions: 3.82 x 2.68 x 0.59 inches | Weight: 4.2 ounces
The Ogon Cascade Wallet is a great alternative to the Secrid Wallet, and it's probably our favorite on this list.
It weighs in a bit heavier than the heaviest of the Secrid collection and is a little wider in each of the three dimensions. This allows it to hold a little more – up to 8 cards total.
It comes with a leather cover encompassing a solid card holder in the middle with an aluminum cover which protects you from digital theft. On top of this it also has a money band alternative to hold your cash securely.
Pros:
In terms of durability and practicality this is a solid choice
Cons:
Some customers reported issues with the mechanism sticking after a few months
---
Vulkit Wallet
Dimensions: 3.9 x 2.5 x 0.31 inches | Weight: 1.86 Ounces
The Vulkit wallet, like the Cascade wallet, includes an RFID blocker to protect your cards from NFC-facilitated theft. It has more of a minimalist feel to it with room for up to 5 cards (depending on thickness), and a similar-to-the-original ejector trigger.
The velvet pocket on the exterior is a nice touch – if like me, you like to tuck away a $20 "just in case" then this pocket lets you do that in style.
Pros:
Great budget option, sleek design (looks VERY like the Secrid). Available in a wide range of colors and different configurations (such as a doubled-up version for up to 10 cards)
Cons:
As a budget option, it's not likely to last as long as higher-priced choices
---
Card Blocr
Dimensions: 3.75 x 2.75 x 0.75 inches | Weight: 2.08 ounces
This is another wallet which adopts a minimalist feel complete with a secure RFID blocker internally. On the exterior you'll find smooth and luxurious leather coating (or other materials like carbon fiber – this wallet comes in a huge range of colors and materials) with enough room inside for four to six (4-6) cards and another one to two (1-2) cards inside the interior pockets.
Pros:
Sleek design, wide range of colors and materials
Cons:
You may find the cards are not very secure if you only have one or two
---
Ekster Senate

Dimensions: 4.6 x 2.8 x 1 inches | Weight: 4 ounces
The Ekster Wallet is the perfect balance of practicality and style consisting of a leather holder with a card slider as well as an RFID blocker inside the wallet. It has room for up to eight cards and is one of the thinnest wallets reviewed today and it's extremely light. We love these wallets and did a full Ekster wallet review here.
In addition to be being a high-quality ejector-style wallet, Ekster also were pioneers in the world of trackable wallets, well worth checking this out if you're prone to leaving things behind.
Pros:
High quality materials and construction
Cons:
Pricier than the others on this list
---
GRIP6
Dimensions: 4 x 3 x 0.5 inches | Weight: 5.3 ounces
This ejector wallet from GRIP6 is the newest addition to our list.
We like this design a lot! Similar to the Secrid card holder, it comes as different components that can be mixed and matched.
The main component is a high-grade aluminum box wallet with an ejector trigger. Available in multiple colors, this holds five cards (they claim six, but we found that to be very tight.)
There's a nice self-locking mechanism that holds cards inside – i.e. it doesn't depend on the pressure of multiple cards to hold them in place. The trigger mechanism is smooth too.
Surrounding the box wallet is a high-quality leather sleeve that holds an additional eight cards, with a small pocket for bills. We like the optional finger loop as well – remember fidget spinners? Probably not what they intended, but it works ….
Pros:
Flexible design gives lots of options
Cons:
Some users have commented that the RFID protection doesn't appear to be 100% (possibly due to the chip being exposed by the thumb cut-out)
---
Secrid Wallet Alternatives – Buyer's Guide
When you're looking at Secrid Wallet Alternatives, there are several obvious dimensions to compare.
Cost: Is this good value for money compared to the original or the other alternatives?
Functionality: How does the card storage capacity compare? How about the card release mechanism?
Protection: Does this provide RFID protection, and are the cards securely held?
Our Recommendation: The Ogon Wallet
All in all, we recommend the Ogon Designs Cascade Wallet as our best combination of value and practicality from all the Secrid Wallet Alternatives we reviewed.
Before You Go…
These are some of the best alternatives to the original Secrid wallet we've found. Check out our full Secrid review if you'd like to compare their options as well:
Related Articles
All product names, logos, brands, and trademarks are the property of their respective owners
Last update on 2023-11-13 / Affiliate links / Images from Amazon Product Advertising API