Quite simply, we think this is the most comprehensive list of the best minimalist wallets you'll find anywhere. It took months to select these, you're sure to find something you love!
Minimalist Wallets
What's a minimalist wallet anyway?
A minimalist wallet is more than simply slim, it does only what it needs to – hold your cards and maybe a couple of banknotes, and thats it.
There are a lot of slim wallets out there with GPS trackers, fancy card ejectors, even built-in tactical tools, but a truly minimalist wallet will eschew all that and do one thing well.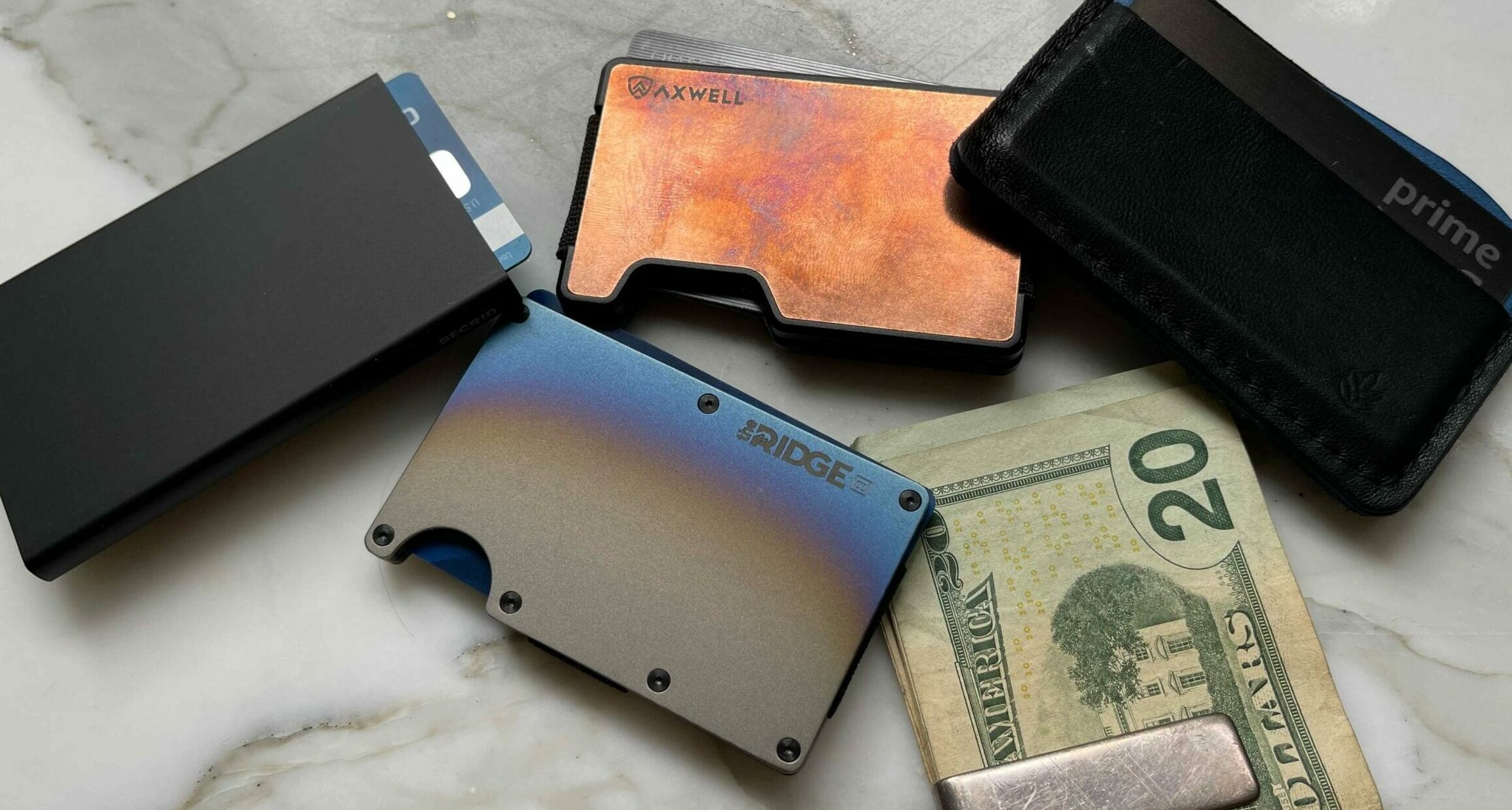 These little wallets force you to ask yourself… do I really need this in my pocket? 
It's easy to keep adding to a larger wallet – many credit cards, 10-15 bills, a gym card, grocery rewards card, insurance card, receipts, pictures of your kids/grandkids and more.
Or at least, that used to be the case.
These days, most people keep most of those items on their phone. Many cards? Add to Apple Pay. Rewards cards? I have apps for each coffee shop I use (that's a disturbingly large number…). Photos? As of today I have 9,225 photos and 658 videos on my phone.
All that I have in my wallet is a couple of credit cards for emergencies, my driver's license, and my health insurance.
Just the essentials. Oh, and a twenty folded and tucked away inside. It's unlikely wallets will ever go completely obsolete, but the days of the large, bulky Costanza wallet seem to be over (and a good thing too).
What is NOT a Minimalist Wallet?
Aside from the obvious (big, bulky trifolds, long wallets), let's also define a couple of other categories that we are NOT covering.
Tactical wallets. No matter if they are very slim, essentially the scale of a credit card holder, it's not a minimalist wallet if it has lots of bells and whistles. If it has a built-in lock picking kit and bottle opener, it may be cool, but its a tactical wallet, not a minimalist wallet
Money clips. We love money clips. I own one myself and use it on the rare occasions I need to carry more cash around. But they are a different type of beast altogether, and for our purposes today we will not count them as minimalist wallets
Types of Minimalist Wallet
There are three basic styles of minimalist wallet – card holders, bifolds and what we call "custom" style wallets. All of the wallets below will fall into one of these three categories.
Card Holders – these are actually one of the early takes on a minimalist wallet. They come with enough room for your license and one or two cards.  There's room for cash, but honestly, it's not encouraged.  If you decide you need some cash, you can usually fold the bills and fit them nicely inside the middle pocket
Bifolds – these are the little wallets that were pioneered by Bellroy. There the closest thing you'll find to a traditional wallet, yet still remain minimalistic.  They do it a number of ways – thin material and innovative design primarily, but the main thing is that they encourage you to carry less
Combo – these wallets are where the fun comes in.  They don't quite fit into the money clip or bifold category…or maybe they fit into both?  We'll just say this, there are some inventive people out there.  Some of the wallets we've seen are just straight up wild!  Whether they're made of metal, wood or Tyvek, these wallets break the mold and help you slim the way you carry
---
Our Top Choices
For those that just want the very top choices, here are our top six:
Best Minimalist Card Holder
Best Budget Minimalist Wallet
Our New Favorite Combination Wallet!
Our favorite card holder - pull tab for quick access, quality materials
Our Favorite Bifold - money clip, pull tab for quick access, quality materials
Extremely simple and versatile at a great price point
Made of Tyvek in eye-catching designs, we can't help but love these!
The Long-Time King of Minimalist Wallets
Axwell Wallets - giving Ridge a run for their money!
But for those that want more details, let's move on to the first part of our list!
---
Minimalist Card Holders
---
The first batch of wallets are a wide range of designs, all targeted at the minimal end of the minimalist movement. These wallets are designed primarily as card holders – there may be room to tuck a note or two in there, but that's essentially an afterthought.
Here's a sample, but read on for more:
Recycled firehose - cool concept, super lightweight
Quality stitching, fits more cards than expected
Bellroy's smallest, super thin wallet
Pull tab makes card storage ultra slim
Holds a lot and still stays slim
Great wallet for front pocket carry
Recycled Firefighter Wallet
The Recycled Firefighter wallet is bound to catch anyone's eye the next time you whip it out.
The wallets unique material is made from recycled polyester fire hose along with the T-90 Nylon binding for added strength during everyday use. Holds 8 cards, 10 bills and every single wallet is made in the USA. The slim design is perfect for carrying in your front pocket and gain quick access to cash with the money strap on the back. This would make a truly unique gift next Father's day or Christmas.
Pros: Cool concept, super lightweight
Cons: A bit stiff at first and takes a week or two to soften up with use
---
Herschel Supply "Charlie"
The Herschel Supply Co. Men's Charlie wallet has a stylish, slim design for anyone that wants simple but high quality.
One slip in the middle and four card slots located conveniently on the outside. RFID blocking technology. Made from 100% sturdy polyester which will keep your cards feeling secure and can be easily stowed in your front pocket. If you are ready to transition from bulky to lightweight then you can't go wrong with this wallet.
Pros:  Really cool color selection, quality stitching, fits more cards than expected (8-9 cards)
Cons:  Slightly larger than a similar version from Herschel, cards fit a bit easier, however.
---
Bellroy Micro Sleeve
We won't go into a lot of detail here since we have a complete Bellroy Wallets article for you to dive into. The Micro Sleeve is Bellroy's smallest, super thin wallet.  It will still fit up to six (6) cards and some cash folded over twice.  Multiple colors to choose from.
Pros: Bellroy quality, 3 year warranty
Cons: The colored leathers don't wear well if you're hard on wallets
---
Bellroy Card Sleeve
The Card Sleeve is the OG card wallet by Bellroy. 
Its little brother, the Micro Sleeve is of a similar size, but won't quite hold as much as this one.  The secret is in the pull tab.  The picture shows you can fit up to eight (8) cards in the main pocket, but based on experience, you'd be better off keeping it closer to six (6) cards. 
Remember, with any leather, once you stretch it out, it's hard to shrink it back.
Pros: Pull tab makes card storage ultra slim, great color selection
Cons: Won't fit quite as many cards as it says (probably safe around 5-7 cards)
---
Kings Loot – The Traveler
Made from full-grain leather, this little number boasts a few extras that take it just that little bit beyond minimalist.
For instance, the card holder on one side is a nice addition to the classic small card-holder design. It has a thumb slider to facilitate easy removal (when was the last time anyone let you just show an ID, not hand it over?)
Instead of a set of small pockets, this wallet takes the pull-up tab approach which allows you to fan out your cards and pull the one you need.
Similar to an ejector wallet, but with less likelihood of a jammed trigger mechanism.
This minimalist leather wallet adds a metal money clip on the reverse side, which is a nice feature that you'll find in a lot of metal card-holders, somewhat less often in a leather model.
Pros: Very slim, minimal (if not quite fully minimalist)wallet with more features than you're expect from a card holder
Cons: Not clear how well the money clip holds up over time, some users have had issues with it loosening
Check out our full Kings Loot review here!
---
Vaultskin Chelsea Wallet
The Vaultskin Chelsea Slim wallet is the ideal accessory for the well-dressed man.
Nine (9) easy access slots. One (1) front card slot and eight (8) interior which will remain secure with the RFID protection. The Chelsea's intuitive design will allow all your cards/cash to be visible when you open the wallet so you don't need to waste time searching for them. Handcrafted in Italian leather this wallet screams luxury while still providing functionality.
Pros: Holds a lot and still stays slim
Cons: Cash isn't convenient to take in and out, but doable
---
Distil Union Wally Sleeve
The Distil Union Wally Sleeve Leather wallet can be utilized as your primary or secondary wallet depending on your traveling preferences for that day. Its ultra slim flex lock design allows up to 6 cards and cash to be stored securely in your front pocket.
The staple Wally pull tab allows you to gain access to your most used cards with ease and the hand rolled edges are preferably more comfortable than the traditional square cut wallets. The Distill Union is always fashioned out of the finest genuine full grain leather and will provide a long lasting minimalist wallet you can count on.
Pros: Very practical and easy to use.  Great wallet for front pocket carry
Cons: Some have complained that the interior lining can separate after 12-18 months
---
Rawlings Baseball Front Pocket Wallet
The Rawlings Baseball Stitch Leather Wallet is going to appeal to the fun loving sportsman in your life.
Whether you are a baseball fan or not it will be hard not to admire the unique decorative stitching on this calfskin leather. This card case features two card slots on the front and a magnetic money clip on the back, while the outer is pocket perfectly sized for extra cards or cash.
Pros: Niche wallet for the baseball fan in your life
Cons: Quality seems variable, some say "great", some say "cheap". Worth trying for baseball fans, just be sure you can return it
---
Minimalist Bifolds
---
All right, moving on now to the second section in our minimalist wallet review. Let's look at some great bifolds that are simple and skinny enough to qualify!
First, here's a quick sample of our favorites just to whet your appetite. But do read on, there are 22 bifolds in total!
Funky designs, made from a funky Tyvek material, what's not to love?
Money clip, pull tab for quick access, quality materials
Classic design at a budget price
Traditional wallet functions, but ultra slim
Slim and functional, while made from genuine cork leather
The Big Skinny Hipster Bi-fold (Leather)
The Big Skinny Hipster Bi-fold has all the storage you need and yet it's unbelievably thin design will have you checking to make sure you have it throughout the evening.
Constructed of the finest top grain leather and microfiber interior, it holds (up to) 40 cards plus bills and allows storage in 3 deep card pockets with a clear ID slot for easy access. If you are a man living an active lifestyle and need a wallet to match, then please look no further.
Pros: Made from top-grain leather, card stacking design keeps wallet really slim
Cons: It's a bit taller than your typical wallet and takes some getting use to
---
Serman's Slim Bifold
It's made from genuine full grain leather and allows for storage of up to 8 cards. The innovative yet minimalist design allows for front pocket access to your most utilized cards and then 2 pockets inside.
The pull tab capability ensures you will never even have to open the wallet to get immediate access to your information. If that wasn't enough the wallet is equipped with RFID blocking technology to protect your most valuable information from outside signals.
Pros: Made from full-grain leather, pull tab makes easy access
Cons: Some customers have said that the leather rubs off on their cards, or messes with the magnetic strip
---
Bellroy Slim Sleeve
A minimalist wallet list wouldn't be complete without mentioning any one of several Bellroy wallets, but especially the Slim Sleeve. 
Made of super quality, vegetable tanned leather.  The secret's in the pull tab! For a full review, click here.
Pros: Made from top-grain leather, pull tab allows for easy access to most cards, super SLIM!
Cons: If you're rough on wallets, the leather can wear a little easily
---
Slimfold Minimalist Wallet
The Slimfold Minimalist wallet delivers everything the modern man needs while keeping it simple.
This micro size design can hold up to 8 cards and is constructed from a durable soft-shell material which is proven to be more scrape-resistant than leather so you will have a brand new wallet for years to come. It comes with three quick access slots and flat bill storage along with the RFID protection option for you to travel safe all over the world. 
Did we mention its 100% waterproof?
Pros: Waterproof, super durable, scratch resistant
Cons: Inserting cash can be a little weird because it doesn't open up top like normal wallet
---
Big Skinny Men's Curve
Once you buy a Big Skinny wallet you will never go back to traditional bulky ones.
The Men's Curve offers a sleek curved design crafted from the finest full grain leather and the comfortably rounded corners will prevent wear and tear of everyday use. This ultra-thin bi-fold accommodates up to 20 cards with 3 card slots, 2 extra-large hidden pockets, full-sized billfold area, and ID slot.
Big Skinny lines the inside of every wallet with the unique nylon microfiber material that will keep it feeling light and the rubber coating on each pocket means no more pesky cards sliding out.
Pros: Made from full-grain leather, rounded corners fit nicely in front pocket
Cons: If you have a lot of cards, it can be difficult to get them in and out
---
Allett Slim Wallet
The Allett can only be described as tough, yet stylish.
Unlike your traditional bi-fold, the side by side pocket design crafted in Nappa leather supposedly allows for storage of up to 24 cards while still remaining slim. We don't think that's really accurate. Maybe half that many, evenly distributed, is fine, but if you go higher its too bulky. There are separate pockets for cash and receipts.
Pros: Fits up to 24 cards, cards won't fall out when closed
Cons: Many people complain the RFID protection doesn't work
---
FRYE Logan Slim ID Wallet
Frye doesn't just make boots! 
The good news?  The same quality you've come to know and love in their boots, you can now experience in their carry products.  This wallet has high quality stitching, full grain leather and great functionality.  There are three (3) main card pockets and one larger pocket for bills, receipts, etc..  FYI, you can fit several cards in each pocket fairly easily.
Pros: Frye quality, will last a lifetime with proper care
Cons: Some have complained that the leather scuffs and scratches more than you'd expect
---
Smathers & Branson Bifold
This wallet is definitely more of a true bifold, but we wanted to include it on this list because it's actually really slim.  It comes with six (6) card pockets and two stash pockets.  There are also two full length pockets for bills.
Pros: The hand-stitched needlepoint really makes this wallet stand out from the rest
Cons: Not as slim as some – more on the full feature side of things
---
Bellroy Coin Fold
The Coin Fold stays true to Bellroy's calling card – the "slim factor", but is really quite functional. 
The wallet features card pockets for up to eight (8) cards, although we don't recommend carrying that many.  It also includes a full length bill pocket and a secure way to carry coins or loose change with a magnetic clasp to seal it.
Pros: Bellroy quality and secure way to carry loose coins
Cons: If you don't carry much "coinage" this wallet is not for you, you can go slimmer
---
American Bench Craft Hammer Riveted Wallet
American Bench Craft prides themselves on making quality goods at a reasonable price point. 
Their Hammer Riveted wallet is composed of one piece of leather, crafted together with rivets vs stitching.  Rivets won't rust or come apart…period.  You can comfortably fit 4-6 cards.  (it will fit 8, but it gets tight)
Pros: Made from a single piece of leather = won't fall apart
Cons: Not a cash heavy wallet, it's possible to fold bills, but not if you carry more than 3-4 bills
---
Rogue Industries – Front Pocket Wallet
Rogue paved the way for front pocket carry. 
Their wallets are literally made to fit in a front pants pocket.  The curvature allows the wallet to remain snug and secure as it follows the lining of the interior pocket. The wallet comfortably holds up to six (6) cards, your ID and some cash.  Their main wallet is made of top grain leather, but they also have a Bison Wallet.
Pros: High quality, stays snug in pocket, unique look
Cons: At 5″ long, it's a bit longer than it looks in the pictures.
---
Dynomighty Wallet
Available in a wide range of awesome artwork choices, prepare for the Dynomighty "Mighty Wallet" to be the lightest-weight, yet longest-lasting wallet you will ever own.
The high-density Tyvek material is not only incredibly strong but also recyclable. Water, tear and stain resistant. This bad boy has the ability to hold up to 30 cards due to its unique stitch less origami design in 6 different storage areas.
Pros: Huge range of great, eye-catching designs, can hold a lot while remaining slim
Cons: Not ideal for one (1) card in each pocket, need to put multiple cards to keep them secure
---
Andar Apollo Wallet
Next up on our list is the Andar Leather Slim Apollo wallet.
Organizing your belongings and being able to minimize what you carry has never been easier. Holds up to 10 cards and the easy access pull tab will eject the specific card you need in seconds. In addition to that all Andar wallets have an ID window and easy access slot for your most utilized card so you never even have to open the wallet.
The Apollo features a useful money clip to store additional cash and is equipped with RFID protection so you will remain safe and protected from outside scanners.  Check out our full review on Andar Wallets.
Pros: Full grain leather, tons of colors to choose from
Cons: The pull tab is elastic, we wish it was leather
---
Visconti TR-30
The Visconti TR-30 Classic Bi-Fold wallet is one that never disappoints if you are looking for all the classic details of a regular wallet but without the bulky mass.
Its timeless style, soft full grain (vegetable-tanned) leather, and modern lavish color produces a sophisticated look and design. Four (4) easy access slots, two (2) banknote compartments, two (2) pockets for bill storage and the Visconti even comes equipped with a coin purse for those who prefer cash over card.
Pros: Quality construction, coin pouch is really convenient
Cons: Can feel a little bulky if you stuff it too full
---
Bellroy Note Sleeve
The Note Sleeve is the slimmest leather wallet for the functional buck on the list. 
With room for up to ten (10) cards and full length bills, the Note Sleeve will slim down your pockets with having to compromise much of what you carry. 
Oh, did we mention colors? Eleven (11) color choices at the time of writing …
Pros: Traditional wallet function, but ultra slim
Cons:  If you don't carry coins, the Slim Sleeve is probably an even better choice
---
Access Denied Vegan Wallet
The Access Denied Vegan Leather wallet is picture-perfect for the gentleman who wants durability but also wishes to remain animal-friendly.
Vegan faux leather materials remain stain and fade resistant and will not retain moisture so cracked leather is a thing of the past.
Not only are Access Denied wallets cruelty-free but also come equipped with RFID protection technology. The bi-fold design has 6 easy card slots, flip up ID window, and a pocket for flat bill storage.
Pros: Great option for vegans who need a quality wallet
Cons: Not leather, but it's still solid
---
Visconti TR-34
Like its brother the TR- 30, the Visconti TR-34 Classic Wallet is going to offer a high quality innovative design while still remaining sleek and slim.
The unique layout of the TR-34 allows this trifold wallet to snap closed into a bi fold to take up significantly less space.
There is no way to not be impressed with all the features including 9 credit card slots, 3 ID windows, 2 compartments for bank notes, 2 slip in pockets, and s snap close coin purse. The gentle soft full grain leather adds the sophisticated feel you are looking for. Never before has something so practical been so eye-catching.
Pros: Slimmer option than its brother, the TR-30
Cons: Won't handle more than 5-6 bills
---
Corkor Vegan
The Corkor's Vegan Men's slim wallet is the only wallet on this list made from genuine cork leather.
Not only is this wallet 100% cruelty-free but it also provides maximum storage with minimal space needed. This eco-friendly design has 8 card slots, 2 pockets for notes and bills, and 2 for cash storage.
By purchasing a Corkor you are able to take home a unique piece of nature that will outlast the elements as it is water, stain and scratch resistant.
Pros: Great option for vegans
Cons: Not super slim when every slot used
---
The Parker by Moral Code
The Moral Code Parker Men's wallet is the true gentleman's accessory that will have you sorry you have to leave it in your pocket.
The naturally thin profile is crafted in distressed brown leather or premium black calf leather depending on your preference. Every detail in this wallet is stitched to perfection. 4 easy access slots will allow for up to 10 cards to be stored so you can stay minimal yet classy.
Pros: Layout of the wallet makes it both slim and secure
Cons: Cards are difficult to get in and out at first
---
The Vaultskin Notting Hill
The Vaultskin Notting Hill Slim Zip wallet is designed for the man that has more cards to carry but wishes to keep things small and compact.
Italian Leather with sleek metal finishes will provide the luxurious feel you desire while still being long lasting and completely functional.
The wallet comes with RFID protection, four (4) easy access slots on the outside and six (6) additional card slots internally. The Vaultskin can also hold your cash and small amount of coins while stilling being small enough to fit in your front pocket with ease. The quick pull strap will allow instant access to 2 specific cards at your fingertips and traveling will never be easier.
Pros: Made from full-grain leather, more of a traditional wallet – cards, ID, cash, etc..
Cons: Most folks complain it's too slim?  Not sure what they expect…
---
Tumi Alpha Slim Single Billfold
Is this the Designer Minimalist Wallet you're looking for?
Made from ballistic nylon, this TUMI minimalist wallet features six (6) regular card pockets plus one hidden one, and two slip pockets. One reviewer noted they had slipped an AirTag into their hidden pocket but we think that would bulk this up somewhat.
Pros: TUMI Quality!
Cons: Has the ability to hold A LOT…can feel overstuffed if you pack it out
(Alternatively: check out the Tumi Delta Card Case.)
---
Flowfold Vanguard
The Flowfold Vanguard Slim Front Pocket wallet offers a super thin and lightweight design that you have been searching for.
The wallet is constructed from recycled sailcloth which is engineered to provide maximum strength to weight ratio. With 4 easy-access slots and 1 deep pocket for cash the Flowfold can hold up to 16 cards. The unique material of this wallet together with its minimalist layout is a sure conversation starter and will allow you to partake in any outdoor adventure with lightweight gear but durable protection.
Pros: Ultra light-weight, nearly indestructible
Cons: Credit card pockets are a little tight at first
---
Kings Loot Hybrid
The Hybrid design is by far the most popular product from Kings Loot, and a best-seller across a range of colors.
It's clear a lot of thought went into how people would actually use this wallet.
For example, everyone has a few cards they use regularly, and a few carried for emergencies (health insurance, say).
So there are two main compartments for cards – one for the most commonly-used cards, immediately accessible with a thumb-slider, then the other compartment for the second-tier cards is accessed through a pull-tab.
In addition to the card slots, this minimalist leather wallet features an ID holder (with another thumb-slider, naturally) and a money clip for holding bills.
Pros: Hugely versatile, while still remaining slim enough for front-pocket carry
Cons: The orientation of the external card pocket is odd. It feels "upside down" relative to how you open the wallet to get at bills.
Check out our full Kings Loot review here!
---
Combination Minimalist Wallets
---
And now we move on again. This time we're going to go through a collection of minimalist wallets that don't quite "fit" into the card holder or slim bifold categories.
We had fun with these, hope you do too! Here's a quick sample, but there are lots more below!
Ultra slim, awesome functionality, fun wallet to use
Unique crushproof design, holds more than you'd expect
Extremely simple and versatile at a great price point
Crush-proof, airtight, holds keys, and .. it floats!
The Original Slim Metal Wallet!
Axwell Wallets - giving Ridge a run for their money!
---
The Frenchie Co. Speed Wallet
If you've never seen a speed wallet, you're missing out.
The whole idea behind it is that you never have to actually open it up completely. The way the bills are stored, they allow you to pull them out with the wallet only partially open.  The pull tabs up top allow for the same thing with the cards. 
This little guy has all the functionality of a standard wallet, but in a super compact size.
Pros: Ultra slim, awesome functionality, fun wallet to use
Cons: Bills are tough to get in at first, takes some breaking in
UPDATE: See our full Frenchie review here
---
Pitaka Carbon Fiber
We like this wallet because of its modular functionality. 
You can scale it up or shrink it down, based on how many cards you typically carry.  This is based on a clever "layering" approach where you literally add as many layers (each holding cards or cash) as you need, and they click together with strong magnets. It's also got an internal money clip layer for cash.
Pros: Modular design makes it easy to customize
Cons: Money clip layer can only hold a few bills, folded over
UPDATE: Some people have reported that magnetic stripe cards can be demagnetized by these magnets. That would be a little surprising to us, but if you have cards with chips it will not be an issue
---
Crabby Gear Wallet
The non-traditionalist still deserves to keep things minimal and the Crabby Gear wallet has provided just that!
It's constructed from 100% elastic material to allow for maximum flexibility. The elastic band keeps up to 10 cards, cash, and even your phone securely in place. There are no unnecessary flaps or pockets to maximize traveling light and each Crabby Wallet includes a lobster claw key chain so you can take your wallet virtually anywhere.
Pros: Extremely lightweight, keeps cards secure
Cons: Elastic will stretch over time if you "over-stuff" it
---
Nomatic Wallet
The NOMATIC Men's Front Pocket wallet allows stress-free access to all your cards while still managing to maintain a slim profile.
The medical-grade elastic allows for storage of up to 15 cards and the genuine leather pull tab grants you immediate access to your 4 most used cards. How much easier can it get? The built in pocket provides extra storage for cash, coins or keys.
The NOMATIC slim wallet can appeal to your classy or causal side with its convenient features and a variety of colors to choose from.
Pros: Just .6 oz by itself – about a 1/3 the weight of most slim wallets
Cons: Pull tab shows signs of fraying after a year of use
---
Exentri TriFold Wallet
We don't often recommend trifold wallets, but this one made the list because it stays so slim!  It fits five (5) cards and a few bills lengthwise.   We also like the clasp that keeps the wallet closed and secure. The wallet comes in a ton of different colors as well.
Pros: Unique functionality, quick access holes on both sides are very convenient
Cons: Although it is a trifold, it doesn't hold the same amount as a typical trifold (this is actually a pro)
---
Jaimie Jacobs Magic Wallet
We'll admit this wallet may not be for everyone, but it packs a lot of functionality. 
Most magic wallets don't exhibit quite this much in terms of card storage, easy access, etc. Available in 13 color combinations, this wallet combines a fun (and for some of us, nostalgic) "magic" mechanism with 8 card slots for up to 16 cards.
Remember these from childhood? You put your bills into the wallet on top of the straps and close it. Next time you open it – your bills are "magically" tucked snugly under the elastic straps.This Italian leather wallet also includes the modern magic of RFID protection…
Pros: Quality product, unique functionality, great color selection
Cons: Functionality takes some getting used to (unless you had one as a kid)
---
Flipside Wallet
The Flipside is one tough little wallet.
It will handle eight (8) cards and ten (10) bills with ease.  It's made in the USA of highly durable polycarbonate and aircraft-grade aluminum.  This crush-proof wallet will automatically click/lock closed when you shut it to keep your stuff secure.
Pros: Definitely unique, holds more than other wallets, but stays the same size because of its design
Cons: Doesn't stretch, so it will hold eight cards…that's it
UPDATE: Read our full Flipside 4 review here
---
Distil Union Wally Micro
If you are looking to simplify your everyday life with one sleek, tiny package, then the Distil Union Wally Micro wallet is ideal.
Everything you need can be conveniently stored in your front pocket with its remarkably slim design. The elastic bands allow you to store up to 10 cards or utilize the leather pull tab to gain access to a specific one.
The Wally Micro is crafted from premium natural full grain leather that is uniquely reversible if the mood suits you (for example, the brown leather version above flips inside out to a sleek modern grey.
Pros: Perfect size for a minimalist wallet – great fit for front pocket
Cons: Don't overstuff the wallet, as the band will wear out sooner than expected
Note: this is the updated version. We also have a soft spot for the original.
---
Radix Slim Element
Introducing the Radix Element Slim wallet for maximum versatility and sleek minimal travel for your everyday life. The innovative slim design holds both cards & cash in a modern, eye-catching layout that's thinner than traditional bi fold wallets.
The Radix Element is made from a tough but insanely light polycarbonate material with silicon bands. What's new is a reinforced band and anchor system that's been specially designed to stand up to the rigors of daily use. The wallet includes two bands for all your carrying needs; one for 4-10 cards, another for 10+ cards and cash.
Pros: Durable, slim, lightweight
Cons: No replacement bands provided, whichever one you use regularly will stretch out eventually
---
Infinity Wallet
Traveling as light as possible has never been easier than with the Infinity wallet.
Made from 100% elastic this wallet will ensure all your cash and cards are securely held in place. Two (2) pockets are available to store up to ten (10) cards and still slim enough to fit unnoticeably in your front or back pocket. Super light, thin and durable makes the Infinity wallet the perfect choice for the minimalist in your life.
Pros: Excellent price point, true minimalist style
Cons: Won't last forever, but the price point makes it a no brainer
---
i-Clip Carbon Fiber
The i-Clip Carbon Fiber will take care of all your needs in one tiny package.
This tough, durable wallet can hold up to twelve (12) cards comfortably along with a money clip for additional bills. The I-Clip is compact, neat and classy, and like virtually no other wallet on the market. With its state of the art high tech composite called Robutense for the frames – the wallet is scratch resistant and extremely flexible but still weighs less than an AA battery!
Pros: Weighs less than a small battery, yet functional
Cons: No native RFID protection, (although you don't really need it)
---
Pelican Micro Sport ProGear Liner
Well, we said we were looking for innovative wallets…
The Pelican Micro Sport Wallet ProGear Liner is a mouthful but don't let that stop you from getting this awesome little wallet that a perfect addition for any outdoorsman. The innovative design allows you to venture with this wallet almost anywhere.
Its crush proof, 100% water resistant, equipped with mesh pocket organization and will float should you decided to jump in with it! Not only does the Pelican provide storage for up to 6 cards but also cash and keys will fit perfectly in its trim design (note: not "as well as" six cards, you'd have to drop some to add keys).
The unique 360 degree seal will put you at ease on your next trip knowing that all your belongings are safe and secure.
Pros: Crush proof and floats!
Cons: A little small if you're carrying more than a few cards and bills
---
The OG – The Ridge Wallet
You can't really have a minimalist wallet list without the Ridge Wallet, the original slim metal wallet.
We'll keep this simple because if you want more we have a complete Ridge Wallet Review for you. 
You'll notice that this one is on several of our lists because it's one of our favorite wallets (yes, I own one myself so I'm totally biased). It's just so simple that once you start using it, you won't go back to a standard wallet. 
Realistically, you can fit up to 10 cards.  You can fit more, but we just don't recommend it.  Although the elastic is replaceable, who wants to stretch it out with 14 cards then constantly have to worry about when it's going to lose its elasticity?
Pros: Super slim, super simple, super functional
Cons: Takes a few days to get used to it… it's not your normal wallet
---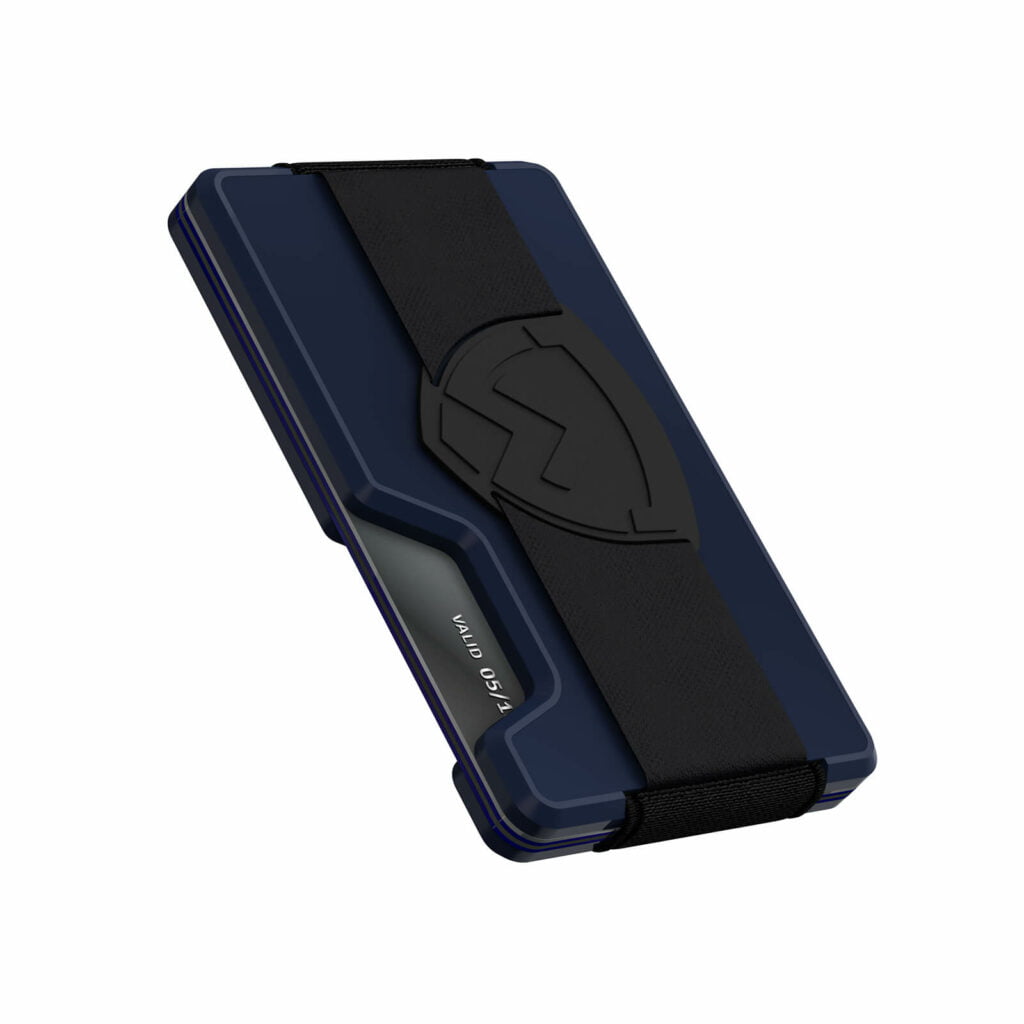 Now this little beauty from Axwell Wallets may just be the one that topples the Ridge from its perch!
To make this a fair comparison, this is the navy blue aluminum version from Axwell. Unlike the Ridge, Axwell wallets come with both a money clip and cash strap as part of the package. The outer plates clamp tightly to the frame with strong magnets, making them simple to remove and replace the strap with the clip, or vice-versa. Much easier than the Ridge's "get your screwdriver out" approach.
They are extremely solidly made, beautiful in design, have a lifetime warranty on everything (including the elastic), and can also hold up to 12 cards. We'll be keeping a close eye on this range.
Check out our full review of Axwell Wallets here. Don't miss that gorgeous copper version….
Pros: Great design, well made, easy to switch between cash strap and money clip
Cons: As with the ridge, this design takes a few days to get used to if you're used to regular wallets
UPDATE: We scored a discount for WalletShoppe readers – enter THEWALLETSHOPPE at checkout for 10% off!
---
Minimalist Wallets – Wrap Up
That's a good place to stop for now!
We've written before on why its good to slim down your wallet so we hope you enjoyed looking through our favorite minimalist wallets and that you found something right for you!
Obviously the "best" wallets out of our list depends on what you're looking for, but just to recap, these are our top six:
Best Minimalist Card Holder
Best Budget Minimalist Wallet
Our New Favorite Combination Wallet!
Our favorite card holder - pull tab for quick access, quality materials
Our Favorite Bifold - money clip, pull tab for quick access, quality materials
Extremely simple and versatile at a great price point
Made of Tyvek in eye-catching designs, we can't help but love these!
The Long-Time King of Minimalist Wallets
Axwell Wallets - giving Ridge a run for their money!
All product names, logos, brands, and trademarks are the property of their respective owners
Last update on 2023-11-14 / Affiliate links / Images from Amazon Product Advertising API