Leather, vinyl, cotton–these are the usual suspects.
The weirdest material most of us think of when it comes to wallets might be duct tape (and yes, we have one of those below!). But these wallets prove that almost anything can be crafted into or repurposed as a wallet.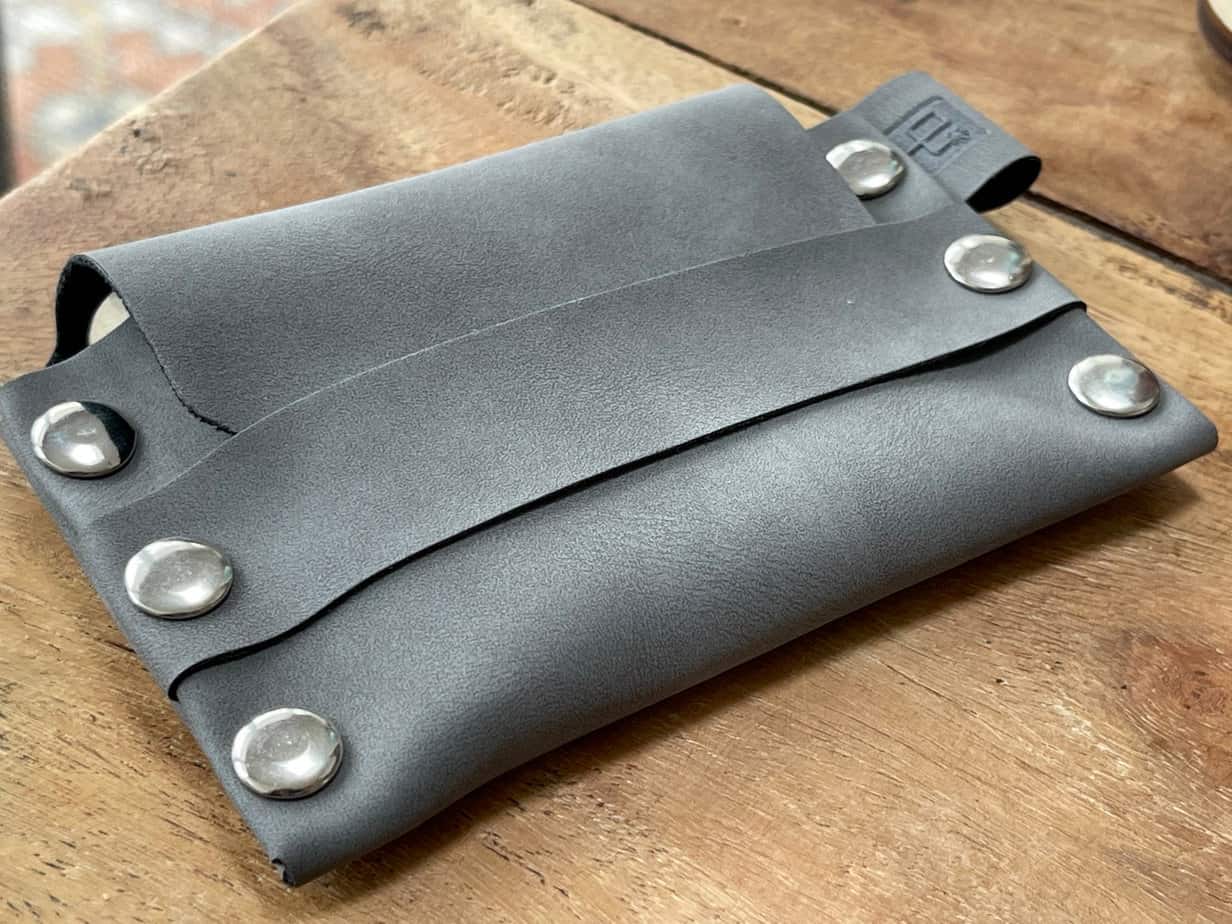 Unique Wallets – Our Favorites
The wallets below all have that special something that made them jump out to us. Whether it be recycled plastic, a wallet that floats(!), or just a cool design – here are our favorite unique wallets!
---
Recycled Firefighter, The Fire Hose Sergeant
This unique front pocket wallet is made from real decommissioned fire hose so it is tough!
As if that wasn't enough, they've sewn it together with T-90 nylon thread, which has a 15lb breaking point, and edged it with 1 inch of Mil-Spec nylon binding. And while this wallet is super strong, it's also super slim, making it an easy front pocket carry.
It holds between 4 and 8 cards (depending on the tightness of the hose from which it's made) and includes a money clip for trifolded bills. Because fire hoses come in so many different shades, there's nine color options to choose from, edged in either black or camo print.
---
SlimFold Minimalist Wallet
SlimFold wasn't satisfied with the materials already on the market, and certainly didn't want to use bulky leather for a slim everyday carry.
So they just developed their own material: Soft Shell. Combining the properties of Kevlar® and GORE-TEX®, this wallet feels a bit like a ski jacket. More scratch resistant and 2-3 times thinner than a traditional leather wallet, the Minimalist holds up to 20 cards in its quad-fold design. It's also waterproof and machine washable!
---
Flowfold Vanguard Limited Slim Front Pocket Wallet
Like SlimFold, Flowfold took a lesson from outdoor gear when designing this wallet, which is made from sailcloth.
Water-resistant and durable, sailcloth is exceedingly slim and lightweight. This wallet is roughly the thickness of two credit cards and weighs about as much as three sheets of paper! That's when it's empty, of course. But don't be fooled; this wallet holds a ton: between 10 and 16 cards in its four card slots (two with ID windows) and a nice wad of cash in its bill sleeve.
---
Kinzd Slim Wallet Front Pocket Wallet
Love stylish wallets but looking for a vegan option? Or maybe you're just looking for a lighter, slimmer option than a leather card holder?
This wallet from Kinzd is made of cork fabric, sometimes produced in a style known as vegan leather.
Developed from red wine corks, the material is light but durable, and the wallet sports six card slots, one ID window, and a sleeve for trifolded bills. Not a huge fan of cork? Never fear: Kinzd makes this sleek model in standard leather, too.
---
Mountain Voyage Wooden Wallet With Money Clip
Just when you thought you'd seen everything in the world of slim wallets, this model from Mountain Voyage (out of Colorado) catches your eye.
Made from a single piece of walnut on each side, this wallet is designed to hold up to 15 cards, held together with strong elastic so it holds the cards firmly in the style made popular by the Ridge wallet.
A feature we really liked about this design (apart from simply looking cool!) was that the rugged cash clip can be removed without having to unscrew it if you don't feel like using it. The wood is very tough and, while obviously not as durable as a metal wallet, it should be sturdy enough to cope with what life throws at it.
---
Stewart/Stand Classic BiFold
Stainless Steel Textile. Yes, you read that right.
Stewart/Stand has created a wallet that combines the flexibility of fabric with the strength of stainless steel. And it looks great, too. Made from 85% post-consumer recycled materials and reinforced with ballistic nylon, this durable wallet has six card pockets that hold 6-12 cards, as well as 2 "stash" pockets. As if its eco-friendly composition isn't already enough, this classic bifold design is also 100% recyclable and 100% vegan.
---
EZGO Wallet
Surfer? Swimmer? Need a wallet that floats? EZGO's wallet is lightweight–only 24 grams–and floats! Made from 100% recyclable materials, this wallet is also super eco-friendly. It holds up to eight cards, four on each side of the frame, with cash folded in half in the center. This thing is super thin at only 16mm thick when filled with cards. Because it's one solid unit, there's less risk of wear and tear, as well. And it comes in five great colors: black, neon green, blue, red, and neon orange.
---
Ducti Super Duct Tape Trifold Wallet
Do you remember that one high school friend who made a wallet out of duct tape?
He's got nothing on this super cool model from Ducti. Using a classic bifold design, this wallet is made from 100% duct tape, making it incredibly durable and secure. (as well as a conversation starter!).
The wallet secures with two snaps and has a carabiner hole as well. It's also surprisingly slim, all while holding a good number of cards and cash. Also, because it's made of duct tape, this is also 100% vegan-friendly.
---
NOMATIC BASICS Wallet
NOMATIC has a clever pull-tab design that gives you incredibly easy access to four cards. Merely fanning the rest will give you access to your those you use less.
Its design keeps it slim, but also leaves room for 15 cards and cash, coins, and even a key in an additional pocket, all without disrupting the slim profile. It's made from medical-grade elastic and the pull-tab is genuine leather. NOMATIC has double stitched the inseam, as well, making it extra durable.
---
ProStyleSports, Genuine Basketball Leather Bifold Wallet
Got a basketball fan in your life?
Get them this wallet, made from real full grain Horween basketball leather. The front sports the classic seams for an unmistakable look. It holds up to sixteen cards in its eight credit card slots, as well as a generous amount of cash in a money pouch. This unique wallet makes a great gift for the sports fan in your life (or just for yourself!).
Not a basketball fan? Don't worry: ProStyleSports still has a wallet for you. With everyday carry options in football and baseball leather as well, every sports fan is covered.
---
Magpul Industries Daka Essential Wallet
Made from reinforced polymer fabric, Magpul Industries' Daka Wallet holds 3-7 credit cards and cash in its 3mm thin frame.
Its slimness makes it perfect for front pocket carry. The reinforced polymer fabric has an anti-slip texture, but it's also extremely flexible, so if you do carry it in your back pocket, it will mold to you and not cause discomfort. It's rounded edge design also helps in this department. Also available in contrasting black and olive tones, it looks as good as it works.
---
Before You Go
We hope you found that a fun collection, and that you found something you liked! Did that whet your appetite for non-cookie-cutter items? Want to see something completely different? Children of the 80s may recognize this unique and iconic backpack …
Related Articles
All product names, logos, brands, and trademarks are the property of their respective owners