In this guide we will answer all of your questions in regards to the best long wallets for men.
We'll take a closer look at what a long wallet is, what are some of the other names that they are called, and why would you even consider carrying a long wallet?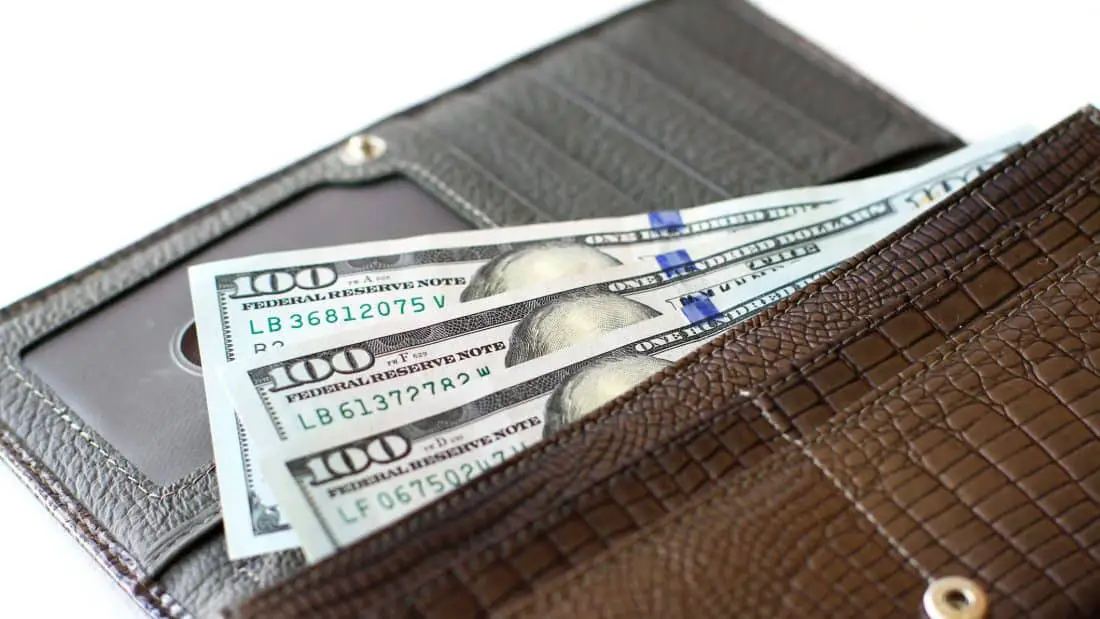 The Best Breast Pocket Wallets
We looked far and wide to come up with the 9 best long wallets on the market!
These aren't "one size fits all" – there's a range of price points and styles here, we think we've found something for everyone.
For those that want to jump straight in, the tables below covers every wallet we will review. The full reviews are after the tables, or click here:
Strong stitching, great price
Amazing 17 card slots! Love that "Digital Camo"
The Hunter's Wallet - Eat, Sleep, Hunt
Our favorite budget option!
Strong stitching, great price
Amazing 17 card slots! Love that "Digital Camo"
The Hunter's Wallet - Eat, Sleep, Hunt
Nice horizontal design and vintage looks
High quality, easy to personalize
Nice horizontal design and vintage looks
High quality, easy to personalize
More a work of art than a utility piece
Love that Saffiano leather!
From the "no one else has this" department
The Classic!
More a work of art than a utility piece
Love that Saffiano leather!
From the "no one else has this" department
---
What Exactly is a Long Wallet?
What exactly is a long wallet? In its simplest form, a long wallet is a vertical-style wallet that allows cash to be carried flat without being folded. It's really as simple as that.
(Since they are vertical, "tall wallet" might be a better term)
These wallets were originally made popular by motorcyclists who wanted a longer style wallet with easy to access cash, but with a chain attached to keep the wallet secure. These chain style wallets are still popular today, but the long wallet has evolved and is now appreciated by other groups as well.
Nowadays these wallets (although still carried by bikers) can be seen being carried by business professionals and anyone who wants something a little different.
The reason for this is that they fit so cleanly in a breast pocket of a sport coat.  It really helps to eliminate the bulk when carrying. Cowboys or "western style" guys also carry long wallets, often emblazoned with various badges or other rivets… it gives them a westernized look.
The point is this, whether you are a cowboy or a biker—or somewhere in between – a long wallet is a viable option for you. They come in materials such as leather, canvas, alligator …. more on that later.
What Are Other Names For Men's Long Wallets?
What else are long wallets called? Actually, there are a lot of different names for this type of wallet. Some of the more common ones are:
Long Wallet
Tall Wallet
Vertical Wallet
Breast Pocket Wallet
Coat Wallet, or Coat Pocket Wallet
Checkbook Wallet*
Suit Wallet
Rodeo Wallet, or Cowboy wallet (typically with a Western motif)
*We disagree with this one. A checkbook wallet is specifically designed to carry a checkbook, while a long wallet is more of a preference as to the way you carry your bills…longways.
Why Carry One?
Accessing Cash is Easy: There are a ton of reasons that a long wallet makes sense. Because of the elongated shape of the wallet, the the user can carry cash longways without the need to be folded. This makes accessing the cash extremely easy, especially if you carry a lot of cash. When you are digging through fifties, twenties, tens and ones, having them all accessible makes life much easier.
Long Wallets = Modern Gentleman: Another reason that people like to carry long wallets, or simply because there is an elegant nature to them. When someone reaches into their breast pocket and pulls out a long wallet, there is an air of sophistication to that. As we jump down into the actual wallets themselves, you'll notice that a lot of really high-end brands make long wallets. It's definitely a fashion statement.
Long Wallets are Easy to Access: Because of the tall nature of the wallet itself, it is easily accessible from your back pocket. Some people might find this to be a bad thing, but for those who attach chains to their wallets, it makes accessing them much easier.
Long Wallets are Slim: Tall wallets are also much slimmer than their short wallet companions. The contents themselves are able to be spread out over a greater surface area which makes the wallet itself thinner.
Make Sure You're Careful : As we mentioned above, the wallets will stick out of the top of your back pocket. This can be an invitation for pick pockets to grab and go…so definitely good reason to be careful. Unless they are chained to you – we recommend these be used as breast pocket wallets.
They're Not for the Minimalist : They're also not exactly what we would call minimalist wallets. They aren't really designed to be carried in a front shirt pocket or a front pants pocket. You'll have to be comfortable carrying the wallet in your back pocket, or sport coat pocket, if you want to give one of these styles a go.
---
Best Value For Money
We've looked at the best long wallets for men across all different price points, styles, and functionality. We hope this comprehensive list will help you when you're deciding on which long wallet is right for you.
Kattee Vintage Long Wallet
The Kattee Vintage is a budget-friendly long wallet that guys will love.  It's made from imported "top grain" crazy horse leather.  Although not as durable as full-grain leather, top layer leather wears extremely well and will develop a nice patina over time. 
Inside, there is room for plenty of items, even a checkbook, with one [1] clear ID pocket, four [4] bill pockets and eleven [11!] card openings.
The stitching appears very strong (and hence holds up over time). All in all, a great option at a great price.
---
Ariat Patriot Long Rodeo Wallet
This is definitely a wallet made for a true American patriot.
Super tough leather and canvas make up the exterior facing of the wallet. The canvas really makes this wallet stand out. It comes in a "Digital Camo" that corresponds with the color of the leather – black, brown, or green. The top of the wallet is also set with an American flag emblem that stands out nicely against the leather.
The interior of this wallet really sets itself apart as well. The wallet features an incredible 17(!) card slots (some are in the main material, some in a plastic interior sleeve), two cash pockets, as well as a clear plastic ID window.
---
House of Jack Long Bifold
This wallet by House of Jack really rounds out the first set of wallets on our list perfectly.
It comes in a vintage-style distressed leather across three different colors – black, brown and tan. The wallet features nine card slots on the inside as well as the ID window for your drivers license, etc.
Across from the card slots, the main cash slide compartment is great for carrying your bills without folding. Underneath the card slots there are for additional storage pockets for receipts, etc.
Clearly designed with hunters in mind, this wallet also has "Eat, Sleep, Hunt" screen-printed onto the interior cash pocket.
---
Mid-Range
Fossil Executive Tall Wallet
This long wallet from Fossil is a step up from the ones above.
The leather itself is supple and soft, definitely quality, with a cotton interior fabric lining for the pockets. It comes in two colors, brown or black. You really have to hold this wallet to appreciate the quality of leather, its very supple. Our only concern would be durability – the downside of being slim is that it might not take well to being treated roughly – something to bear in mind if your wallets tend to get a lot of wear and tear.
We really like the interior of this wallet because it keeps things simple and organized. It comes with seven card slots, a zipper pocket, one long bill pocket and one ID window.
---
BRASS TACKS Leathercraft Men's Long Wallet
This long wallet from Brass Tacks has a slightly different design, with some of the card slots arranged vertically instead of the more traditional vertical alignment. We like the look of this design a lot.
Our only real criticism is that the card slots are very tight. Since there are only really 5 slots, thats a bit limiting as its hard (not impossible) to double-up cards. The wallet also has a transparent ID holder and a zippered pouch for coins.
Brass Tacks as a company are focussed on vintage-style leather goods, with hand-stitched designs, vegetable tanned full-grain Crazy Horse leather and waxed canvas.
All in all, this is a great mid-range option for a breast pocket wallet.
---
JooJoobs Leather Long Wallet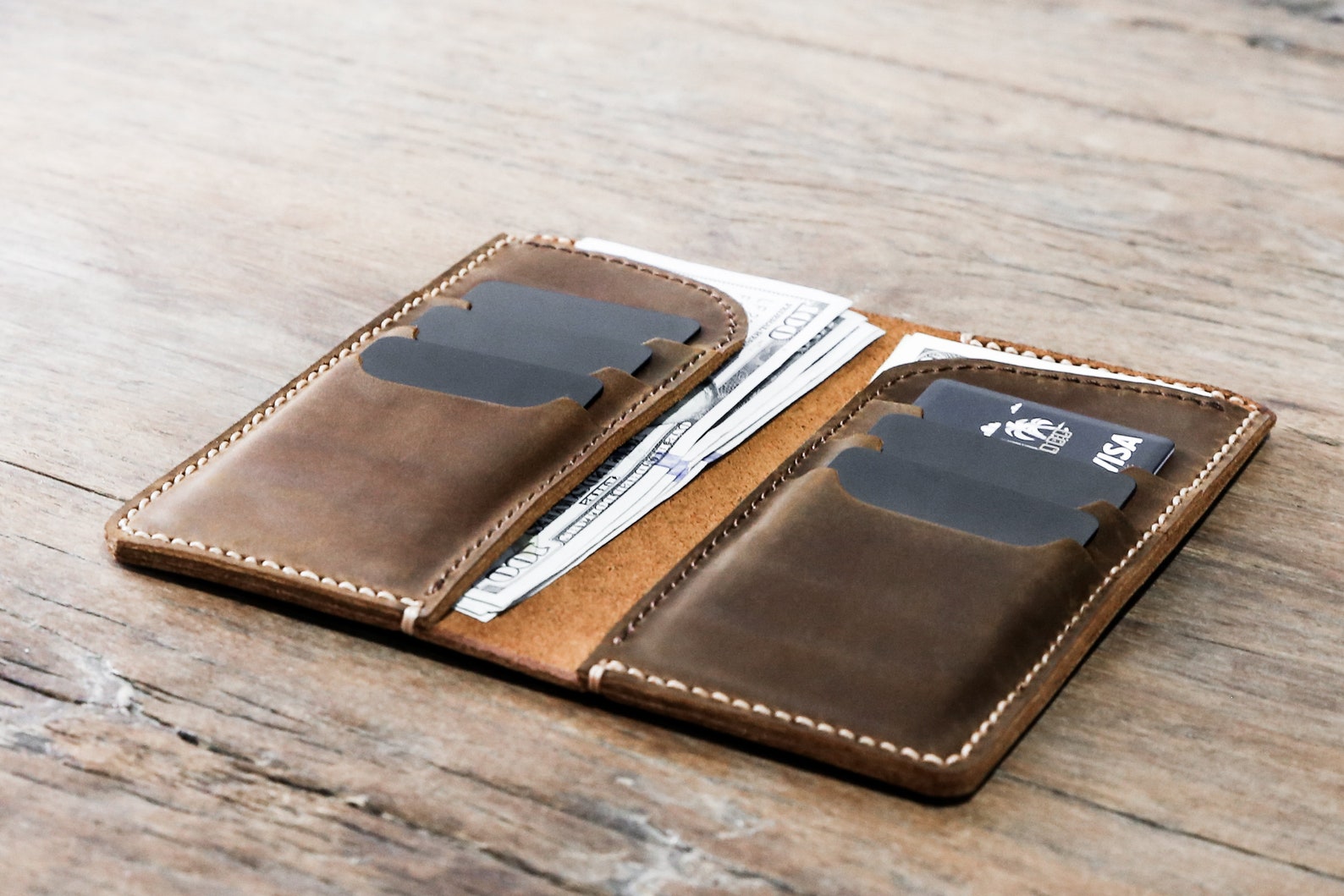 This beautiful wallet by JooJoobs out of Chiang Mai, Thailand comes in a fabulous distressed leather.
Measuring 3.25 by 6.75 inches, it comes with two long pockets for bills and six card pockets (although technically you can double up in each pocket for a total of 12 card slots).
All their products are hand-made, and custom ordered so you should expect a couple of days to put together and personalize your order before it gets shipped. Personalization for this wallet includes your initials in any size, font, and location, making this an excellent gift option.
---
Luxury
Bosca Coat Pocket Wallet
A quality men's blazer needs a quality long leather wallet.
Bosca has you covered. Their wallet is vertically crafted to fit perfectly into your breast pocket inside your jacket. It has enough features to fit everything you'll need, but its slim enough so you won't even feel it inside your coat.
The design is practical too – we really like the way you can access your bills from the top of the wallet without having to open it up. Other features include five card slots as well as four stash pockets. The overall dimensions of the wallet are roughly 6.5″ x 3.75″.
Leather-wise, Bosca takes this to a whole new level. This vegetable tanned wallet is made from their signature old leather ("according to a centuries-old Tuscan technique"). A rich patina and classic look are both things you can expect – more a work of art than a utilitarian piece.
---
Michael Kors Tech Zip Around Wallet
The zip-around wallet is a little different in style to what we've seen so far.
A zipper encloses this beautiful Saffiano leather wallet to keep all of your contents secure. Inside, the wallet features twelve card slots, one zipper pocket, and a clear ID window.
There is also a bill compartment to allow cash vertically. RFID blocking technology protects the entire wallet. The overall dimensions of the wallet are roughly 8″ x 4″.
Some people might even find the wallet large enough to keep their phone inside if its a smaller model… definitely worth a shot.
---
XCraftsman Alligator Bifold Long Wallet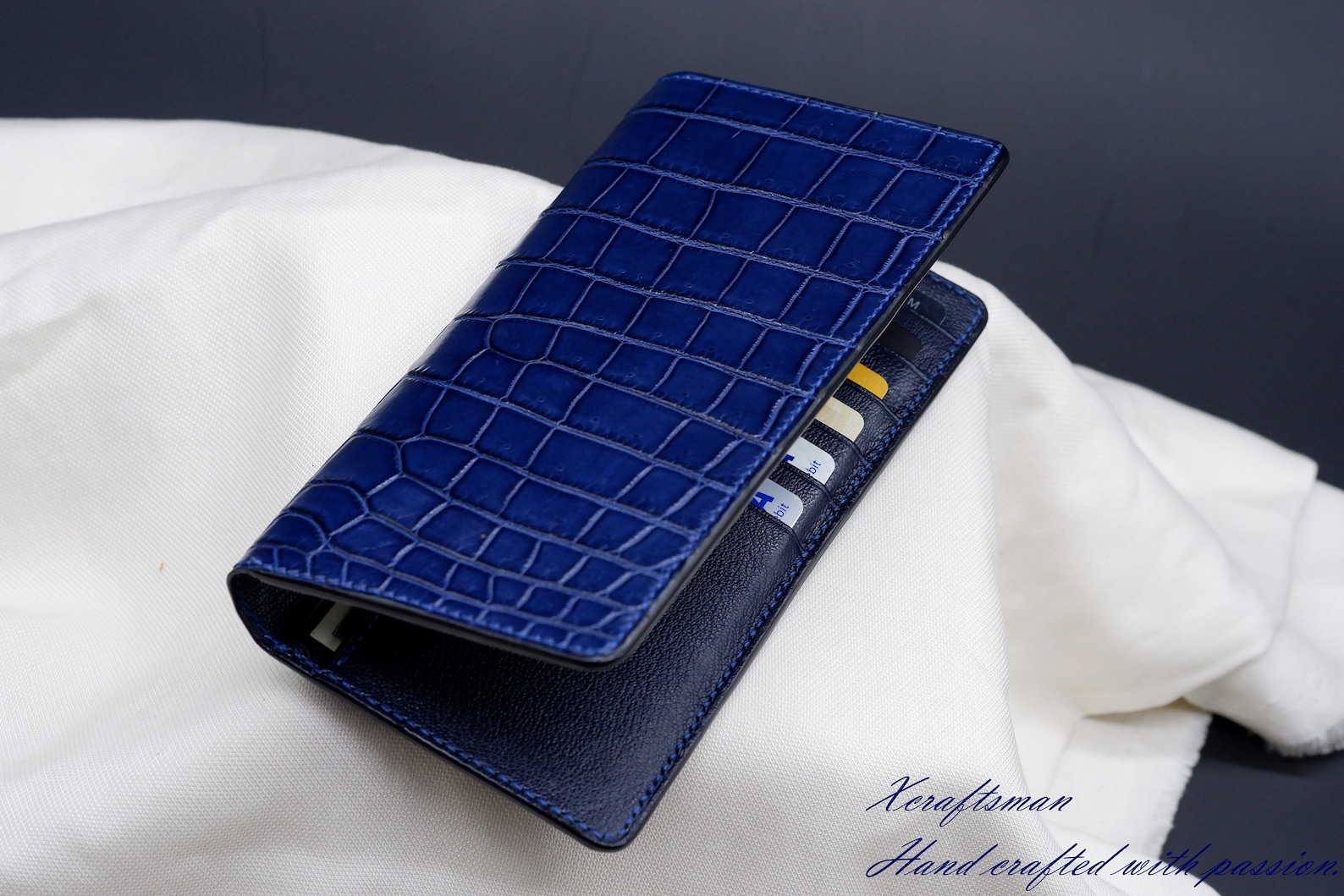 The last wallet on our list is from XCraftsman, out of Hanoi, Vietnam.
All the items from this Etsy store are handcrafted and unique, we'd encourage browsing the site to see the other products they make. This long wallet is the priciest on our list, but the price reflects the time that goes into each unique wallet. The exterior is a gorgeous dyed alligator leather – which certainly doesn't look like any other wallet in our selection!
The soft goat leather interior has four pockets for bills, six card slots, and three extra pockets. Why have a wallet that looks like everyone else's, when you can have a statement piece like this one?
---
That's a Wrap
And thats the list … for now! Long wallets, when done right, are a great style of wallet that doesn't look like everything else out there.
Of course, we have a favorite. Actually we have two:
Best Budget Option:
Kattee Vintage Long Wallet
This is our favorite long wallet for those looking for the best value for money. Tons of card slots, Crazy Horse leather, what's not to love?
Best Overall:
Bosca Coat Pocket Wallet
Versatile design, old Tuscan leather, this is our favorite long wallet for those looking for ... the best.
Classically designed and elegant, this is the statement piece you want to be pulling out of your blazer's breast pocket.
Hopefully you found something you liked. We will of course, be updating as we come across new tall wallets to add to the collection!
FAQS
Why Is It Called a Rodeo Wallet?
A long, vertical wallet (typically with Western motifs) is sometimes called a Rodeo Wallet because of associations with the long wallets often used by rodeo cowboys
Why Are Rodeo Wallets So Long?
Rodeo cowboys used to have to pay their entry fees by cash or check, and the longer wallets were often used to carry checkbooks. This is less relevant today, but the style of long wallet with cowboy motifs is more fashion statement that practical device
Why Do Bikers Use Long Wallets?
Partly a style issue as western-style long wallets have cowboy associations, but partly because it's easier to access a long wallet from safely inside a jacket. See also chain wallets.
All product names, logos, brands, and trademarks are the property of their respective owners
Last update on 2023-11-14 / Affiliate links / Images from Amazon Product Advertising API