Accessories can make or break a man's outfit. The right accessories can add personality and style to any look, while the wrong ones can make you look like, um, you're trying too hard.
But no worries – we've got you covered!
In this guide, we'll discuss the different types of men's accessories and show you how to style them for any occasion.
What Are Men's Accessories?
Men's accessories are any type of item that can be worn or carried with an outfit to enhance the look.
This can include items like cufflinks, ties, pocket squares, lapel pins, a scarf, sunglasses, and more! We'd argue that the right wallet, or stylish messenger bag should be considered an accessory also.
Men's accessories are the perfect way to add a little extra something to your outfit without going overboard.
So What Isn't An Accessory?
Anything that has to be worn as part of an outfit probably shouldn't be considered an accessory. So a jacket – no. Shoes, no. A belt? Probably – that's a bit of a gray area, but you don't strictly need a belt, and you can switch out different belts to update an outfit, so we'd count that as an accessory.
So, given those definitions, lets go for the Big List:
List Of Men's Accessories
There are a lot of options here, so we'll break our accessory list down into a few main categories, namely:
Everyday-carry accessories
Accessories that go with a suit
Jewelry
Weather and season-specific accessories
Obviously, just because we put something in one category doesn't mean it has to only be there. So cufflinks we would include as part of "accessories that go with a suit", but that's not to say a stylish man couldn't carry off cufflinks in a more casual outfit – read on!
Everyday Carry Accessories
Let's be specific here, since "everyday carry" can have different meanings to different people.
We're using it to mean items that a man uses to carry items as an everyday occurrence. So – not luggage for travel, and not things a man carries everyday in his pockets for instance. Think wallets, backpacks, bags.
Wallets
No surprise to regular readers that we'd start here! Every man should have a stylish wallet. It's a simple, powerful signal of status and prestige, similar to a man's watch (more on that later).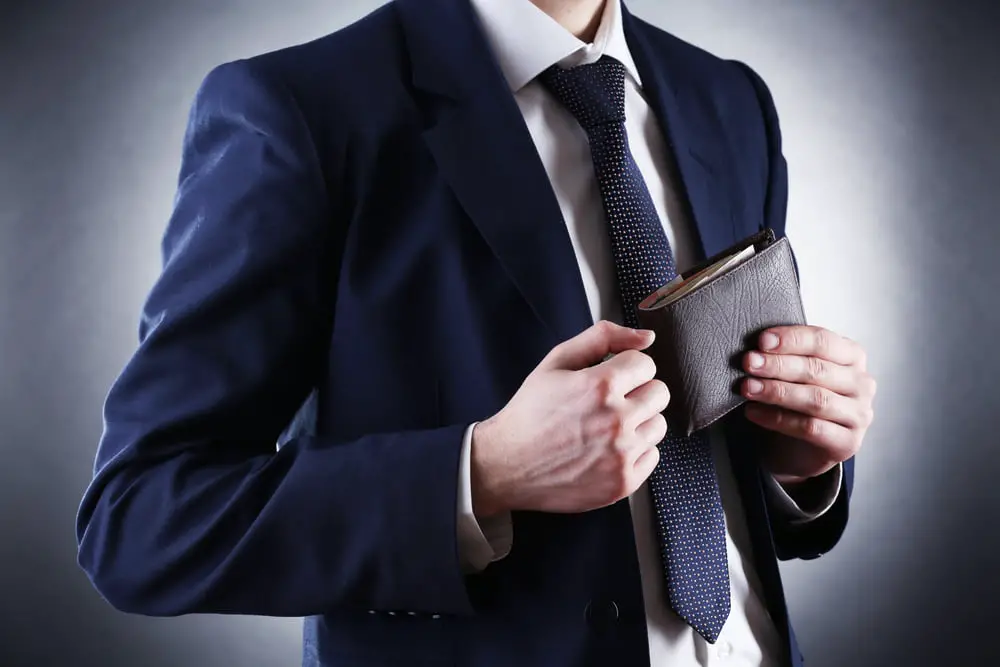 Yes, it's true that men are carrying less in their wallets these days, with more and more functions moving to our phones, but wallets are a long way from being obsolete just yet.
Think about the impression it gives when a man pulls out his wallet to pay for dinner.
Picture two scenes, one where a man pulls out a slim, elegant leather bifold, the other where the same guy pulls out a torn, overstretched velcro number.
What do you want your wallet to say about you?
Messenger Bags
It's a long-running complaint that women get to have purses and handbags, but men don't. Every so often, some designer will try to create a "man bag" and every time it goes the way of that Seinfeld episode.
But there is an answer!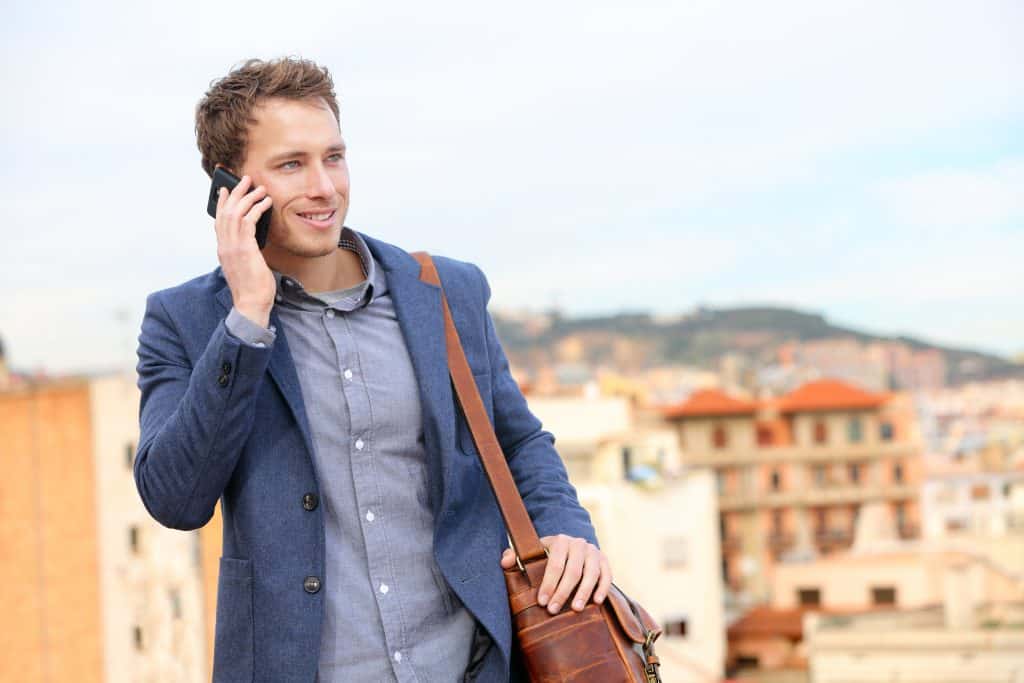 We've long advocated that men should should treat the humble messenger bag as a style accessory, and probably have more than one. There are some great messenger bags out there in many different styles, so why restrict yourself to one functional bag that carries your laptop?
Yes, you'll need one of those, but how about also having a smaller size messenger bag you can wear at other times, more casually?
Our advice: a smaller messenger bag makes a great weekend accessory, and a larger one can be your main carry for work or travel. Just be sure to wear it cross-body.
Backpacks
Let's be clear – we wouldn't treat a large hiking backpack as an "accessory" per se. The focus there is functionality, is it well-suited for day hikes, will it go under an airplane seat, etc.
But those aren't the only packs.
There are stylish backpacks that are mostly built to carry laptops, in leather, or other cool-yet-rainproof materials, that can make a style statement if done right.
As usual, this is mostly about proportions. Don't wear a pack that's too small or you'll look like you borrowed it from your kid, don't wear one so large it makes you look like you're hiking the Appalachian trail after work.
Unless you are, of course.
Our advice: You can certainly incorporate the right type of backpack into your personal style as an accessory. Messenger bags are easier to get right though, and read as a bit more serious.
Accessories That Go With a Suit
Ties
A tie is an accessory that is typically worn with a suit. It can add personality and style to an outfit, and there are many different styles of ties to choose from. Ties are a great way to show off your personality, and they can be a fun way to experiment with different looks, even beyond the suit: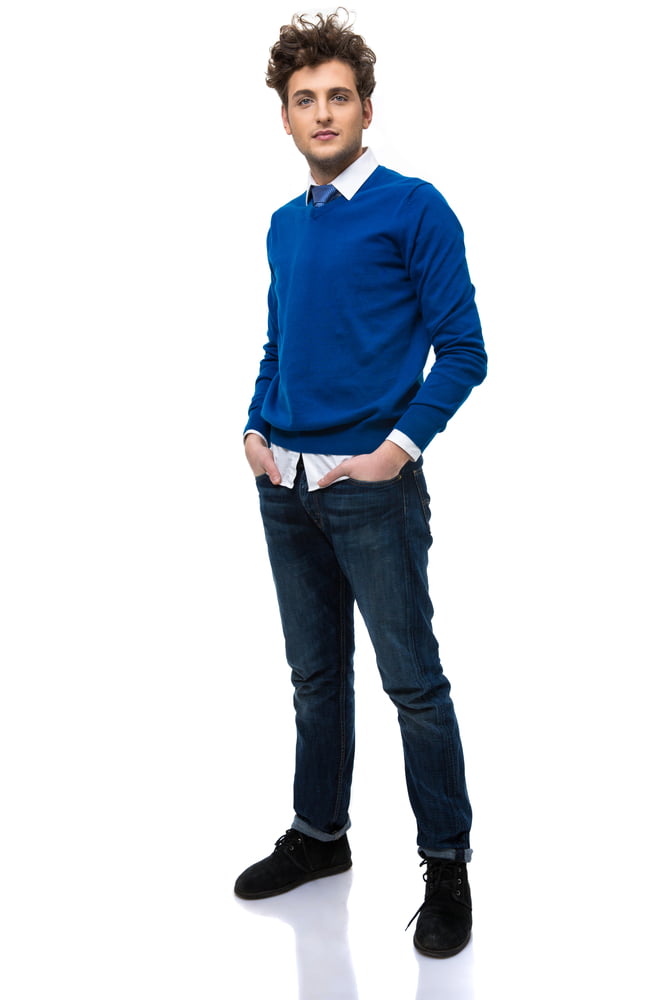 Many people who otherwise work in more traditional industries (think banking) are adopting the suit-with-no-tie look, so it's even more of an accessory than it used to be. Have some fun with this, but learn how to match colors and patterns so the tie doesn't clash, and wear it at the right length.
And whatever you do, don't be tempted to wear a "fun" tie.
You know the sort of thing we mean, cartoon characters, tiny recurring patterns that spell words… just don't.
Imagine you're about to be pulled into a meeting about layoffs. Having Tweetie bird on your tie doesn't say "this is a serious person we need to keep to get through these trying times" does it?
Bow Ties
The tie's close cousin, the bow tie, can be typically be worn in more "smart casual" circumstances than the full tie. Dress it up formally of course with a suit or tux, by all means.
Cufflinks
Cufflinks are another accessory that is typically worn with a suit. They are small clasps that are used to fasten the cuff of a shirt, typically with a face side and a clasp that pivots to hold the sleeve together.
Cufflinks can be made from a variety of materials, including gold, silver, and even wood, ceramics or silk knots.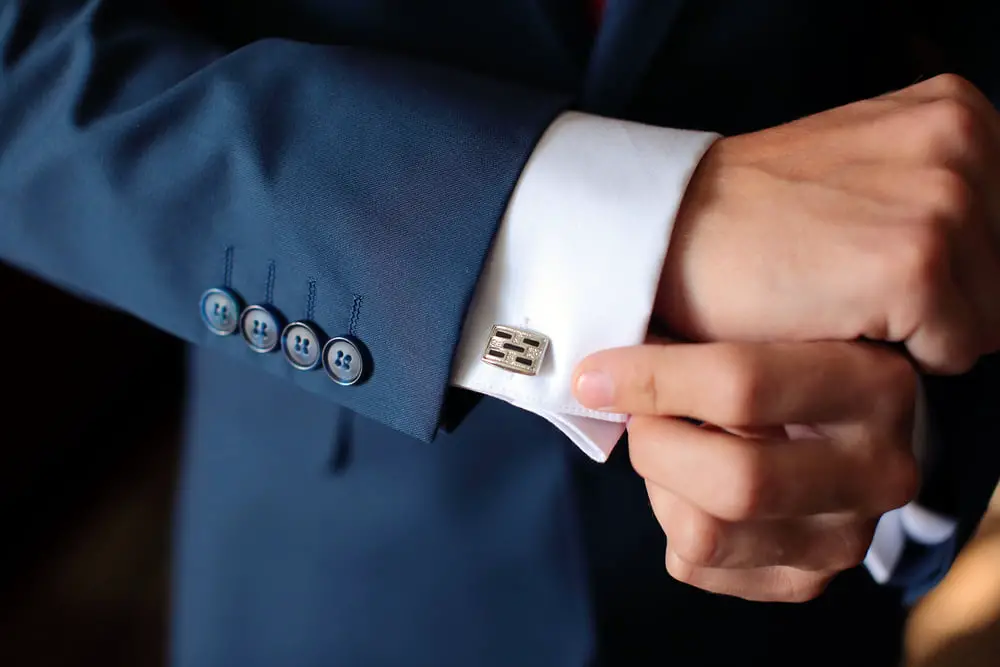 Suspenders
Suspenders (or braces, as they're called in the UK) can be a great way to add a bit of personality to your suit. They attach to the trousers and go over the shoulders, holding up the pants in style.
There are many different styles of suspenders, from thin and delicate to wide and bold, and of course, you can get them in a variety of colors and patterns.
Our advice: be careful not to go full Gordon Gecko. Braces are enough of a statement by themselves, don't go over the top with loud colors or dollar signs. Keep them simple and discreet.
Tie Bars/Clips
A tie bar (or clip) is a small metal bar that is used to hold the tie in place. It attaches to the fabric of the shirt between the third and fourth buttons, and then goes through the loop of the tie, holding it in place. Tie bars come in a variety of materials and finishes, from brass to silver, and can be simple or ornate.
Pocket Squares
A pocket square is a small piece of fabric that is placed in the breast pocket of a suit jacket or blazer. It is generally about the size of a handkerchief, and is used to add a bit of color or personality to an outfit. Pocket squares can be made from a variety of materials, including silk, cotton, and linen.
These are a great option to add an unexpected pop of color to an otherwise neutral outfit.
Lapel Pins
A lapel pin is a small pin that is worn on the lapel of a jacket or blazer. They are often used to show support for a cause or as a badge of honor. Lapel pins come in a variety of shapes and sizes, and can be made from a variety of materials, including metal, enamel, and plastic.
Collar Stays
Collar stays are small pieces of metal or plastic that are inserted into the underside points of the collar of a shirt to help keep it in place. They come in a variety of sizes and shapes, and can be made from a variety of materials, including metal, plastic, and even bone.
Typically of course, no-one will see these, but you'll know your collar is held in place with style!
Belts
As we said earlier, a belt is a bit of a gray area, but we'll call it an accessory.
Belts are traditionally leather (and hence, should complement your shoes) but can also come in canvas or grosgrain for a less-formal look. Accordingly, you should have a variety of belts to mix and match with different outfits.
Our advice: unless you're an actual cowboy, forgo the large, attention-drawing buckle.
Jewelry
Men's jewelry accessories could be a whole website unto itself! Let's go through the basics.
Watches
Every man needs a good watch, just like every man needs a good wallet. Some old-schoolers would argue its really the only jewelry for men that is always acceptable in any circumstances.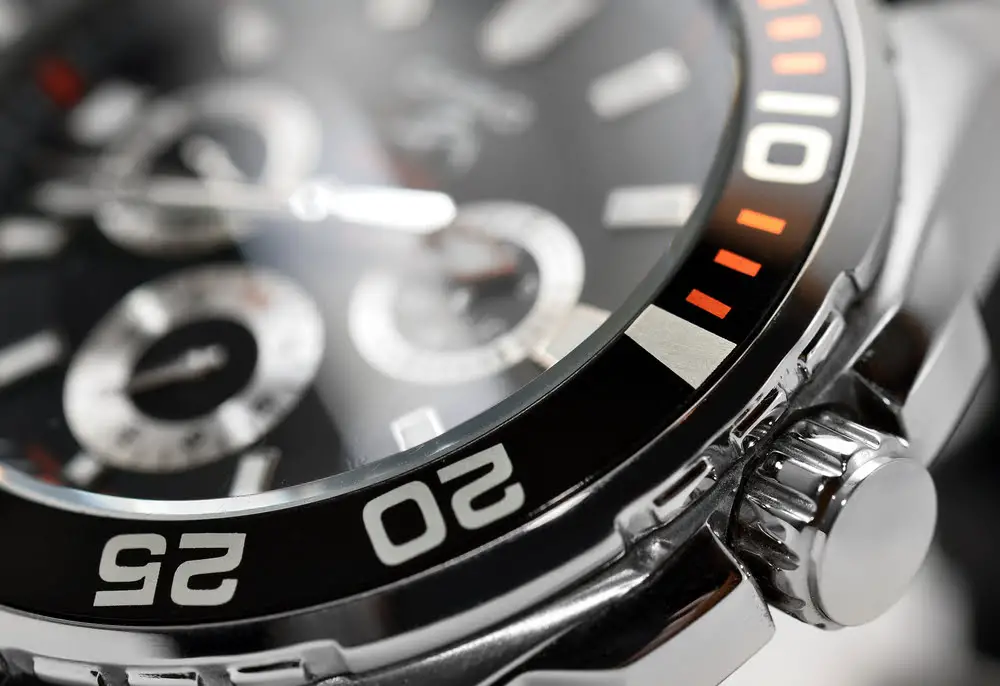 We wouldn't go that far, but it's true that men have always used watches as a statement of wealth and prestige.
You could argue that no man actually needs a watch anymore, since everyone has a much more accurate phone with them all the time. While that's not technically wrong, it misses the point.
Men have always worn a watch for more reasons than simply telling the time, and those reasons haven't gone away.
So find yourself a watch that speaks to you. Ideally, you might have several, that you can switch out for different outfits: a sleek, slim watch to wear with a suit, a chunky diver's watch for the weekend, and so on.
Our advice: buy the best watch you can reasonably afford, and choose one that is classic metal and glass. If you choose something in bright colors (we're looking at you, Swatch) you will limit the outfits that your watch will go with.
What About The Apple Watch?
OK, this is a fair question.
Many people have switched to electronic watches like the Apple Watch as their key accessory. This does give you some cool options with different straps for different outfits, so by all means go this way.
But it's technology, not jewelry.
We're still a sucker for a classic analog watch.
Bracelets
Bracelets are another type of jewelry that is quite personal. If you choose to wear a bracelet, make sure it fits your current outfit. A chunky leather bracelet might look out of place with a suit, but could work well with jeans and a t-shirt.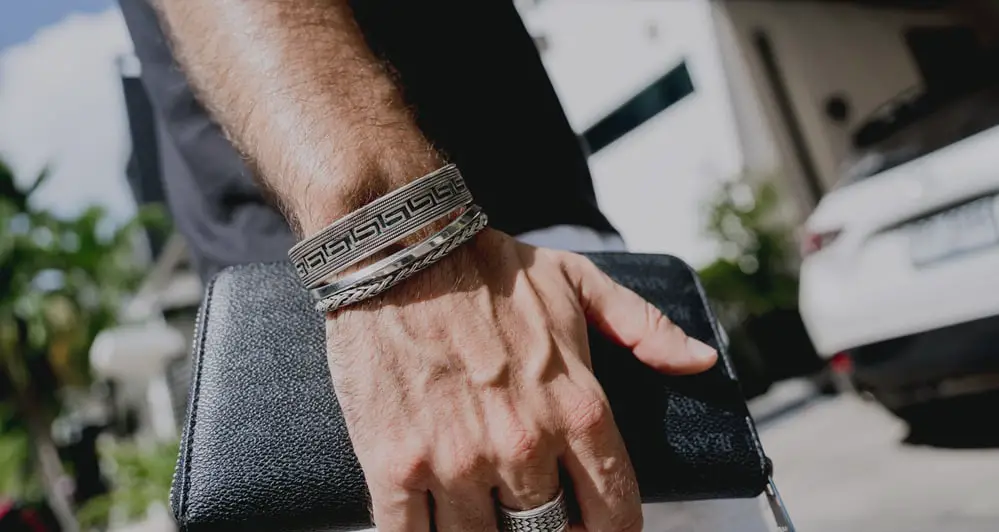 Can You Wear a Bracelet With a Watch?
Yes, but make sure the balance is right. For instance, don't wear a bulky bracelet next to a slim watch, and vice versa.
They don't have to be the same style necessarily, it's more about the proportions and styles complimenting each other.
Rings
Rings are a bit of a personal choice, and there are no hard and fast rules about what type of ring a man can or should wear. Of course, many men choose a simple wedding ring, but there are many other options that a man can choose.
Perhaps it's because your hands are quite intimate (the sense of touch and all), perhaps it's the association with wedding rings, but a simple ring can make an outsize impact on a man's look.
Necklaces
Yes, you can wear a necklace. We're going to take a firmer stance on this one – it's one of the easiest accessories to get completely wrong. Too big or too slim, it will make your neck look weedy or too thick by contrast. And don't get us started on the seventies "gold chain and chest hair" look. (Perhaps we're just traumatized?)
Our advice: Skip the necklace. There are less problematic accessories.
Earrings
Yes you can. But that's a bit … nineties? If you do want to go the earring route, we'd suggest small and discreet to add a hint of non-conformist to your look.
Our advice: Earrings on men are a bit like tattoos. Now that everyone has them, they're not really rebellious anymore. Use with caution.
Weather and Season-specific Men's Accessories
Moving on now. There are accessories that only come into play depending on the weather, and where you live.
Sunglasses
Every man should own more than one pair of sunglasses.
If you need more justification than "because they're cool", then remember that UV radiation can seriously damage your eyesight.
Make sure you always have a pair that provide good UV protection and work with your look.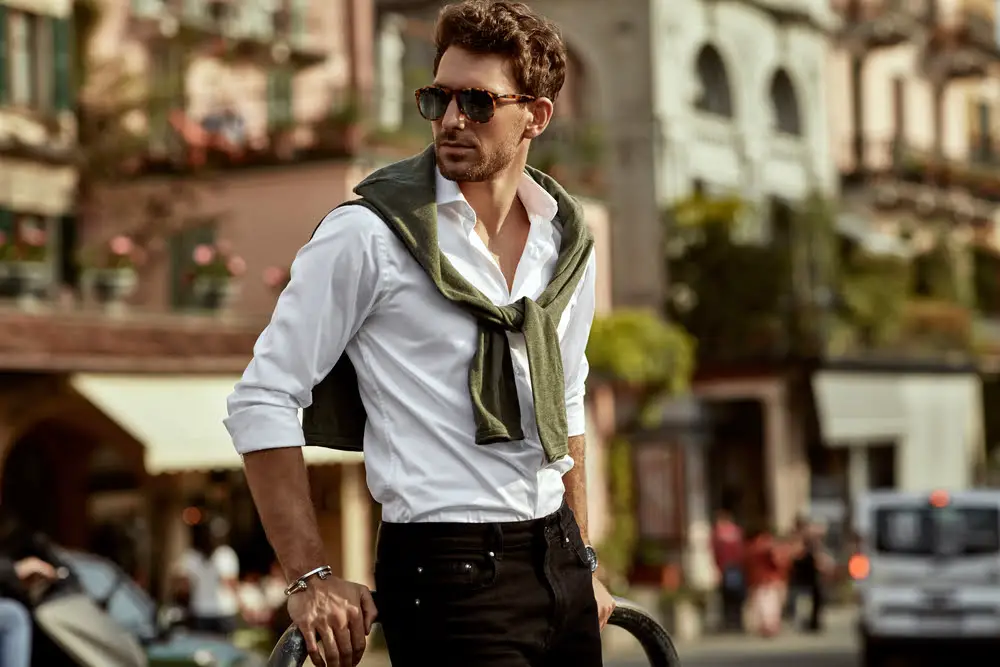 There are multiple options here. You can get yourself a pair of classic Aviators or Wayfairers, you can go wrap-around, or you can go the full John Lennon.
Our advice: Go classic if you only buy one pair. Classic styles can go with almost any outfit. Once you have that pair, you can experiment with a few other styles.
In general, the more sober and classic the rest of your clothing, the more you can try bolder style sunglasses as the statement piece in your outfit.
Scarves
A scarf is in some ways the perfect accessory.
It's a way to add a bit of color and style to your outfit, while also keeping yourself warm in cooler weather. Style and function – what more could you ask for?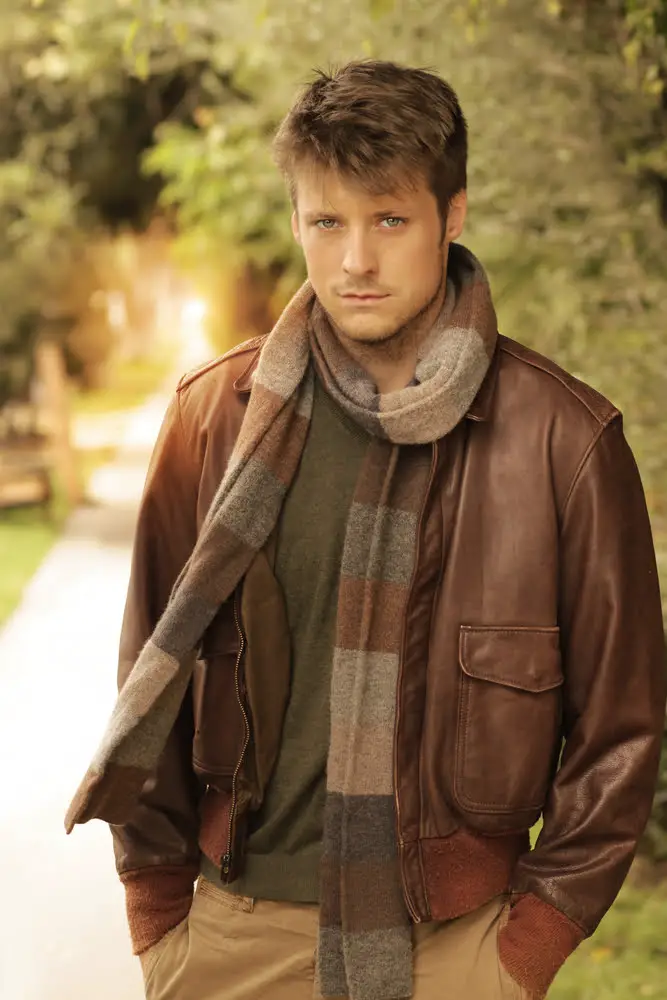 They come in all sorts of materials, from wool to cashmere, so you can find one that suits both your style and the weather. But of course, it does have to go with the rest of the outfit.
Once again, this comes down to matching proportions, materials and colors. A thin, lightweight scarf in a complementary color, can work beautifully with a suit, but the same scarf will look swamped under a thick peacoat.
You do have a peacoat, right? Every man should.
You probably won't have many of these in a warmer climate (maybe one for traveling) but if you live in a place that has actual winters, you're going to want to get yourself a few scarves in different weights and colors.
Gloves
These are another item that is both functional and stylish, and can really help finish off an outfit. Again, you'll want to make sure the material goes with what you're wearing – leather or wool both work for a heavy winter coat, but you'll want lightweight gloves if you're only wearing a lighter coat.
Our advice: Gloves tend to read as a little more "functional" than a scarf. So for instance, you can throw a light scarf on over a suit (and you should, it's a great look) but if you wear gloves with a suit it doesn't look quite right somehow, unless you've thrown a winter coat over the suit also.
Hats
Finally, let's talk about hats.
Hats are another accessory that's easy to get wrong if you go too far from the rules.
Of course, there are all sorts of hats – from beanies and fedoras, to trilbys and flat caps and baseball caps. And you'll want to make sure you choose the right one for your outfit.
A wool beanie is perfect for a casual, sporty look. A fedora or trilby can work with a more formal outfit, but be careful not to overdo it – you don't want to look like you're trying too hard. And if you're going for a more traditional look, then a flat cap is the way to go.
Our advice: with the exception of the simple beanie or baseball cap with casual clothes, hats get risky quickly. But heck, don't let that stop you! Pick something that fits in the same universe as the rest of your outfit and stride out in style!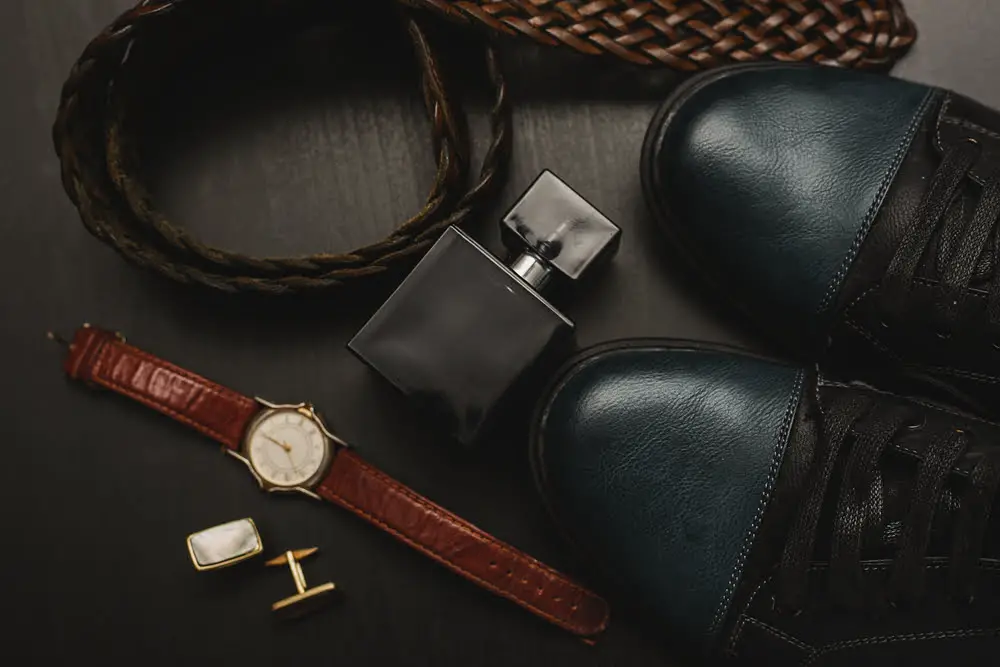 What Accessories Should a Man Have?
As we've seen above, there are a lot of different accessories. But what are the must-haves?
A stylish wallet (you knew we were going to say that, right?)
A good watch
A good pair of sunglasses
A stylish scarf (unless you live somewhere without a winter)
A messenger bag
Of course, you don't need any of these, really (that's the point of accessories after all). But if you're looking to build a basic accessory wardrobe, these are the essentials that we would start with.
Then add to those over time. Add a bracelet to go with the watch. Buy a shirt that takes cufflinks and give those a try.
How to Wear Men's Accessories – The Three Key Rules
There are only a handful of rules here, and we've touched on most already in this guide.
Get The Proportions Right
By proportions we really mean balance. So typically you want to stay in the same range. Wearing a slim suit? Add a slim, lightweight scarf, not a big, chunky one better suited to a snowstorm. Wearing a heavy winter coat? Don't sling a small backpack on, it will look dainty.
Match The Colors and Materials
Color matching often confuses people, but we've got a whole article on that here.
What you're looking for is not to cross the streams too much. You don't have to wear exactly-matching colors (in fact you shouldn't) but don't wear colors that are from different color families altogether. Choose colors that are complementary and in the same hue.
Materials shouldn't clash either. For instance, don't wear a leather belt with canvas shoes, it gives off mixed-messages. Again, you don't have to wear everything the same (that would be weird) but be careful about mixing completely different families of materials.
All rules are made to be broken, and this is the one to break if you're confident the look works. The simplest, and most widely-accepted example would be mixing business and casual styles, like a suit jacket with jeans, or Chelsea boots with a
Don't Wear Everything At Once!
The last rule is the simplest – this is definitely an area where less is more.
My wife swears by this Coco Chanel quote: "Before you go out, look in the mirror and take one thing off".
Now, men don't tend to wear as many accessories for sure, but you may be tempted to do that as you start building up a collection of cool pieces. Decide which accessory you're going to wear to add a "pop" to that specific outfit, and don't add more.
Before You Go…
Accessories are a great way to add personality and character to an outfit, and they're a great way to add a new twist to things you wear often. There are a lot of other random questions people ask about accessories though – so be sure to check out this next article:
Which Hand Does a Watch Go On? (And What That Says About You!)
Related Articles:
Bonus Video!
We had a spirit discussion amongst ourselves as to whether something like a sweater can ever be considered an accessory. We don't really buy it, but the "sweater casually tied around the shoulders" is a great look if you can pull it off without going full sweaterdouche.
Most people fail at this.
Michael below lays it out. This is how you pull off the look and (sort of) accessorize a sweater. Enjoy:
All product names, logos, brands, and trademarks are the property of their respective owners