Looking for the Best Carbon Fiber Wallet?
Carbon fiber wallets just exude so many qualities that you want in your everyday-carry.  Luxury, quality, strength & durability are just a few of the things that make carbon fiber the perfect material for creating a really cool wallet.
What the makers below have done are taken the things mentioned above and crafted them into really modern looking, crazy-functional, awesome ways to "carry". 
There isn't a carbon fiber wallet on this list that we wouldn't carry ourselves.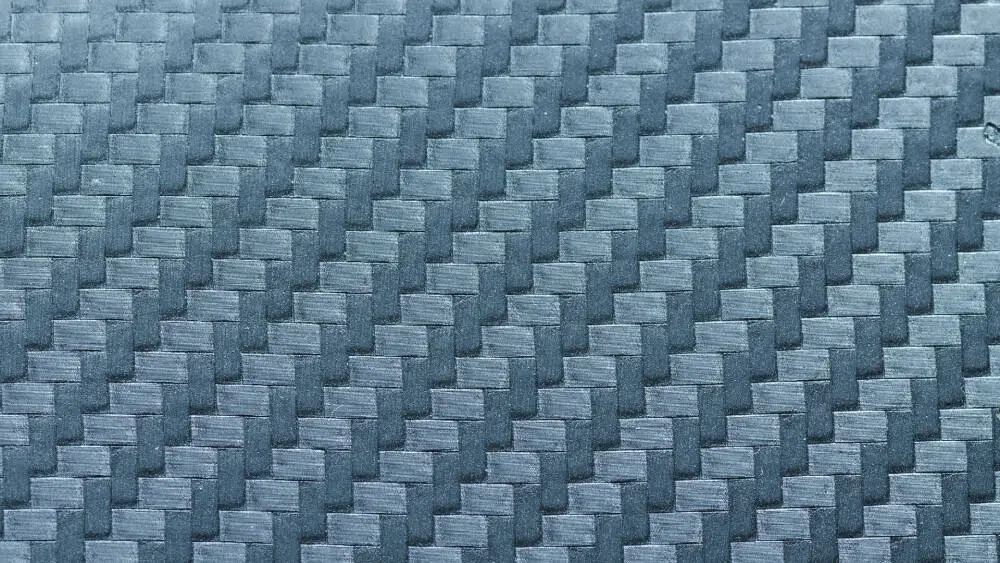 Originally we had a LONG list of more than 15 options, but we got the feedback that most people wanted to know which we called out as the best – so with no further ado, here's the quick summary (with the more detailed reviews after the jump):
---
Our Top Rated Carbon Fiber Wallets for 2022
Extremely stylish. Changeable color straps allow you to change it up
Classic Bifold with a Carbon Fiber twist!
Modular, magnetic, what's not to love?
Leather card holder, carbon fiber money clip - 2 in 1!
The OG! What more can we say about the Ridge?
---
Carbon Fiber – The Perfect Wallet Material
Before we go through the wallets themselves (click here to jump straight to the reviews), let's take a quick look at the material known as carbon fiber. 
You can find carbon fiber in everything nowadays – from musical instruments to shoes (even wallets).  As we mentioned above, the reason for this is that it's such a multifaceted material that's not only cool-looking, but really practical.
There are two main advantages to using it for any application – strength and weight.  Because of the way that the carbon "fibers" are woven together, they get stronger as the tension increases.  Meaning, instead of trying to pull apart, they bond together.
The fibers themselves are micrometers in size, meaning that you can put thousands, even millions, of fibers together and they're still virtually weightless.
The material itself is also extremely resistant to both temperature and chemicals.  Why is this relevant to us?  Have you ever left your wallet in the car on a hot, sunny day?  Have you ever spilled anything on your wallet?  You're starting to see why carbon fiber makes sense to use in wallet.
On a final note, you'll notice there are typically two different finishes on a carbon fiber wallet – gloss and matte.  This is achieved in the application itself.  It can either go on wet or dry. 
The wet application will achieve a gloss finish, while the dry will produce a matte finish.  The wet is slightly heavier than the dry, but it's honestly negligible in the case of a wallet.
The Best Carbon Fiber Wallets
OK people, let's get started. As we said, we've narrowed down the list to the following carbon fiber wallets and money clips. But read on – we've got one bonus wallet not shown in the table above!
Fidelo Carbon Fiber Minimalist Wallet
| | | | |
| --- | --- | --- | --- |
| Width | Depth  | Height  | Weight |
| 2.25 in | .25 | 3.4 in | 3 oz |
Fidelo is made from the highest quality, Grade 3 Carbon Fiber. 
This minimalist carbon fiber wallet is stronger than steel, it's totally resilient against scratches and scrapes and will last for years, we mean YEARS, to come.  This little guy allows you to carry up to fifteen (15) credit cards effortlessly with no bulk or ugly pocket bulge (*hint, it's meant to be carried in your front pocket). 
This wallet comes with RFID blocking protection to ensure your security is always first priority. Another cool feature (which really makes this wallet in our oh-so-humble opinion) is the integrated elastic billfold band that comes in a variety of colors.  It adds an extra dimension to this wallet for storage, flexibility, etc…
The design really has this awesome "futuristic" thing going for it (there's probably a more technical term for that).  Overall, the wallet is sleek, super user-friendly and has exceptional functionality. It will fit comfortably in any front pocket, whether it's your pants, shirt or jacket pocket. 
It's obvious why Fidelo is first on our list of the best carbon fiber wallets.
---
Common Fibers Max Carbon Fiber Bifold Wallet
| | | | |
| --- | --- | --- | --- |
| Width | Depth  | Height  | Weight |
| 4.3 | .3 in | 3.4 in | 1 oz |
Common Fibers uses real "Aerospace Grade" Carbon Fiber on their Max Wallet. 
Doing this takes minimalism and sophistication to an entirely new level in the world of "slim carry".  What this does, primarily, is allow the user the comfort and durability of a strong leather wallet without the bulk and heaviness to carry around.
The Max consists of six credit card slots, a cash pocket and two hidden compartments for larger bills.  The wallet is available in four (4) different colors – Green, Blue, Red & Carbon – there will definitely be one that suits you… but you don't have to carry it in your suit.
---
PITAKA Magwallet, Modular Card Holder
| | | | |
| --- | --- | --- | --- |
| Width | Depth  | Height  | Weight |
|  2.7 in | .5 in  | 4 in | 3 oz |
PITAKA was the world's first magnetic carbon fiber wallet. 
What we really love about the Pitaka is that it's totally modular.  What does that mean?  You can customize it specifically for how many cards you want to carry. The wallet is stylish and completely adjustable, whatever you are wearing, and whatever the occasion, you can make this wallet work for you. 
We mentioned it's modular… basically this means it has individual storage compartments for EVERYTHING. 
It can handle coins, bills, credit cards and keys to name a few things . The possibilities are endless. With this truly sleek, modern design, the user can decide how thick they want the wallet and can slide cards out of the device in one swift one-handed move.
As you might expect from a futuristic design like this one, the wallet comes with RFID blocking technology as standard. In case it not obvious, we love this wallet and its our overall winner!
---
KORE Slim Wallet and Carbon Fiber Money Clip
| | | | |
| --- | --- | --- | --- |
| Width | Depth  | Height  | Weight |
|  2.75 in | .15 in  | 4 in | 4.2 oz |
Very cool idea.  The Kore is really a 2 for 1. 
The wallet is primarily comprised of a nicely-sewn leather card holder, which is the main place for your credit cards.  It's made complete with an awesome carbon fiber money clip attached to the back side, which is obviously reserved for your bills.  The wallet portion is made from full grain leather, while the money clip is composed of military-grade carbon fiber.  It not only looks good, it delivers too.
The wallet has the ability to hold up to ten (10) credit cards and twenty (20) bills that are folded in half, and a smart pull tab the for easy access.  The money clip can also function without the wallet for the occasions when you want to carry lighter (suit jacket, blazer, etc..). 
The central pocket of the wallet is equipped with RFID blocking protection too – to provide security and peace of mind to you at all times – especially when traveling.
---
Carbon Fiber and Co Real: Money Clip
| | | | |
| --- | --- | --- | --- |
| Width | Depth  | Height  | Weight |
|  1.4 in | .5 in  | 2.8 in | 1 oz |
This money clip isn't one of these cheap knock-offs we warned you about earlier. 
It's made from genuine "aerospace grade" carbon fiber. With a full one year warranty, the money clip is perfectly made to securely and efficiently to hold your credit card, cash and business cards. 
As you'd expect, it works like a traditional money clip, except it looks cooler.  Everything fits in the clip all together – a few cards (5-6), bills, receipts, etc..  They're easy to take in and out, but remain secure. The clip is super small and lightweight, making pulling it in and out of your front pocket seamless.
---
Ridge Wallet – Carbon Fiber
| | | | |
| --- | --- | --- | --- |
| Width | Depth  | Height  | Weight |
|  3.3 in | .5 in  | 2 in | 3.7 oz |
There wouldn't be a carbon fiber wallet list complete without mentioning the Ridge Carbon Fiber Wallet. 
They're the OG when it comes to carbon fiber wallets. 
They were one of the first to come up with the idea of incorporating it into a wallet to both increase strength and durability.  Their wallet is completely modular, which makes for a modern looking, very functional wallet. Ridge doesn't come with traditional card slots, but rather one main place to hold as few as one credit card, but up to ten cards.
We went back and forth between this and the Pitaka as to which was our overall "best" choice. Ultimately we decided we liked the Ridge best for their original metal wallets and gave it to Pitaka for their originality. But it was a close thing…
Check out our full Ridge Wallet Review.
---
BONUS WALLET!
Just for those of you that read this far, here's a great bonus option we really like from Walletology.
Walletology Carbon Fiber Card Holder Wallet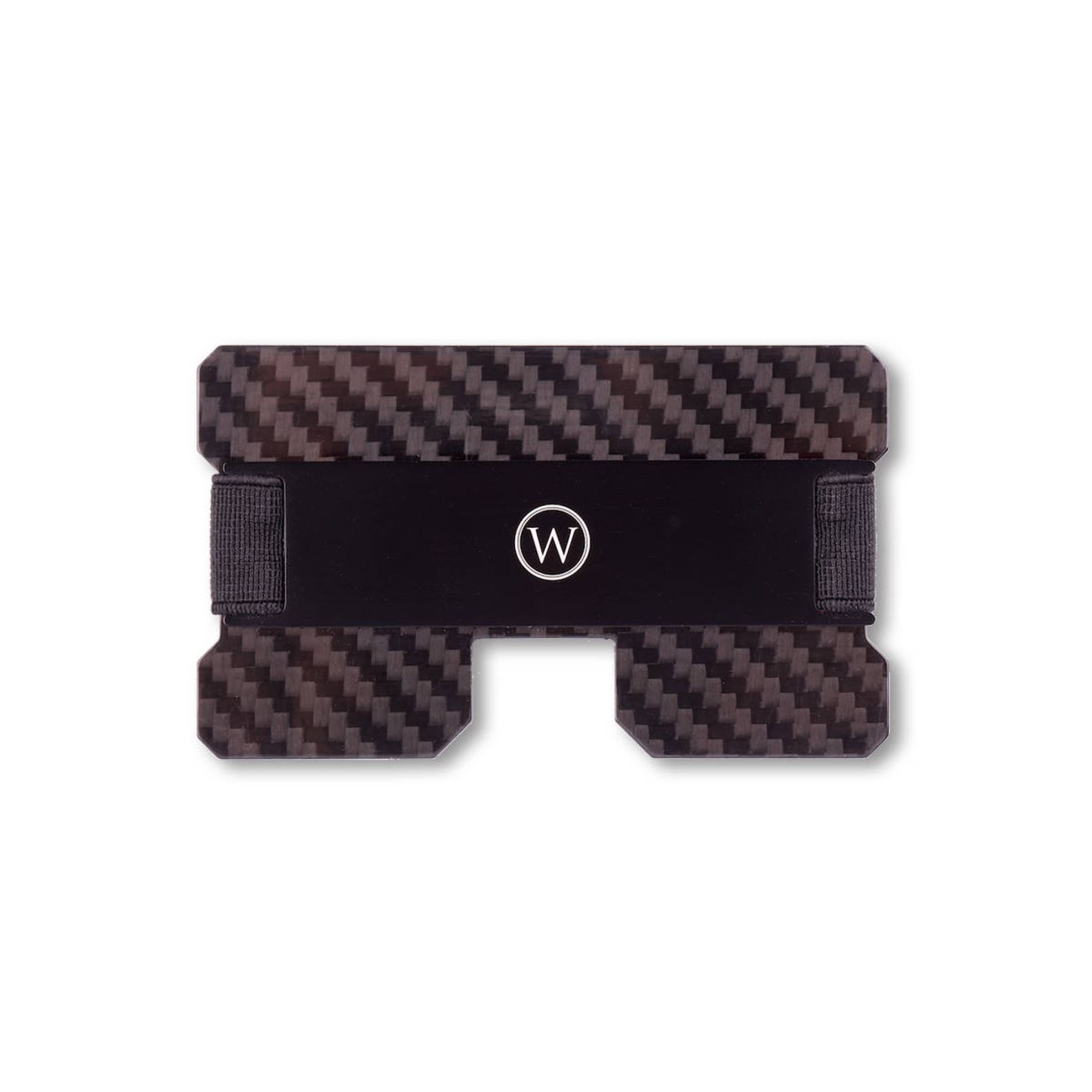 | | | | |
| --- | --- | --- | --- |
| Width | Depth  | Height  | Weight |
|  4.9 in | 1.1 in  | 3.6 in | 2 oz |
Is it a wallet?  Is it a money clip?
The Walletology Card Holder is made using real, solid materials. Primarily made from Carbon Fiber, it also encompasses super strong elements such as stainless steel.  This makes the wallet both beautiful and strong enough to actually hold up over time.  It has built-in RFID blocking too.
It has the ability to hold up to ten (10) credit cards.   It's most definitely designed for front pocket carry and is so light you won't notice it's even in your pocket. 
This is the first carbon fiber wallet from Walletology, but we expect to see big things from them in the future (but probably a small footprint).
** Update: This wallet now comes in a range of cool colors, check it out!
---
Carbon Fiber Wallets – Buyers Guide
We hope you enjoyed our list! Trying to identify the best carbon fiber wallet is an impossible task really, especially with new products coming out all the time. And as usual, a lot comes down to personal preference.
Form Factor
The first choice you'll have to make is the format.
Are you looking for something in the style of the Ridge and its many clones? A metal card-holder style but in carbon fiber? Are you looking for a money clip? A combination of the two? Or perhaps you're looking for a classic bifold with a carbon fiber twist?
Ultimately this is a personal preference. But then we have to talk about quality and cost.
Why are Carbon Fiber Wallets So Expensive?
Something else that we need to be aware of when evaluating products. 
True carbon fiber is expensive to make.  It just is.  There's not really an effective way to "mass produce" it, so it takes a lot of man hours to physically produce the stuff.  Keep this in mind when looking at the cheaper products you might find out there.
In other words, if someone is selling a carbon fiber wallet for less than $15, there's a good chance it's not "real".  It's most likely an imitation coating or type of wrap over a cheap plastic (we saw a few of those as we went through our longer list)
From what we've seen, you really need to hit the $25-30 range (at minimum) to know that you're getting a quality (and genuine) product. Realistically, you'll find them in the +/- $60-100 range.
Also note that the amount of carbon fiber used in the products will vary – i.e., if a wallet is 90% carbon fiber, it's going to be much higher quality (thus more expensive) than it's counterpart that is comprised of 20% carbon fiber.
Hopefully we've given you food for thought, and you found something you like in our list above!
All product names, logos, brands, and trademarks are the property of their respective owners
Last update on 2023-09-14 / Affiliate links / Images from Amazon Product Advertising API