Wallets with chains aren't just for extreme sports, biker bros riding a Harley and skateboarders anymore. Whatever your "thing" is, there have probably been times when you have needed your wallet secure, but didn't have any real way to secure it – these are perfect for that.
Or maybe you just like the look. We have to admit, there's something very retro and edgy about wearing a chain wallet.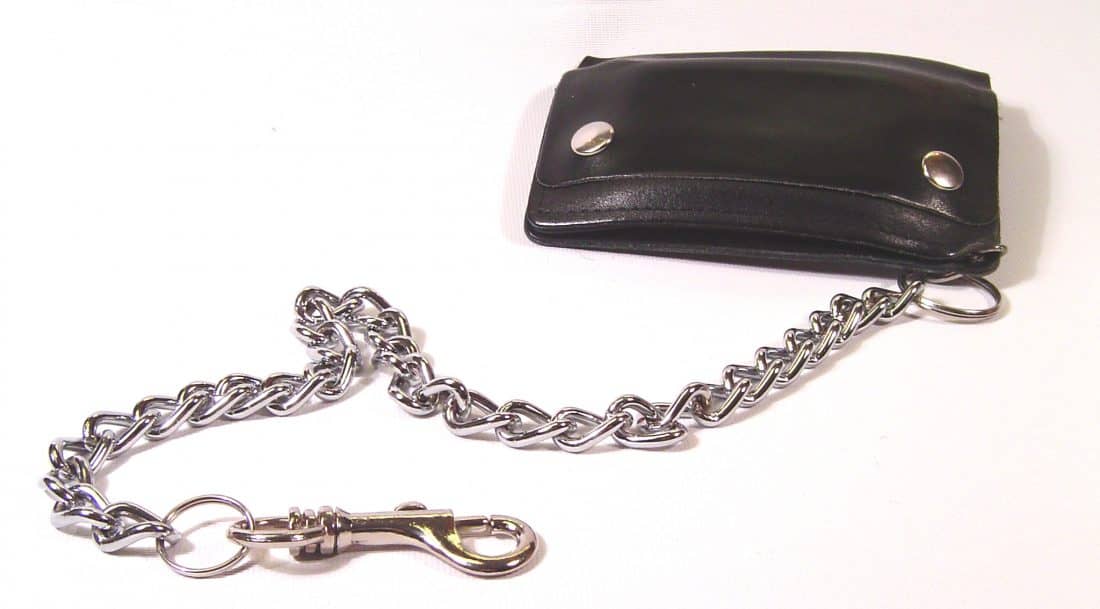 Some History…
So, when were wallet chains popular? For some, they've never gone away, but here's a quick rundown – like everything in fashion and style – they come and go in waves.
1970s: Wallet chains first gained popularity in the 1970s as part of the punk rock and biker worlds. They were often associated with rebellion and nonconformity.
1980s: Wallet chains continued to be popular in the 1980s, especially among punk rockers, metalheads, and skateboarders. They were seen as a fashion statement and a way to express a rebellious attitude.
1990s: In the 1990s, wallet chains crossed over into mainstream fashion and were adopted by a broader audience, including hip-hop enthusiasts and alternative music fans. They became a popular accessory for both men and women.
Early 2000s: Wallet chains experienced a decline in popularity in the early 2000s but were still worn by some individuals who embraced alternative and punk styles.
Revival: Like many fashion trends, wallet chains experienced a revival in the late 2010s and early 2020s, with some fashion-forward individuals and designers incorporating them into their styles as a retro and edgy accessory.
Wallets With Chains – The List
These wallets below all have a vintage feel to them and quality to match.  None of the wallets below are made from PU or bonded leather.  The former being fake leather and the latter being low quality leather.  Most of the wallets below are made from either full-grain or top-grain leather, which are top of the line in terms of feel, durability and overall quality. 
Some are made from genuine leather (which can be ok), but you just have to be careful.  You never know exactly what you're getting with that type of leather.  Typically, if it says cowhide leather, you're ok.  If it doesn't, it's most likely made out of a cheaper animal skin such as pigksin.
Basically what we're saying… if you've ever considered a chain wallet, to use as a biker wallet or not, this article will be the best thing you have read all year.
Fifteen of the best wallets that are not only "cool" but also practical – they include chains that can be linked to belts, clothing or equipment to make your days stress-free with your wallet carefully attached to you. 
Some of these are even RFID-blocking wallets too. RIFD wallets with chains – that's taking security to a whole new level!
We'll update this list often, so keep checking back for new ones as we find them!
---
Mr Lentz Men's Personalized Leather Handcrafted Traditional
Width: 4.25 in Depth: .5 in Height: 3.25 in Weight: 6 oz  Chain: 18 in
This wallet from Mr Lentz is the real deal.  It's hand made entirely from full-grain, vegetable tanned leather and available in Desert Night Dark, Sun Tanned Natural and Western Brown. It includes brass (nickel-plated) joints for utmost durability and product life.  The chain itself measures 18 inches and is made of solid steel (also nickel-plated) to last as long as your wallet will.
This wallet is the perfect buy for someone who wants maximum space in a minimum design wallet, it provides two (2) card slots along with two (2) extra pockets, easily fitting in six to eight (6-8) cards, with a compartment for bills, making this a whole lot of wallet without that annoying bulge. Perfect for outdoor and sports enthusiasts.
---
F&L Biker Wallet
Width: 3.5 in Depth: .5 in Height: 7.5 in Weight: 7 oz  Chain: 20 in (detachable)
This Biker Wallet made entirely out of genuine thick bridle cowhide leather is available in a range of blacks, browns, and camo. The leather that it is fashioned from is incredibly durable as is usually used to make horse reins, making it a wallet that you could use for years to come. It comes with a 20-inch chain which is detachable, changing the look whenever you like.  
With a double snap closure for extra protection, this wallet comes with 10 card slots, 9 for cards and 1 for ID, or something similar, and 4 long pockets for bills and receipts.
---
FLW Glazed Genuine Leather Zip-Around Wallet
Width: 5.1 in Depth: .5 in Height: 3.9 in Weight: 5.3 oz Chain: 19 in
This wallet is entirely made from strong genuine quality leather for long life and durability. Available in Tan with a metal zip that goes all around the wallet. It is perfect for fans of small wallets. At just 3.9 x 5.1 inches or 10 x 13 cm, this wallet will provide all of your practical and aesthetic needs too.
This wallet is perfect for people who love to take to the outdoors, bikers or extreme sports athletes alike, with the 19-inch chain making sure the wallet is always safe and secure no matter what the pursuit.
---
JooJoobs Men's Leather Biker Chain Wallet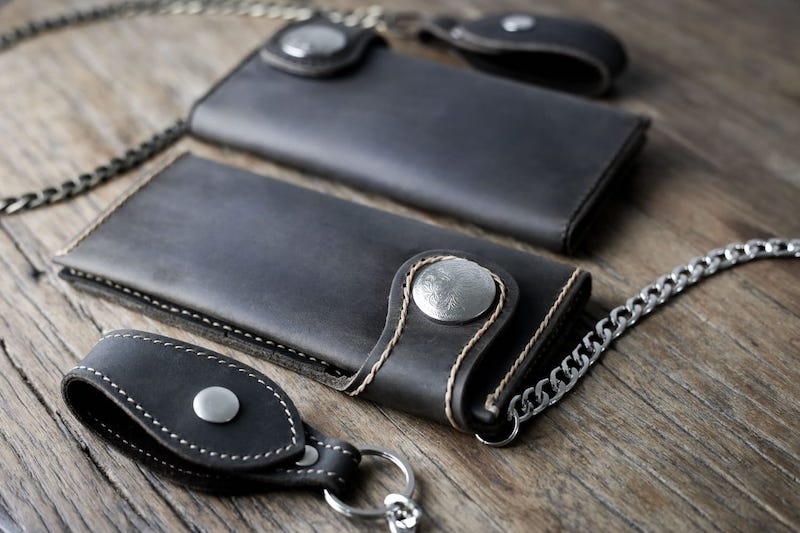 Width: 3.5 in Depth: .75 in Height: 7.5 in Weight: 7 oz Chain: 20 in
This practical, yet stylish wallet from JooJoobs is a must-have buy for any Biker or Extreme Sports Enthusiast. This Wallet is handmade and hand stitched, meaning the quality is undeniable. It is available in distressed leather with a 20-inch chain and a minimal design, so it will fit neatly into any pocket or small space.
One downside of this wallet is that it only has three (3) credit card sleeves (although they can apparently stretch to three cards each), however, it's still extremely functional with three pockets that can be used to store cash or a phone and a separate slot for a house key (although we don't recommend carrying your house key in your wallet). These features make this wallet a unique find and will delight all thrill seekers alike.  
NOTE – the wallet pictured is actually a dark brown.  The picture had a lot of customers thinking it was black or gray.  Also note JooJoobs doesn't accept returns on any biker wallets.
---
JooJoobs Men's Trifold Chain Wallet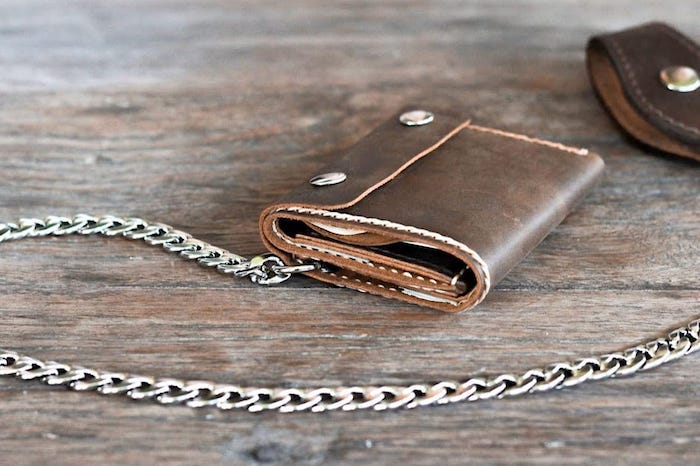 Width: 3.25 in Depth: .75 in Height: 4.3 in Weight: 5 oz Chain: 24 in
A variation of the previous wallet, this holds some of the same perfectly unique qualities the above but also has some improvements that will make this a great buy for any guy. Handmade and stitched in distressed leather for long life and durability. With a 24 inch chain and a choice of Silver or Antique Gold chain and a closure flap for extra security, this wallet fits all currencies with ease.
As well as the attachment for a key, there are also sleeves for more cards than the previous wallet, as it holds 8 — 10 cards with ease and can fit unfolded money. Perfect for the Biker in your life or just for the man who wants to look "cool".
---
Harley Vintage Biker Chain Wallet
Width: 3.5 in Depth: .75 in Height: 7 in Weight: 6.4 oz Chain: ~19 in
This multi-layered design of this wallet with chain offers you a large capacity wallet in a sleek, minimal design. Made with genuine cowhide leather in a rugged vintage design, it comes with an antique nickel chain, that enables you to keep things secured when necessary.
This wallet is checkbook-sized, and fitted with an interior coin pocket, card slots with availability for 6 cards and 3 compartments; one for coins, one to hold more cards if needed and another for cash. The sides on the front and back interior also have an open pocket in them. With the classic Willie G Skull logo and Harley Davidson script this wallet makes an instant statement!
---
Hempy's Hemp Tri-Fold Wallet with Chain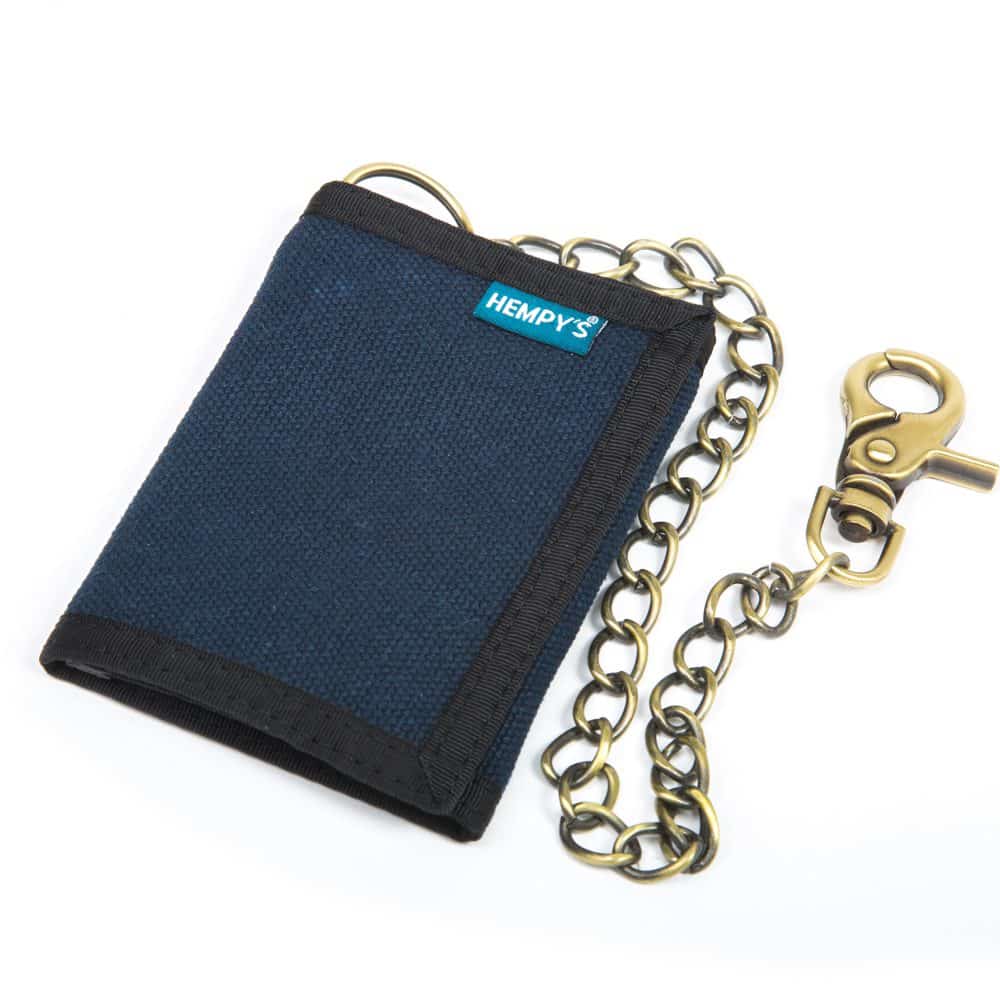 Width: 3.25 in Depth: .5 in Height: 4 in Weight: 4 oz Chain: 12 in
This wallet is the perfect choice for the environmentally-conscious. Tthis 100% hemp canvas wallet is the right choice for you or as a gift for an "eco-warrior" friend of yours. It uses no animal products and is completely vegan, with a twelve (12) inch heavy duty chain. The hemp also makes it incredibly durable, it will have a long life, even with heavy usage. 
The wallet includes a mesh pocket for coins with a zipper for protection, a holder for bills, a clear pocket for your ID or driver's license and one cardholder. This is a downfall for someone who has a lot of cards, but we did notice that you can place 2-3 cards in the single card pocket without much issue.  We really like this wallet, it's an excellent choice for the eco-conscious among us. 
---
WorkingClassPunx All Black Vegan Chain Wallet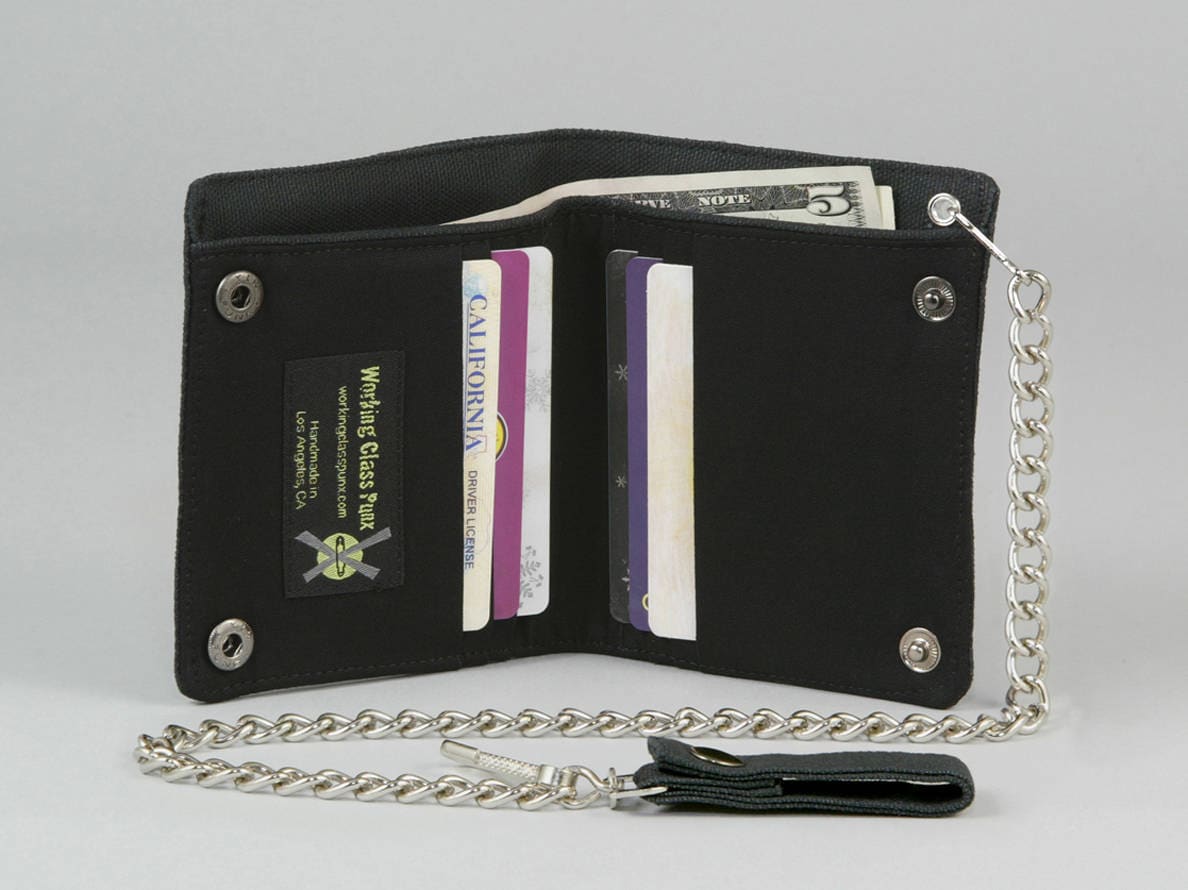 Width: 4 in Depth: .5 in Height: 4.25 in Weight: 5 oz Chain: 16 in
This all black vegan canvas bi-fold wallet from WorkingClassPunx, with gunmetal snaps for extra closure and protection, a sixteen (16) inch detachable chain, a black canvas belt loop and a key clip is perfect for skaters, bikers, extreme sports fans or anyone who just wants an eco-friendly wallet that is multi-functional.
The inside features six cotton fabric pockets that can hold up to six cards and a large canvas pocket for cash or keys. This is a huge bonus for anyone who likes their wallet and their keys in the same place. We don't actually recommend that, but for some the increased convenience outweighs the increased risk.
Minimalistic, yet practical,  the wallet would make a perfect gift for someone whether they are an outdoor person, passionate about the environment or just looking for the perfect statement wallet.
---
Luufan Men's Long Wallet with Zipper Pocket
Width: 3.5 in Depth: .8 in Height: 7.7 in Weight: 8.5 oz Chain: 22 in
This unisex wallet is made from 100 percent genuine Italian Full Grain cowhide oiled leather. Designed with a vintage style and fashioned with a leather strap, it can be used as both a wallet or a clutch purse/bag, allowing for all occasions to be met. This wallet consists of four layers and is capable of holding 4 phones at once if necessary (we don't know why you'd do that, but it's good to have the capacity).
Each layer has six card slots and one for cash. There is also a small pocket with zipper for coins. The high quality of the leather used makes the wallet highly durable with a smooth exterior. Perfect for the man or woman in your life that likes everything in one place.
---
Itslife Men's Bifold Vintage Handmade Leather Chain Wallet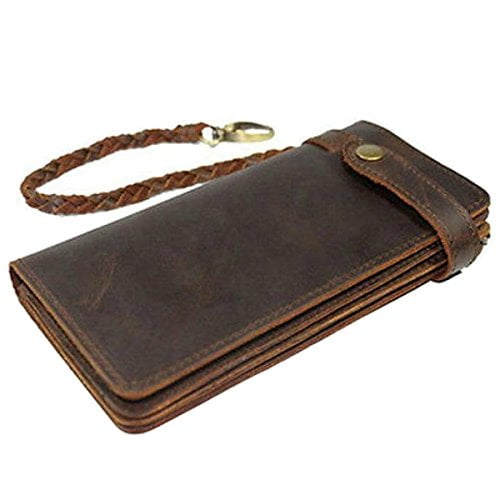 Width: 3.8 in Depth: 1 in Height: 7.4 in Weight: 8 oz Chain: ~12 in
This retro brown premium rugged cowhide leather wallet is handmade with excellent quality and comes with a detachable woven leather rope with metal hook. It features six card slots, one pocket with zipper for extra protection, one interior pocket that can fit a phone and two pocket slots for cash. 
Designed to block Radio Frequency Identification Device (RFID) signals from penetrating your wallet, and scanning information off of chips in your cards. This wallet, therefore, gives you security and privacy.
Due to the leather used, wrinkles and scars may appear on the wallet, this is all due to inherent characteristics in the leather and adds to the sense of ruggedness.
---
SOS EDC Minimalist Wallet with Removable Chain
Width: 3.15 in Depth: .12 in Height: 4.4 in Weight: 8 oz Chain: 23 in
This genuine functional minimalist designed wallet is made with very high-quality genuine Saffiano leather. It fashions six card slots, one ID window and one slot for cash and receipts. With an ultra slim design, it makes it easy to carry in small areas like a clutch bag or handbag and also makes it easy to slide to front or back pockets.
With a clear finger glide making it easy to access the photo ID stored in the pocket, this wallet is perfect for someone who likes to travel light and wants no delays or hold ups. It has a 23-inch metal chain with a leather belt strap for peace of mind that your wallet is safe no matter where you carry it. The RFID feature blocks all RFID scanners and readers, ensuring your credit and debit cards are safe and protected.
---
Joojoobs Mens Leather Biker Wallet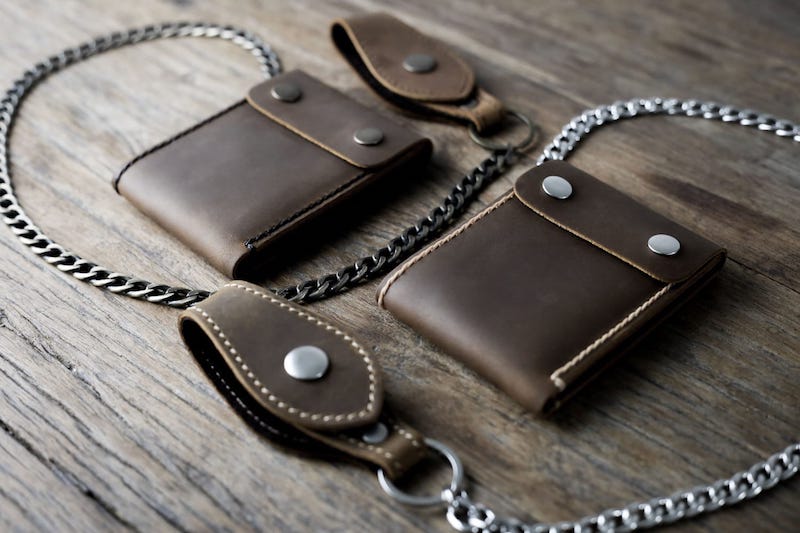 Width: 3.25 in Depth: .75 in Height: 4.3 in Weight: 6 oz Chain: 24 in
Entirely handmade from Full Grain cowhide distressed leather, with a closure flap and 24-inch chain with a choice of either Antique Gold or silver. Fashioned with a pocket for unfolded money, this is a wallet for a man who likes just the basics in his pocket.
The wallet from JooJoobs is minimal and will sit in front or back pocket comfortably without any bulge. This would make the perfect present for relatives, partners or anyone who will appreciate finely crafted leather wallets. The long chain makes it great for bikers or skaters who need to know their items are safe.
---
Anvil Customs Wallet with Chain
Width: 5.5 in closed (11 in open) in Height: 3.5in in Weight: 7 oz Chain: various lengths (purchased separately)
Each of these bifold wallets is handmade in Springfield, MO. Available in black or "dirty brown", this wallet can hold up to ten cards (in two card slots) and has a full-length pocket for notes . The design of the wallet would very much appeal to bikers or anyone who likes minimalism yet practicality. This made-in-the-USA bifold also comes with a limited lifetime warranty.
---
RobertiLeather Chain Wallet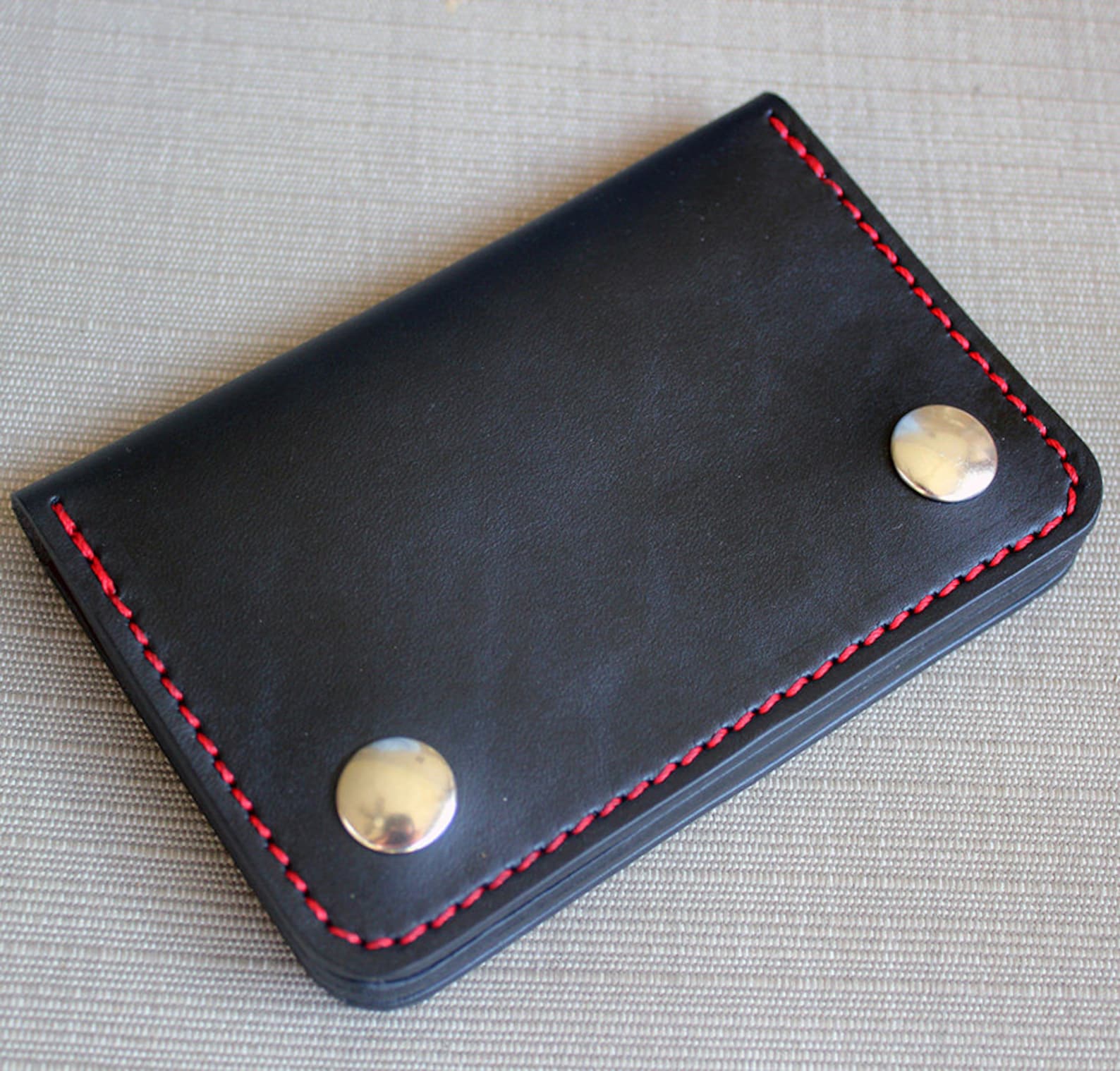 Width: 3.5 in Depth: .75 in Height: 5 in Weight: 6 oz Chain: 12 in (sold separately for $5)
This handmade, high-quality wallet from Roberti Leather is available in black or brown, is made from premium American vegetable Full Grain  Tanned Leather.  Hand finished and sewn with a boned industrial poly thread with a choice of white, black or red stitching. Finished with two stainless steel quality snaps to ensure security. 
The Wallet contains 3 pockets for cards and cash, perfect for the consumer who hates mess and unnecessary cards and receipts. A 12-inch quality chain with a belt loop can be added to the wallet for a small extra fee of $5. This wallet may look small but it is perfectly proportioned for your needs, this would be a perfect buy for lovers of the biker style wallets, but, who don't like the wallets sticking out of their pocket in biker style. This wallet is biker style heaven in a compact pocket size package.
---
Slim, Inexpensive AirTag and RFID Wallet
Width: 3 in Depth: 0.4 in Height: 5.2 in Weight: 3.8 oz Chain: ~6 in
Finally, here's an inexpensive wallet we found that throws a lot of security elements together into one surprisingly slim package.
This wallet combines a metal-zippered coin pocket to keep change or notes secure, RFID protection to keep scanners from reading your cards, a short chain suitable to clip to a belt, and even an AirTag slot so that the wallet could be tracked if somehow you still did manage to still lose this!
The wallet also has four card slots, very reasonable for a slim wallet. The main downside we see here is that its made from genuine leather (technically first layer cowhide). Thats the lowest grade of leather we would recommend. That's not necessarily a problem, and is a reason this wallet is so well-priced, but just be aware this is not going to end up as an heirloom.
**Note – just to be clear, an AirTag would have to be purchased separately.
---
Before You Go…
Men's wallets with chains are an awesome way to keep your valuables secure while carrying in style.  We hope you enjoyed this post.  To us, it was "off the chain" … (sorry, sorry …)
Looking for something a little more tactical? We've got you covered in our next article:
Related Articles
Bonus Video…
No, you're never too old to rock, people…
All product names, logos, brands, and trademarks are the property of their respective owners