Many iPhone cases and accessories let you attach a wallet to your phone, but MagSafe is the easiest and most convenient. The best MagSafe wallets use the built-in magnetic capability of your iPhone to securely attach a wallet, keeping your cash, cards, ID, and essentials with you all the time.
But it gets better: many MagSafe wallets have other features and functionality that expand the ways you can use your phone.
Here are some of the best MagSafe wallets we've found!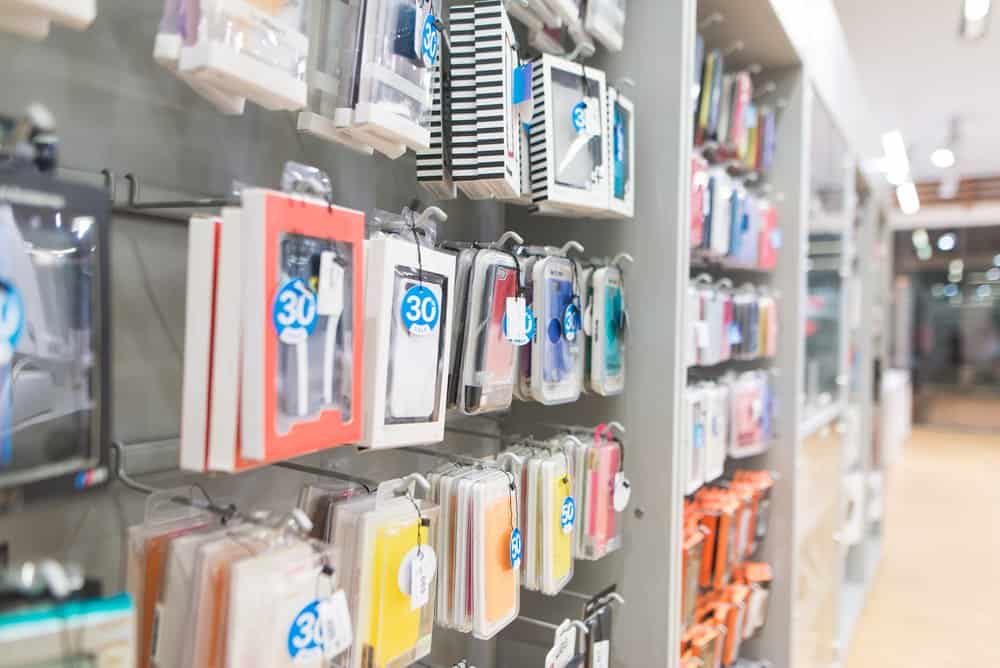 Best MagSafe Wallets: Reviews
Before we dive in, here's the quick summary:
Folds away for invisible card storage, or unfolds for use as a versatile phone stand
Three fast and easy ways to access cards while doubling as a phone stand
Vegan leather , sleek and slim, with a metal plate that protects your cards
Slim, comfortable silicone, with RFID shielding
Sleek leather - holds up to 3 cards in style
Sturdy hand grip and an innovative tag holder
OK, let's go through those in more detail.
MOFT Magnetic Stand and MagSafe Wallet
This MagSafe wallet folds away for invisible card storage, or unfolds for use as a versatile phone stand, and can be used while charging your phone
Review
The MOFT MagSafe wallet and stand is just 5mm thick, slimmer than most phone wallets, with a fold-away design that doesn't get in your way. It holds 3 cards securely but with effortless detachment, or access your cards while the wallet is still attached by unfolding the wallet.
The ingenious folding mechanism also allows you to use the wallet as a phone stand, using your phone hands-free in portrait, landscape, or floating mode.
You can also use it as a charging stand for the uninterrupted enjoyment of your phone. In addition, the MOFT MagSafe wallet is available in different colors to match your phone or your mood.
Pros
The ultra-slim design feels seamless
Versatile stand holds phone in a variety of positions
Uninterrupted use while charging
Cons
Attachment may be weak unless paired with a MagSafe case
---
Spigen Valentius Magnetic Wallet Card Holder
This MagSafe wallet gives you three fast and easy ways to access cards while doubling as a phone stand
Review
The Spigen Valentius MagSafe wallet has a slim profile that easily and securely attaches to your phone.  It has a stylish faux leather cover with space for 2 cards.
Cards can be quickly accessed by sliding them out from the top or bottom or opening the rear cover to reach them more easily.
An internal mechanism applies pressure that prevents cards from accidentally slipping out of the wallet.
The back cover also folds down to act as a phone stand, allowing you to operate your phone in portrait or landscape mode without using your hands.
Pros
Leather appearance is classic and stylish
Simple and compact
Also useful as a versatile phone stand
Cons
Leather material may not be perfectly flat and flush against the back of the phone
---
Vibeside MagSafe Wallet
This vegan leather MagSafe wallet is sleek and slim, with a metal plate that protects your cards and prevents demagnification.
Review
The ultra-slim and compact Vibeside MagSafe wallet is just 0.125 inches thick, so it won't add bulk to your phone. An array of magnets provides fast and secure attachment, so it never becomes accidentally detached. Despite its small size, this MagSafe wallet holds up to 4 cards.
The vegan leather exterior feels luxurious and won't slip in the hand. Inside, a carbon-metal shield prevents demagnification of cards while providing extra durability. It comes in a selection of colors to choose the style that suits you best.
Pros
Ultra-slim and lightweight
Prevents demagnification
Holds up to 4 cards
Cons
Although it will hold up to 4 cards, the leather may stretch and loosen over time, so fewer cards is better
---
AhaStyle MagSafe Wallet
This slim MagSafe wallet is made out of comfortable silicone, with convenient use and RFID shielding to protect your cards
Review
The AhaStyle MagSafe wallet is made of anti-slip silicone and snaps securely in place. The silicone material is soft on your hands while preventing cards from slipping out of the wallet. It stores 2 cards, with easy access from the top or the bottom.
Inside, an RFID shield protects your cards, while strong magnets secure the wallet to your phone case. This MagSafe wallet comes in 4 colors, so you can choose the style that suits you best.
Pros
Securely holds 2 cards
Strong magnetic connection holds the wallet in place
RFID shielding
Cons
Silicone may stretch and loosen over time
---
Miroddi MagSafe Leather Wallet
This sleek leather MagSafe wallet holds up to 3 cards in style
Review
The Miroddi leather MagSafe wallet is just 3mm thick but has a higher storage capacity than many other similar phone wallets. It holds 1-2 cards securely but still allows you to remove them easily.
The strong magnet holds the wallet securely in place, and it can be used with a compatible iPhone without a case or with a compatible MagSafe phone case.
However, it will not work with standard, non-magnetic phone cases. It comes in four colors or in a model with a foldable phone stand.
Pros
Sleek, attractive leather in a choice of colors
Holds up to 3 cards securely
Stays in place
Cons
Leather may stretch, and stitching loosen over time
---
Sinjimoru 3 in 1 M-BGrip MagSafe Wallet
This versatile MagSafe wallet has a sturdy hand grip and an innovative tag holder for two ways to use your phone wallet
Review
The Sinjimoru M-BGrip MagSafe wallet secures to your phone in two ways: use the super-strong magnet, with more than twice the power of other MagSafe wallets, to securely snap it against your phone, or use the included strap tag holder to easily attach the wallet to the bottom of your phone case.
The strap holder allows the wallet to remain attached to your phone during charging, car mounting, and other applications where the magnet may already be in use.
Unlike many other phone wallets, the M-BGrip has a strap for your hand that doubles as a phone stand, so you can use your phone in various ways with simple functionality. It holds up to 5 cards and comes in a variety of colors.
Pros
The multifunctional MagSafe wallet also works as a handgrip and phone stand
Stronger magnet than most competitors
Included tag holder allows you to attach the wallet to the phone when the magnet is in use
Cons
Flexible material has high capacity but may stretch over time and become less secure
---
Buyer's Guide
When choosing a MagSafe wallet, here are a few key features to look for:
Phone and Phone Case Compatibility
Even when the manufacturer claims to have a powerful magnet, all MagSafe wallets work best with a MagSafe phone case, and many won't work at all without one. Using a MagSafe case ensures that a MagSafe wallet attaches securely to the phone with a strong grip that does not easily detach.
Note that if you don't have a MagSafe iPhone, you can still gain a lot of MagSafe functionality and use MagSafe accessories with third-party magnet attachments. Devices like the Sinjimoru Universal Magnet Sticker allow you to add MagSafe functionality to smartphones, regardless of manufacturer or operating system.
Do Magnetic Phone Cases Damage Credit Cards?
Degaussing Card Strips: If you have older cards, transit cards, ID cards, and other cards that store data on a magnetic strip, a MagSafe wallet may demagnetize your cards and make them unreadable.
While the chances of this happening are relatively rare, it happens often enough in comments and reviews that it is worth paying attention to. So choose a MagSafe wallet that specifically mentions protecting your cards from demagnification.
It is crucial that a MagSafe wallet stay tight and flat, flush against the back of your phone. Some MagSafe wallets made of soft, flexible materials like leather or silicone may lift up at the corners and not lie flat against the phone.
Flush Attachment
The wallet could slide off the phone from pressure at the corners, especially when putting your phone into a pocket or purse.
If you choose a MagSafe wallet made of softer, more flexible materials, make sure that it lays flat against the bottom of the phone from edge to edge and corner to corner, or take extra care when handling the phone and wallet.
Multi-Function
The best MagSafe wallets have multiple functions so that you don't need to carry various phone accessories to enjoy different activities with your phone. Instead, look for a MagSafe wallet that doubles as a phone stand, handgrip, or has other functionality that makes day-to-day use easier.
Conclusion: Our Favorite
MagSafe wallets are a great way to carry just a few essentials you need every day and streamline your life by keeping your phone and wallet attached. Here's our favorite:
MOFT Magnetic Stand and MagSafe Wallet.
Our top pick for a MagSafe wallet is the MOFT Magnetic Stand and MagSafe Wallet. The wallet is slim and compact while remaining secure and functional. The stand has three-way functionality for ease of use in various situations. It's also one of the few MagSafe wallets that allow you to use the stand feature while the phone is charging by placing the charger between the wallet and the phone for continuous, comfortable use.
Before You Go…
That's a wrap! As we mentioned earlier, many people have concerns about magnets and credit cards. No worries, we've got you covered! Read our next article for a more in-depth look:
Do Magnetic Wallets Demagnetize Credit Cards?
Related Articles
Bonus Video!
All product names, logos, brands, and trademarks are the property of their respective owners
Last update on 2023-11-15 / Affiliate links / Images from Amazon Product Advertising API