On the hunt for the best tactical wallet?  Wonder why you need one?  Beyond just being "cool", these wallets serve very practical purposes.  From multi-tools to overall durability, you'll want one of these wallets with you if you ever find yourself in a pinch.
We've got you covered with this list of the best tactical wallets on the market today. The biggest players on the tactical wallet market are, of course, Dango and Trayvax because they are extremely high-quality, durable, and well-designed.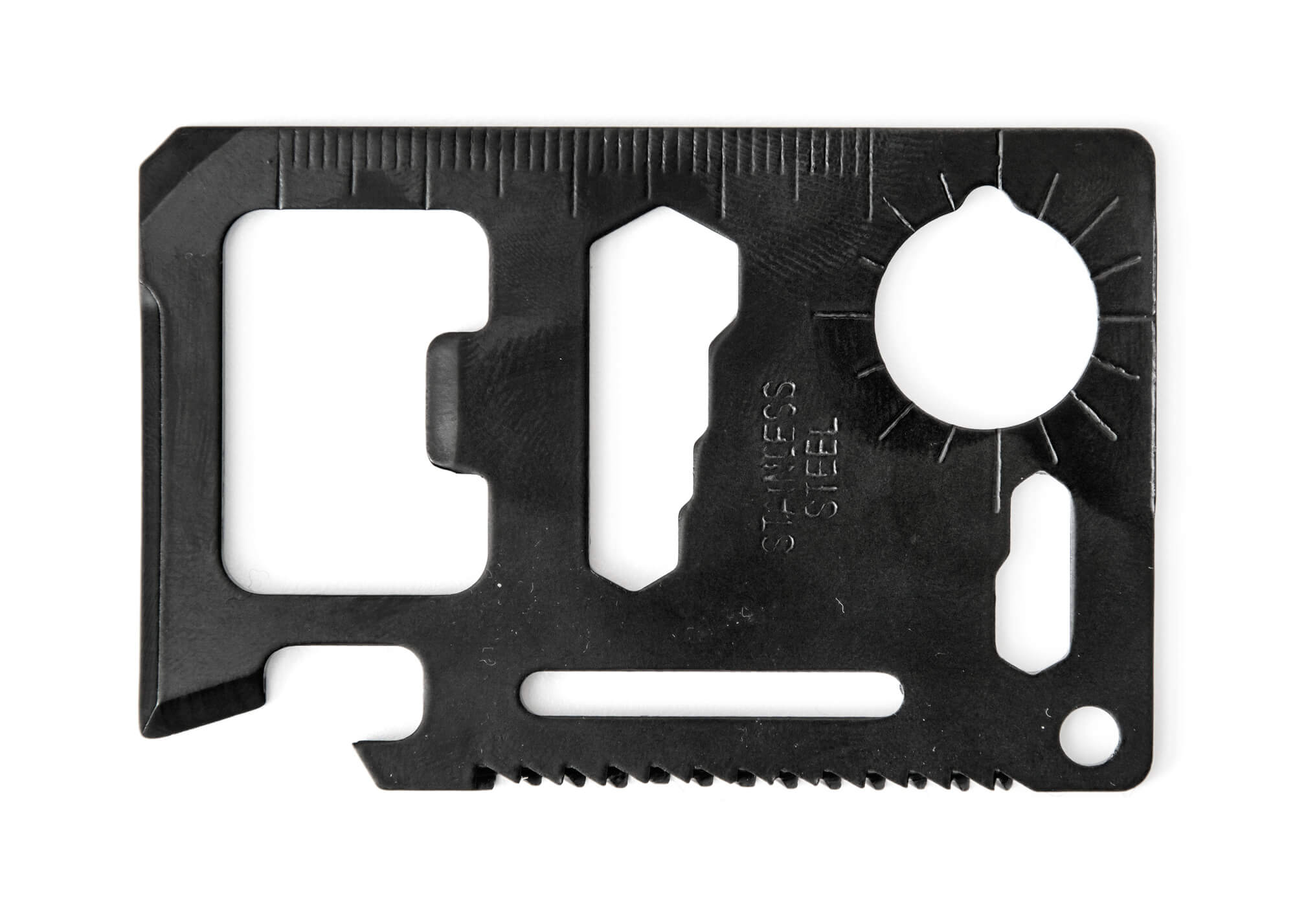 But we've expanded our search beyond these industry leaders to feature new companies creating innovative but dependable tactical wallets.
So What Makes a Wallet "Tactical"?
The wallets below all serve a purpose other than just carrying your stuff.  While that's the primary purpose of a wallet, the makers below have found a way to integrate some really cool functionality that leaves you better prepared for when everything hits the fan.
Paracord
Several of the wallets below incorporate paracord into their designs. Paracord, also known as 550 Paracord (because that's how many pounds of force it can handle), has so many uses we wouldn't even begin to try and mention them all here. 
The point?  It can be used in any situation where you might find yourself needing to:
Bind something together
Pull something closer to you
Provide grip for something (wrap it tightly around said object)
Bundle something to help carry it
Hold your pants up if you lose your belt (OK, we're. not sure how that would happen, but we promise that someone has used it for that purpose before)
A really practical use would be if you're ever in a fender bender, you can use paracord to hold your bumper in place.
Multi-tool
Now, a multi-tool's purpose is obvious, but not all multi-tools are created the same.  Most of the tools below aren't quite like this one, but they're still super functional. You'll find some below that separate from the wallet itself to provide function and grip.  You'll also see some that are part of the wallet itself, which is really convenient because you won't lose the tool apart from your wallet (hope you don't lose that). A few common functions are:
Saw/Knife – the application is almost limitless, either can be used in an outdoors situation, working in the garage or opening a toy for your kids at Christmas.
Wrenches – these won't change an alternator for you, but they will help you out with a bolt that needs loosening if you're without your tools
Ruler – let's be honest, it's not so much a survivalist feature, but more practical and functional than anything.  Need to know the size of the bolt you're trying to replace?  Need to measure something small and can't quite fit a tape measure…they've got you covered.
Screwdriver(s) – a simple flat head and/or Phillips screwdriver will go a long way if you ever find yourself needing one.
Durability
Tactical situations call for tough materials.  Most of the wallets below (and any good tactical wallet for that matter) are made of one of the following materials:
Titanium
Steel
Aluminum
Kevlar
100% full-grain leather
Bottom line, you don't have to be a full-blown survivalist to carry a tactical style wallet.  Sometimes it's just nice to know you have what you need in a pinch.  We've all been there and wish we'd thought ahead. 
---
Best Tactical Wallets – The List
Let's jump right in with our list of the best tactical wallets out there
---
Dango T01T Tactical Wallet Bundle
Available in jet black or brown rawhide (with many other accent colors), this tactical wallet from Dango is made from 6061 aerospace grade aluminum and full-grain leather. It is built for the outdoor enthusiast who prizes functionality, organization, and materials that perform.
In addition to holding up to 12 credit cards, the T01T has a built in bottle opener and a multi-tool with 14 different functions, including a serrated edge, paracord tensioner, 10/15mm hex, smartphone stand, and a ruler. This multi-tool is made from high carbon stainless steel that's been heat-treated for durability. It's also corrosion-resistant.
As an added bonus, the wallet can easily be made TSA compliant for air travel by removing the multi-tool. The bundle includes a tether and an extra wallet band.
---
Trayvax Element Wallet
Made from rugged stainless steel and top-grain oil-tanned leather, this wallet from Trayvax blends quality with durability. Add the utility of a built-in bottle opener, integrated money clip, and a carabiner attachment, and you're able to go from the rugged outdoors to a fine dinner without changing your wallet. The Element packs a big punch, but it's also slim enough to fit in your front pocket.
Trayvax also enables you to custom fit the Element to your own needs if you'd like. It's as simple as soaking the wallet in warm water for ten minutes and letting it dry with all your cards inside. The Element comes in four colors of leather and its stainless steel frame comes in classic steel or black. And if you didn't think it could get any better, the Element is manufactured in the USA from domestically sourced materials.
---
Mgear – The Patriot Edition
Probably the most eye-catching wallet on this list, Mgear EDC's Patriot wallet features a decorative front plate with an American flag pattern cut out. You can personalize these wallets with different materials for the flag (we like the brass flag "steampunk" look. But the Patriot isn't just a pretty face.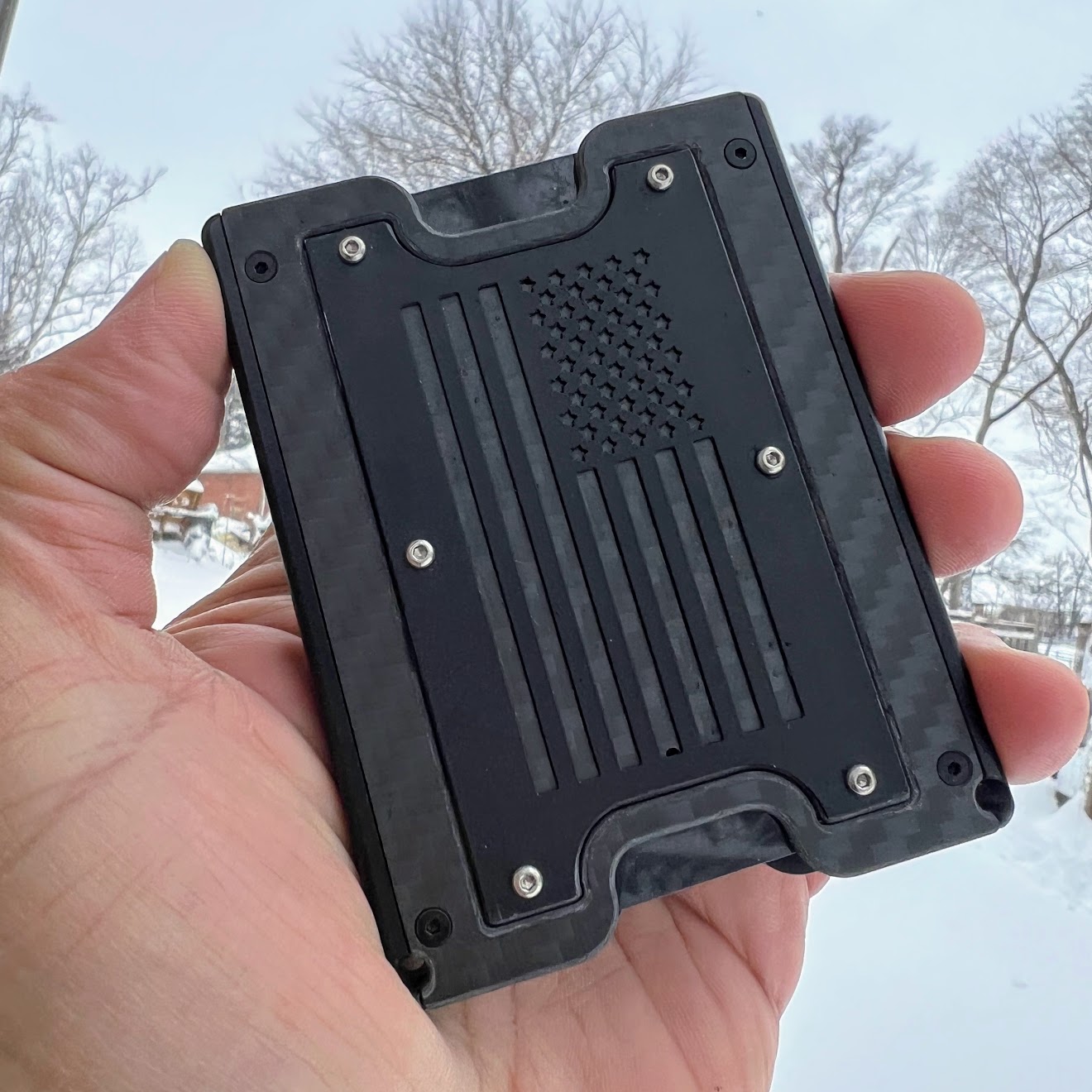 This thing is useful. The basic model holds 5 cards, but you can purchase an expansion pack that ups that number to 8. Fortunately, Mgear will pre-install the expansion if you order it with the wallet.
The rest of the wallet is made from a military-grade plastic called Kydex that they've assembled with stainless steel screws and chemically welded for added durability. The small multi-tool is made from stainless steel and provides you with a bottle opener, serrated edge, knife edge, two position wrench, among other features. The optional large multi-tool includes a phone stand, #12, 10, and 6 wrenches, ruler, and peeler (and that's not even everything).
---
Trayvax Original Wallet
Another fantastic wallet from Trayvax, their Original model is also made in the United States from military-grade cold rolled stainless steel and anodized aircraft aluminum plates. Its held together by heat-resistant elastic and metal grommets. Trust us, this thing is tough.
It's also got the space to handle up to 14 cards and 5 bills, but remains slim enough to keep in your front pocket. We especially like the easy front-access bottle opener and the external money clip. Finally, Trayvax also gives you plenty of color options to choose from: jet black, midnight blue, sandblasted aluminum, and charcoal gray.
---
Dango Pioneer Travel Wallet
This wallet from Dango is ideal for the outdoor enthusiast who likes to travel and jot notes, as it includes a small (2.5" by 3.5") notebook and a CNC'd 6061 aerospace-grade anodized aluminum pen with Schmidt space ink from Germany. In other words, this pen will write anything and everywhere. The pen and its cap form the hinge for this wallet, which is handcrafted in the USA.
Using quality materials, Dango provides a minimalist design without sacrificing functionality. Opposite the notebook, there's room for up to 20 cards, and cash can easily be tucked inside. Even when it's full, it remains slim enough to easily slide into your front pocket. While Dango does not include a multi-tool, the wallet is designed to work with the MT02 model. Available in two color schemes, this wallet blends modern design and old-school utility.
---
RAPDOM US American Flag Tactical Trifold Wallet
This trifold tactical wallet from RAPDOM is made from extra durable 1000 Denier Cordura nylon that lasts infinitely longer than leather. RAPDOM emphasizes quality and durability, and the nylon won't give over time like leather, keeping your credit cards and cash secure. With a total of 18 compartments, anything you need you should be able to keep in this wallet. Some of the compartments nicely feature discreet zippers perfect for carrying small tools, spare keys, and coins.
There's also three elastic compartments and a non-stick mesh ID window, all secured with a velcro closure for easy access. RAPDOM has also double stitched and bar-tackled all of this wallet's stress points for extra durability. This wallet comes in five colors, each with a matching monochromatic American flag patch affixed to the front.
Gatura Mini Organizer Wallet
---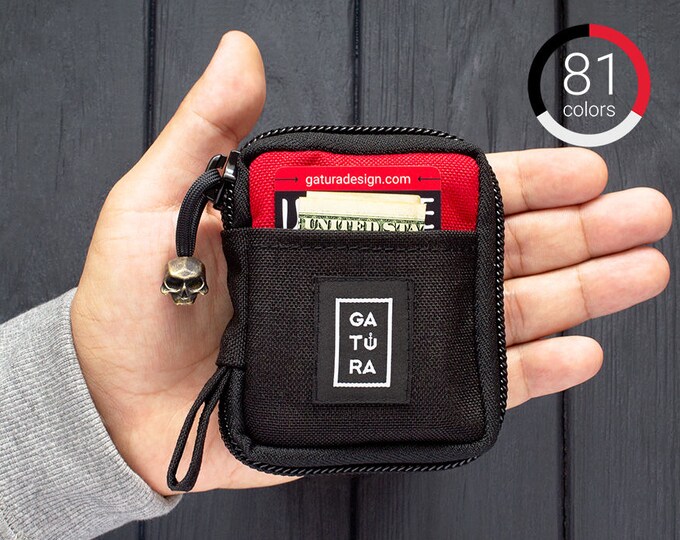 If you're the kind of guy who likes packing cubes when you travel, this is your dream wallet. Made from Cordura 1000D, an American-made thick, waterproof, polyurethane-coated nylon, this is more like a small zippered pouch than your traditional wallet. Not only does it fit your cash and cards, it can also fit a lighter, earbuds, Swiss Army knife, and even a packet of gum. It has one external pocket.
Otherwise, everything stays zipped inside six smaller pockets. Even with all of these items, this wallet fits securely in a front pocket. Gatura also gives you plenty of color options, so you can personalize its look.
---
JU-17 Tactical Gear | CH-B Handmade Tactical Cardholder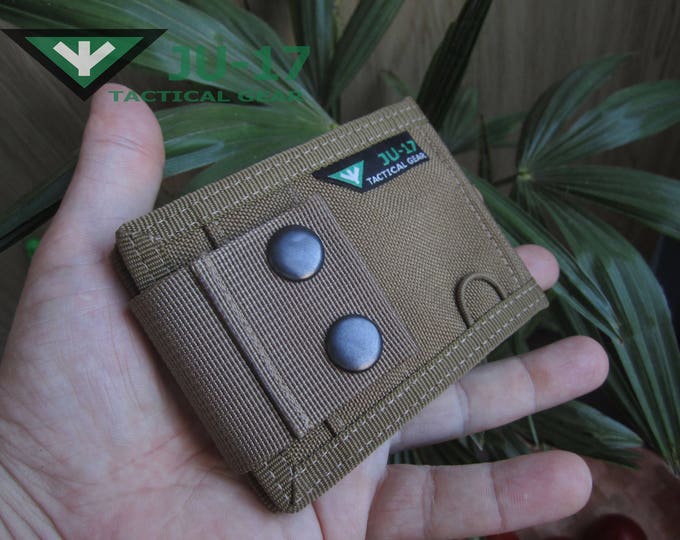 Handmade from one of the most durable nylon fabrics, CORDURA 1000D, this tactical cardholder from JU-17 Tactical Gear blends great style, extra durability, and minimalist functionality. There's loads of space for everything you need, making this a fantastic everyday carry wallet.
The wallet has six (6) card pockets, transparent ID sleeve, and 2 small elastic pockets fit 8-10 cards, your ID, bills and coins, as well as other incidentals, like SD cards, flash drives, and lighters. There's also a handy key loop made from parachute cord. Polyamide reinforces everything with extra strength.
---
Gerber GDC Money Clip and Pocket Knife
This money clip from Gerber can withstand virtually anything. Made from titanium nitride-coated steel. Surprisingly small at only 3.6" long, it holds up to 5 cards, cash, and a 1.75 inch fine-edge stainless steel blade. Ideal for hunters and outdoorsmen, the small blade features a thumb notch for a secure hold. A G10 composite plate separates the blade from your incidentals.
Its extra slim construction means it fits easily in a front pocket. Its extra-modern, minimalist design contrasts nicely with the blade's bright green thumb notch.  We like it because it blends functionality and style.
---
Lever Gear Toolcard Pro with Clip
Lever Gear's Toolcard Pro Clip is for no nonsense guys who want only the absolute essentials. The little guy combines a classic money clip with a multi-tool.  We like that, because Lever Gear has created a clip that can be used as part of a standard wallet or on its own.
Made in the USA, from heat-treat 420 stainless steel, it combines 40 unique features in a single multi-tool, including multiple wrenches, a ruler, blades, a bottle opener and more, while weighing only one ounce. The money clip can also easily snap off if you want to slide the multi-tool into another wallet and does not use fasteners, so it won't snag anything. Added bonus? The multi-tool is fully TSA compliant.
---
smartRSQ 37-in-1 Wallet Gift Set v 2.0
This set is perfect for hunters, hikers, or handymen alike!  The smartRSQ 37-in-1 multi-tool wallet gift set gives you every tool you'll need at your fingertips. They've packed the standard wrenches and blades into this multi-tool.  They have also included a vegetable peeler, letter opener, can opener, and other saws and blades. The durable multi-tool has a heavy-duty alloy finish that provides strength and resistance to rust and corrosion.
It comes with a sleeve cover, carabiner, keyring, and a silver cardholder. In reality, it's great on its own because of its unique design (patent-pending).  It's also possible to include the multi-tool with any wallet to make it "tactical".
---
Calti Tactical EDC Minimalist Slim Wallet
With its titanium and steel frame, this minimalist wallet is slim but functional. The multi-tool style features a bottle opener, wrench, and money clip that securely holds up to 20 cards and cash. Calti's wallet is laser cut, so you know the tools are precise.
As for the finish … we're just going to say "glass balls sanding" and leave it at that…
Scratch-resistant and smooth, this thing won't catch on your pants when you're pulling your it out of your pocket. It also won't annoy you when you front-carry.
---
That's All Folks
All right, that's a wrap. Hopefully you found something you liked in that collection, or at least were inspired to find the right tactical wallet for you. If you're still on the fence, be sure to check out our next article:
Related Articles
Bonus Video!
Want even more? Check out this bonus video:
All product names, logos, brands, and trademarks are the property of their respective owners