Looking for the best men's red wallets? Want to stand out from the sea of black and brown leather?
From classic leather bifolds and slim card holders, to fun budget Velcros, we've got you covered. Read on for our red wallet round-up!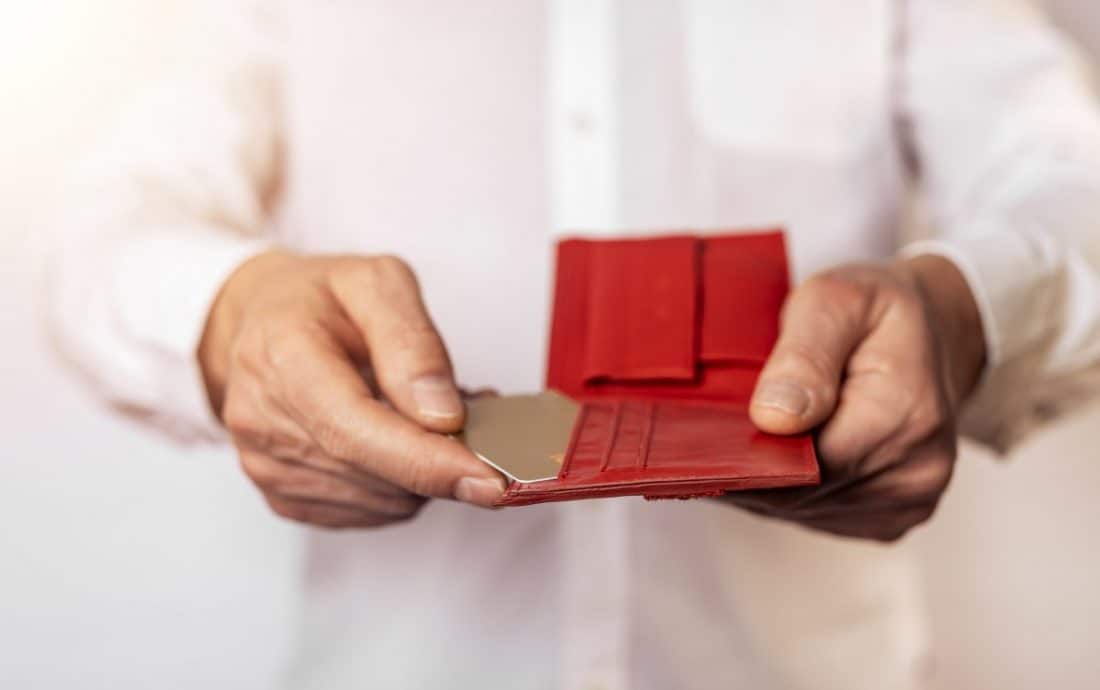 [There are 12 great choices below, but we know some of you will want us to cut to the chase – so here are our top picks from within those 12!]
Looking for something a little different?
What to look for in a Men's Red Wallet
If you've decided you like the idea of a red wallet, there are a couple of things to beware of when purchasing, especially online.
Shades of Red/Crimson/Ruby … Ketchup?
The first is somewhat obvious – is this a shade of red you like? Do be aware that colors online can sometimes be misleading. The process of lighting and shooting a wallet is one thing, but sometimes a picture will be digitally enhanced a little to make a dull photo 'pop'. This is particularly true if the original picture was not professionally lit.
There isn't a huge amount you can do about this. Ideally, the wallet is pictured with other objects or people. If their colors look 'natural' then the wallet color may be a good representation of what you will actually receive.
If the wallet is only shown against a plain backdrop, then make sure the return policy is clear – you want to be able to return the wallet no questions asked if the shade of red is not what you'd expected (that's the case for every wallet shown here).
And don't get us started on the naming. The colors here range from the simple "Red", to "Ruby Red" (ok), "Crimson' (sure) to "Ketchup"… OK, so maybe that last one is actually pretty descriptive, now we think about it….
Colorfastness
"Colorfastness" refers to how well the color resists damage of any kind, from fading over time or through cleaning to bleeding into other material that comes into contact with it (like for instance, your jeans pocket).
For the items below, this shouldn't be an issue as reputable brands will carry out a whole suite of fastness tests. We would be cautious about those unfamiliar brands that keep popping up with prices that are "too good to be true" .. they probably aren't.
---
Best Red Bifolds
The bifold is a classic wallet design that allows for a lot of storage capacity without getting too bulky. Below are our top choices for red bifolds.
Tommy Hilfiger Men's Leather Wallet 
| | |
| --- | --- |
| Material | Leather |
| Size | 5 x 5 x 0.5 inches |
| Capacity | Bills, 5 card slots, 1 ID Window |
| RFID | No |
Our first bifold wallet is from Timmy Hilfiger, featuring the easily-recognizable logo on a leather belt-like strip across the center.
This is a nice detail that add a little extra 'texture' to the wallet, and the logo colors complement the red wallet nicely.
This wallet is very well-priced, is available in a wide range of other colors including this deep red, and features plenty of capacity without creating bulk. The interior ID window is covered with a "flip up" leather cover, that provides even more storage.
---
SERMAN BRANDS Slim Bifold Wallet
| | |
| --- | --- |
| Material | Leather |
| Size | 4.4 x 3 x 0.28 inches |
| Capacity | Bills, 6-8 cards, 1 ID Window |
| RFID | Yes |
Next up is this slim "Ruby Red" bifold from Sherman Brands.
The full grain leather has been shaved extremely thin to make this a very feasible front pocket carry. In addition to the ID window, this wallet has a pair of hidden card pockets inside the cash pocket itself. This is a very nice security-conscious feature, which make sense given this wallet also comes with secure RFID-blocking technology.
---
Hata Red Ostrich Leather Bifold Wallet
| | |
| --- | --- |
| Material | Ostrich Leather (exterior) |
| Size | 4.5 x 3.5 x 0.5 inches |
| Capacity | Bills, 6-8 cards, 1 ID Window |
| RFID | Yes |
The interior of this wallet is regular leather, but the external ostrich leather has a unique texture and patina. Structurally, its very similar to the first two bifolds in terms of card capacity and flip-up ID window with an extra pocket, and included RFID protection. The ostrich leather though (apparently its from the leg) makes for an interesting variation.
This Vietnamese company also makes a wide range of Alligator skin products. A word of caution – we've seen that quality control can sometimes be an issue with pop-up companies in this region, so buyer-beware … but its certainly a fun alternative to a regular leather wallet!
---
Best Red Slim Card Holders
Moving on now. Regular readers will know we are big fans of slim wallets here, so let's take a look at a few card holders as the next step in our red wallet journey!
Diloro RFID Leather Wallet
| | |
| --- | --- |
| Material | Calf Leather |
| Size | 4 1/8 x 3 x 1/2 inches |
| Capacity | 1 main card pocket, 4 inside card slots, 1 outside back pocket |
| RFID | Yes |
Diloro is a luxury brand based out of Zurich, Switzerland. Their products are actually manufactured across the border in Italy (in "old school factories") and are of superior, vegetable-tanned Italian calf leather.
This card holder features an expandable card pocket that could contain a large number of business cards, and thats clearly the main idea behind this wallet. It does have other pockets for credit cards but if you're not the sort of person who carries a ton of business cards to a conference this might not be the best design for you (if you are, this is perfect as a stylish way to carry them!).
---
Bigardini Slim Wallet
| | |
| --- | --- |
| Material | Calf Leather |
| Size | 4.10 x 3.14 x 0.12 inches |
| Capacity | 6 card slots, 1 inside pocket |
| RFID | Yes |
Bigardini is more well-known for creating outerwear, but this slim cardholder is a favorite. We're obviously focussed on red wallets in this article, but this card holder comes in quite a range of colors!
This super-slim holder has space for six cards, but also has a nice little center pocket if you want to squeeze a backup (folded) banknote just in case you end up somewhere that only takes cash. This is by far the slimmest wallet on our list today and it a great option for the minimalists amongst us.
---
Vaultskin MANHATTAN Minimalist Bifold Wallet 
| | |
| --- | --- |
| Material | Top Grain Genuine Italian Leather |
| Size | 4.09 x 2.99 x 0.39 inches |
| Capacity | 9 card slots ; 1 pocket for banknotes |
| RFID | Yes |
This elegant bifold is so slim it deserves a category of its own.
It has eight card slots on the RFID-protected interior, with one extra outside pocket for anything that doesn't require protection. It holds banknotes nicely across its length, although we would only want to keep a few in there for emergencies, there isn't room to stuff a big wad of notes in there (but why would you want to do that?).
It's designed specifically for the American market, so this British-designed wallet is the exact minimum width for U.S. notes (interestingly, they also make a sister wallet, CITY, which can hold British Pounds and Euros).
---
Best Red Velcro Wallets
OK, moving on. In the next leg of our red wallet round-up, lets take a look at some of the great canvas and Velcro wallets out there.
Green Breeze Imports Natural Abaca Fiber Large Wallet
| | |
| --- | --- |
| Material | Hand-Dyed Abaca Jute Fiber |
| Size | 5 x 3.5 x 0.75 inches |
| Capacity | 7 compartments, 2 zippered |
| RFID | No |
Also known as Manilla Hemp, Hand-Dyed Abaca Jute Fiber is naturally resistant to sweat. This trifold opens out to reveal seven compartments, two of which are zippered and two of which are 'hidden" inside for extra protection. Its a little larger than the other canvas/velcro wallets we've looked at, but not overly so.
One feature that may or may not matter to you – some people felt that the right-flap-folding-over-left-flap design was hard to get used to That is – in most cases the left flap closes over the right, this one is reversed (some described it as a "left-handed" wallet). This is easy enough to get used to, but might seem odd initially (reading through the comments, it certainly seems to have confused some people).
---
Nike Basic Wallet (Bright Crimson/White)
| | |
| --- | --- |
| Material | Polyester and nylon  |
| Size | 3.5 x 5.2 inches |
| Capacity | 3 card compartments, 1 zippered coin compartment |
| RFID | No |
As the name implies, this is a simple and "basic" velcro wallet made of polyester and nylon. The crimson color is a little more "Neon" than some of the other wallets we've looked at. The material is water-resistant and of course, the wallet rocks that Nike swoosh as well as standing out with its color. Basic yes – but not one to fade into the background.
Just to contradict some of the commenters on the last wallet, this wallet also folds right-over-left!
---
Levi's Men's Batwing Trifold Wallet
| | |
| --- | --- |
| Material | Recycled Polyester   |
| Size | 4.5 x 3.5 inches |
| Capacity | 4 card compartments, 1 coin compartment |
| RFID | No |
This wallet is described as "Regular Red" but one look at it and it clear it's meant to represent the instantly-recognizable Levi's "red tab" coloring.
This iconic brand is represented here with the "Batwing" logo style and we love it – its might be our favorite velcro wallet even if we weren't focussed here on red wallets! It comes with four card compartments, the usual pocket for banknotes and a velcro coin compartment.
---
Bonus Red Wallets
OK, moving on now. We've covered bifold wallets, slim wallets, velcro-style tri-folds, but we're not done! Here are a few more red wallets we like that don't fit neatly into those categories (hey we get it, we don't like to be pigeonholed either).
Hayvenhurst Slim Metal Wallet with Money Clip
| | |
| --- | --- |
| Material | Aluminum |
| Size | 3.4 x 2.1 x 0.2 inches |
| Capacity | 1-12 cards, plus cash under money clip |
| RFID | Yes |
It would be easy to put down a wallet like this as a Ridge knock-off. We don't think that's completely fair.
The Ridge wallet was one of the earliest contenders in the metal wallet revolution, but when does a metal wallet stop being a knockoff and become "our wallet, which happens to be made of metal"?
Having said that, the look of this one is .. ah, somewhat Ridge-like. Compare it, for instance to these Ridge alternatives.
OK, never mind. Our goal here is to round up red wallets, so how does this do?
Its a sturdy, solidly-made metal wallet with a built-in money clip (making it a "combo wallet" in our list of the types of men's wallets). It comfortably holds 2-10 cards (they claim 1-12 but we think that one card alone wouldn't be terribly secure and it gets a bit cramped at 12). You push the cards out with a thumb through the U shaped slot.
This wallet comes with a small screwdriver which can be used to remove the money clip should you find you don't use it. It also means you can tighten any screws that come loose over time (though we would be concerned if this happened as screws will never be as tight the second time).
All in all, we like this wallet and its good value given its price point.
---
Leather Business Card Case Holder (Pebbled Calfskin)
| | |
| --- | --- |
| Material | Calfskin |
| Size | 4.06 x 2.8 x 0.55 inches |
| Capacity | 1 compartment for 25 business cards/15 credit cards, 1 extra credit card slot, 1 ID |
| RFID | Yes |
Similar to the Diloro earlier, this wallet is really designed for holding a set of business cards in its large interior pocket.
Of course, there's nothing stopping you putting in credit cards instead (assume 25 business cards or 15 credit cards since they're a little thicker). There's a clear window for one ID card, and a separate internal pocket for your most-used credit card.
In short: this is a beautiful, slim card holder that could easily be a front-pocket wallet choice, and its very reasonably priced.
---
Herschel Hank RFID
| | |
| --- | --- |
| Material | Polyester |
| Size | 3.5 x 4.4 x 0.5 inches |
| Capacity | 5 card slots, 1 ID window, pocket for banknotes |
| RFID | Yes |
And finally, how could we pass up a wallet which unashamedly labels itself as "ketchup" colored?
The updated version of the rugged "Hank" wallet from Herschel now comes with RFID protection and can still take quite a beating. There are slots for six cards, one of which is a mesh ID window, and as a classic bifold design it has the usual pocket for holding notes lengthways.
---
Best Men's Red Wallets – Thats a Wrap
And thats it folks! We've covered a range of styles, materials and price ranges – so hopefully you found something you liked in our roundup of the best red wallets for men!
All product names, logos, brands, and trademarks are the property of their respective owners
Last update on 2023-09-16 / Affiliate links / Images from Amazon Product Advertising API