We review and recommend the best server books for waiters and waitresses below! For those who want to see the list asap, take a look at the table right here. Otherwise, read on for our reviews!
Widest color/pattern range
Most durable, solid constuction
We love the magnetic enclosure, and this is solidly made
Why do you need a Server Book?
The work life of a server is a hectic one. 
Sometimes you might be juggling six or more tables at a time.  Splitting checks for a party at an 8-top, making change for six teenagers who each split the bill different ways…it's easy to find yourself in the weeds and have cash flying everywhere (and not in a good way).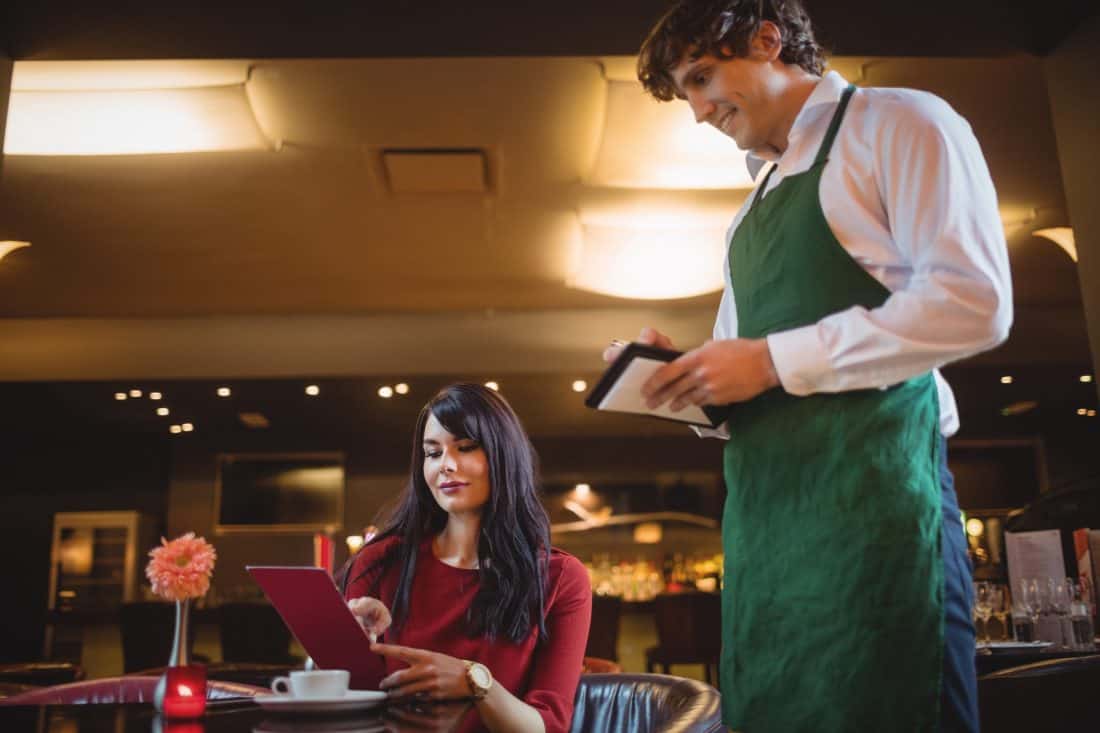 You're here because you've probably tried using the standard check presenter (and gone through five of them).  Or maybe you've gotten into a bad habit of throwing credit card slips, bills and change in your apron or even your pockets. 
This isn't a great idea.  While it is "doable", it is definitely not "professional".  It makes you give off a vibe of disorganization and sloppiness.  Even if you've got a system, it can creep up on you before you know it.
You need a solution.  What is it you might ask?  It's the Server Book or Wallet.  We've spent some time examining which server books are legit and which ones are junk.  You don't have to break the bank to get a good book, but we will add that you do get what you pay for. 
Where to Buy Server Books
It's no surprise that Amazon is a hugely popular place to order server books, nevertheless, there are other options (you may want to go the brick and mortar route for instance):
Local Restaurant Supply Stores: Clearly an option if you can find somewhere local, but not always the best value as they tend to be focused on suppling larger volumes of goods, rather than single sales
Stationary Store: A good bet is a an old-school dedicated stationary store, but you can find them sometimes in a larger outlet with a stationary section. Staples is definitely a solid option, but we've also had luck with Walmart and even the larger Walgreens sometimes have a (very) limited choice (like – one server book amongst the notebooks)
Online: Like so many things, you're going to find the widest range of choices online. You can peruse Etsy, Staples and Walmart online of course, but as we've said before, there's a huge range available on Amazon
And with that, let's move on and go through our shortlist of the best server books!
---
Our Shortlist of the Best Server Books for Waiters and Waitresses
Read our 100% unbiased opinions below — we hope you find something that will help you get organized and turn more tables!
Server Wallet by SERVER BOOK
Width: 5 in Depth: .5 in Height: 8 in Weight: 6.2 oz
The first server book on our list is made by, well, SERVER BOOK.  While we won't give them points for originality in their name, we will give them points for making a high quality product.  So much so that they actually offer a 90 day, 100% money back guarantee if you aren't satisfied.
Function — This book is super functional for waiting tables.  It comes with two long stash pockets (hidden) for storing change and tips.  There's also a great pocket for storing credit card checks and receipts.  The book also includes a really cool pocket for you to keep your POS/ID card and a nice pen holder.  No more, "Where's my pen?!"
Durability — This is one of the most durable books we looked at on this list.  Admittedly, most of the products out there are poor quality imports.  This one is not.  There is no cheap glue or poorly-sewn seams.  It's meant to be used and it will stand up to normal use in a server work environment. 
Another note, the exterior and interior are made out of the same waterproof material.  Why is this important?  Because you can wipe it down to remove all the junk that you may spill on it while waiting tables.
Colors — This is one of the more "fun" brands in terms of colors.  They have prints and patterns for everyone if you're looking for "cute" server books.
---
Server Book by Brinero Leather
Width: 6.4 in Depth: .6 in Height: 8.2 in Weight: 5.3 oz
Brinero Leather's server book is one of the highest quality books on the list.  They pay attention to customer feedback and have actually made multiple improvement in terms of materials, craftsmanship and overall functionality for their newest version.
Function — Pockets, Pockets, Pockets!  This little guy has nine, count them, nine pockets!  This also includes a handy little zippered pocket for your loose change.  It's made to write on and has a very functional location for the pen on the outside of the book, as opposed to the middle like most that we've reviewed.
Durability — This book will not fall apart, simple as that.  It's made of durable vegan leather, high-grade stitching, metal zippers, and has a dual-core construction to make it sturdier overall .  Some manufacturers skimp on these two items, but this is what will make sure that your server book will actually last.  Easy to clean and strong.
Colors — Sometimes less is more, as is the case here.  The rich black of this server book looks extremely professional — your coworkers and customers will notice.
---
Waiter Wallet Deluxe | Unique Server Book + Order Pad
Width: 4.2 in Depth: .8 in Height: 6.2 in Weight: 7.2 oz
Think of Waiter Wallet as the "OG" of server books.  They pretty much took the original concept, beefed it up on steroids, yet made it small, functional and durable.  This thing can do everything!
Function — The thing that we like the most about the Waiter Wallet is that it's the most like a traditional wallet than any one of the books on this list.  It looks like a wallet, feels like a wallet and "acts" like a wallet (just for a server).  To start, the wallet opens like a traditional bifold.  Inside, you'll find two items right off the bat — the exclusive transparent pocket and the order pad. 
Most of the books we've looked at don't have either of these.  This one is definitely the most unique server book from a functionality standpoint.  The order pad is self-explanatory, but the clear pocket might not be. 
Most waiters will use it to carry around little notes/hints to make them better at their job.  Upsells, specials, 86ed list, wine lists and more.  All things that you need to get to at a moments notice to make more money!
Inside the wallet is where you'll keep your change secure, multiple credit cards if you have them, your ID/Access card for the kiosk, etc..
On the back of the wallet there is a super handy "stash" pocket for the current table's credit card that you need to get processed quickly.
Durability — The Waiter Wallet is well constructed and made from a rich, durahyde material along with industry strong stitching.
Colors — Again, these guys keep it pretty simple with a professional look — smooth, rich black finish.
---
Cool Server Book with Zipper and Magnetic Pocket – by Of Course
Width: 5.25 in Depth: .75 in Height: 8 in Weight: 7 oz
This is one of the more striking waiter wallets we've seen on the market.  The layering that they've done on the interior (with the pockets) is really functional and – it just looks really cool.  Oh, did we mention it's magnetic?
Function — The magnetic closure sort of steals the show here.  It allows for an expandable pocket to remain secure, but grow as your day gets busier ($$$).  And there is something very satisfying about that "click"…
There are eleven (11) pockets in this bad boy!  Basically, you don't have to worry about running out of places to put stuff.  We really like the fact that the pockets are really flexible. 
Some of the server wallets we looked at had really stiff pockets or sections.  They seemed like they'd be difficult to work with during a shift — difficult to get CC slips into and out of, etc.. The zipper pocket for coins can be accessed without opening the main section, and we really like the way they've added two pen holders.
Why? Some people swear by interior pen holders so they don't fall out, some people swear by external ones for access. Of Course have provided both – pick what works for you!
Durability — This book will not fall apart, simple as that.  It's made of vegan leather and high-grade stitching.  Some manufacturers skimp on these two items, but this is what will make sure that your server book will actually last.  Easy to clean and strong.
Colors — Another simple take on colors. When in doubt, go with a plain black finish.  It will never go out of style.
---
Deluxe Server Book by iServ
Width: 5 in Depth: .5 in Height: 9 in Weight: 7 oz
To round out our list, we wanted to include this waiter cash organizer by iServ because it comes with all the bells and whistles.  It hits on all the must-haves and is manufactured in the USA.  This is an excellent option for waiters who need to keep their server bank secure.
Function — The book includes six total pockets, but really only five are functional.  In our opinion, this is plenty, but some may need more.  The basic function of the pockets are as follows:  immediate change, large bills, calculator, holder for cards, stash pocket for menu notes and pocket for order pad.  Obviously, you can use them for whatever works best for you, but the calculator and order pad pockets are made specifically for those items. 
The book also includes a place for your pen (in the middle).  We typically like to see the pen holder on the outside of the book, but it really works well in this case.  Because of the middle binding being flexible, you don't even notice the pen when closing the book.  It might actually be more of a nuisance on the outside in the case of this book.
Durability — We typically do see higher quality from products manufactured in the USA as opposed to products made overseas, but that's not ALWAYS the case.  Well, it is in this instance.  This book is really on top of it's game from a craftsmanship standpoint. 
It's the only book on the list that isn't from a leather or leather-type finish.  It's made out of a nylon canvas (think Kevlar) and it's resistant to water damage, scratching or punctures and heat. 
All things that could impact you while waiting tables.  The seams and stitching are done really well and should last as long as you're using the book.  Also, just to note they book does come with rounded corners so it won't poke you as it bends in your apron or pocket.
Colors — No color options here other than their standard offering.  It's actually quite nice looking.  A dark charcoal primary color trimmed in dark black around the edges.
---
That's A Wrap
Are there other options out there?  Sure.  That said, we spent days going over all of the server books on the market and these are the best of the best in terms of function, durability, appearance and overall quality. 
Hope this was helpful to you!
Before You Go
UPDATE: We found out recently that "Magic Wallets" (you remember, those wallets that flip cash from one side to another as you open them from different sides) were originally invented in 1920s France by waiters who wanted something to conveniently hold cash and receipts!
We're not sure how practical that really is, but we like the idea a lot.
Check out our list of magic wallets here!
Related Articles
Bonus Video
We mentioned Waiter Wallet as the OG in this space earlier, for more, check out their video below:
All product names, logos, brands, and trademarks are the property of their respective owners
Last update on 2023-11-16 / Affiliate links / Images from Amazon Product Advertising API