Well folks, we did it. We looked at more than 50 of the best velcro wallets. We wrestled, argued and fought over the best ones (nobody got hurt).  We've put together a list of our 16 favorites below.  There's one for every style and price-point, as you'll see. 
The Velcro Wallet
Ah, the nostalgia of the velcro wallet.  We all had one as a kid…most likely our first wallet. 
For me personally, it brings back memories of the 1980s and early 90s.  What's funny, is that as a child I had no real need for a wallet, but would cram as much randomness in there as I could.  Dad's old credit card or driver's license, random notes, and the occasional 1 or 5 dollar bill (it was rare that I had any cash in those days).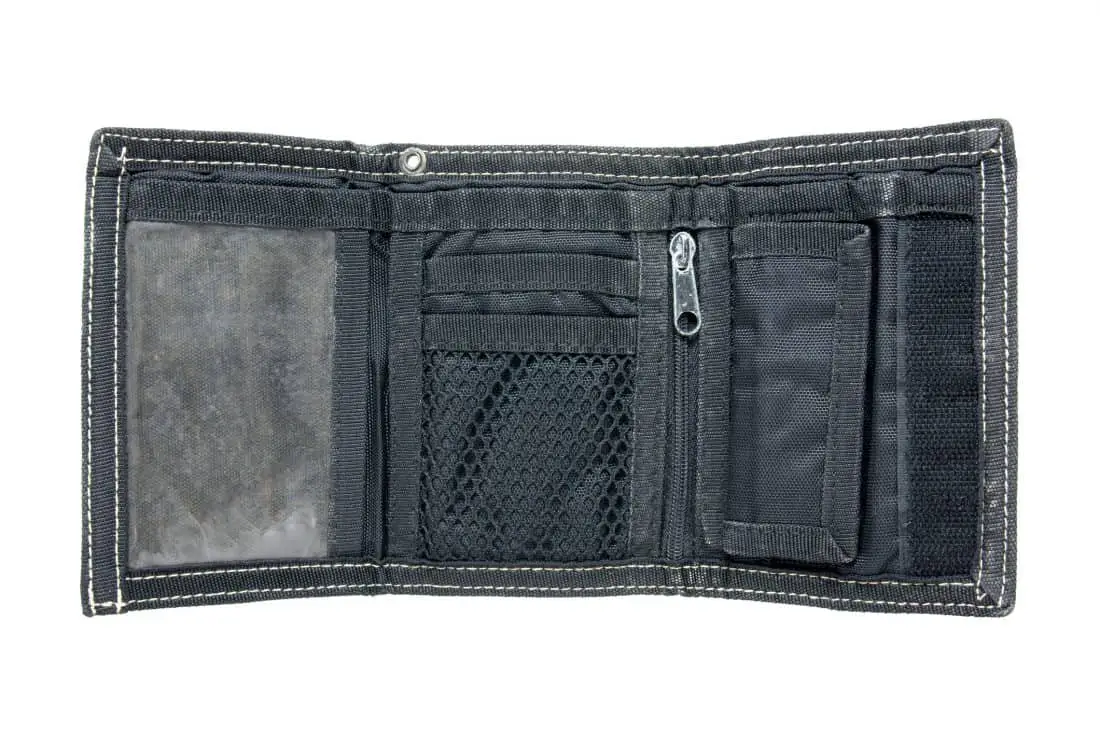 The other cool thing about this particular style of wallet, was that you could carry loose change (which I seemed to always have plenty of).  What would regularly fall out, fits snugly secure in this little guy. 
These wallets have made a crazy comeback in the last few years (for some they never went away). 
What Are Velcro Wallets Made Of?
Technically Velcro is just the fastener, so a "Velcro wallet" can be made of anything, including full-grain leather. That's not typical though. A popular option is canvas and velcro, but what most people think of as a "Velcro Wallet" is a trifold made from nylon and velcro.
Either way, if you like a vintage look and feel, then these are for you. The wait is over…here are the best Velcro wallets anywhere!
Don't want to read through the whole list? OK we got you – here's our top 5 right here:
The most "Designery" nylon-and-velcro wallet!
Ah, we thought you'd want more! Read on as we take you through our favorites!
---
Dakine Vert Rail Canvas Wallet
Dakine is a brand dedicated to backpacks, travel accessories, and outdoor gear, so it's not surprising we like their Velcro wallets. This particular one is called their Vert Rail wallet and is an excellent value for money. It comes in a standard-size trifold design with a coin stash (some reviewers called it "oversized"), a note pocket and plenty of room to stick your cards.
There are thirteen different styles of this wallet and buyers seem to love them, noting that the materials they are made from are both durable and comfortable.
Columbia Men's Nylon Velcro Wallet
Columbia is a world famous fashion company based in Oregon in the United States. With this you'd expect the  price of one of their wallets to be quite expensive, however the cost of this velcro wallet from Columbia is quite reasonable and an excellent value for money.
It has RFID protection, is made of nylon fabric and comes with six card slots and  two transparent ID windows. Ii also  has slots for notes and coins and is hand washable to save you having to put it through your washing machine (just joking – I don't think we've ever tried to put a velcro-style wallet in a washing machine…)
---
Timberland Trifold Nylon Wallet
Timberland is another big fashion manufacturer probably best known for their boots. This wallet of theirs is a standard sized trifold nylon wallet and is also an excellent value for the money, being on the lower end in terms of overall pricing. It comes in a range of four colors for you to choose from.
Inside you'll find there is slots for thirteen credit or debit cards as well as a transparent window for your ID and a large cash pocket for all of your notes (not a secret/secure one). Note this wallet doesn't come with an RFID protective layer. 
---
Nike Basics Nylon Wallet
Probably one of the most well-known labels on this list, this Velcro wallet is from Nike. There are a myriad of colors to choose from, with royal blue, black, red and turquoise being the main ones. 
All of them come with the instantly-recognizable white Nike logo at the bottom right of the front of the wallet when it is folded over. It comes with a trifold design made out of high quality nylon.
There are card slots for up to 6 cards inside as well as a coin zip pouch on the outside and a larger slip slot inside for any cash notes you might have. The only downside to this wallet is that it doesn't have any RFID protective layer for the cards.
This Nike basic wallet is a great, simple option for an active lifestyle.
---
RAPDOM Tactical Wallet
RAPDOM makes military-themed fashion accessories such as wallets, bags and caps. This particular wallet is made of Cordura nylon. Inside of the wallet, there's actually quite a bit of room, with eighteen (18) card compartments which you can use for both credit & debit cards as well as business cards. 
This wallet also comes with an additional transparent slot for any ID as well as a cover flap for any media card storage, such as an SD card, which is a nifty feature that none of the other wallets so far have incorporated; the logic behind this being that SD cards can sometimes get lost in pockets etc. due to them being so small.
It still stays within a very reasonable price range for a men's wallet made of velcro.  This might be the perfect wallet for teenage guys who need to keep their stuff secure…
---
Vans "The Slipped" Wallet
VANS are another world famous fashion manufacturer probably best known for their popular shoes and pumps as well as backpacks and skater themed gear. This classic wallet comes in two different colors with a black and grey checkered pattern and the other being a black and white checkered pattern. It has multiple slots for any debit or credit cards you might have, a Velcro coin pocket, a transparent pouch for any ID you may have as well as a bigger pocket for cash notes. 
Another excellent value wallet for the price, and the iconic Vans check will make this wallet stand out in a crowd of regular velcro trifolds.
---
Hempmania Eco-Friendly Hemp Wallet
Hempmania a manufacturer specializing in eco-friendly beautiful 100% hemp-made fashion accessories and bags.
The canvas of the wallet on the outside is made fully from hemp meaning it is beneficial to the environment since hemp is an eco-friendly renewable material. Similar to most of the other wallets it's a trifold style wallet which comes in seven (7) different colors to choose from.
It has eight compartments inside for your debit and credit cards as well as compartments for your bills and coins. It balances both functionality and practicality. For those consumers who want the best fashion products but are also conscious of the environmental impact this is a perfect choice.
---
Hempy's Tri-Fold Velcro Wallet with Chain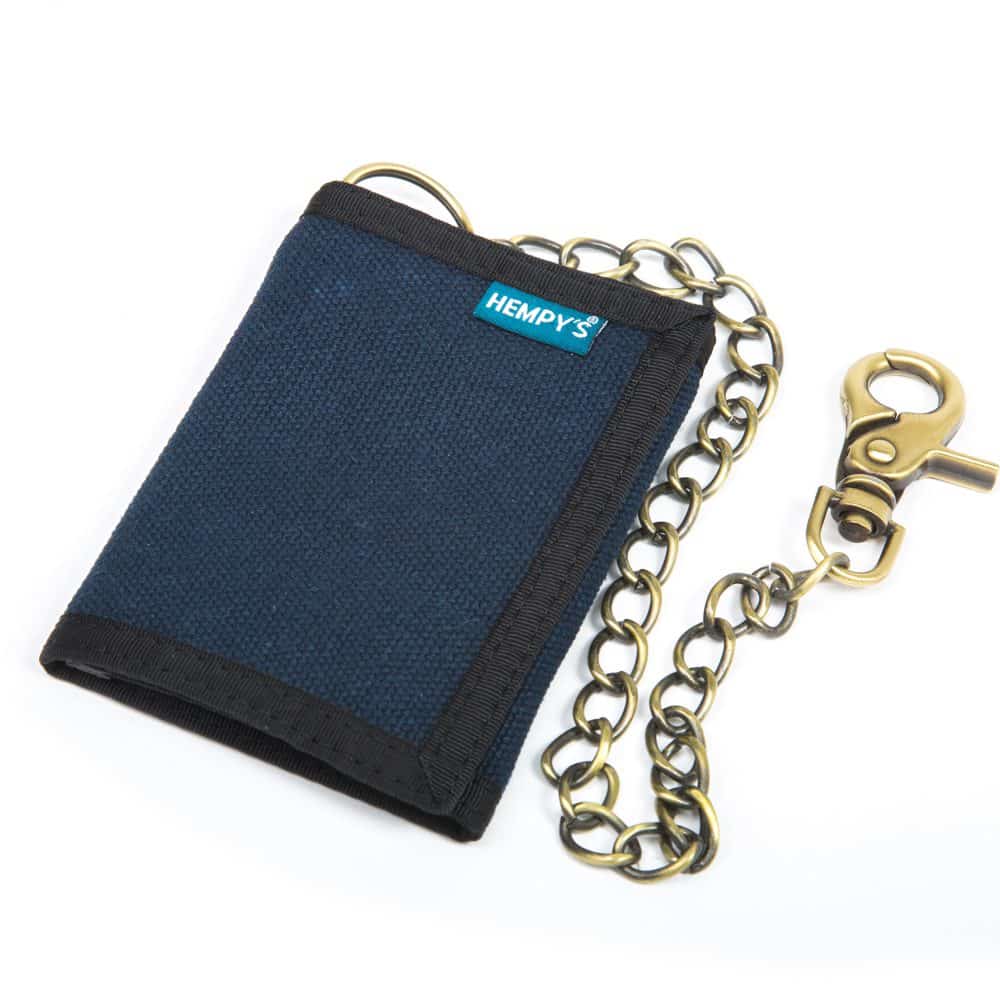 Sticking with the environmentally-conscious theme, this 100% hemp canvas wallet is the right choice for yourself or as a gift for your eco-warrior friend. This wallet uses no animal products and is completely vegan, with a twelve (12) inch heavy duty chain. The hemp also makes it incredibly durable, it will have a long life, even with heavy usage. 
The wallet includes a mesh pocket for coins with a zipper for protection, a holder for bills, a clear pocket for your ID or driver's license and one cardholder.
This single cardholder is a downfall for someone who has a lot of cards, but we did notice that you can place 2-3 cards in the pocket without much issue.  We really like this wallet, it's an excellent choice for the eco-conscious among us but even without that, its a great canvas and velcro chain wallet.
---
LEGO Velcro Wallet
This Velcro wallet is made by LEGO, known most famously for…well, for LEGOs.  We all remember those little block pieces that assemble together to make absolutely staggering pieces of art (and hurt your feet when you stand on them…).  I for one would camp out in front my box of LEGOs for hours upon hours to build my masterpiece.  I digress….
In tune with the theme of the multicolored blocks the two colors you can get this wallet in is a multi-colored block style as well as a red and black version with LEGO Ninjago warriors on it (pictured). Like all the other wallets on this list it is a trifold wallet with slots for your credit and debit cards. There is also a transparent pouch to put your ID to save taking it out every time and a pocket for your cash notes on the inside.
Note that the cash pocket isn't zippered, which might be an issue if you purchase this for a child prone to losing small change ….
---
Mule Leather/Velcro Wallet
Mule is a high end men's fashion manufacturer and their products are quality (including their wallets).  This particular wallet is made in the USA with a vegetable-tanned leather exterior and a velcro closure.  Inside the wallet (lined with nylon) you'll find space for 12 debit or credit cards, an inside zip pouch for coins, a see-through pouch for your identification as well as a slip for your cash notes at the top.
There is also material surrounding the cards that ensures you are RFID protected. It's a little larger and a little more expensive than some of the wallets on this list, but the materials do give it a more luxurious feel.  *FYI, they also have a Nylon/Canvas version that is a bit cheaper (see two spots down on this list).
RVCA Leeward Bifold Wallet
RVCA is a European clothing manufacturer specializing in all kinds of clothes and accessories. Their bifold wallet comes in at one of the best prices on this list and is very reasonable. It comes in standard black, but we like the Camo version (pictured above).
Each of the wallets has six card slot and a cash slip, though there is no zippered coin slot and this wallet does not provide RFID protection. It has a metal frame which gives it extra rigidity compared to most of the wallets on this list.
---
Mule Trek Nylon Bifold Wallet
The second wallet on our list from Mule is this nylon wallet which despite being made from durable, water-resistant nylon has more of a stylish and luxurious feel to it compared to some of the others. It comes in three colors with these being Oxblood, brown or black.
Like the other Mule wallet, inside you'll find ten card slots perfect for all your debit or credit cards, together with a note pouch, although there is no coin pocket or transparent ID window. This wallet does offer RFID protection so taking that with the more luxurious feel may make this worth the slightly higher price point for some.
---
Rainbow of California
Rainbow of California is an American company specializing in accessories and have a wide range of such items including wallets, ID holders, cases and RFID protective equipment. As with most the other wallets reviewed here today it comes in a trifold set up with dedicated slots for credit and debit cards inside and a note pouch.
The Royal Blue pictured is made of resistant and durable 620 Denier Cordura Nylon (pro-tip: that means its really tough material) and is RFID protected. The wallets by Rainbow of California are typically great value and won't break the bank.  *Note, this is one of the wallets with a ton of colors to choose from…from Black to Orange and everything in between (including Camo). There's also a bifold version.
---
Big Skinny Wallet
This isn't a Velcro wallet but has a similar closing mechanism. Big Skinny is known for its slimmed-down wallets and card cases, so its not surprising you'd find them on our list – we love our minimalist wallets! Inside this trifold wallet can fit up to 25 cards which means it is perfect for both credit and debit cards as well as any business cards if you're at a networking event (we're doing those again, right?).
It also has a clear ID pouch as well as two hidden storage pockets that can be used to hide valuables securely. It is made of thin, light, and durable microfiber so you know you're getting a long-lasting but fashionable wallet. When it comes to cost it's neither expensive nor cheap so you're getting good value for money.
---
HAZARD 4 Slim Tri-fold Security Wallet
This wallet is meant to be both durable and secure. The parent company, Civilian Lab has years of experience designing and manufacturing outdoor extreme sport and adventure travel gear, and this slim wallet shows that. Inside you'll find 5 slots perfect for credit and debit cards, as well as an ID pouch and a coin zip pouch. It also has a military grade steel clip to secure the wallet to your belt, backpack, or shirt pocket.
Although the wallet is pretty much as secure and safe as it can be in every other way it perhaps surprisingly doesn't have any RFID protection around the dedicated card slots to protect you from theft from scanners.  The good news, is that it's debatable if you really need it.
*This wallet is one of our favorites on the list in terms of weight and "feel".  It feels secure and solid…yet lightweight.
---
Paul Smith Velcro Wallet
OK, we'll round out our list with the most "fashion-house" wallet. Paul Smith is an iconic British fashion brand founded in 1970 that was initially a men's fashion brand but has since expanded enormously. This is a classic hook and loop closure trifold in a stylish navy check, with four card slots, a velcro coin pocket, space for notes,  and a D ring for clipping to a belt or bag.
It's a very classy nylon wallet and the price point reflects the branding – so this won't be for most nylon wallet purchasers but its a great way to round off this list.
---
Before You Go…
As we continue to come across new wallets, we'll keep this list updated.  Hope it was helpful!  If you're interested in seeing even more cool and unique wallets, check out our next article!
Our List of Unique Wallets (#8 Will Make You Nostalgic!)
Related Articles
All product names, logos, brands, and trademarks are the property of their respective owners
Last update on 2023-11-14 / Affiliate links / Images from Amazon Product Advertising API