Are you looking for a wallet that combines elegance and practicality – a men's wallet with notepad combination? Today we expect our billfolds — like our smartphones — to serve multiple functions, and to make our lives easier by consolidating our everyday essentials in one place.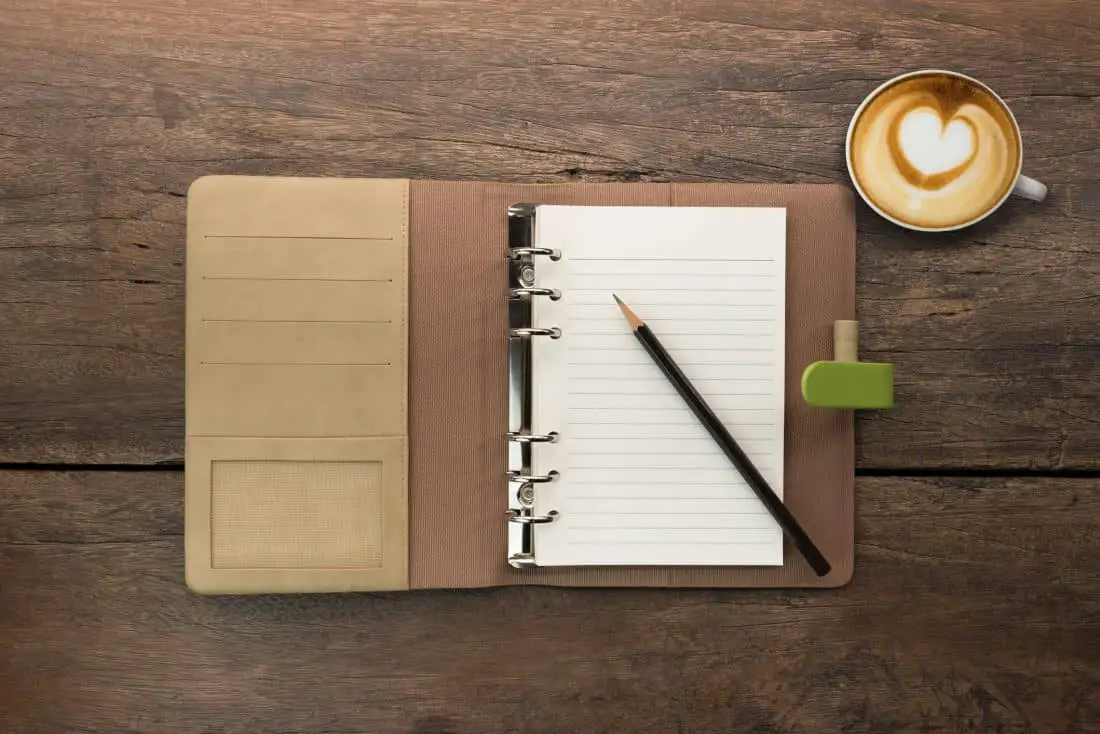 The Wallet with Notepad Combo
That's why we opt for the clever combination of wallet + notebook to hold your cards, money, tech, journal, and pen all in one place.
Whether you're a world traveler trying to reduce clutter in your carry-on bag or a businessman seeking to optimize your briefcase space, these multipurpose wallets offer sleek, elegant solutions for every man.
Some quick notes:
All of these wallets are compatible with Field Notes booklets (3.5″ x 5.5″) or standard passports (3.5″ x 5″)
All card capacity numbers are based on a standard ratio of three cards per slot unless otherwise stated
---
For the Adventurer
---
The Ultimate Travel Wallet
Lets take a closer look at this collection of travel wallets with notepads – perfect for the globetrotter with stories to tell:
Dango P02 Pioneer Travel Wallet
With room for three passports, a memory card slot, and RFID protection for your credit cards, the Dango P02 Pioneer is the ultimate travel wallet. Its versatile industrial design creates ample storage for your most important travel items, while the cutting edge DTEX material is scratch and water resistant. Though you can pack the Pioneer as a traditional wallet, it includes a strap so that you can carry it over your shoulder or tether it to your belt or backpack. The Pioneer even comes with a five function multitool for locking the wallet's custom clasp, though it also serves as a 1/4″ hex socket, chisel, bottle opener, flat head screwdriver, and a Phillips head screwdriver.
---
Lifetime Leather Co. Personalized Leather Field Notes Wallet
| | | |
| --- | --- | --- |
| Material: | Max # of cards: | Warranty: |
| Full Grain Leather | 15 | Lifetime |
Lifetime Leather is a family owned company with humble beginnings. As the story goes, they got started after they came across a discarded couch and salvaged the leather to craft gifts for friends and family. Today, the company still handcrafts their products but now with the finest full grain American leather. Thanks to such high quality material, the Field Notes wallet has a rustic look that makes it well suited to the rugged adventurer. For added flair, you can even customize the front with your initials and one of nine fire branded designs! The wallet comes ready to go with a Field Notes journal and Zebra pen.
---
D & M Leather Travel Journal & Wallet
| | | |
| --- | --- | --- |
| Material: | Max # of cards: | Warranty: |
| Top Grain Leather | 3 | Unknown |
As the only trifold wallet on the list, the D & M Leather travel journal & wallet can be a bit bigger than the rest (depending on how much you pack into it). However, the two snap button closure and multi-functional design make this utilitarian wallet ideal for guys on the go. It can store a standard Field Notes journal or passport, pen, up to three cards, and even an iPhone X/XS or iPhone MAX. Plus D & M's products are all hand sewn, ensuring maximum durability while showcasing the company's exquisite craftsmanship.
---
The Hemingway — Handmade Field Notes Cover
| | | |
| --- | --- | --- |
| Material: | Max # of cards: | Warranty: |
| Full Grain Leather | 3 | Contact Manufacturer |
Author Ernest Hemingway was a seasoned globetrotter, so this leather cover is appropriately named in his honor. It features two horizontal slots for easy access to your cards, and two interior pockets capable of holding cash, passports, notebooks, or tickets. The high quality leather is polished with a special wax giving the wallet a supple texture and aged appearance, so you can travel in style. Plus, the material is finished with a no-slip texture to keep your valuables safe no matter where life takes you.
---
For the Entrepreneur
---
Here's a few notepad wallets to help you stay organized and take care of business:
Sovereign Gear Leather Field Notes Cover
| | | |
| --- | --- | --- |
| Material: | Max # of cards: | Warranty: |
| Genuine Leather | 6 | Unknown |
With an elastic pen sleeve, four interior pockets, and a slot for a USB drive or key, this compact cover is the perfect work companion whether you work at a desk or out in the field. The wallet is made of vintage "crazy horse" leather, which simply means that the leather is treated with a special type of wax to give the material shine and a smoother texture. As an added bonus, the wallet comes with a stylish leather pen and a simple lined paper booklet.
---
Up2Green Leather Journal Cover for Field Notes
| | | |
| --- | --- | --- |
| Material: | Max # of cards: | Warranty: |
| Top Grain Leather | 6 | Unknown |
Up2Green's leather journal cover was designed by professional artists to address the common flaws of other leather covers on the market. A pen loop is placed square in the middle so that the pen won't distort the cover while the brass snap clasp ensures that the wallet stays shut and helps keep your notebook in place. What's more, two horizontal card slots and interior pockets make for ample storage for your cards, money and receipts. Though this wallet may not fit perfectly into your pocket, the naturally tanned, top grain leather gives an air of sophistication for an accessory that makes a statement.
---
 Kenneth Cole Reaction Faux Leather Mini Bifold Writing Pad
| | | |
| --- | --- | --- |
| Material: | Max # of cards: | Warranty: |
| Faux Leather | 10 | Unknown |
Kenneth Coles' efficient design aims to increase your productivity. The bifold's open construction is conducive to quick note taking, while the tiered card organizer allows you to find the exact card you need at a glance. This wallet also includes a clear ID card window and a built in lined writing pad, though you can refill with your own notepad as well. Choose from a variety of colors, and if you really want to spice things up, opt for the red faux crocodile skin!
---
For the Artist
---
Something a little different
Our Favorite
Something a little different
Moving on now, lets take a look at a few wallets with notepads we think will help channel your artistic side (OK, perhaps thats a bit of a stretch, but these wallets are both practical and stylish):
Hide & Drink Leather Field Notes Cover & Wallet Case
| | | |
| --- | --- | --- |
| Material: | Max # of cards: | Warranty: |
| Full Grain Leather | 4 | Unknown |
Hide & Drink's design is first and foremost a notebook cover, but with two interior pockets it can double as a wallet or passport holder, making it perfect for the writer, artist, globetrotter, or habitual notetaker. Full grain leather simply means that they use the outermost layer of cowhide to lend the finished product more texture and character. Hide & Drink takes it one step further: their leather is hand crafted by expert artisans in La Antigua, Guatemala and the leather is treated with a natural beeswax conditioner so it will retain its shape and withstand the test of time. A portion of all proceeds go back to this same Guatemalan community.
---
D & M Leather Studio Vintage A6 Leather Notebook Cover
| | | |
| --- | --- | --- |
| Material: | Max # of cards: | Warranty: |
| Top Grain Leather | 6 | Contact Manufacturer |
The leather cover is hand sewn using thick wax thread that contrasts nicely with the velvety brown leather, making it ideal for the aesthetically inclined gentleman. The gloss, color, and character of the wallet changes over time, giving it a rustic, distressed look that artists will appreciate. While the wallet does have two card slots and a pocket for cash, the real appeal is the central pen loop and sturdy leather backing to support your writing needs.
This one is a little pricier, but well-made and they also offer free personalization, which is a nice touch.
---
Robrasim Leather Journal Cover (Coffee)
| | | |
| --- | --- | --- |
| Material: | Max # of cards: | Warranty: |
| Genuine Leather | 3 | Contact MFR |
This wallet is a winner in its sleek simplicity, making it the perfect all-in-one accessory for the artist or entrepreneur looking to streamline their life. High quality, crazy horse leather gives it that wonderful earthy smell and smooth feel while the no-frills design makes this wallet a practical, everyday companion. Hand sewn for extra durability, this wallet is sure to last a lifetime.
---
For the Minimalist
---
Premium (but Awesome!) option
Simple and very functional
And finally, here's a few that we felt were the closest to the slim wallet aesthetic we usually advocate. These are a little more minimalist in approach, but still great in function:
Robrasim Handmade Vintage Leather Journal Cover (Brown)
| | | |
| --- | --- | --- |
| Material: | Max # of cards: | Warranty: |
| Genuine Leather | 6 | Contact MFR |
This is another utilitarian design by Robrasim, but with a bit more card storage. With two card slots and two interior pockets (one for cash, one for a notebook or passport), it provides enough storage for your essentials without taking up too much space in your briefcase or pocket. Hand sewn for extra durability, this wallet maintains a slim profile making it well suited to the minimalist. It's worth noting that this wallet does not have a pen slot, despite showing a pen in the picture.
---
Coal Creek Leather Field Notes Cover
| | | |
| --- | --- | --- |
| Material: | Max # of cards: | Warranty: |
| Full Grain (Vegetable Tanned) | 6 | 100 Year Warranty |
Wickett & Craig have been tanning leather since 1867. Their traditional method of vegetable tanning uses tree bark to give the leather a polished sheen. Coal Creek's understated design in this leather cover allows the quality of the material to shine through. You can customize yours by choosing one of four colors and imprinting the cover with your initials or name.
---
KenzaPad Premium Leather Wallet & Refillable Notepad
| | | |
| --- | --- | --- |
| Material: | Max # of cards: | Warranty: |
| Vegetable Tanned Leather | 8 | 3 Year Warranty |
If you're tired of rifling through your pocket or briefcase to find your business cards or locate the note you jotted down this morning, this is the wallet for you. The bifold features a custom checklist notepad, tiered card slots, a magnetic closure, and two pen pockets, one on either side suitable for left or right handed users. With this elegant and efficient design, KenzaPad replaces the digital clutter of your smartphone or tablet with analogue pen and paper to improve your focus.
---
Jack's Point Leather Field Notes Cover
| | | |
| --- | --- | --- |
| Material: | Max # of cards: | Warranty: |
| Top Grain Leather | 9 | Unknown |
Featuring tiered card slots, a pen loop, and plenty of sleeves for notebooks or cash, this wallet is satisfying in its simplicity. It is designed to fit perfectly into your pocket for easy portability, and the notebook sleeve is compatible with standard Field Notes journals or passports. The top grain leather does get scratched and scuffed easily, however these marks lend to an overall distressed look so your wallet develops character over time. You can also rub these marks away with a damp cloth.
---
Buyer's Guide
Ultimately, the choice as to which of the wallets above is right for you is a very personal one. Hopefully we've given you some good options to choose from, but the key things to focus on are:
Materials: Are you happy with the leather (or faux leather) quality for the price point?
Durability: Related to the above, will this material and the structure hold up for the long-term?
Functionality: In addition to securely holding a notebook, does the wallets extra features (card pockets, pen holder) match your needs?
Our Choice
Only you can decide for sure, but for our money, we like the Lifetime Leather Personalized Field Notes Wallet (below). At a first glance it seems a little pricey, but we like the quality of the leather and construction, we like that it comes with a lifetime warranty and is pre-loaded with a notepad and pen (most are extra). Add on the option to personalize this wallet, and this is a winner for us.
All product names, logos, brands, and trademarks are the property of their respective owners
Last update on 2023-11-15 / Affiliate links / Images from Amazon Product Advertising API