A messenger bag is a timeless accessory that goes with multiple styles. We've long been advocates for a messenger bag as a stylish men's accessory – if it's done right!
Due to their practical size and (usually) understated look, they've been a go-to choice for professionals, students, and fashion enthusiasts for decades.
However, finding a bag that perfectly captures your sense of personal style can be challenging. Luckily, messenger bags are easy to style, and there are several ways you can make the most out of your trusty bag.
In this article we'll discuss how to wear a messenger bag that meets your needs and makes a powerful fashion statement to boot!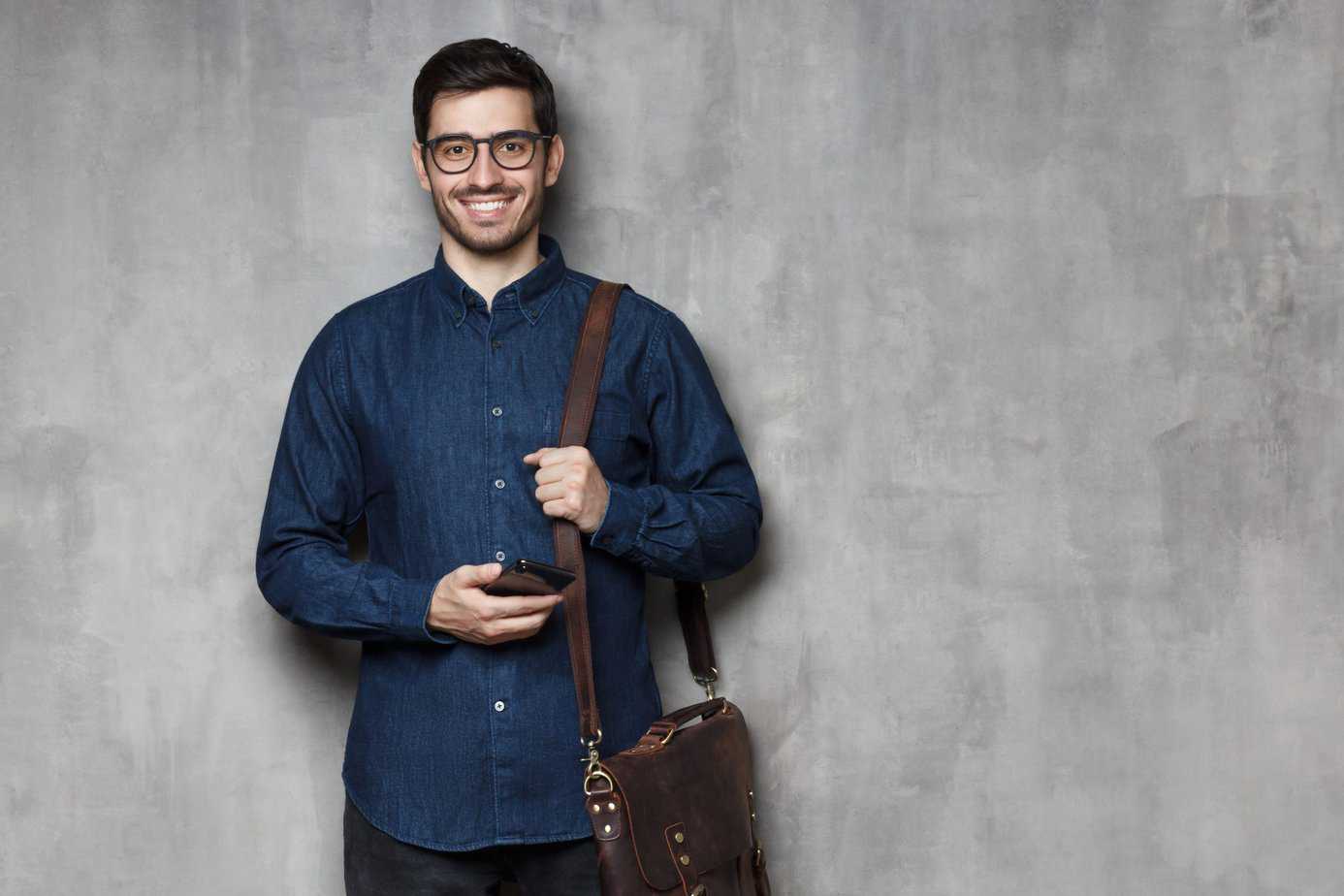 Choose the Right Bag
OK, let's start with an obvious statement:
You should pick a messenger bag that aligns with your fashion preferences right from the start.
Think about what message you want to send:
Formal or Casual?
The bag's most popular designs are the standard casual option and the more polished briefcase-like model.
Both have a striking appearance, but the standard option is more suitable for casual outings when you want to pack a few more items.
More formal models that give off the sleek feel of a briefcase are perfect for business settings where you want a bag that signals professionalism.
Typically, the more external pockets a bag has, the less formal and more tactical it looks.
Consider Leather, Canvas, or Nylon
Most models are made from canvas or leather. Depending on their material, messenger bags complement different aesthetics.
Leather models tend to be pricier because they're made from higher-grade materials and provide an air of elegance.
They're also more formal and are often seen on young professionals and people committed to growing their business. For a blend of style and formality, faux leather options are available too.
They're usually less expensive but are just as comfortable to carry, and have the same "I'm someone to take seriously" vibe.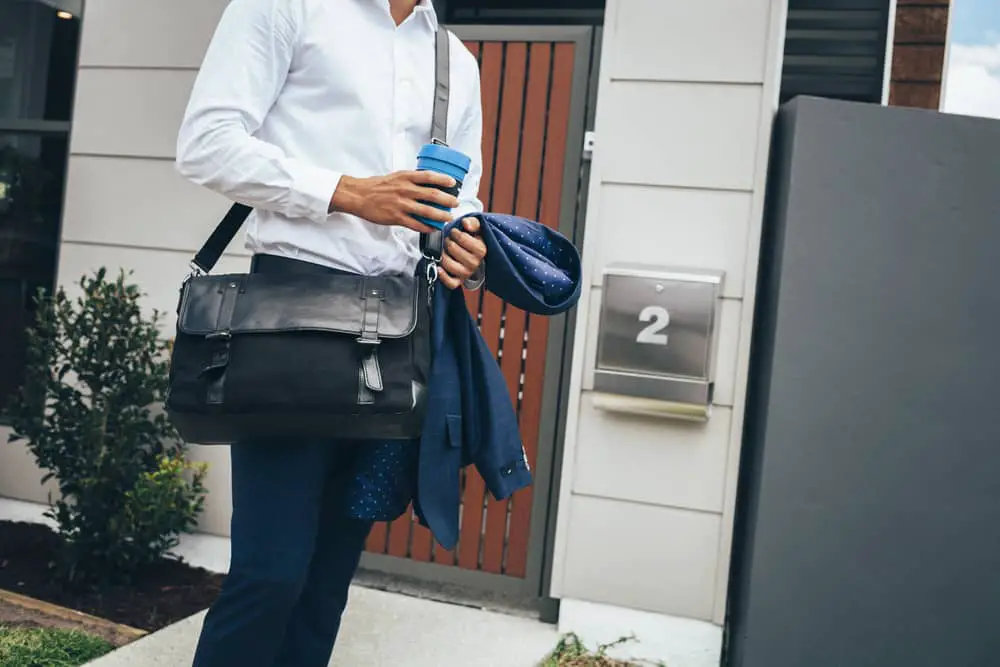 On the other hand, canvas bags don't have a steep price tag and are typically produced in multiple colors and prints. This variety is excellent for choosing a simple and practical bag whose image gives it a dash of individuality.
If you're on the fence about committing to leather or canvas, consider investing in a nylon bag. Its exterior has a slightly textured finish that gives the messenger bag's functionality a high-end edge, at a price point that's typically between the two (unless you're looking at the ballistic-nylon kings, Tumi – and if your budget allows it, you should!)
OK, so you've decided on formality and materials – what's next?
Neutral or Bold Colors
If you're the type of person that likes to commit to a single bag, you should probably look at a messenger bag in a classic, neutral color like black, grey, or beige.
Then, even when you switch up your style game, the bag will keep up with you and won't clash with the rest of your look.
However, a bold-colored bag makes a statement as an accessory. You can take a simple monochrome outfit to the next level by carrying a playful, bright messenger bag.
Our take? As we've said – you should think of this as part of your style. So unless you wear the same clothes every day … why wouldn't you have more than one bag? Perhaps the formal one for the big meetings, and a funkier one for the weekend look.
OK, we're ready now, right?
Not quite – there's one more factor, that's actually the most important one:
Dress For Your Body Size
This is something we see men getting wrong all the time.
When wearing any bag, just as with clothes, it's essential that you know which designs show your stature in the best possible light.
Remember – we're looking at this a style accessory not just a utility.
For Smaller Guys: If you have a smaller body frame, choosing a small-to-medium sized messenger bag will avoid you looking swamped.
Instead of looking too large to carry, an appropriately-sized bag will flatter your stature. Most messenger bags contain several internal compartments, so even a small or medium model is capable of handling a surprisingly number of items.
This bag for instance, is almost too large – it's right on the limit:
If the bag above was any larger, this guy would look overpowered, and small by comparison.
For Bigger Guys: The opposite is also true. If you're a big guy, you need a bigger bag to not look like you're carrying something dainty.
How To Actually Wear a Messenger Bag
OK, we've picked a style that sends the message we want about who we are. We've picked the right material, and we've picked one that looks right on our frame.
Now, how do you actually wear one?
Wear It Crossbody-Style
This is the really obvious way to wear a messenger bag.
Put the strap on one shoulder and drape the strap across your chest, with the bag sitting on the opposite side of your body.
Adjust the length until it's comfortable. It should sit with the center of the bag just above your backside.
This will put it in the most comfortable position – any lower and it will "cup" underneath your backside as you move, any higher and .. well, you'd look silly, but also its hard to get access to what's in your bag.
This position makes for optimal weight distribution, while also allowing easy access – you can open the bag and pull stuff out without removing it.
Additionally, if you need too – you can move the bag to the front or back of your body to find the most comfortable position. And switch it around if you're carrying it a lot.
Same-Shoulder Carry
You can, of course, sling the bag over the same shoulder the bag is on so it doesn't go across your body.
We don't like this option so much, for two reasons:
The weight is all on one side. That may be fine for short bursts, but longer term might hurt your back
If you did pick a particularly small messenger bag, this can give off "it's a man-purse" vibes
Carry It By Hand
Some models are designed to offer single-hand carrying with handles as well as the strap. This is more of a "satchel" option than a messenger bag, but they still look great, and it's good to have the option to switch up your look now and then.
When using the handles to carry the bag you should remove the strap, or tuck it inside. This results in clean lines and stops the strap getting dirty by dragging along the ground.
Before You Go
OK, that's a wrap. Hopefully that was helpful, but there is an important feature of wearing a messenger bag that many people have follow-up questions on – are they bad for your back? Well, they don't have to be – and we wrote a whole article on that:
Are Messenger Bags Bad For Your Back?
Related Articles
All product names, logos, brands, and trademarks are the property of their respective owners