Everyone understands the importance of making a strong first impression. A well-chosen bag can play a big role in that.
Women have known this for years.
But it's true for men too.
Whether you're running a meeting or running an errand, your bag can speak volumes.
Signaling style and professionalism. Or the lack of it!
A man's bag can be a reflection of his personality, and a well-chosen bag can elevate your look. It's important to choose a bag that is right for your lifestyle and meets your needs.
What Type of Bag Should a Man Carry?
Let's go through the main choices. But remember, which bag to carry may be different at different times, so likely you will want to have more than one.
Types of Bags to Consider
Briefcase
Let's start with the classic bag for professional men.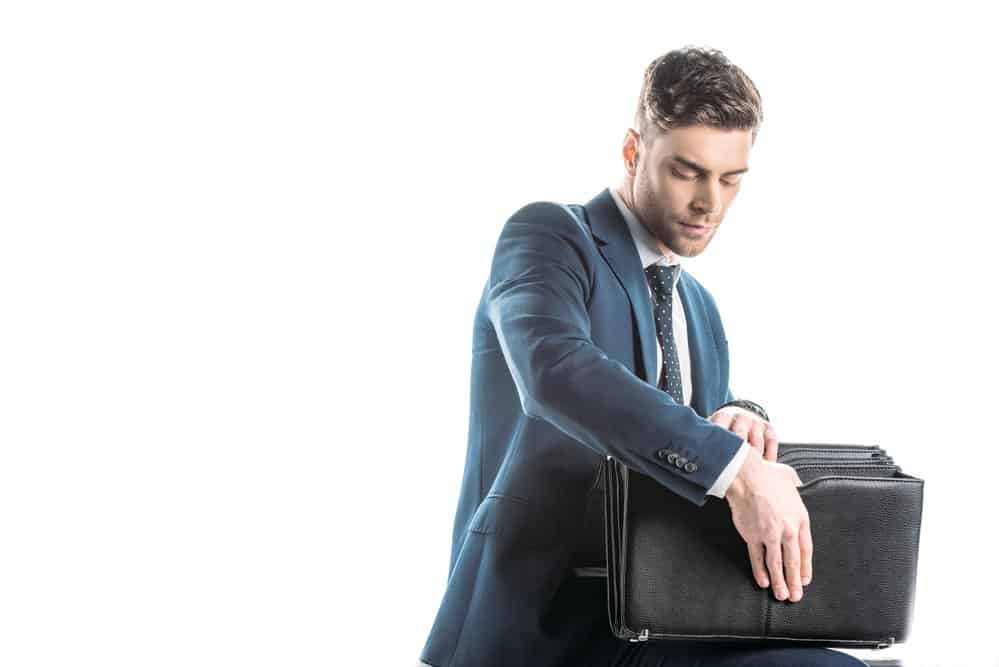 This timeless piece is the epitome of sophistication and practicality.
A leather briefcase exudes a sense of professionalism and organization:
Structured, no-nonsense design. Check.
Sleek material. Check.
But a briefcase isn't just for the office.
A briefcase can also be a great accessory for a "business casual" event. It's a more versatile piece than you might think.
When it comes to the material, high-quality leather is the only way to go.
Leather is durable and able to withstand daily wear and tear. It also ages and becomes more beautiful with time.
To keep your briefcase looking its best, make sure to keep it clean. Condition the leather and store it in a dry and cool place when not in use (see later for more on caring for your bags).
Messenger Bag
When it comes to everyday carry, a messenger bag is a hugely popular choice.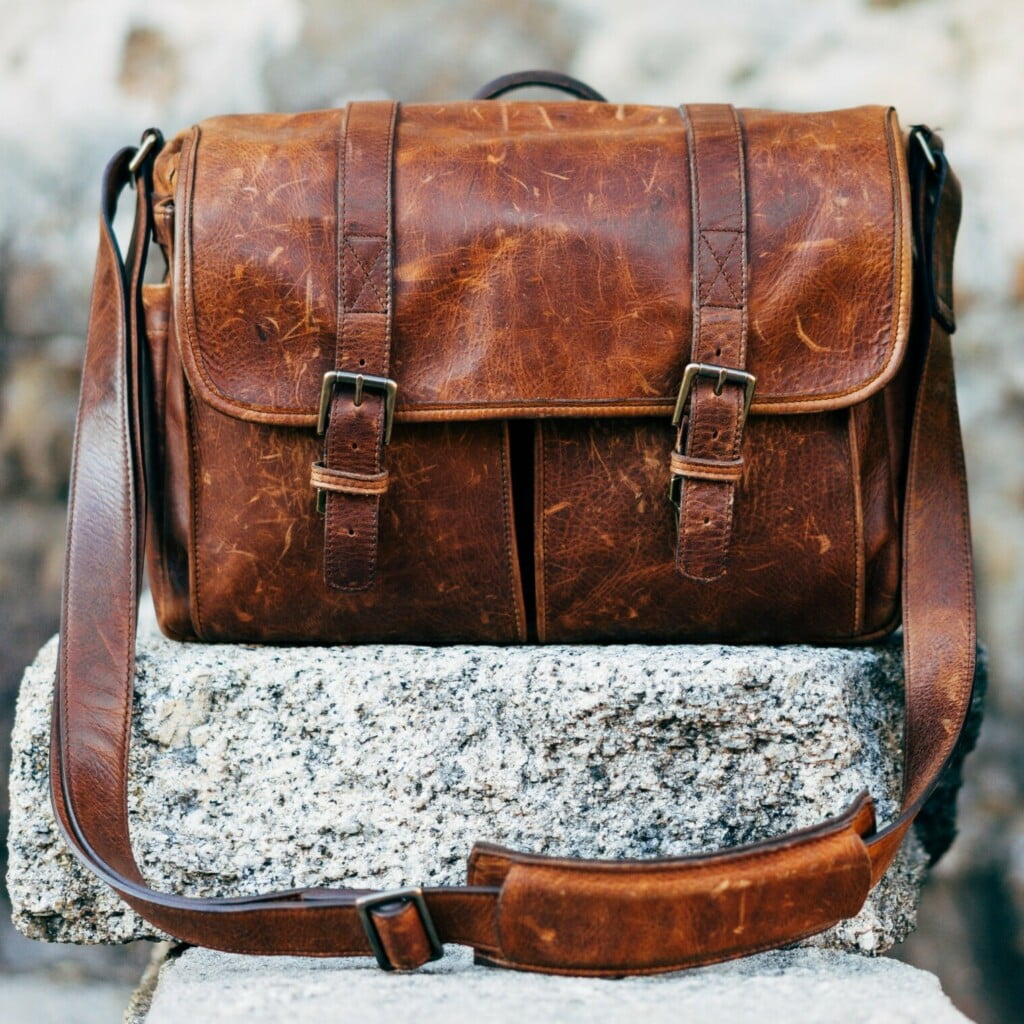 This is a cross-body bag that offers both style and function.
A messenger bag can keep all your belongings organized and within easy reach.
One big concern people have is whether a messenger bag can hurt your back. We don't think this is a big deal, unless you overload your bag.
A messenger bag shoulder strap should always be adjustable, and padded. The cross-body style helps to distribute the weight. This makes it comfortable to carry – for longer than a briefcase, less than a backpack.
One of the reasons this concern comes up is the sheer versatility of a messenger bag.
With many pockets and compartments, people have a tendency to overpack them. This is especially true for men who need to carry a lot of items with them on a daily basis.
A backpack (see the next section) may be a better option in that case.
Messenger bags have become a staple for men in recent years. You can now find them in a huge range of materials, from canvas, to ballistic nylon, to classic leather.
Leather is particularly good if you're looking for something formal, but more modern-looking than a classic briefcase.
Backpack
Another great option is a stylish backpack.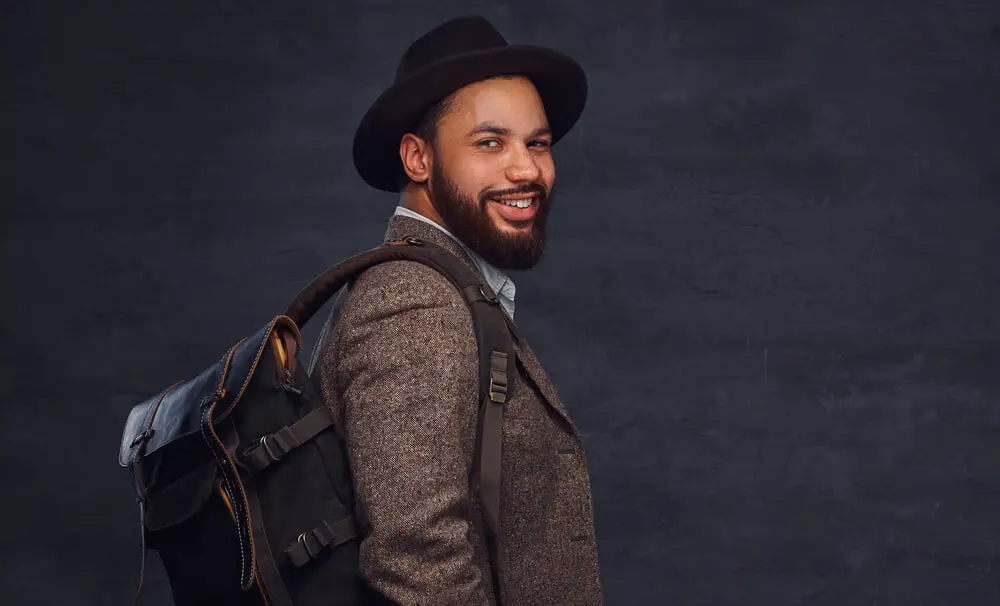 A backpack provides comfort and ease of use by distributing weight evenly. The shoulder straps should also be adjustable to fit any body type.
A good pack should have a lot of pockets and compartments. You'll want to keep your items organized and accessible. You'll want a padded compartment for your laptop or other electronic devices.
Now, a backpack is less "formal" than a messenger bag or briefcase.
That's true even for a stylish one (for example this ballistic nylon number from Tumi).
So it won't be right for everyone in every situation, but it's a great commuter bag.
Perfect for getting to the office, but perhaps not the bag you're going to carry into a serious meeting.
Duffel Bag
All right – what do you need for short trips, or going to the gym?
A duffel bag is the perfect companion. This is a cylindrical or rectangular bag, with a single main compartment and an adjustable shoulder strap. They make packing and carrying your essentials as simple as possible.
The single compartment design allows you to pack your items quickly and easily.
(Yes, there are often smaller pockets too, but the main compartment is 90% of the bag).
An adjustable shoulder strap makes it comfortable to carry for shorter distances.
Durability is also a key feature when it comes to duffel bags. They are usually made of durable materials such as nylon or canvas that can withstand wear and tear.
Many options are water-resistant too.
Pro-tip: Look for a duffel bag with a reinforced bottom for extra protection for your items.
Tote Bag
A tote bag is a different option that many men overlook.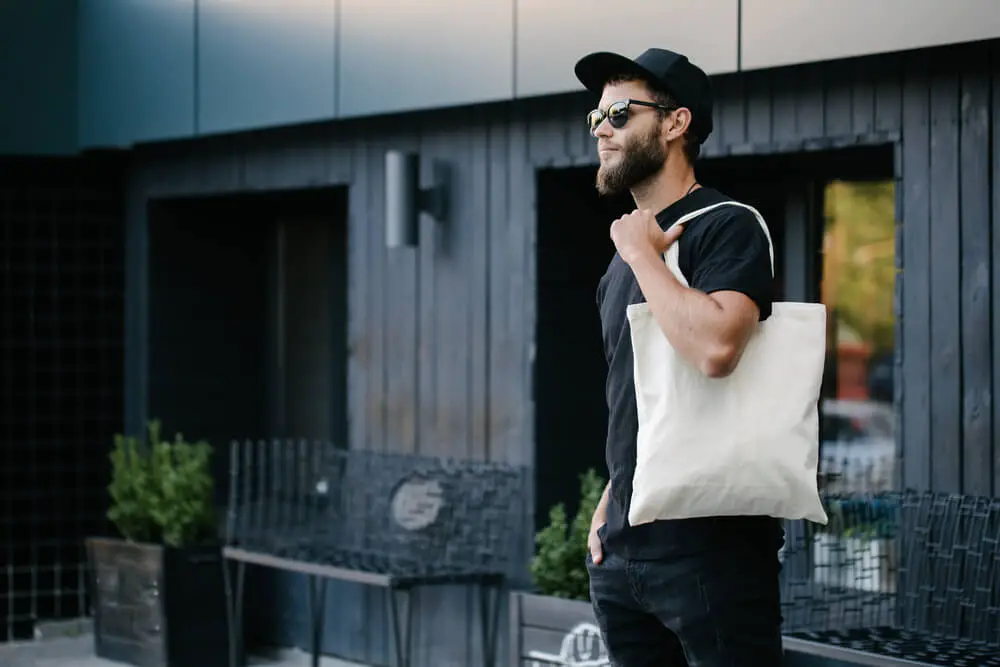 These were once seen as the cheap swag bag from any of a dozen conferences. Modern designers though, have been producing much more stylish options.
Often made of durable materials now, they can be built to last and withstand daily abuse. And with its open top design, getting at your stuff is simplicity itself.
But it's not just practicality that makes a tote bag a top choice.
Its stylish and minimalist design makes it a great option for casual or formal settings. It's a fashion statement that can reflect your personality and style.
The only real downside?
Such a simple design is great for carrying a few key items. If you need to organize a lot of items, or if you have anything bulky to carry, these start to become less appealing quickly.
Portfolio Case
Our final entry is a stylish, classic look that is the opposite of stuffy.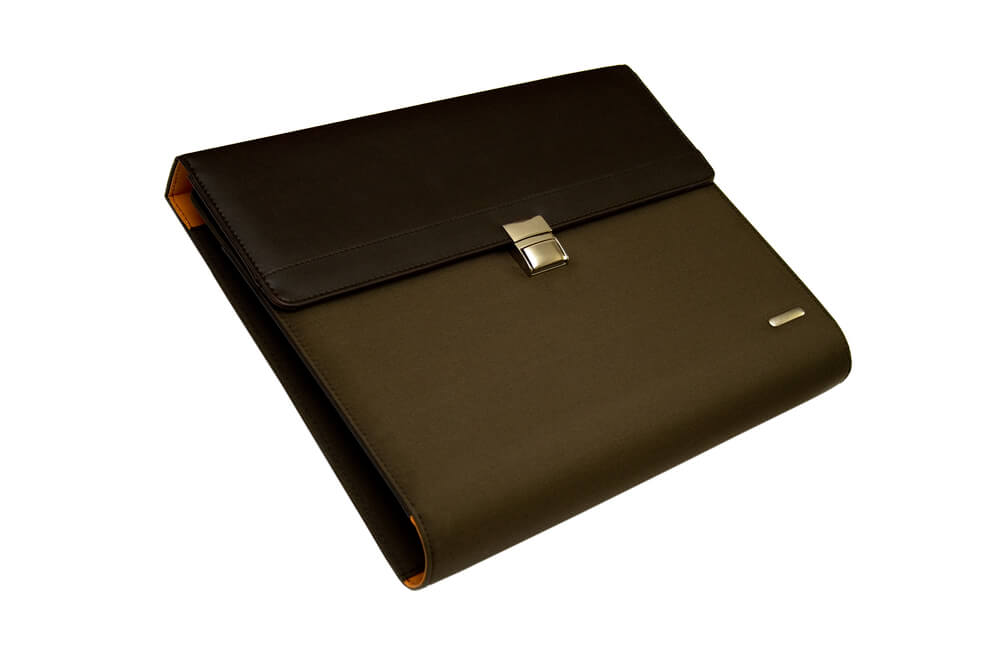 A portfolio case is the ultimate choice if you want to make a polished and put-together impression.
Its the perfect size and form for carrying important documents, notebooks, and smaller electronics like a tablet.
A portfolio case is a major style statement at work, in business meetings, and at presentations.
Choosing the Right Size Bag
When it comes to choosing the right bag, size is key.
First, take into account your body size. A larger man may prefer a larger bag, while a smaller man may prefer a smaller bag.
OK, that's hardly a surprise. The idea is to ensure the bag is proportionate to your body and comfortable to carry.
Next, think about your lifestyle and what you'll be carrying. If you frequently carry a laptop and books, a larger bag may be more what you need. You may even need to go the backpack route.
But if you only need to carry a few essentials, a smaller bag may be just the ticket.
Don't forget to consider the specific compartments and pockets the bag offers. A bag with many pockets and compartments is great for organization and easy access to your items.
Check there is a padded compartment. You'll need this for laptops or other electronic devices to protect them from damage.
How To Care For and Maintain Your Bag
Caring for your bag is as important as choosing the right one. Regular cleaning, protecting, storing, and repairing will ensure your bag lasts for years to come.
Start by cleaning your bag regularly. Use a damp cloth and mild soap for canvas or nylon bags and a damp cloth and mild leather cleaner for leather bags. Avoid harsh chemicals or abrasive materials, they can damage the material.
Next, protect your bag from the elements. Leather bags should be kept dry and if they do get wet, dry them off as soon as possible. For canvas or nylon bags, you can use a water-resistant spray to protect the material.
Proper storage is key, store your bag in a cool, dry place, away from direct sunlight, heat or humidity. For leather bags, stuff them with paper or cloth to maintain their shape. Avoid storing bags in plastic bags or containers as they can trap moisture and cause mold or mildew.
If any damages or wear and tear occur, repair them as soon as possible to prevent further damage. For something like a torn strap or a broken zipper, it's best to take it to a professional leather or shoe repair shop.
Before You Go…
As we mentioned earlier, a key question we get asked is whether messenger bags hurt your back. For most people the answer is no if you don't overpack them, but read on – our next article covers this in a lot more detail!
Do Messenger Bags Hurt Your Back?
Related Articles
All product names, logos, brands, and trademarks are the property of their respective owners