With the hectic nature of today's world, taking a day hike can be a great way to get outdoors, get some exercise, enjoy nature, and relax and unwind.  One of the most important things to consider when hiking is what pack you take with you.
It is important to be prepared and bring the proper gear to ensure your excursion does not turn into a major bummer.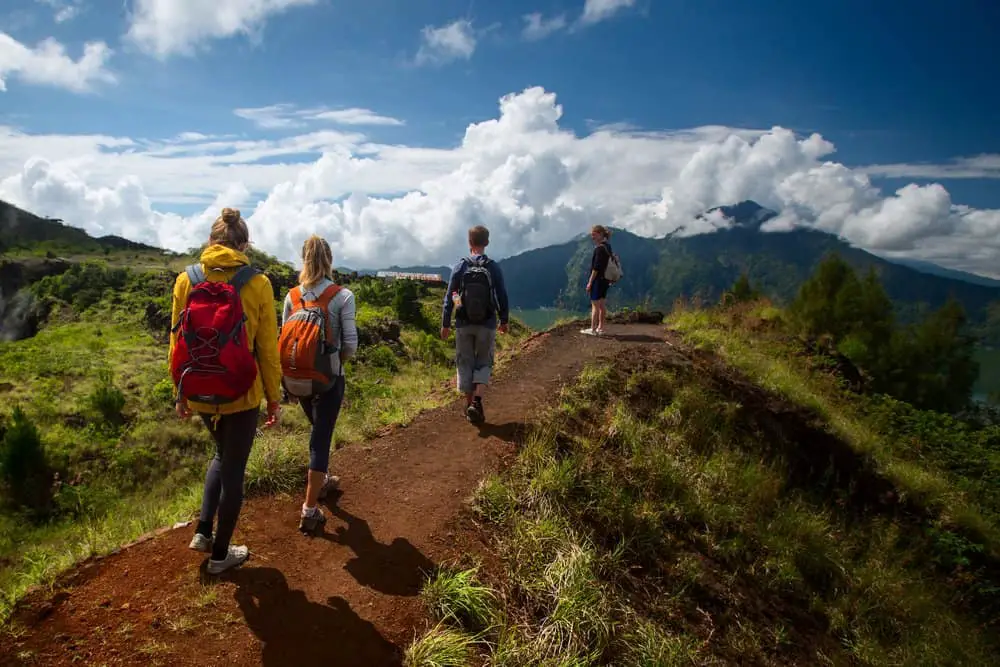 ---
Essential Items to Carry in Your Daypack
Before we dive into the best hiking backpacks for day trips, let's look at a few essentials that are needed for every hike.  In no particular order, make sure you have the following items for a successful excursion.
A Good Hiking Backpack
Water and Food for 2 days
First Aid Kit
Quality Compass
Lighter/Matches/Firestarter
Prescription Medication
Sunscreen
Insect Repellant
Knife or Multitool
Cellphone
Charging Pack
---
Best Backpack for Day Hikes – The List
These packs can help you ensure that you have everything you need to enjoy your hike completely (and safely).
Osprey Talon 22 – Our Top Choice
This pack features dual-zippered panel access to the main compartment, a large stretch-mesh front panel pocket, a top panel zippered stash pocket, two side stretch-mesh pockets, a stretch-mesh harness stash pocket, and two zippered hip belt pockets to ensure you have everything you need in easy reach. 
There is an external hydration sleeve, but the hydration reservoir is sold separately.  The Stow-On-The-Go trekking pole attachment and ice-tool loop with bungee tie-offs ensure that you have all of the tools you need for the tougher terrain, and a place to store them when not in use. 
This pack is truly comfortable to carry as well.  The BioStretch harness and wrap-around hip belt provide a stable carry, the AirScape back panel provides ventilation, while the lower InsideOut compression/carry straps ensure that your load is safe and secure.
Why we love the Osprey Talon 22:
It's the perfect weight. Not necessarily an "ultra-light", but it's not heavy by any means.  It feels sturdy enough to be packed down, but not weigh you down.
Tons of extra pockets, including super handy hip pockets that are perfectly located.
You can pack it full and still carry a 30L hydration pack.
Things we wish were better:
The waist belt isn't for someone who's waist is more than 38-40 inches. Once you get upwards of a 40-inch waist, the hip belt starts getting too tight.
The pack is awesome, but it's not really meant for overnight or longer hikes. It's definitely a true day hike backpack.
---
REI Co-op Flash 22 Pack
This trail pack has an ultralight design that is perfect for a lightweight load and a simple day hike.  The breathable, stretch-mesh shoulder straps have fold-over padding that softens contact with your neck and shoulders, while the mesh back is soft, breathable, and lightly padded for comfort. 
The back-panel pad can be removed and used as a sit pad for when you need to take a break.  The waist belt and sternum strap provide extra support, but can also be detached to save weight.  The drawcord closure is covered by a lid with zippered pocket and there is one additional zippered pocket on the front.  There is also an internal sleeve to hold a hydration reservoir which is sold separately; the sleeve does include a port to route the sip tube over either shoulder. 
The stash side pockets securely hold water bottles and other trail essentials, while the tool loops on the top and bottom of the pack can be tucked away when not needed.  There are also side exterior loops which can be used to lash on extra gear or add compression as needed.
---
Deuter Unisex Speed Lite 20
This pack features a padded back panel with breathable 3D air-mesh lining for comfort and a tensioned Delrin® U-frame for flexible, lightweight support.  The S-shaped shoulder harness has ergonomically shaped padding with soft edges and airy 3D mesh lining to provide a comfortable carry with plenty of air circulation. 
The hip belt is removable for additional weight savings as needed, and joining compression straps can be fastened across the front of the pack to stabilize your load.  The height- and width-adjustable chest strap customizes the fit while providing added security. 
Elastic mesh side pockets keep gear and snacks accessible without removing the pack, while the side-access front compartment with mesh sides holds gloves, layers, etc.  It is hydration compatible, with a reflective attachment for your drinking tube (reservoir sold separately). 
There are accessory loops for gear or helmet holder attachment, and an internal valuables pocket.  The reinforced base aids in carrying bulky loads and helps protect your pack when you set it down, and the 3M reflectors help keep you visible in low light.
---
Osprey Stratus 24
The Stratos 24 is just a little bigger than the Talon 22, so you can carry a bit more gear.  The padded back panel transitions smoothly into the hip belt for weight transfer that provides increased stability and comfort. 
The pack offers dual zippered panel access to main compartment, as well as several smaller pockets for organization: a front panel vertical zip pocket; a front panel zip stash pocket; a front panel storage pocket; a large top panel zip stash pocket; two side stretch-mesh pockets; and two zip hip belt pockets. 
These smaller pockets mean that things like your water bottles, snacks, and other necessities are in easy reach without removing the pack.  The ice-tool loop with bungee tie-off and integrated rain cover ensure you are ready for any conditions.  There is also an internal hydration reservoir sleeve, but the hydration reservoir sold separately
---
HMG DAYBREAK ULTRALIGHT DAYPACK
The Hyperlite Mountain Gear Daybreak pack is a tough, weather-resistant day pack designed to carry everything you may need for an out-and-back hike.  The large external front pocket is great for hydration, snacks, rain jacket, etc. and features a clamshell design and long water resistant YKK zipper for wide pack access. 
The front shock cord system allows you to lash additional gear or compress the pack.  There is an internal zippered pocket to hold phones, keys, money, etc., and an internal sleeve pocket to help compartmentalize your gear that also fits a 13" laptop.  The two angled side water bottle pockets are easy to reach while wearing the pack. 
The pack is easy and comfortable to carry as well, with foam-padded shoulder straps, a padded back panel, an adjustable sternum strap with whistle, and a lightly padded 1.5" hip belt with that can be stored when it's not in use.
---
CamelBak Fourteener 26L Backpack
Keep hydrated through the adventure with this unique daypack.  The Crux reservoir makes for easy and fast refills, while the separate hydration compartment holds reservoir flat and the magnetic strap keeps the hydration tube secure and accessible. 
Aside from the hydration, this pack offers comfort and support from the back panel which features articulated pods for maximum ventilation, the load-bearing hip belt with open mesh for breathability, and the load lifters and compression straps that help distribute the load evenly. 
There are multiple organization pockets in addition to the main compartment, and a trekking pole attachment and tool loop for extra storage.
---
Gossamer Gear Kumo 36 Superlight Backpack
This is a tough frameless pack designed for carrying less than 25 pounds.  There is a 28-liter main compartment and additional pockets along the sides, hip belt, and front.  The rear mesh pocket is great for drying gear. 
The ergonomic shoulder straps, sternum strap, and removable hip belt ensure a secure and comfortable carry.  There is an internal hydration sleeve and two external reachable water bottle pockets to make it easy to drink on the go.  The D-rings allow you to attach additional gear, and the lashing loop doubles as an ice axe holder.
---
Kelty Redwing
This pack is made from durable polyester fabric with an HDPE frame sheet, a breathable hex mesh back panel and shoulder straps, and a hide-away air mesh waist belt for added comfort. 
With a full-access U-zipper the main compartment is both a top-loader and a panel loader, adding convenience to any adventure.  The multi-purpose padded sleeve will protect sensitive items and also doubles as a hydration sleeve. 
The pack also features ice axe and trekking pole loops, a front stash pocket with a metal hook closure, and dual side pockets for added storage.  Water bottle pockets and zippered side pockets keep everything you need organized and easy to get at.
---
Best Backpack For Day Hikes – Our Verdict
Hopefully this list will help you find the right hiking backpack for your next great adventure!
All the above are all great options, but there can only be one winner. After reviewing each of the day packs, we think the best backpack for day hikes is the Osprey Talon 22:
Sale
Osprey Talon 22
Not necessarily an "ultra-light", but it's not heavy by any means. 
It feels sturdy enough to be packed down, but not weigh you down
Tons of extra pockets, including super handy hip pockets that are perfectly located
Our Top Choice for the best combination of utility, comfort and style.
Great Tips for Your Next Day Hike
Be a Planner
Let's face it, hiking is a fantastic option for exercise.  It's also just a fun way to spend time with family and friends.  That said, before you go for a hike, you need to make sure you're ready.  Don't skimp on this – a quick look at a map and or description just isn't enough planning.  Even if you think it's an "easy" hike, don't take it for granted.  The rest of the tips below will help you have a fun, and most important, safe outing.
Shoes Are Important
Hands down, the item that will have the absolute biggest impact on your trip is your choice of shoes.  Quality shoes are a must must must have for any enjoyable hike.  Obviously, there is a range of boots you can go with (in terms of price), but make sure you're picking out a quality product.  Again, you don't want to get halfway through your trek and your feet start hurting.  You also want to make sure they're waterproofed so that the occasional stream doesn't ruin your day.
Socks Too
25 years ago, you pretty much wore baseball or "tube" socks or you went sockless.  We DO NOT recommend going sockless.  Even if you're used to it, going without socks on a long hike can end in disaster.  Socks help to wick away moisture and keep your feet dry which is the only way to hike!  Honestly, there are "specialty" socks for every style of hike out there, but we don't think it's really necessary – just get a good quality pair and make sure you wear them.
Three's not a crowd
Be smart, hike with friends.  Don't get me wrong, hiking by yourself can be invigorating, rewarding and sometime spiritual.  But the reality is – it can also be dangerous.  Nobody plans on getting hurt or sick, but stuff happens.  Going in groups of 3 or more, ensures that if something does happen you'll have numbers on your side.
Don't Get Lost
Please please please don't get lost.  Every year, hikers say "it won't be me, I know what I'm doing".  And every year, hikers get lost for hours (even days).  And that's if you're lucky.  Everyone in your crew should have a map and a good compass – did we mention they should actually know how use both?
Don't Get Ahead of Yourself – or Your Group
Know the skill level of the hikers you're traveling with.  Basically, don't attempt to go up or down a trail that everyone in the group can't handle.  It's no fun turning around in the middle of a trek because folks in your group are in over their head.  It's more about enjoyment than trying to prove something.
You Still Have To Eat
Hiking is hard work.  Your body needs to fuel properly to handle a long trip (and enjoy it).  It's funny, a lot of people want to take some sort of trail mix with them (duh, it's called "Trail Mix").  This is actually not the best option.  Foods that are high in fats are more difficult to digest while your body is going through strenuous exercise.  Instead, bring some good protein bars or even an old classic like PB&J.
Nighttime is for Sleeping
Don't get stuck out in the woods or mountains after dark.  There are actually several reasons for this and none of them usually end well for the hiker.  First, it's easy to lose your way when it's dark.  Think about it – often time a trail looks the same during the day.  Imagine how it looks in the dark!
Second, animals start to move around at dusk and during the night.  Bobcats, coyotes and bears are animals you'd rather not run into on a hike.  Stick to trekking during the day to avoid them.
Just be practical, know what time the sun goes down and make plans to be back before that.  Remember, hiking isn't synonymous with camping – they are two different animals (no pun intended).
Get Moving
Hiking is FANTASTIC exercise. That said, you want to make sure you are in some sort of hiking shape before you head out to hike the Grand Canyon or Arizona wilderness. The best way to prepare for a long hike?  Go on a hike.  Start smaller and shorter distances and work your way up.  Your body will thank you for it.
Prepare for Storms
Thunderstorms can come up on your quickly.  If you're out on a hike and a storm rolls in -take shelter quickly.  Lightning and flooding are your main enemies here, so be aware of your surrounding.  You'll want to avoid open fields, high elevations and standing right next to trees. You'll also want to avoid super low lying areas and creeks because of flash flooding.
Slow and Steady Still Wins
Hiking and trail running aren't the same thing.  Yeah, you do them both on the trails, but one you are doing for speed and exercise, while the other is for exercise, accomplishment and overall enjoyment.
Before you start any hike, take the time to stretch and warm up a bit.  Stretch your achilles, calf muscles and quads.  You're not getting ready to run a race, but you're also not sitting behind a desk.  Treat your body well and it will thank you.
Treat the first ten to fifteen minutes of your trip as warm-up.  Listen to your body.  A good rule of thumb, is that if you can't speak plainly while hiking, you're probably overdoing it.
—
Now you have a list of the best backpack for day hikes and several tips to help you enjoy it.  Pack well, get moving and enjoy your next trek out into the wilderness.  Be safe and have fun, and do make sure you clean out that backpack not just throw it down and forget …!
All product names, logos, brands, and trademarks are the property of their respective owners
Last update on 2023-11-17 / Affiliate links / Images from Amazon Product Advertising API