What are backpacks made of anyway? In this post we'll run through pretty much all the different materials they can be made from, to help make sure you pick the right material for your next backpack.
There are a few things to consider if you are in the market for a new backpack. First, you need a backpack that will do the job it is supposed to do – there are many different types!
For example, if you use the backpack as a bookbag for grad school or to take your laptop and other items to and from work, then style and utility pockets might be the key things.
On the other hand, if the backpack is for hiking and camping, there are several other considerations that become more important, including its materials.
This article will help you to choose the best type of backpack (material-wise) for your needs. So, if you wondering what are backpacks made of, let's get started!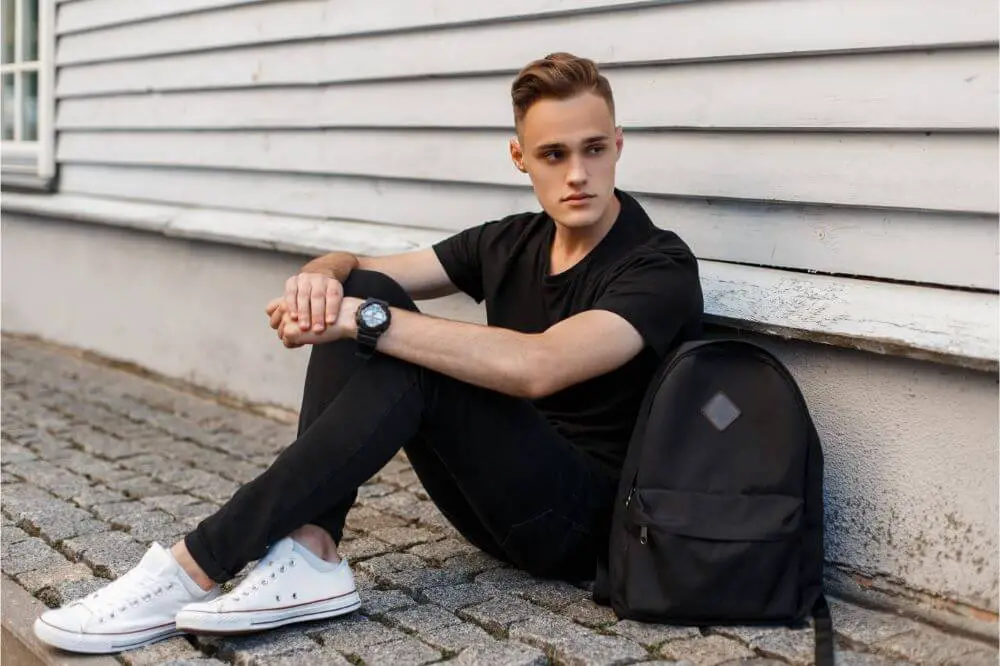 Backpack Materials
If you are looking for something for work or school, you can choose a backpack made from canvas or leather, and those can be very stylish.
But if you want to use the backpack for hiking or camping, you will want one made from one of the following materials.
Nylon
One of the most popular materials for backpacks is nylon, made from various plastics or polyamides. These plastics can be melted down and made into woven fibers to create nylon fabric.
So, why is this material so popular for backpacks? There are actually three reasons:
Strength
Durability
Abrasion resistance
One of the great things about nylon is that it is resistant to most insects and mold.
Polyester
Polyester is a fabric many wish would go away forever, at least when it comes to clothing. But, for backpacks, polyester is one of the most popular fabrics. This is because it is highly durable, wear-resistant, and doesn't react to many chemicals.
It's also lightweight and dries pretty quickly.
But …. there's a reason that polyester has such a bad reputation as a clothing material. It just doesn't "breathe" the way natural fibers do, making you sweat – badly.
Now this isn't necessarily a showstopper for a backpack – but the key is to look at how the back of the pack (the part that actually makes contact with your back) is constructed.
If it has a mesh structure designed to help airflow – this should be fine. If not – beware!
Polypropylene
While polypropylene isn't a common backpack material, it is still one that deserves mention.
It's a plastic that can be melted down and remolded, even though it does have a high melting point. In addition, this material is quite water resistant and resistant to many chemicals. It is also pretty difficult to tear this fabric, and it doesn't wear out quickly.
Even though all of these features sound great, polypropylene is mostly only used for specific applications. In some cases though, it's used for at least some of the material of some of the less expensive backpacks.
Canvas
We mentioned earlier that canvas is often used in school bags, but it is popular for hikers too. It's often seen as more fashionable or stylish than other materials and used by high-end brands such as Fjallraven and Hershel.
At one time, canvas was seen as a very heavy material. Today, it is made from lightweight fibers. However, the material is still durable, and a bag made from canvas is perfect for school, work, and everyday use.
Understanding Branded Materials
Shopping for a good backpack can be really confusing when you see all the different material names used to make them.
But .. most of these newer names are just brand names, and they are basically the same materials we have already covered.
So let's eliminate some of the confusion:
Ripstop
Ripstop sounds like a pretty amazing material, right? Great branding.
It sounds impossible to rip. However, when you come right down to it, the word "Ripstop" simply means that the fibers are interwoven with the regular weave to create a thicker and stronger fiber.
This fabric often isn't used for the entire backpack but is placed in certain areas where the wear would be strongest.
Spending much money on a backpack made with Ripstop isn't necessary. But it's true that bags made with this material are more wear-resistant and won't tear as easily as bags made from other materials.
Cordura
Cordura is a brand all on its own, and there are Cordura materials used for a wide variety of applications, including backpacks. This fabric began with one 1000D nylon thread created with an air-jet process.
This process created a durable nylon thread used in Jansport backpacks in the 1970s. If you plan on investing in a high-quality backpack, look for the name Cordura in the material listing.
Seeing how it is trusted by the military worldwide, it makes sense it would be ideal for your hiking and camping needs!
Kodra Nylon
When Cordura came around, other companies needed to get on board with their own durable materials, which led to the development of Kodra. This material dates back to the 1950s, coming from Kolon International, a manufacturer based in Korea.
Today, you will find that many Asian manufacturers use this material, unlike Cordura, which is only licensed to a few manufacturers. Kodra is considered pretty much as tough and durable as Cordura and is just as abrasion-resistant.
Ballistic Nylon
This nylon from DuPont was created during World War II.
Ballistic nylon was initially designed to help protect soldiers from bullets, but it wasn't nearly as successful as hoped. Eventually, it was replaced by Kevlar and other bulletproof materials.
But ballistic nylon became known as a durable material. It is a nylon fabric that is a very intricate weave that allows it to be firmer and wear-resistant, much more than traditional nylon.
The weave is 2X2, with two threads woven in each direction instead of a single thread. There are also many other variations. A backpack made from this material will last a very long time.
The obvious brand to mention here is Tumi, who have long been using black-on-black ballistic nylon in bags, wallets, and of course – backpacks.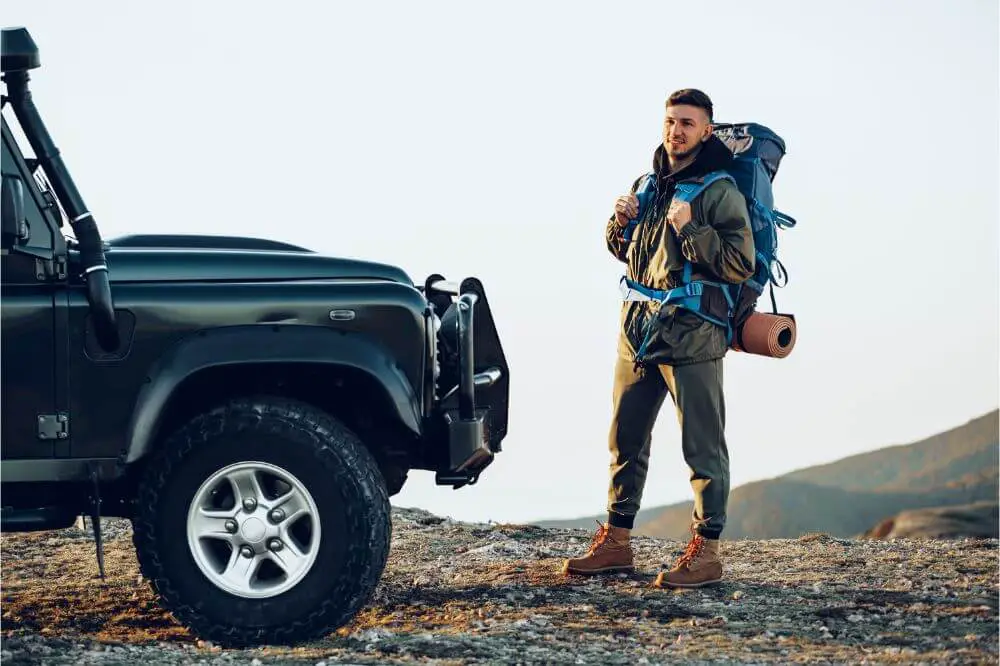 Waterproofing Materials for Backpacks
Creating a completely waterproof backpack is almost impossible because of stitching, zippers, openings, etc., But there are ways to keep backpacks dry with special layers and/or coatings. Let's look at some of the most popular waterproofing materials for backpacks.
Durable Water Repellent (DWR)
DWR is a coating that manufacturers put on the outside of fabrics to help make them more waterproof. There is one problem with DWR—it will slowly deteriorate over time. This deterioration is caused by dirt, sun, abrasion, etc.
Some manufacturers will offer the option to re-apply the coating at a later date if you want to keep the backpack going – but most will charge extra for this.
PU Coating
A Polyurethane or PU coating will also help waterproof backpack material. Often, you will see PU in the manufacturer's specs, following the name of the material itself.
Laminate or PVC Coating
PVC (Polyvinyl Chloride) is occasionally used to waterproof backpacks. You may recognize this term as it is often used with home drainpipes! In smaller amounts, it can be used for waterproofing various materials.
TPU-Film Laminate
One of the most common interiors for waterproof backpacks is TPU or Thermoplastic Polyurethane Film. It can be very waterproof depending on how it is used and the quality of this layer. It is even more waterproof when DWR is added to the outside.
Before You Go…
OK, that should have given you a taste of the wide range of materials used in different backpacks. But that's just the beginning. There are lots of backpacks styles to consider – check out our next article for more!
Related Articles:
All product names, logos, brands, and trademarks are the property of their respective owners