Some people think cufflinks are a hassle, but these accessories can enhance any guy's outfit and style.
If you've never used them, you're probably wondering how to wear cufflinks. But fret not; we'll provide tips on this and help you choose the best ones that'd fit your needs.
How To Wear Cufflinks
First some terminology. The three parts of a cufflink are:
The Face – that's the cool, stylish part you see
The Clasp, or Backing – that's the other end. It goes on the inside of the wrist and stops the cufflink coming out
The Post – that's the piece that goes through the button holes. Sometimes this is a chain or cord, but the principle is the same. We will assume a post here, and they are the easiest to fit.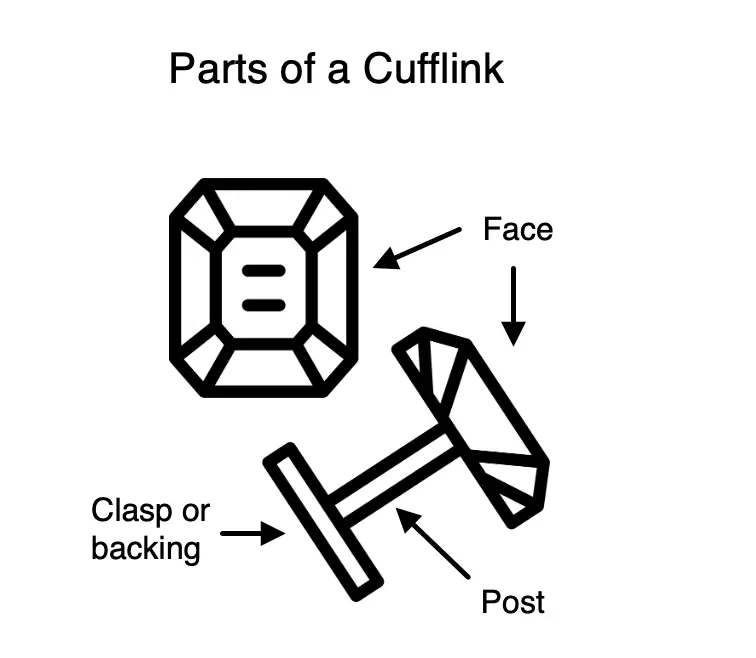 Putting cufflinks on regular shirts with premade holes will take you less than a minute for single cuffs or a bit more if you plan to wear a double cuff. However, if you have a buttoned cuff shirt, you need some DIY skills to remodel it so it can host cufflinks. 
1. Wearing Cufflinks on Single Cuffs
Cuffs on regular shirts are a single layer of material with buttonholes where cufflinks go.
You can follow these steps to insert them:
Insert a cufflink through the hole on one side. The cufflink face should always be on the outside of the wrist
Brace the head of the cufflink with your forefinger, holding the material in place with your thumb
With your free hand, put the sleeve's other hole onto the cufflink post – that is, place the hole over the post, don't try to stab the buttonhole
Fix the cufflink depending on the toggle shape and closing mechanism type (more on this later, but typically the clasp simply rotates 90 degrees to lock into place)
And that's it, you're rocking those cufflinks!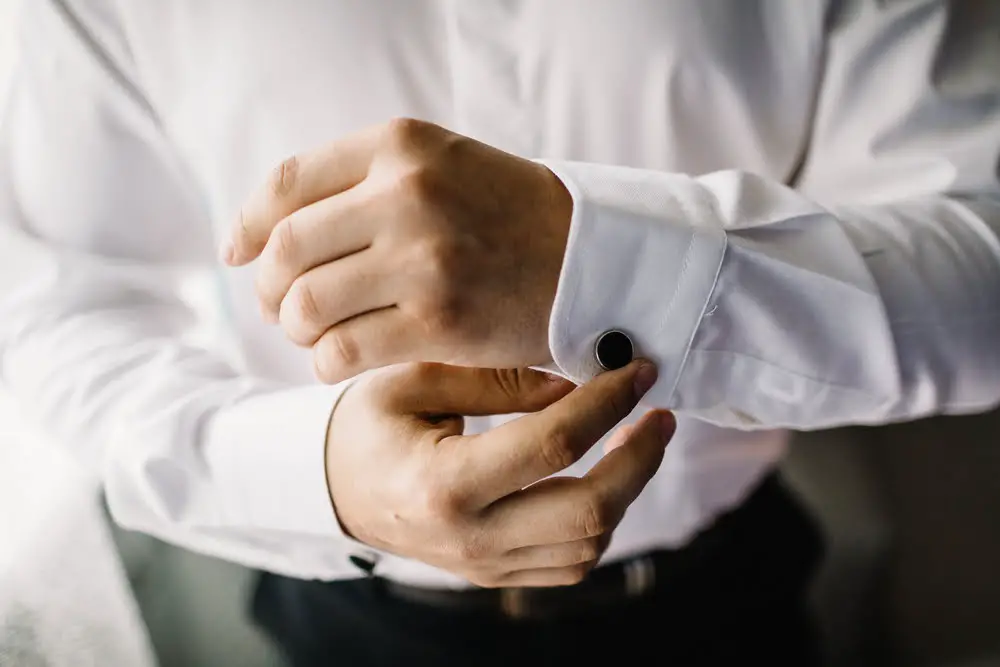 2. Wearing Cufflinks on Double Cuffs
Wearing your cufflinks on a double or French cuff is perfect for more formal occasions. Check these steps to enhance your look:
Make a double-layer cuff, folding the material back away from your wrist with a crisp, defined edge
Line the edges so that buttonholes come to the outer side of your wrist.
Insert the cufflink's post through all four holes
Click or pinch the closing mechanism to secure the cufflinks.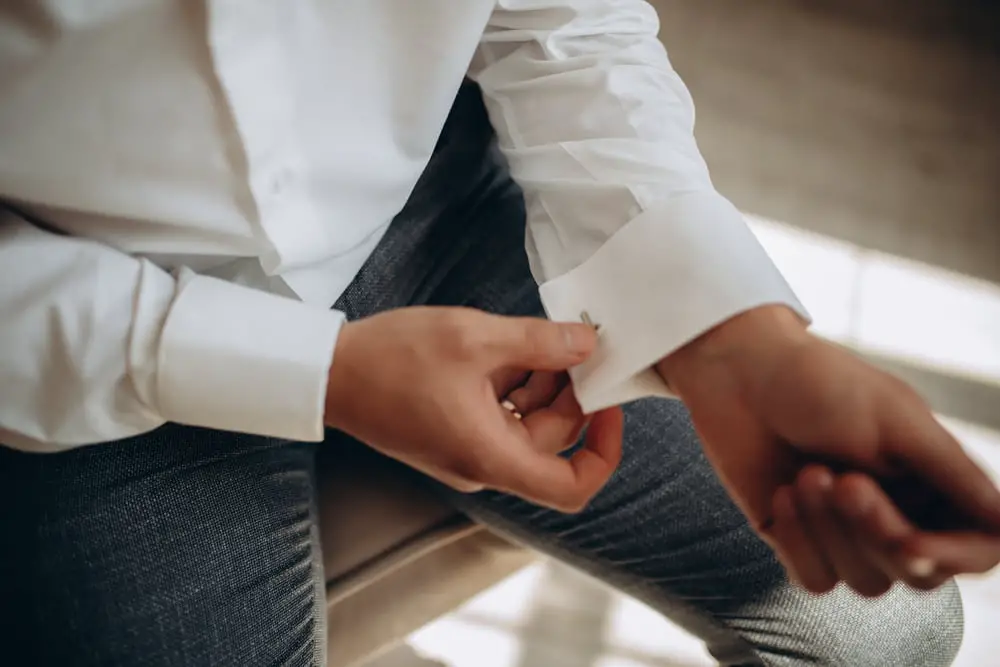 3. Expert Level: Wearing Cufflinks on Buttoned Cuffs
You can wear cufflinks on almost any shirt by making DIY buttonholes:
Use small scissors or a razor blade to cut the thread that holds buttons.
Line up the cuff's open ends. 
For a more elegant look, choose the shirt with cuffs wide enough to fold once, then put the ends together. You should have four layers of material.
Mark the place for a new hole through the existing one. Do that on the entire buttonhole length. For double cuffs, mark all four layers.
Cut the marked line(s).
Use a needle or sewing machine to make a backstitch over the edges of new holes.
Once done, insert cufflinks as described for single or double cuff shirts.
If you plan to put a jacket or coat on, ensure the shirt's cuffs are longer than the jacket's sleeves. The cufflinks should be visible, even when your arm is down. 
How to Choose Cufflinks
Finding the right cufflinks seems challenging, as there are many options. So, you have to consider several factors before choosing your accessories:
Material
The material used to make cufflinks affects their price and the occasions on which you can wear them.
Metals: Manufacturers use stainless steel, copper, or different alloys to make durable and affordable cufflinks. You can opt for these if you need low-maintenance accessories for all occasions.
Sterling silver: Silver cufflinks are another budget-friendly and timeless choice. But, unlike metal ones, these call for more elegant occasions and outfits with jackets and tuxedos. 
Gold: Gold cufflinks add elegance, but you'll need deep pockets for a pair of these. You can even have monogrammed gold cufflinks as a matter of prestige. But if you still want a touch of high-class without breaking the bank, gold-plated cufflinks are a viable choice.
Platinum: These cufflinks will help you make a statement anywhere. They come with a high price tag, but as platinum doesn't tarnish, these accessories will look as good as new for many years.
Natural materials: If you're prone to fashion experiments, wood and leather cufflinks will be your choice. Also, they're affordable and highly customizable.
Fabric: Synthetic or silk knot-shaped cufflinks are budget-friendly and stylish accessories for everyday outfits. But they're not very durable.
These materials are the basic ones, but cufflink makers use decorative elements made of fabric, glass, enamel, and even stones to enhance these accessories.
The most expensive cufflinks are white-gold ones with diamonds on their fronts!
Closing Mechanism
The cufflink backing can feature different closing mechanisms. So, let's see the types.
Bullet back: A tiny bullet-shaped piece rotating 90 degrees would look great on both single and double cuffs.
Fixed back: This type is great for work outfits because of its clean look and easy insertion.
Whale tail back: Besides keeping your sleeves in place all the time, cufflinks with a closing mechanism that resembles a whale tail will attract attention.
Ball back: These tiny balls at the cufflink ends hold cuffs in place and look great on casual outfits.
Chain: A chain keeps cufflinks in a loose fit, so it shouldn't be your go-to option if you're styling a workplace outfit.
Locking mechanism: Cufflinks with a dual-locking system provide the most secure closure, so you can wear them anywhere.
Occasion
You can wear cufflinks and show your excellent fashion sense every day. But as elegant as they look, you should know how to match these accessories with outfits for special occasions.
Formal Settings
You're probably just another guy in a tuxedo, or in a suit and tie at that business meeting. But add a pair of eye-catching cufflinks, and they can subtly take your look to a whole new level.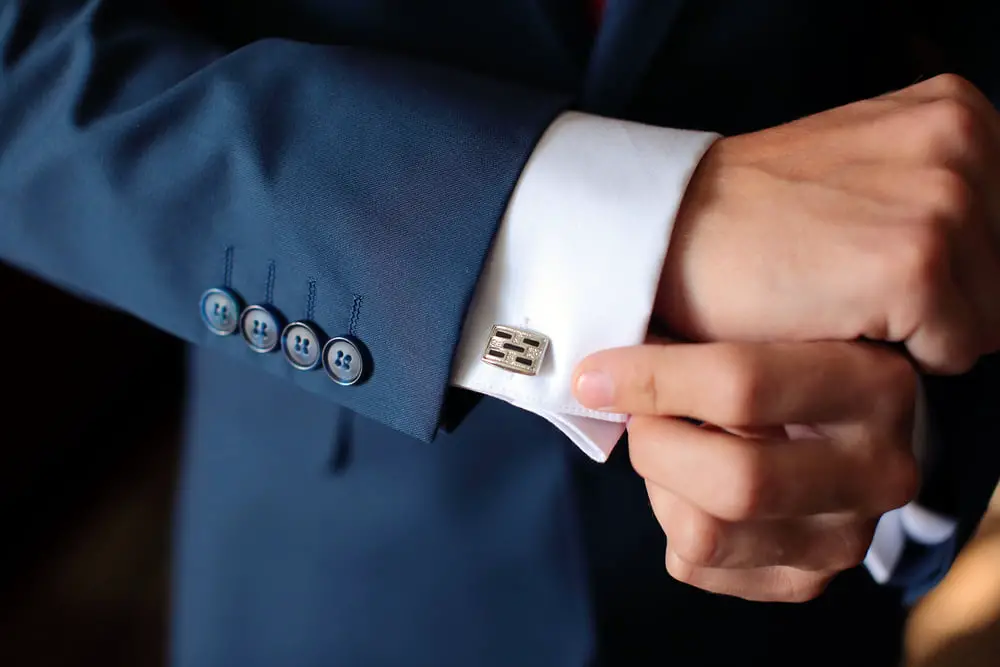 For these occasions, you don't need to be wearing silver or gold, but you do need to pick cufflinks that show professionalism with style. So leave the Ace of Spades cufflinks for another time.
Unless the formal setting is a World Series Poker game of course …
Celebrations
Weddings, engagements, and anniversaries require elegant outfits that you can complete with sterling silver or platinum cufflinks. Opt for simple shapes and neutral colors if you want to play safe or are wearing cufflinks for the first time.
If you're a groom, now's your chance to wear your dad's heirloom cufflinks. Or you can treat yourself with platinum or gold cufflinks to make you shine on your big day. But make sure they match other accessories you wear. 
Casual Gatherings
Single cuff shirts with stainless steel or copper cufflinks will do the trick for your friend's birthday or a date. Wooden and fabric cufflinks on a shirt topped with knitwear are another combination to try.
And you don't have to wear classic, formal styles here, so pick something that speaks to you – there are cufflinks in every shape and form you could imagine.
Outfit Color
Pairing solid color shirts with cufflinks of a similar hue is a failsafe option. So be brave and choose these decorative items in bolder or contrasting colors or some unusual designs.
If you prefer patterned shirts, pair them with cufflinks of one color from your outfit, or avoid any mismatch risk by wearing ones with neutral shades.
Wrap Up
Knowing how to wear cufflinks gives you a little edge in terms of sophistication.
And you don't have to follow strict rules to make a statement with these accessories. You can still be creative, but make sure to choose cufflinks to match your style, clothing, and occasions.
Before You Go….
Cufflinks are a great men's accessory, but they're hardly the only ones. Be sure to check out our next article – all about men's accessories and how to get your style spot on!
Check Out Our Guide to Getting Men's Accessories Right!
Related Articles:
All product names, logos, brands, and trademarks are the property of their respective owners