Guys don't wear their father's jeans, so why should they carry their dad's wallet?
Try sticking a bulky bifold wallet into your skinny jeans or pants that are a bit more "slim fitting"… it just won't work (and its bad for your back too).
We like our jeans to fit well and we need our wallets to make as tiny of a footprint as possible. Read on for our roundup of eight great options for the title of the "best wallet for skinny jeans!"
Over the last ten years or so wallets have gotten slimmer and smaller. They're now designed to be carried in the front pocket (either jeans or shirt) and the contents are minimal.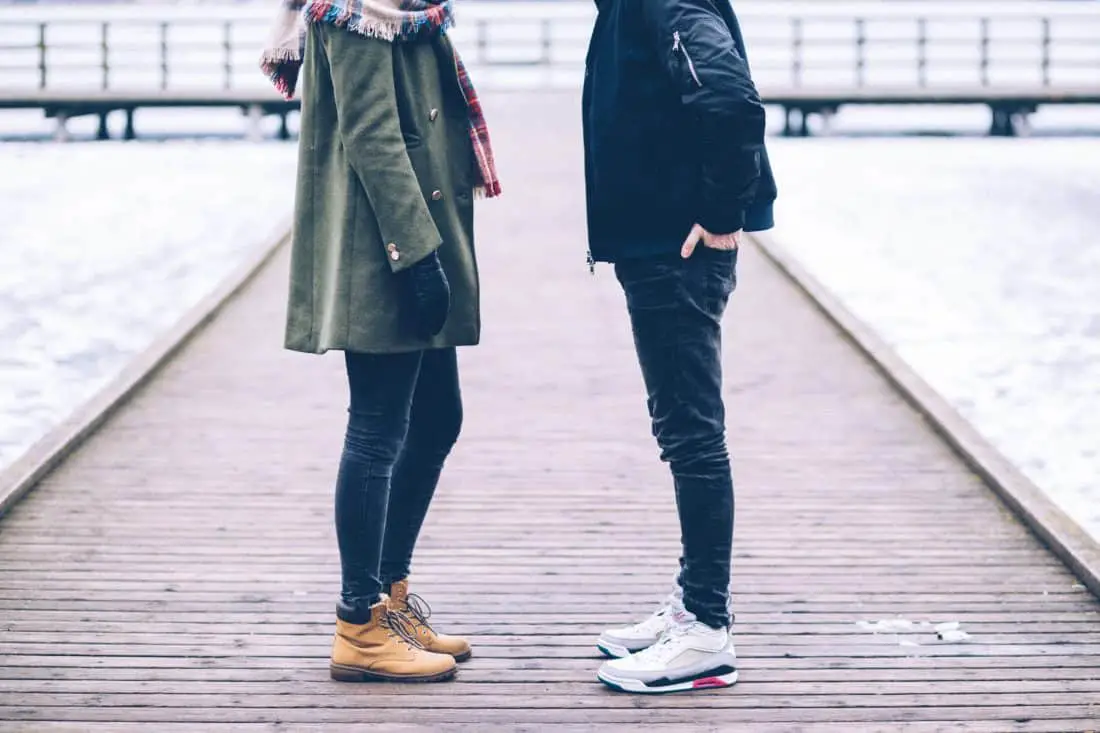 Take a good look at what's in your wallet.
Do you really need to carry your gym membership card, grocery membership card, library card, smoothie rewards card, movie discount card, book store card, seven credit cards, debit card, drivers license and more?? 
The answer is no! Keep them on your phone, in the car, or in a drawer at home, and grab what you need when you need it.
Best Wallet for Skinny Jeans – the List
We've been doing this since 2013 and we decided it was time to compile a list of our favorite "front pocket carry" wallets. These wallets are perfect for someone who wears skinny jeans (or any pants that fit "well") and is done with carrying an overstuffed wallet.  Take a look below!
---
The Ridge Wallet
This is the wallet that started the whole slim metal wallet revolution. 
I have one of these myself and I'll admit, it took about a week or so to get used to it (because it's so different from a traditional wallet), but once it clicked, it clicked! 
Ridge has mastered the minimalist wallet movement. 
Their design is simple — keep your cards as secure as possible, sandwiched between two machined end-plates which are held together with high-quality elastic (which is also replaceable).  They finish off the end-plates with Aluminum, Titanium, Carbon Fiber (or even Polycarbonate). 
Basically, there's a Ridge out there for every personality.  There are two different styles:  Cash Strap and Money Clip.  If you carry more than a few bills (2-3), then get the Money Clip. 
My preference? The Burnt Titanium Money Clip.
UPDATE: After a few months, I actually ended up switching to the cash strap.
---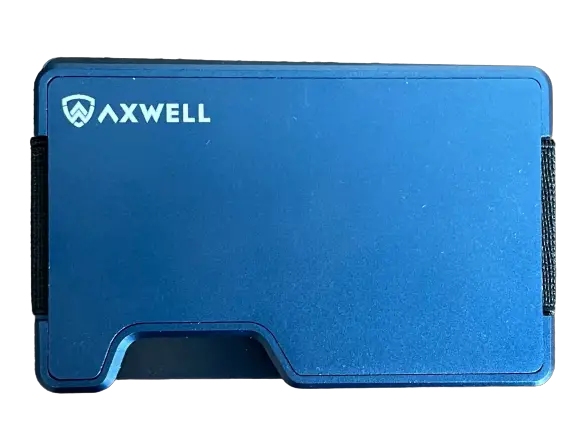 Now this little beauty from Axwell Wallets may just be the one that topples the Ridge from its perch!
To make this a fair comparison, this is the navy blue aluminum version from Axwell. Unlike the Ridge, Axwell wallets come with both a money clip and cash strap as part of the package. The outer plates clamp tightly to the frame with strong magnets, making them simple to remove and replace the strap with the clip, or vice-versa. Much easier than the Ridge's "get your screwdriver out" approach.
They are extremely solidly made, beautiful in design, have a lifetime warranty on everything (including the elastic), and can also hold up to 12 cards. We'll be keeping a close eye on this range.
Check out our full review of Axwell Wallets here. Don't miss that ridiculously gorgeous copper version….
Pros: Great design, well made, easy to switch between cash strap and money clip
Cons: As with the ridge, this design takes a few days to get used to if you're used to regular wallets
UPDATE: We scored a discount for WalletShoppe readers – enter THEWALLETSHOPPE at checkout for 10% off!
---
TGT Wallet 2.0 and Deluxe
Tight Wallets have been around since 2012.  They were one of the original slim wallets to be featured on Kickstarter.  Their first design was a simple elastic band that founder Jack Sutter came up with to replace the rubber band he was currently using.  He started experimenting with different colors and it really took off! 
Jack brought it to Kickstarter with a new redesign and the rest is history.  At the time, it was the largest Kickstarter campaigns for a wallet ever – raising over 300k in 45 days.  They first came out with the TGT 2.0, which added premium, vegetable-tanned, leather to the elastic band to give the wallet a refined look.  Inside the leather was a small pocket for cash, coins, etc.
I used it for a while and didn't really use the pocket. Like ever.  It was really small and awkward to get to.  Once you put something in it, you couldn't get it out easily.  I still loved the wallet, but felt like the pocket wasn't functional.  Little did I know that Jack and his team were working on a revamped version of the 2.0 called The Deluxe.  They moved the pocket to the OUTSIDE!  Genius! In all seriousness, it was a good move and it made the pocket functional. 
Cash, receipts, a key – all easy to access now that the pocket is on the outside.  The reason this wallet is on this particular list – it's SO SLIM!  The TGT is basically the width of our credit cards.  If you carry 8 cards, it feels like 8 cards.  10 feels like 10.  If you carry 10 cards in a traditional wallet, you'll need to go see a chiropractor.  Not with the TGT, it fits effortlessly in your front pocket and you hardly notice it. 
Not unlike the Ridge, it took about a week to get used to it.  Not traditional, but you'll love it!
---
Bellroy Micro Sleeve
Bellroy is an OG when it comes to wallet world.  They have "Pioneered" the way for other brands, but Bellroy continues to innovate to stay at the top.  First and foremost, they're quality products.  You can rest assured that a purchase from Bellroy will stand the test of time whichever wallet or bag you choose. 
Now – back to business.  The Micro Sleeve.  This is their smallest wallet, but it packs a punch. It's for the true minimalist.  You can realistically fit 6 cards and a couple of bills in the wallet, but not much more. 
Here's the deal with leather – it only stretches one way.  i.e., you can cram 10 cards into the Micro Sleeve, but do you want to?  Eventually, it's going to stretch out so much that you are missing the point all together – and once you stretch, it's hard (though not impossible) to bring them back.  Other than quality, our favorite thing about Bellroy is its ability to combine colors.  They can make a Gray and a Brown go together like nobody's business!
---
Flowfold Minimalist Wallet
Measuring 4.2" x 2.75", this baby weighs an amazing 0.4 ounces.  In the wallet world, it's as close to being weightless as it comes. This wallet is no lightweight however, when it comes to form and function.
Flowfold is a really interesting company based out of Maine.  Their main goal?  Innovation – they take everyday (or not so everyday) products and turn in them into wallets, bags and other EDC items.
This particular wallet, "The Minimalist"(appropriately named), is their smallest and is the lightest of the bunch.  It's made from actual racing sails!  How cool is that?  They take racing boat sails and turn them into something you can carry your money around in. It absolutely exudes front pocket carry!
---
The Rogue Wallet
Any best wallet list that features "front pocket" wallets would be incomplete without mentioning Rogue.  They were one of the first to embrace front-pocket carry.  They're another little shop based out of Maine.  (What's up with these cool wallet companies coming out Maine?)  Anyway, their claim to fame is the patented design which is made to fit perfectly into the front pocket of your pants (or jeans). 
As you can see from the images, the edges of the wallet are curved to fit snugly next to your leg while remaining secure in your pocket.  Rogue is more of a full feature wallet, meaning you can carry cash, cards, etc… but it remains slim in profile.  It's a little bigger than we originally thought, but it works and fits quite well.  Another thing we really like about this company is their choice of quality leathers and other materials – from Bison Leather to Ballistic Nylon, Rogue has nailed it!
---
Port Wallets Vintage (Tall)
What we really like about this wallet is its simplicity.  The front looks like the back looks like the front looks like the back – got it?  It's a bit taller than most of our slim wallets, but the design is perfect for carrying a few extra cards (up to 12) and still maintaining that thin profile.  It will still fit easily upfront. 
We also like that because of the height of the wallet, you are able to see each card for quick access.  With a few of the other wallets we've reviewed, it's a bit more difficult to get a specific card out quickly.  Don't get me wrong, you get used to it, but it's definitely easier with this guy.  It's made of genuine leather and almost has a distressed/aged look to it which we liked as well.  Overall, it's a good choice if you want to carry slim, but use 4-6 cards on a fairly regular basis.
---
Waskerd Astoria
We started working with Waskerd back in 2013 when we were thinking of actually selling wallets ourselves.  We both value quality and craftsmanship, which made Waskerd a great fit.  The Astoria isn't their smallest wallet (that would be The Strayer), but it's our favorite.  
We like it because it allows you to carry both cards and cash without compromising size.  We actually carried one for about 18 months and we haven't had a leather wallet that's "worn" better than this one.  Others have worn well, but not quite as well as Waskerd. 
Carry a wallet for 6 months and you'll know what you're working with.  Does the leather develop a nice patina?  Does it hold its shape?  Quality leather will do both of those things and that's exactly what Waskerd wallets do.  They're made of 100% full-grain leather (the top-rated) and age beautifully.
---
Bellroy Slim Sleeve
There's a reason that Bellroy appears twice on this list.  We mentioned before that they've paved the way in the slim wallet space – we'd be remiss if the Slim Sleeve didn't round out our list.  Made of 100% full-grain vegetable-tanned leather, the Slim Sleeve is a full-feature wallet that's been miniaturized. 
Quality stitching, perfected colors, and nifty little pull tab are what keeps this little guy in the top 10.  The pull tab is what allows this wallet to carry 6-8 cards easily.  We recommend picking the two cards you use the most (debit and credit; license and debit; or license and credit) and putting those two cards in the card pockets.  The rest?  Stuff them away in the pull tab pocket and enjoy how easy they are to access, but tucked away so as to not "get in the way" of everyday use.
---
Best Wallet for Skinny Jeans – Buyers Guide
Obviously, like all wallet decisions, your choice will come down to personal preference, but there are a couple of questions you can ask yourself to help narrow down the list.
Will you need to carry cash?
One option if you only need to carry cash now and then is to keep cash in a separate money clip. If you do want to carry cash with you regularly, then we would recommend the Waskerd Astoria.
Do you (really) use anymore than a couple of cards?
We doubt it, most people have a couple of heavy-use cards and carry the others for occasional access. In which case, we recommend the Bellroy Slim Sleeve with its nifty pop-up tab.
Thats a Wrap
Ok, we hope you enjoyed this quick round-up of our favorite wallets for front pocket carry. If this has only wetted your appetite however, we have a full review of minimalist wallets you can also check out.
---
FAQ
Why Do Guys Put Their Wallets in Their Back Pockets?
The main reason guys do this is straightforward – a wallet stuffed with cards, cash, notes, receipts, etc., is simply too large to comfortably fit in a front pocket. This is why we recommend slimming down your wallet!
Are Wallets Bad for Your Back?
Are Minimalist Wallets Worth it?
We are strongly in favor of the move toward minimalist wallets. With a minimalist wallet you are much more likely to carry your wallet in your front pocket, which is better for your back. With more and more functions moving to mobile phones, we see the trend towards smaller wallets only getting more traction.
All product names, logos, brands, and trademarks are the property of their respective owners