Why are we recommending rolling briefcases for lawyers? 
It's tough to be a lawyer on the run, but is there any other kind?  You need a briefcase that can carry the following items…and carry them easily:
Laptop
Phone
Files
Briefs
Motions
Reference materials
Personal items
You're running from your office to court, then to meet with your next client, then back to court for another hearing, then back to the office, then you have a few things to review at home.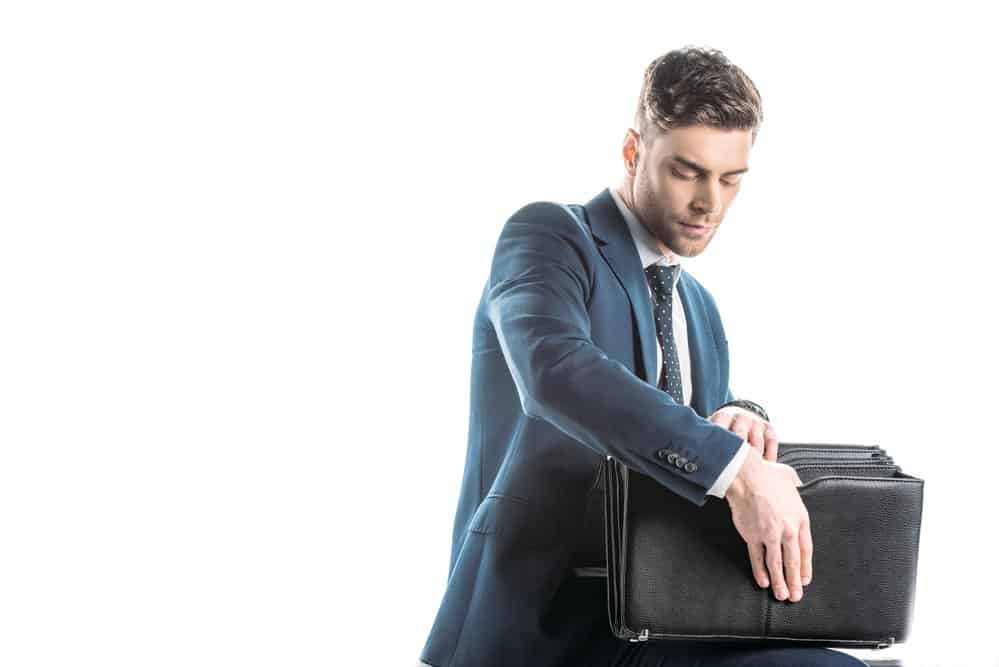 When you have to carry a lot with you and still maintain a professional legal image, a rolling briefcase may be the way to go. 
---
Rolling Briefcases for Lawyers – The List
Here are some of the best on the market, to keep you organized and prepared no matter where life takes you.
Alpine Swiss Rolling 17" Laptop Briefcase
This durable and practical briefcase has a sturdy hard-sided frame, riveted attachments for the telescopic rolling handle and carrying top handle, and smooth in-line skate wheels.  The main compartment has a divided folder and padded laptop sleeve with securing strap which holds up to a 17" computer. 
There is an organizer that includes card slot, pen slots, and a small zipper pocket.  The flap-over closure has dual combination locks to keep your items secure.  The front pocket has a button latch for easy access and expands 2 inches.  The side pockets help keep small items in easy reach. 
This briefcase is suitable as a carry on if flying is required, and comes with a one-year warranty for peace of mind.
---
Solo Bryant Rolling Laptop Bag with Wheels
This briefcase is travel friendly due to the carry-on size, easy-glide wheels, and push button telescoping handle that retracts into a zippered compartment if you choose to carry it.  Strap up to a 17.3" computer into the padded laptop slot in the main compartment, which is spacious enough to also hold notebooks and binders. 
The zippered accordion file keeps your files and documents organized and easy to access, while the front-zipper organizer had multiple pockets for pens, cards, your phone, and smaller items.  The smaller front pocket keeps travel documents and essentials in easy reach.  The five-year warranty guarantees that each bag will be free of defects.
---
Samsonite Business One Mobile Office
This durable bag is made from 1680D ballistic nylon and EVA foam backing so it is built to last.  There are two main compartments for separating business and personal items, and a dedicated laptop compartment with a padded honeycomb frame. 
There is also a front organizer pocket to store your phone or other small electronic devices, writing utensils, and any other small accessories.  The retractable handle locks in place so you can either push or pull the case, and the SoftSpin wheels absorb vibrations to reduce shock.  The handle also locks in place when not in use to reduce the change of damage.
---
Swissgear Granada Rolling Case
While it is meant for overnight trips, the spacious main compartment could also hold files and documents if you are careful with your organization.  There is a dedicated laptop compartment right in the middle of the pack, so your computer (up to 17") is safe and protected. 
The business organizer in the front has plenty of slots and pockets for your pens, cards, ID, electronic devices, power cords, etc.; while the small Quick Pocket above it holds your phone, keys, and travel documents right at hand.
---
Wenger Luggage Patriot Rolling 2-Piece Business Set
The highlight to this bag is the removable matching slim case that holds up to a 15.4" laptop. It also features lockable zippers for added security.  This case can be used in the rolling bag, or removed and carried on its own if you only need your laptop, or used with the rolling case if you need the added device (the main case has a padded laptop compartment that holds up to a 17" computer as well).  There is a fan-file compartment for keeping documents in order.  Plus, there's an organizer compartment for pens, business cards, and any other small essentials.
The large overnight compartment can hold clothes or larger business items.  The ergonomic trolley handle and easy-glide wheels ensure smooth transport, and the quick-access top pocket means you'll have anything you need — phone, ID, money, etc. — readily available while traveling.
---
Solo Lincoln Rolling Catalog Case with Dual Combination Locks
This hard-sided briefcase has a large capacity main compartment with multiple organization pockets.  These are perfect for files, laptop, tablet, chargers, and any other items you may need.  There are sleeves in the lid for pens and business cards.  This works great so you don't have to fish through the case for those small items. 
The dual combination locks ensure that your items remain secure, and the telescoping handle and sturdy, easy-to-roll wheels offer improved mobility.
---
Everki Journey Laptop Trolley
This rolling briefcase features a self-contained clothing compartment, which holds enough clothes and toiletries for a 2-day business trip, yet is completely separate from the business side.  The laptop compartment is adjustable so you can carry an 11-inch to 16-inch computer safely and securely. (there is a felt-lined tablet pocket as well)
The partitioned file organizer keeps documents safely secure, while the magnetic quick-access pocket allows you to organize smaller items.  The external water-bottle pocket and quick-access newspaper/magazine slot add to the convenience. At the same time, the lightweight construction and low-profile wheels provide a smooth and quiet ride.
---
Mancini Leather Goods Deluxe Wheeled Catalog Case
This professional leather case features a retractable handle and smooth rolling wheels so it is easy to maneuver.  The flap top design opens to a spacious interior that holds paperwork, your laptop, and any other business essentials.  There is a removable laptop sleeve for an up to 17" device and a compartment to organize documents and files. 
The front zip-around organizer section includes pockets for your cell phone, keys, pens, business cards, and other small accessories.  The two side pockets keep travel documents and frequently used items in easy reach.
---
Kensington Contour Roller
This case has an ergonomic telescoping handle that locks in to one of five different positions for maximum comfort.  The handle goes into a zippered compartment when not in use. You also have the option of a padded shoulder strap instead.  The four main compartments offer maximum organization for your files and up to a 17" laptop with SnugFit technology.
You'll also enjoy the multiple accessory pockets keep any small necessities where they need to be.
---
Rolling Briefcases For Lawyers – Wrap Up
There's no question that presenting a professional image is key for a lawyer. You wouldn't want to trust big issues in life to someone who came across as sloppy and disorganized. And since lawyers tend to require a lot of actual paperwork (eventually everything will be signed electronically, but we're a long way from that) then its a good idea to use a rolling briefcase to help protect your back.
Any one of these options can help you stay organized and professional while on the go.  Take a look and see which rolling briefcase is right for you. 
FAQs
Do Professionals Still Use Briefcases?
Yes, many professionals still use briefcases to signal a level of competence and seriousness. There's no question that presenting a professional image is key for a lawyer. You wouldn't want to trust big issues in life to someone who came across as sloppy and disorganized
Why Is it Called A Briefcase?
The name derives from the court documents known as 'briefs'. The name comes from the first cases used to carry the documents to court, although the term is now used for any professional's case
What Is The Difference Between An Attache Case And A Briefcase?
An attache case is a rectangular, hard-sided case that is hinged at the bottom to open. Essentially it is a specific type of briefcase, originally named after the cases carried by French administrators (attaches)
All product names, logos, brands, and trademarks are the property of their respective owners