How do you know if a wallet is good quality? We'll give you six pointers to make sure you are getting something that will serve you well.
How Do You Know If a Wallet is Good Quality?
When purchasing a high-quality wallet, let's consider the most essential features.
The Material
Straight out of the gate – the first thing to look at is what it is made of. The highest-quality wallets are usually classics made of full-grain leather.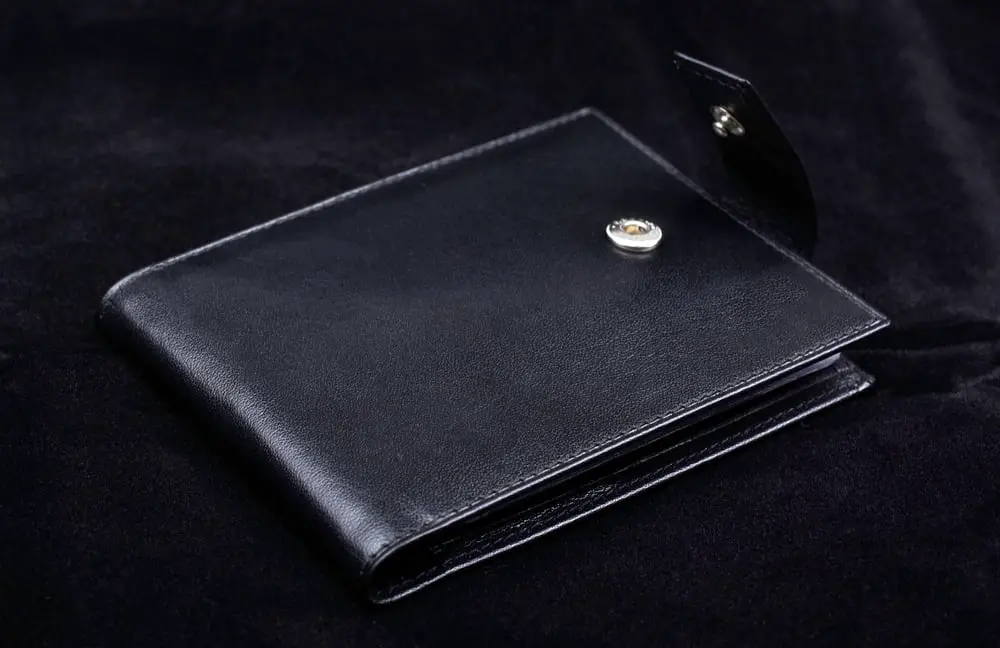 Full-grain leather is the best type of leather, whether for a wallet, a coat, or anything else. It is extremely tough, resistant to wear and tear, and develops a patina over time.
You should see minor imperfections in full-grain leather, which signifies that it is genuine. There are lower-quality types of leather, and these can sometimes be ok, but that should be reflected in the price.
Obviously many other materials, such as ballistic nylon, polyester, and cotton, can be used too. Most of these are perfectly fine in lower-priced wallets but higher-quality wallets are more likely to be made of higher-end materials.
Metal of course, is a whole other thing. There are some beautiful, high end metal wallets out there too.
Watch out for thin, cheap alloy knockoffs. High end metal wallets are typically made out of Aerospace-grade aluminum, or check out this beautiful copper number: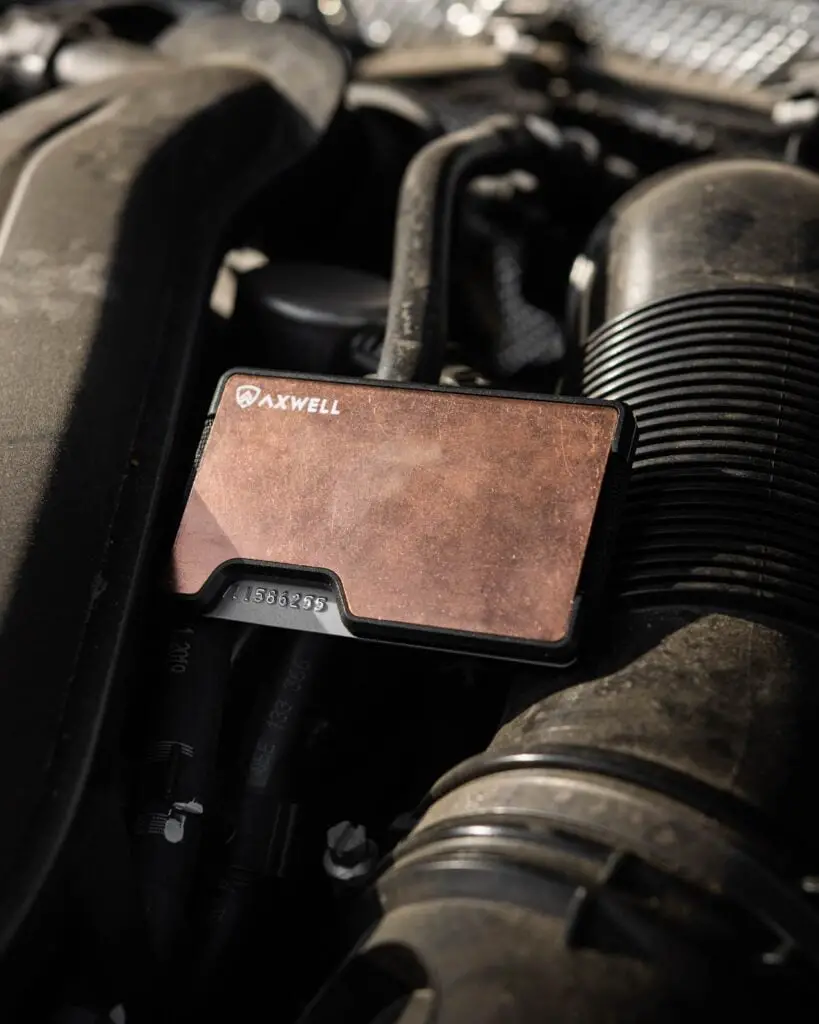 (That's from Axwell – check out our review here)
The Craftsmanship
Look at the finer details and the craftsmanship. There are a few different things to look for here.
First, pay attention to where the wallet was made, which can make a difference in detail and craftsmanship. Some places in the world are known for producing high-quality products.
Let's be blunt, something made in Europe or North America is preferred if you want a high-quality wallet. There are always exceptions, but cheaper products made in third-world countries in large factories may not be up to the standard you expect.
Then, look at the wallet itself and all the components. For example, a bifold should fold perfectly in half, with the top and the bottom half aligned when folded.
Ensure all the internal pockets are the same size and line up smoothly. Also, look at the corner points to see if they are straight and even.
Finally, the stitching on a leather wallet is key. It should be flawless – no high-end brand is going to let one of their wallets get past their quality assurance with uneven stitching.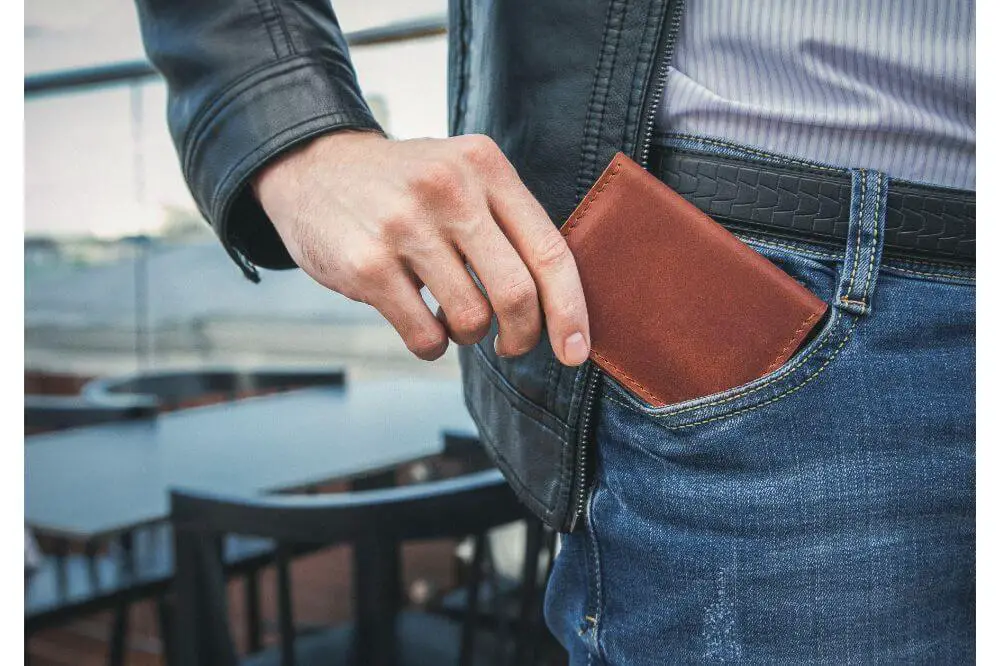 The Capacity and Design
Next, look at the design and overall capacity of the wallet. Of course, the build quality is essential, but it's not the only thing to look for. You need a functional wallet that will serve your needs.
For example, some wallets are extremely thin and low-profile (we are big fans of slim wallets).
While this makes them comfortable in your pocket because they don't get in your way, it also means they don't have much space inside. You need a wallet with enough room for all your cards, cash, and whatever else you want to put in there.
First, there's the standard bifold wallet, which usually carries up to 8 cards and cash. Trifold wallets have more carrying space but can be bulky and large. A good wallet is large enough to fit your cards and money but no bigger.
Well-designed wallets have features like:
Easy access slots for your most-used cards
Extra storage for less-used cards (eg accessed with a pull tab) – this helps keep a wallet slim by not adding extra layers of materials
Slim pockets (that don't sag) inside and out
RFID Protection
You can also tell how good a wallet is by whether or not it has RFID protection.
RFID debit and credit cards allow you to tap a payment terminal to pay for goods without entering your pin number and inserting or swiping the card.
RFID blocking wallets use metallic mesh materials inside the material to ensure electromagnetic signals can't pass through, preventing criminals from stealing your information.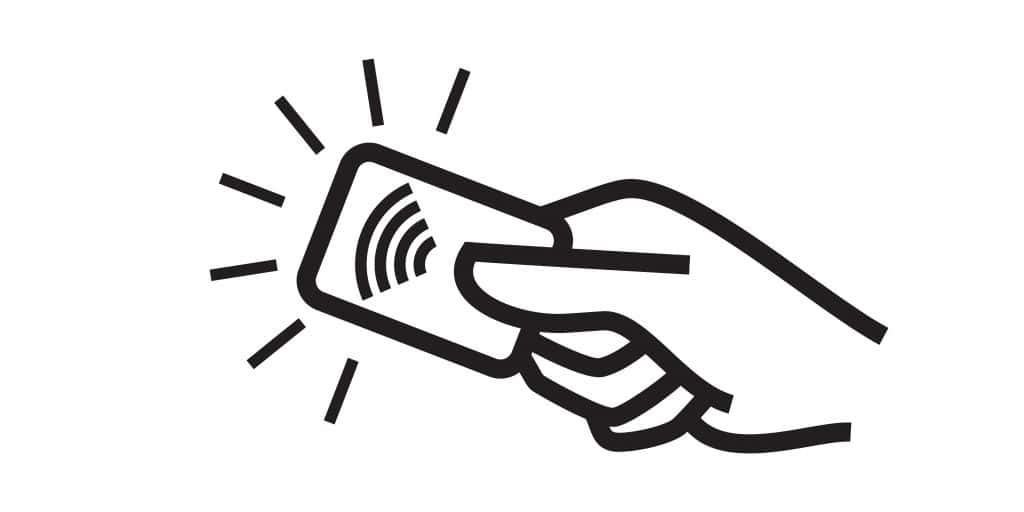 The claims made by most RFID blocking wallet manufacturers should be taken with a pinch of salt. The risk of this appears more theoretical than widespread so we wouldn't worry too much.
The reason we're saying look for this anyway?
High-end, quality wallets are starting to include this as a matter of course – so its a good signal that you are looking at a higher-end item.
The Cost
And finally, the last consideration is the cost of the wallet.
If you are willing to invest more in a wallet, chances are you will get something of better quality.
A high-quality full-grain leather wallet with excellent craftsmanship, great use of space, and RFID protection can cost over $100.
On the other hand, a low-quality wallet made of polyester that doesn't have much space or any kind of protection may cost as little as $10. Unfortunately, price is often a pretty big indication of quality.
Before You Go…
If you pay attention to the six factors and features discussed above, you should have no problems finding a high-quality wallet! Now you just need to decide between all the different kinds of wallet!
The Nine Different Types of Wallet for Men
Related Articles:
All product names, logos, brands, and trademarks are the property of their respective owners