The Speidel Money Clip is a fun riff on a classic minimalist approach that makes a great gift.
The Bulldog Clip Money Clip
Wallets have always been one of those signifiers, like an expensive watch or pen. The type of wallet you carry says something about who you are. A classic billfold in aged leather says one thing, a long biker wallet with a chain says another.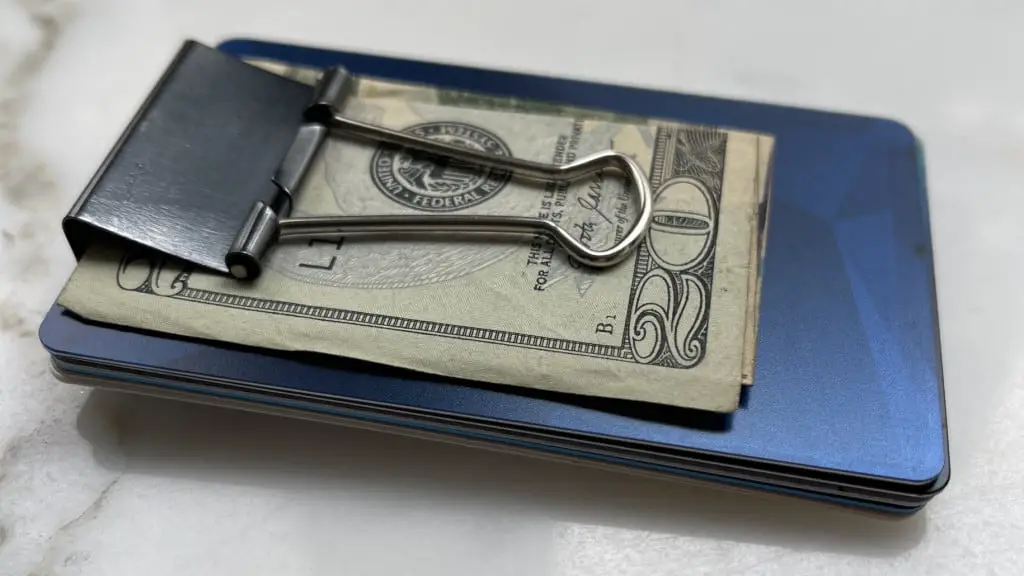 There's a certain type of person that reacts to that buy pushing back the other way. Instead of getting a classic high-quality leather wallet that says "I'm a man of wealth and taste", they go to the other extreme and hold a minimal number of cards and bills held together with a plain rubber band or one of those classic bulldog clips:
Make no mistake though, that's a carefully-crafted statement of who they are just as much as the businessman with his high-end money clip. They're sending a message that they aren't buying into the whole consumerist culture, that they like simplicity, or that they are far too focussed on their mission in life to be bothered with fashionable accessories.
Its a fun option though. The simple bulldog clip binder grabs cards and cash alike in a strong grip. So what's an innovative company to do?
The "Bill Binder" Speidel Money Clip
Enter Speidel. This clip is a fun (and patented) riff on the classic model. Speidel have taken the humble bulldog clip as inspiration and gone on to create this little beauty.
The main body of the clip is made from high-grade stainless steel, making it a robust clip with some heft to it. You can then accessorize it with a variety of options for the highlight panels. You'll see those on each of the paddles where your fingers squeeze the clip (not coincidentally, this helps create a better grip) and there is another pair of textured panels on the body of the clip (see below).
Those panels come in a variety of looks including brushed satin, a deep brown leather, a carbon fiber pattern, or textured rubber.
The dimensions are essentially the same as the larger standard bulldog clips also, at 2.95 inches long by 1.57 inches wide (in the widest part) while only being 0.1 lbs in weight.
So How Does It Work?
The snap closure works very much like the bulldog clip its based on. The arms fold back as they do on a standard clip, and squeezing them opens the mouth of the clip itself so you can insert or remove your cards and cash. The paddles on the ends of the arms (which are decked out in the materials above, say rich leather) are much more comfortable to operate than a traditional bulldog clip.
Just like a traditional clip though, the arms and paddles then fold forward to create a flat profile thats great for front pocket carry, while also gripping the cards and cash at a second point, giving a little more security than a traditional single point money clip.
Speidel claim that the combination of this two-point grip, together with a dynamically-adjusting spring and a special grip pattern on the inside of the paddles make this secure enough to hold anywhere from a single dollar bill to 75 notes! Not many people carry that many notes anymore, but a few cards and a few notes makes sense. Cards are thicker than notes of course, but you can fit quite a few in here before it starts to show the strain.
As regular readers know, we don't recommend carrying too many cards anyway, so the capacity should be more than you'll need.
The Verdict
This is a beautiful and clever design that would make a great birthday or other special event gift idea. The oval paddles can be engraved with initials, and even the packaging looks great. Verdict: we love it!
All product names, logos, brands, and trademarks are the property of their respective owners