Since the very first episode in 1963(!), Doctor Who has captured the hearts of audiences worldwide with its unique blend of time-travel, adventure, and unforgettable characters.
Fans of the show are known to be passionate about expressing their love for the Doctor and his (or her) companions, including through fashion and accessories.
And that's where we come in! There are many officially-licensed products from bags to t-shirts and hoodies, but you know where we're going.
So relax and pop a jelly-baby while we dive in to the world of Doctor Who wallets!
Doctor Who Wallets – The Amazon Choices
A quick search of Amazon shows there's a good range of Dr Who wallets available.
Before we go into detail, here's the quick list of our top three:
The Pandorica Opens! Van Gogh Exploding TARDIS design
Cool Distressed TARDIS design
Best Purse for Dr Who fans
My Favorite!
The Pandorica Opens! Van Gogh Exploding TARDIS design
Cool Distressed TARDIS design
Best Purse for Dr Who fans
OK, let's get started!
The first set of wallets we're looking at are all conveniently available on Amazon as licensed BBC products. These wallets all have plenty of space on the inside for your credit, cards, some bills, and of course, your psychic paper!
The Exploding TARDIS
Featuring the iconic Van Gogh "Exploding TARDIS" design from the show's fifth season (counting from the reboot of course), this wallet is a stunning addition to any fan's collection.
The Pandorica Opens might be one of my favorite episodes ever, so a wallet with this design has to be my favorite!
Measuring 7 x 5 inches, this wallet is both fun and functional, with a billfold, card slots, and a clear ID display. It's made from quality vinyl, ensuring that it will last you through all of your travels and adventures.
Pros
Stylish Van Gogh Exploding TARDIS design
Clear ID display
Cons
Some customers report that it is smaller than expected
And don't worry, if it's not quite what you were expecting, returns are accepted through space and time!
---
The Distressed TARDIS
Following on from the exploding TARDIS design above is this distressed bifold (well, you'd be feeling distressed if you'd blown up the universe wouldn't you?)
Pros: Crafted from high-quality faux leather, this bi-fold wallet features a cool distressed design inspired by the iconic TARDIS windows and "Police Box" signage. Measuring approximately 4 3/4-inches long x 3 1/2-inches tall when closed, it's the perfect size to fit comfortably in a pocket or bag.
Cons: Some users have commented that the material is a little stiffer than they'd like as you fold it
The wallet includes a faux leather lining that adds to its durability and protects your belongings from wear and tear. The bi-fold closure ensures that your cards, ID, and cash stay securely in place while you're on the go.
This bold and instantly recognizable design is sure to catch the eye of other Doctor Who enthusiasts wherever you go!
---
Dr Who L Zip Wallet
Made from high-quality faux-leather materials, this purse is designed with comfort in mind and is recommended for female Whovians of any age.
The zipper closure ensures that your essentials stay safe and secure, while the premium design featuring the 13th Doctor's iconic stripe on the inside adds a touch of style to your everyday look.
With eight card slots, four on each side, this purse has plenty of room for all of your essential cards and ID. Measuring 7.75″ W x 4″ H, it's the perfect size to carry in your bag or on its own.
This TARDIS-blue Doctor Who L Zip Purse makes for a great gift for any Whovian in your life or as a special treat for yourself. It's durable and built to last, making it a reliable everyday hero that you can count on for years to come.
---
Doctor Who Wallets – The Etsy Choices
If you're a fan of handmade wallets, Etsy is a great place to go looking for one-of-a-kind options.
A quick search for "Dr Who Wallets" brings up a huge range, mostly in that iconic TARDIS blue. We had a hard time selecting just a few of these, but we did it! We tried to find items we hadn't seen before, check these out!
Handmade TARDIS-Inspired Bifold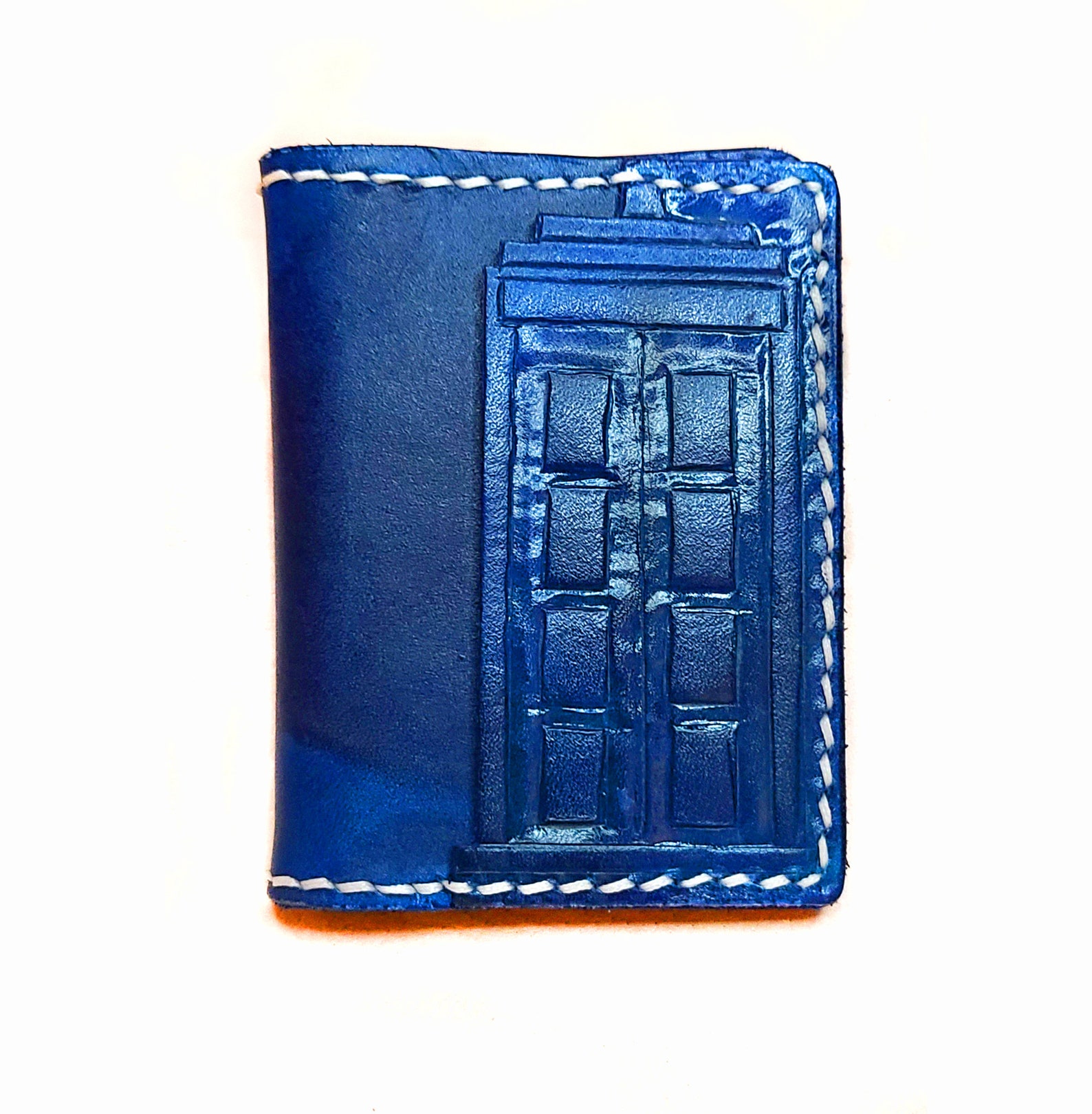 This beautiful wallet is crafted from high-quality leather that is hand-dyed, tooled, and stitched to perfection.
The front panel is designed to look just like the TARDIS, the Doctor's trusty time and space machine. But don't let its compact appearance fool you!
Open it up and you'll find two card pockets and two pockets for cash, providing ample storage space for all your essentials. And with dimensions of 3″x3 7/8″ by 6″x3 7/8″, it's the perfect size to slip into your pocket and take with you wherever your adventures may lead.
Please note that because each wallet is handmade to order, there may be slight variations in materials and colors, and delivery can take up to four weeks. We think this unique design is worth the wait!
---
Premium Pebbled Italian Leather TARDIS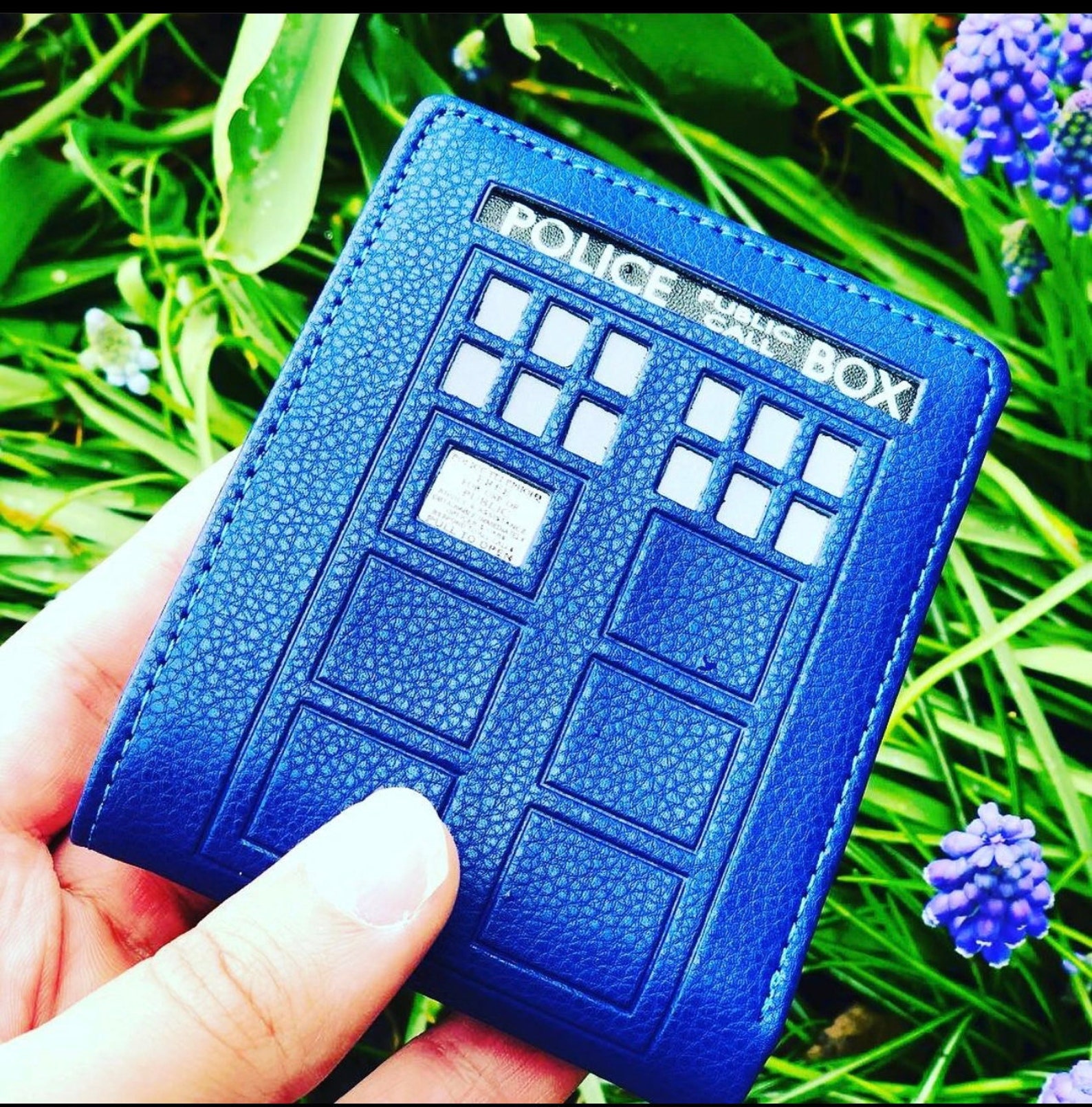 We love this TARDIS-inspired bifold! This seller has a variety of Dr Who themed wallets for sale, but this one caught our eye because of the premium materials.
Made from Italian Pebbled Leather, with that iconic blue police box design, this is one of the higher-end designs we've seen. It's naturally a little more expensive than the others too, but if you're all-in on the Doctor this wallet may be just what you're looking for.
It's not just pretty, it packs a lot of punch too.
With a fold-over ID holder, zippered coin pouch, partitioned spaces for bills, and four card slots, this wallet really does feel "bigger on the inside'.
---
River Song's Journal – Wallet Version!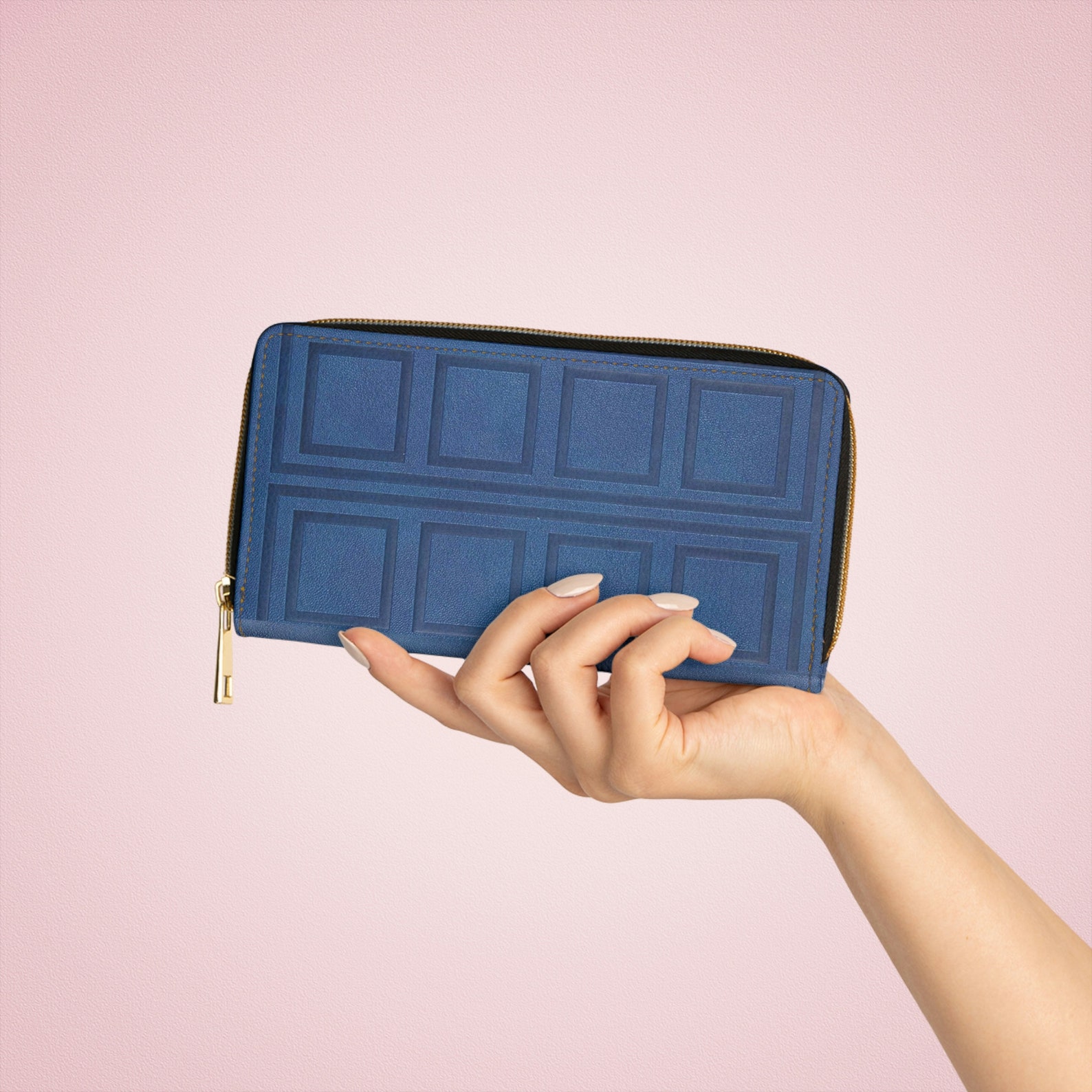 You can see at a glance why we picked out this ladies, zip-around wallet! We love the TARDIS designs, but this wallet is modeled instead on River Song's iconic TARDIS-blue journal.
Pros: Made from high-quality faux leather, this wallet is not only adorable, but it's also a practical and daily staple that's sure to turn heads of your fellow Whovians.
Featuring durable nylon zippers and alloy hardware, this wallet is built to last. The gold color thread stitching adds a touch of elegance to the wallet's overall design too.
At a size of 7.87″ x 4.33″ (20cm x 11cm), with pockets for cash, credit cards, coins, and even a checkbook, this wallet is packed with utility and has everything you need to stay organized on the go.
Cons: The only issue we see here is that this seller doesn't accept returns on these handmade items (note that Etsy have their own purchase protection plan.)
---
Before You Go…
OK, that's a wrap. Hope you found something that spoke to you in that run-through!
If you're a fan of unique, one of a kind wallets, be siure sure to check out our next article!
Related Articles
All product names, logos, brands, and trademarks are the property of their respective owners
Last update on 2023-11-15 / Affiliate links / Images from Amazon Product Advertising API