What's the best material for a messenger bag? That depends what you want to use it for, but we do have a favorite!
It's no secret that we're big fans of the messenger bag as a stylish but practical accessory for men.
This is especially the case if you are a professional who needs an aesthetically pleasing, durable, spacious, and well-organized bag.
The messenger bag is one of the most popular bag styles, particularly for professionals and students. Messenger bags are highly convenient and beneficial in many ways.
That said, messenger bags can be made of various materials, which will determine how good it looks, how durable the bag is, and how long it will last.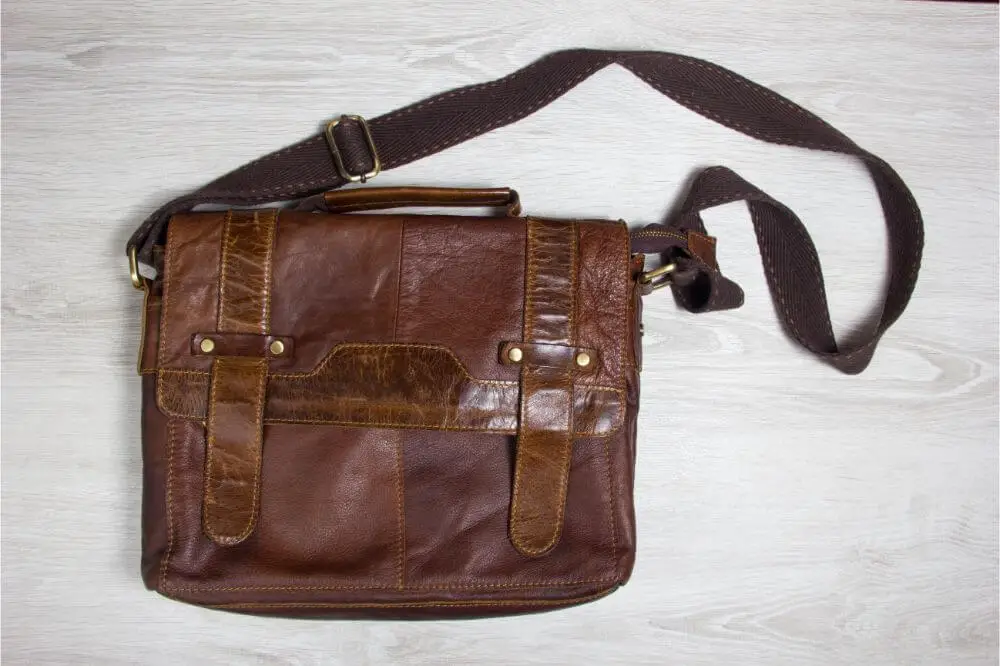 So we're here to discuss the best material for messenger bags. We want to take a closer look at the most commonly used materials for messenger bags and what benefits they hold.
What is a Messenger Bag, and Why Choose One?
First – a 60 second recap on what exactly messenger bags are and what makes them so beneficial.
What Exactly is a Messenger Bag?
A messenger bag is a style or type of crossbody bag with a single shoulder strap worn across the body. In other words, the strap is worn on one shoulder, say your left, and the bag is worn on the opposite hip, which would be your right side.
This is a popular style for students and professionals. There are a few different subcategories, such as the satchel, saddle, vertical, military, and briefcase-style messenger bags, each having a slightly different appearance.
Why Choose a Messenger Bag?
Now let's look at why you might want to consider choosing one.
People prefer messenger bags as they allow both hands to be free to carry other belongings
Messenger bags are often preferred because you can choose which side to wear them on, which can be helpful if you have shoulder or arm problems on one side, or simply so you can access them with your dominant hand
Messenger bags are usually quite spacious and well organized, often with separate sections; newer styles may have dedicated laptop pockets
Messenger bags look stylish and come in many designs, making them suitable for students, professionals, men and women
Best Material for a Messenger Bag
OK, now let's go through the advantages and disadvantages of different materials.
Leather
Many people will agree that leather is hands down the best material for messenger bags for quite a few reasons. First, there isn't much that is more durable than leather.
Leather is tough, scratch resistant, and can generally handle a real beating. In fact, some (that would be us!) would argue that leather simply gets better over time – developing a patina and a personality.
Moreover, a natural leather bag can potentially last for decades if properly maintained with oils and good care.
Moreover, quality leather just looks effortlessly stylish, an added bonus.
However, the only real downside is that leather is expensive. Therefore, leather bags will usually cost more than messenger bags made of other materials.
Synthetic Leather
Synthetic leather is another popular material for messenger bags. Synthetic or faux leather is typically polyurethane made to look like genuine leather, though there are other vegan leather options being developed all the time.
In terms of the appearance, to the untrained eye, you might not be able to tell that it's not genuine leather if it's well made.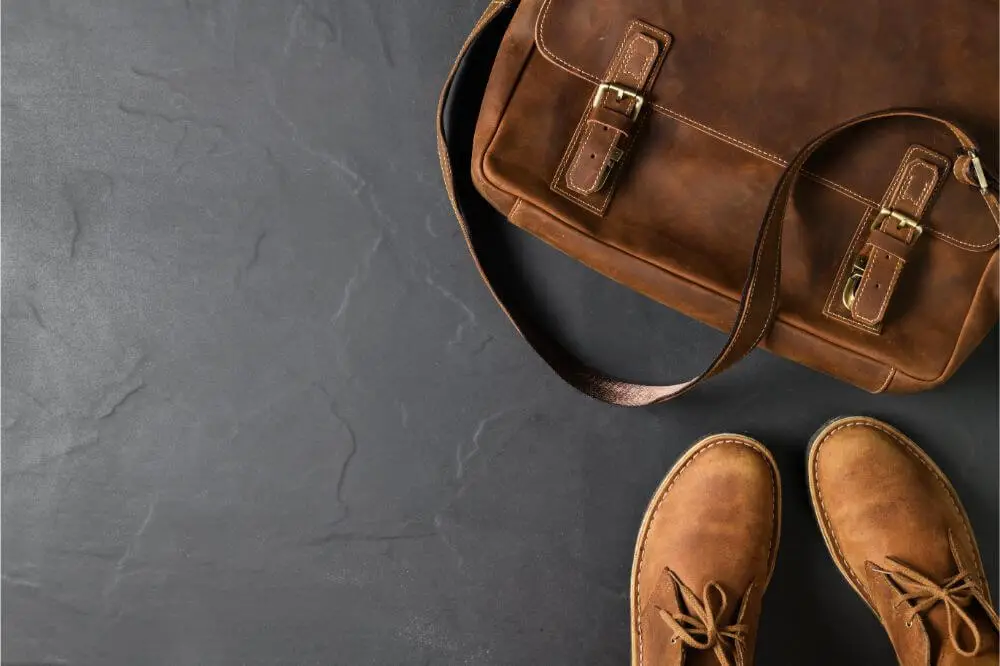 Well, at least not until you smell it. Nothing smells like genuine leather.
Of course, it's far more affordable and ideal for people operating on a tight budget, or people looking for goods not made from animal products.
Vinyl
Another material used for making messenger bags is vinyl. You can get clear vinyl bags that allow you to see the contents and those backed with fabrics to make them opaque.
It's not the first choice for messenger bags due to its glossy and, admittedly, somewhat cheap appearance and connotations.
However, vinyl is durable and waterproof and won't cost much. The only downside is that a vinyl bag will look and feel relatively cheap. So although you can find fun vinyl bags that will work great as weekend totes, it's probably not something you'd want to bring to a professional setting.
Canvas
Another option is canvas, an excellent material in terms of its appearance. It looks rustic and classic at the same time, an aesthetic many people like.
Moreover, canvas is very tough and almost impossible to rip. Therefore, it can bear a lot of weight and handle punishment.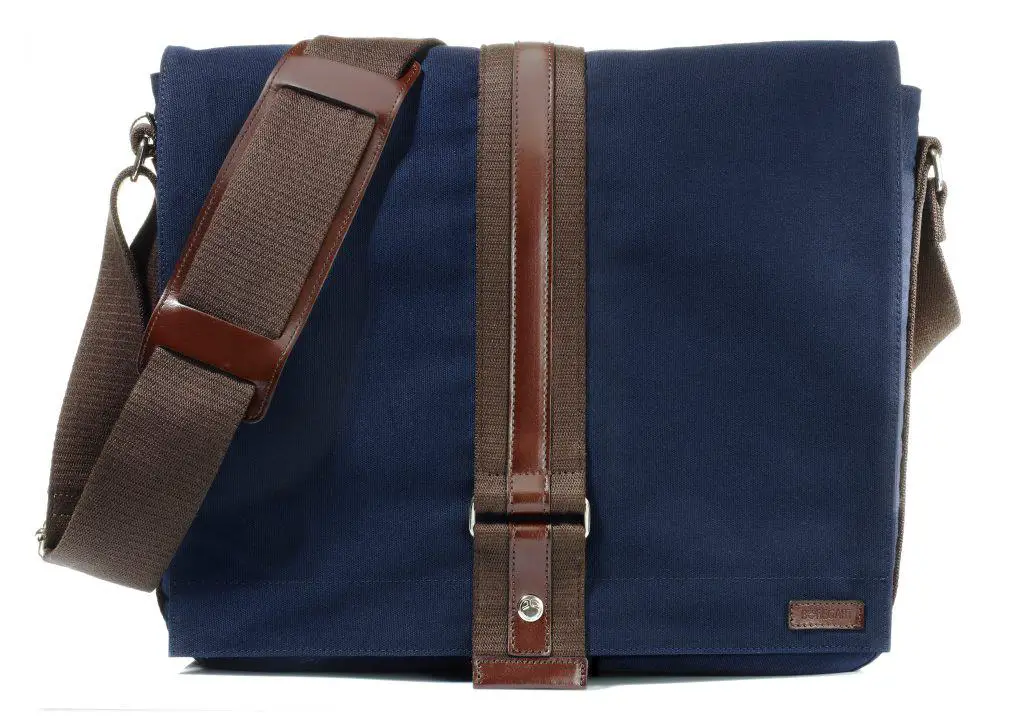 However, canvas bags are soft, and unless they are lined, they won't have much support or structural integrity. In addition, unless you get specifically waterproofed canvas, it won't be very water resistant.
Wool
Wool is not a common option for messenger bags, but it is still a material that is occasionally used.
Many like the appearance of wool, particularly for its texture and feel. It looks soft, warm, and comfortable. In addition, a high-quality wool bag can have good structural integrity if made thick enough.
The downside with wool is that it is both easy to stain and difficult to clean. At the same time, wool absorbs water; it will get wet and heavy in the rain and take a long time to dry. Definitely not our top recommendation!
Neoprene Rubber
Synthetic rubber or neoprene is another bag option, although bags made of this are usually more functional than aesthetically pleasing.
Rubber bags are very cost-effective; they are soft, durable, and waterproof. Although they don't look all that nice, they have some benefits.
Polyester
Polyester is a good option if you want something that looks decent, is water resistant, somewhat durable, and cost-effective. It's not the best material for a messenger bag, but certainly not the worst.
Final Thoughts
There are various materials a messenger bag can be made of, and the choice will depend on your budget and how you will use the bag.
Hands down though, our recommendation for the best material for a messenger bag is leather! Stylish, durable *and* practical! What's not to love?
Before You Go….
As we've said before, a bag like this can be one of a man's most visible and stylish accessories, especially when it's worn properly. Take a look at our next article to make sure you're getting the most out of your bag:
How To Wear a Messenger Bag … The Right Way!
Related Articles
All product names, logos, brands, and trademarks are the property of their respective owners