We've been asked this a bunch of times: "Seriously. What's the difference between a crossbody and a messenger bag?"
Can we be honest?
We weren't even that sure about that ourselves. We had some, um, spirited disagreements and had to do some digging. But we got there! Today we'll answer the messenger bag vs crossbody question once and for all.
Messenger Bag vs Crossbody: What's The Difference?
Drum roll, please!
Short Answer: The messenger bag is a type of crossbody bag. But not every crossbody is a messenger bag.
Do We Still Need These?
It's true that a LOT of people have thankfully said goodbye to the long daily commute and have embraced the work from home lifestyle. That was a minority occupation just a few short years ago. Doesn't time fly?
But not everyone can do that. Any many offices are adopting the "come in three or more days a week" rule. So – you likely still need a way to carry your laptop, important papers, keys, lunch, and more, to your office or workspace.
And you want to do that in style, right?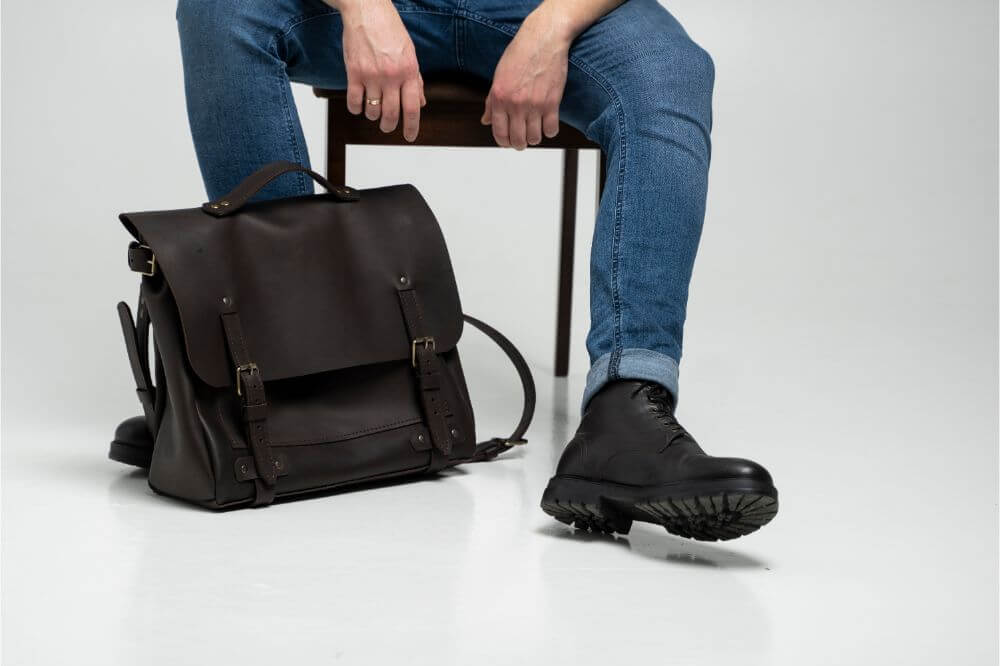 If you want an upgrade from your current bag or switch to a new style altogether, one of the best bag types is the messenger bag. We've long been fans of this style as a stylish men's accessory.
Another type for these purposes is the crossbody bag.
But which is best for you?
Let's compare messenger bag vs. crossbody bag to see which is best for you. Keep reading to discover what these are, what makes them different, and which is best for your needs.
Messenger Bag vs Crossbody Bag – What Are They?
You want a bag that is easy to carry, durable yet lightweight, has plenty of space, has good organizational capabilities, and is stylish. Both crossbody bags and messenger bags meet these requirements, so both could be ideal for you. However, you might not be aware of the differences between the two.
What is a Crossbody Bag?
A crossbody bag is any kind of bag that is worn across your body. Crossbody bags feature a single sling or shoulder strap worn over one shoulder, with the strap going across your body and the bag worn on the opposite hip.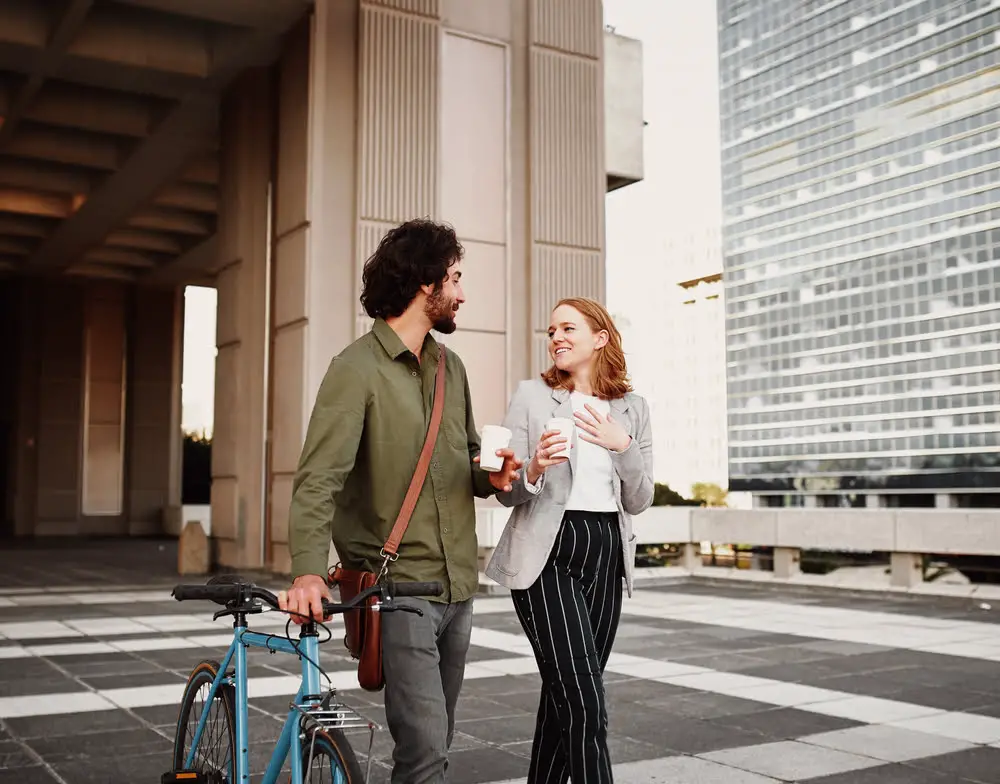 Many like crossbody bags as they are relatively comfortable and easy to carry, leaving both hands free to carry additional belongings.
People also like crossbody bags because they are a little more resistant to theft;  a thief would have to take it off your entire body to get away with a crossbody bag.
What is a Messenger Bag?
As mentioned above, a messenger bag is a type of crossbody bag. The messenger bag has the same overall shape and design of a crossbody bag, with a single shoulder strap and wearing it on the opposite hip
However, messenger bags are relatively large and often used in professional settings and are therefore designed with features for people who travel to and from offices. For this reason, messenger bags tend to be large and spacious, usually with enough room for a laptop—most have a special laptop compartment.
Messenger bags are also thick and durable, with leather often the go-to choice. In addition, messenger bags come in basic colors that suit both men and women, like navy blue, black, and grey.
Finally, many messenger bags are designed to be unisex so that anyone can wear them.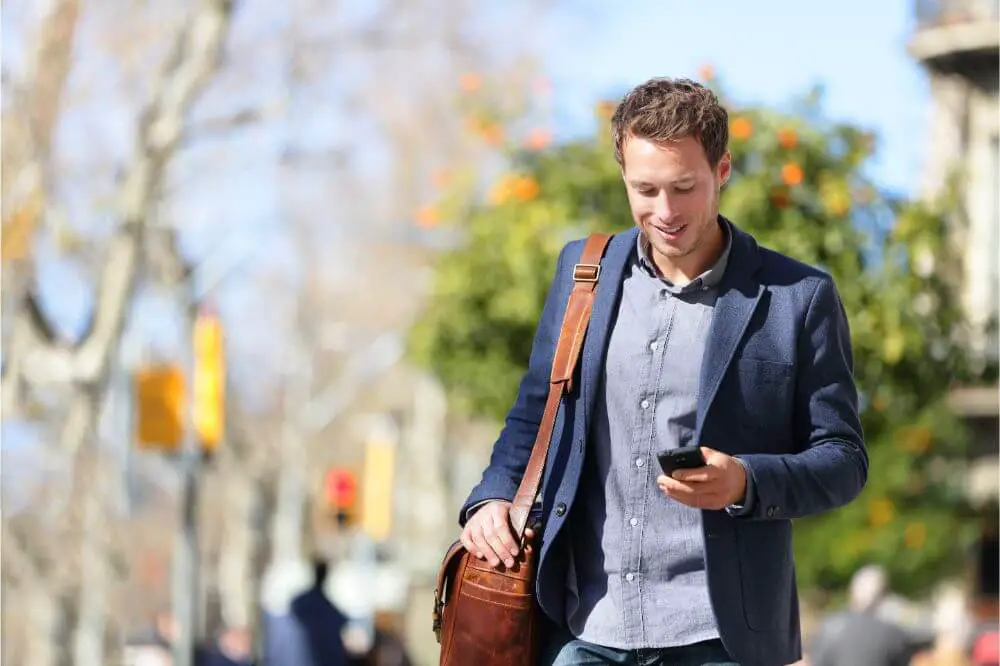 Technically, of course you can wear a messenger bag on the same side as the shoulder its on. We don't recommend this for two reasons:
It doesn't distribute the load well, which can hurt your back
If the bag is small, it will look like a man purse. Don't wear a man purse.
Wear a messenger bag across your body. Your back will thank you.
Messenger Bag vs. Crossbody Bags – Styles
OK, so a messenger bag is a type of crossbody bag.
So, technically speaking, the messenger bag is a crossbody bag style. Still, there is a little more to it because there are several subcategories of crossbody bags worth talking about. So let's take a closer look and break things down further.
Crossbody Bag Styles
Crossbody is a broad category that incorporates different subcategories, and the messenger bag is one of them. It is one of the most popular styles, and a messenger bag tends to be quite large and able to hold laptops, and is stylish and professional looking and durable.
However, there are others, such as the classic women's purse. These tend to be pretty small, so women can easily carry them around; they come with smaller pockets for organization.
Then, there are smaller crossbody bags, such as small clutches or miniature purses that are large enough for a few small belongings.
Another type of crossbody bag is the sling bag, which is like a small backpack, but instead of two vertical shoulder straps, it features a single crossbody shoulder strap.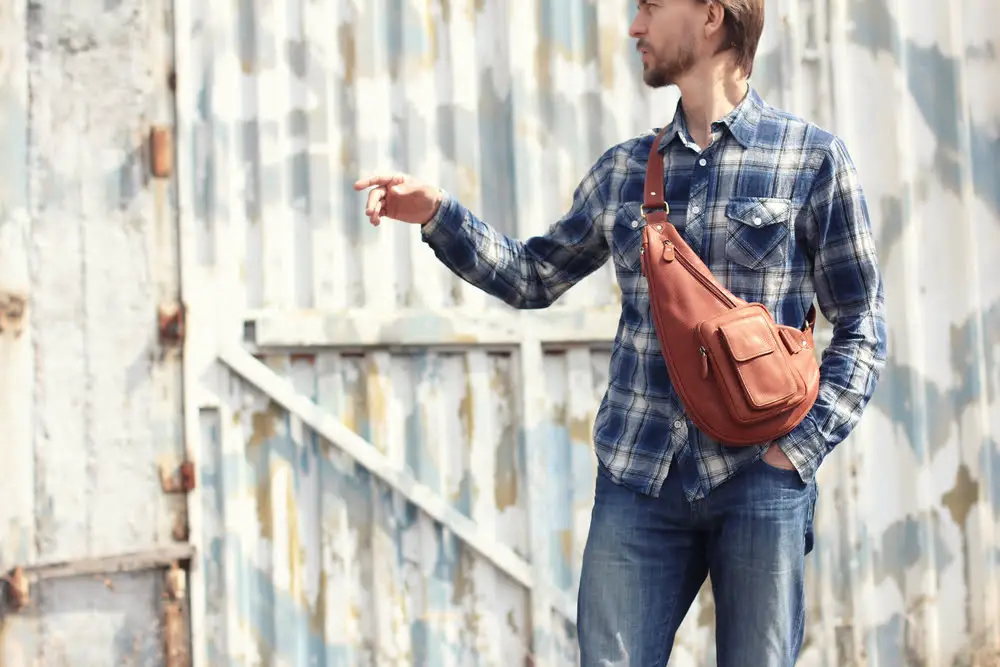 These are less often used for hiking, more for short day trips where you need only a few essentials. They can be worn across the back like a traditional backpack, or across the front as our hipster friend is doing above.
Messenger Bag Styles
Now that we've looked at general crossbody bags let's look at messenger bags.
One of the most popular is the satchel messenger bag, defined by the two vertical straps used to hold the lid in place and secure it to the main body of the bag.
Then, there's the briefcase style, which also has a front flap, although it may have buckles to secure the flap, as opposed to straps.
These are often quite large and spacious and made of genuine leather. Finally, there is also the saddlebag-style messenger bag, which is similar to the satchel but has a rounded flap and is often made of canvas or leather.
The vertical messenger bag is much taller and narrower than a standard messenger bag. These are ideal for holding tall and narrow goods.
The other popular type of messenger bag is the military or tactical messenger bag, which is the largest, roomiest, and best organized.
The Benefits of Crossbody and Messenger Bags
As you can see, in terms of crossbody vs. messenger bags, messenger bags are a type of crossbody bag, so they are all quite similar. The most significant differences here are going to be the size, aesthetics and materials.
However, whether we are talking about one or the other, why would you consider getting such a messenger or crossbody bag?
We'll be blunt.
The sling bag or crossbody bag has its place, but we prefer the messenger bag style for men:
Messenger bags can be spacious, with enough room to fit a laptop, documents, your lunch, and more.
Messenger bags usually have dividers for excellent organization.
There are many styles, materials, and sizes to choose from.
Messenger bags are convenient as they free both hands to carry other items (so do other crossbody bags to be fair)
Final Thoughts
OK, we admit we have our biases.
But now that you know about messenger and crossbody bags, you can choose one that is best for your needs!
All product names, logos, brands, and trademarks are the property of their respective owners