Once upon a time, only bicycle couriers and mail carriers used messenger bags, which went virtually unnoticed by others.
Make sense, right? They were for carrying messages …
These days, messenger bags are pretty trendy and used as much as men's fashion accessories as they are for their functionality.
A messenger bag is much less stuffy than a briefcase but serves the same purpose. Depending on what its made of, this type of bag can work with all dress codes. They come in many styles, sizes, and colors and are made from various materials.
Now that messenger bags are becoming more and more popular, they are seen everywhere, from offices to schools and more.
This is a worldwide trend and we're big fans of these bags as stylish accessories for men.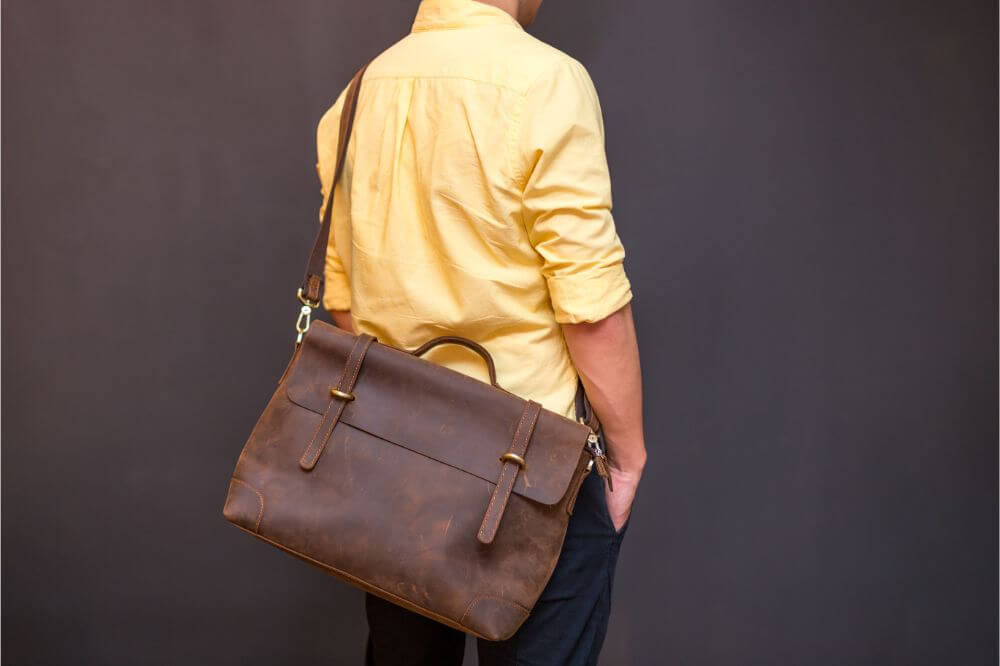 Today we're going to look at the various types of messenger bags, the materials they are made from, and the pros and cons of using a messenger bag.
Let's get started.
What is a Messenger Bag, and What is it Used For?
In its early days, the messenger bag was designed to make their jobs easier for mail carriers. The materials were durable fabrics, such as canvas or leather. These bags often had padded shoulder straps for added comfort.
Bicycle couriers would use similar bags to carry items they delivered so they could easily get on and off their bicycles without having to remove their bags.
Today, more people are using messenger bags in the office, and you will find many students sporting these carry-alls. The difference is that today's messenger bags are as stylish as they are utilitarian.
Types of Messenger Bags
There are several different types of messenger bags.
For instance, the satchel is quite popular. This bag has two vertical straps that are used to close the bag. The straps are generally attached to a flap that covers the open portion at the top of the bag. These bags are in many styles and are made with various fabrics.
But there are a lot more….
Briefcase Messenger
This type of messenger bag is usually made from leather. There is a front flap, which sometimes will have one or two straps with buckles. Often, there will be outer pockets on the front of the bag, making it easy to access items quickly.
Essentially, as the name suggests, this is the modern version of a classic briefcase. This sends a professional message, while still being really practical.
Vertical Messenger
This is an interesting variation.
The vertical messenger bag is tall and narrow rather than broad and short. This bag is ideal for those who carry legal pads, laptop computers, and artwork portfolios. These messenger bags are available in many styles and materials.
Convertible Messenger
Here is a bag that serves a dual purpose: it acts as a messenger bag and a travel bag.
These tend to be larger than other messenger bags, so there will be enough room for business and travel items. Generally, a convertible messenger has a shoulder strap and backpack straps so you can switch it up as needed.
Military-Style Messenger
You may be interested in a military-style bag if you need something that will hold up to just about anything you have to throw at or in it. These are very practical and often made of canvas.
Some have leather features, both for appearance and functionality. They also have LOTS of pockets, both inside and out. These bags are usually available in earth tones and muted colors, such as browns, greens, grays, khakis, and (of course) camo.
These are often referred to as "tactical" messenger bags.
Saddle Bag Messenger
This is more of a satchel but is often used as a messenger bag. The significant differences between the two types of bags are that the satchel tends to have a more rounded flap and an equestrian style.
These bags tend to be made of leather, but you can also find canvas versions.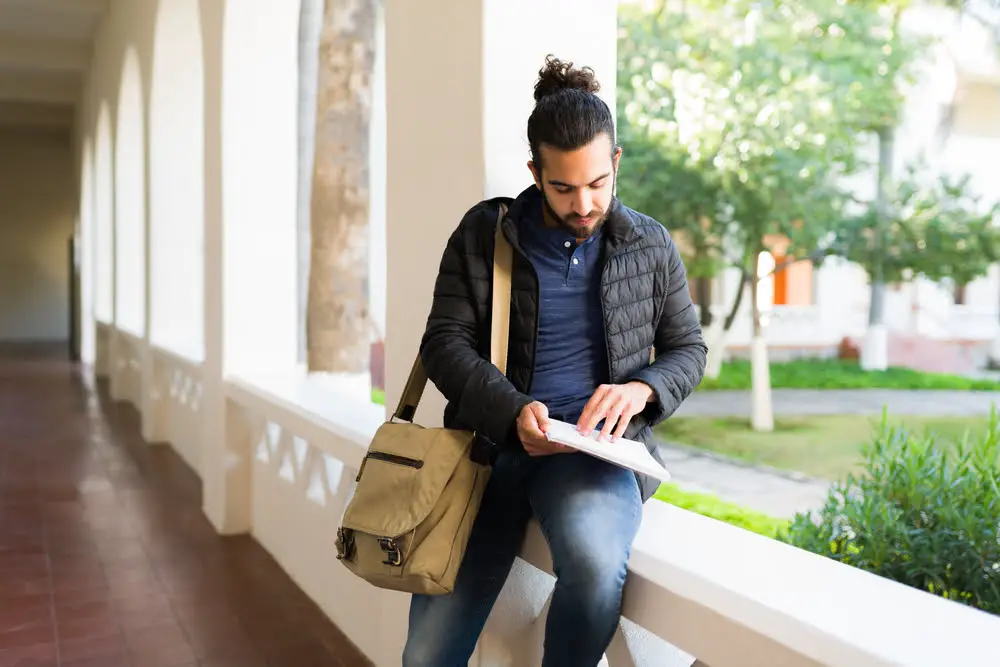 Outdoorsman Messenger
This bag, a larger style with many pockets, is popular with those who spend time outdoors, particularly hunting and fishing. They're similar to tactical-style bags, but with more emphasis on larger storage compartments, and less on the "dozen small pockets" organization.
We've heard that some new dads are using this type of bag because it is an excellent alternative to a diaper bag without … looking like a diaper bag. Anything needed for a baby can be put into this bag, and plenty of pockets allow easy access to most items.
Camera Messenger
Some people use camera bags as messenger bags because they have many small pockets that are great for storing keys and other smaller items.
Often, there is padding between each pocket, which gives extra protection for valuable or fragile items. The great thing about this bag is that you can reconfigure it to suit your needs.
Messenger Bag Materials
OK, moving on. Let's talk about materials.
In most cases, messenger bags are made of three materials: nylon, canvas, and leather/pleather. The fabric you choose will significantly depend on how the bag will be used, your budget, and your personal style.
Nylon Messenger Bags
While nylon may not be the most attractive fabric, it is inexpensive and durable. Plus, you can get nylon messenger bags in various colors. The most significant complaint is that it doesn't take long before the bag develops a worn-out appearance. However, just because it looks worn doesn't mean the bag isn't durable.
One of the great things about nylon is that it is easy for manufacturers to make it waterproof, which makes bags quite popular with those who have utility jobs instead of working in an office. In addition, these bags are inexpensive and will hold up well against the elements, which is all many people require in a messenger bag.
Leather/Pleather Messenger Bags
For style and elegance in a messenger bag, leather is the clear material of choice.
Leather bags are durable and can have a variety of appearances. For example, they can have an attractive weathered look (also known as distressed). Or they can be made to show off the quality of the leather. These bags can even be engraved.
The biggest drawback to leather is that it is costly. But it is durable and available in a wide variety of colors when dyed properly.
On the other hand, vegan leather is a synthetic material that looks like leather but doesn't cost as much. No animals are killed to make items made from these materials, which are also usually more water-repellent than actual leather.
Canvas Messenger Bags
The most commonly seen messenger bags are made from canvas.
This lightweight and durable material will hold up to a lot of abuse. It is also available in a wide array of colors. In addition, canvas bags can easily be washed to bring them back to look their best.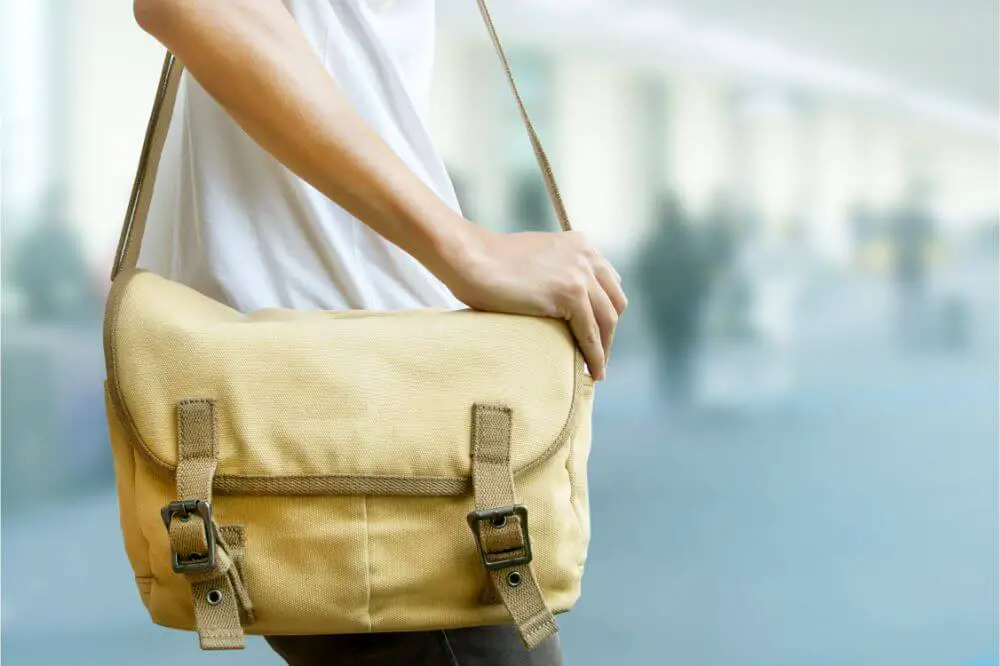 In most cases, canvas messenger bags are more casual, so they are not ideal for carrying into a formal office situation. But, if you don't need something formal, this bag will offer all you need at an affordable price.
When choosing a canvas bag, look for one that is waterproof or at least water-resistant.
Messenger Bag Pros and Cons
While messenger bags can be great, as with anything, there are also a few downsides. In fact, some people find themselves hard-pressed to choose between messenger bags and backpacks. So let's look at the pros and cons.
Pros
They are Neither Formal Nor Too Casual
While a backpack may be too casual for most office settings, a messenger bag may be the ideal carry-all for anyone who works in an office. They also make great bags for students from elementary school through college.
They are Very Practical
Because they are loaded with pockets, it is easy to grab anything you need from a messenger bag, usually without having to remove it. There are also larger compartments where you can place your laptop, books, and other items that may not fit into a smaller bag.
Cons
Not Great for Cycling
While messenger bags are easy to walk around with, the same can't be said if you ride a bicycle. This is particularly true if you carry heavy items. The bag can move around, interfere with steering, and throw you off balance.
Not Ideal for Heavy Items
Messenger bags can move around while walking, getting up and down from seats, etc. You might even find that the strap can slip off your shoulder if the load is heavy (this is one reason you should always wear a messenger bag crossbody. The other is that your back will thank you.)
This could also lead to items falling out and breaking. It may be best to use the handles rather than the shoulder strap if you have a heavy load.
Before You Go
Whether you work in an office or you're attending school, you need a bag that will allow you to easily carry all of your necessary items … and look great.
For men, a messenger bag is an ideal option. You'll have style and functionality in one bag! But it doesn't stop there. Read our next article to make sure you're getting the best out of your stylish accessory…
How To Wear a Messenger Bag (The Right Way!)
Related Articles:
All product names, logos, brands, and trademarks are the property of their respective owners