The purpose of a backpack instead of a regular bag is straightforward enough – take the weight and distribute it better, while leaving your hands free.
These days though, there are a huge range of backpack styles out there. We'll break down different types of backpacks by activity and style to help you make the right call!
For each type, we'll talk about when they're appropriate, what size and capacity you'd need, and what features and materials to look for.
Let's dive in!
Best For Short Hikes and Daily Use: The Daypack
OK, so what exactly makes something a "daypack"? Your first reaction might be size – they're simply smaller, right? different types of backpacks
Nope. Size really isn't everything.
Although it's true that daypacks are on the smaller size, the biggest difference between a daypack and a full-blown hiking backpack is the construction. Daypacks are lighter and made without an internal frame to give them structure (that also means you can collapse them down to store away).
The shoulder straps will likely not be excessively padded because you should not expect to be carrying a lot of heavy items in there (a general rule of thumb is the loaded pack should weigh no more than 10% of your body weight).
Check out my Tumi daypack for an example: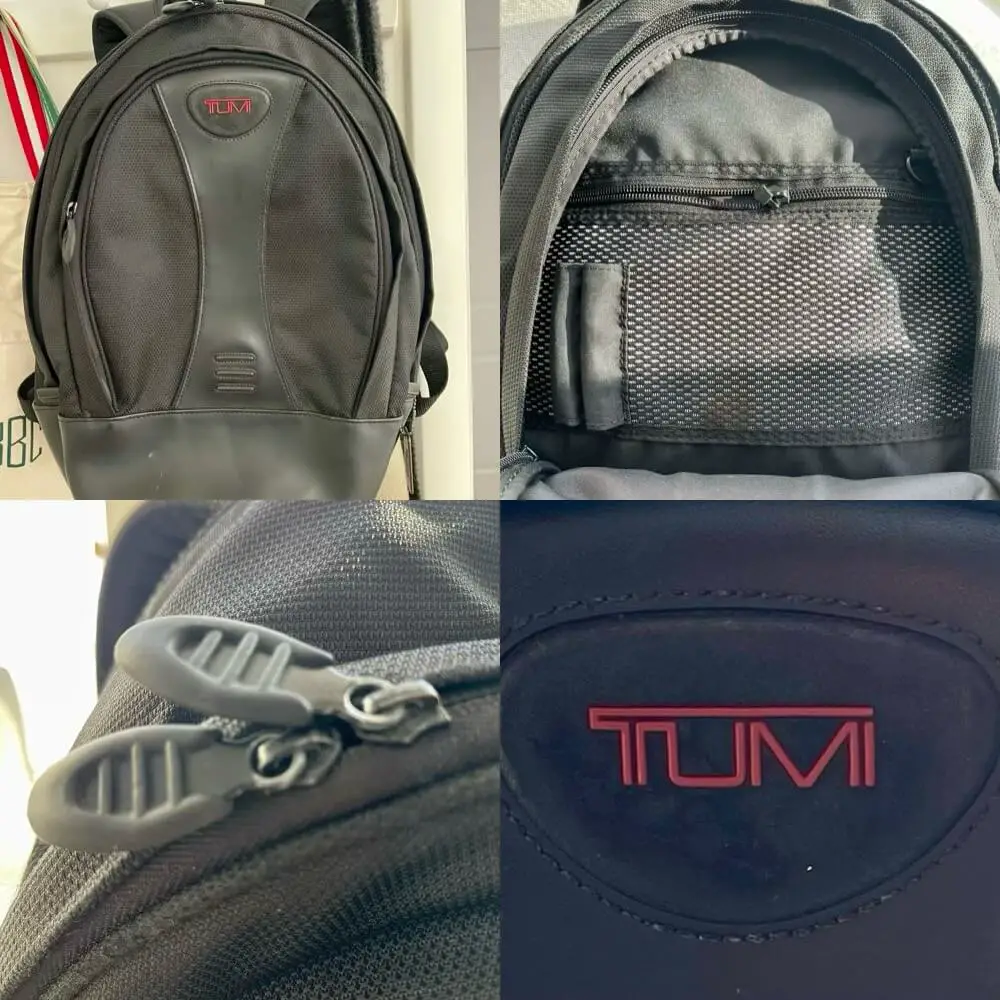 Features to look for in a daypack
Capacity: A daypack should be large enough to carry all the essentials, but not larger. Typically we'd expect a true daypack to be 12 to 25 liters in size.
Comfort: Just because they are small doesn't mean you want to skimp on details like comfortable shoulder straps (they won't be padded particularly, but you don't just want simple canvas straps either) and a somewhat padded back panel. Adjustability is also important to ensure a good fit.
Durability: A daypack should be able to withstand the wear and tear of daily use, so look for one made from sturdy materials such as nylon or polyester.
Water resistance: This might not be so important if you're using a daypack for carrying things to school or work, but it makes a big difference if you're going on a day hike and get hit with the inevitable unexpected shower!
Organization: Generally a daypack will have fewer compartments and pockets than their larger counterparts, but it's worth ensuring that there is at least one outer pocket, and preferably one interior divider.
Lightweight: A daypack should be lightweight to avoid weighing you down on the trail. Look for one made from lightweight materials and with minimal excess "tactical" features.
Style: This might matter less on a day hike, but if this is part of your "outfit" for school or work then style matters too!
Best For Extended Backcountry Trips: Hiking Backpack
OK, now this is the opposite extreme from a daypack!
A full-blown hiking backpack is a whole other beast. Size is the first thing you'll notice – these are significantly bigger than your regular daypacks – but that's only the beginning.
Because the expectation is that you're carrying more stuff – up to and including a collapsable tent potentially – the key feature here is the internal frame. That's not just designed to stop your pack getting crushed, it also helps with weight distribution, allowing anchor points for things like waist straps that put some of the load on your hips not just your shoulders.
Features to look for in a hiking backpack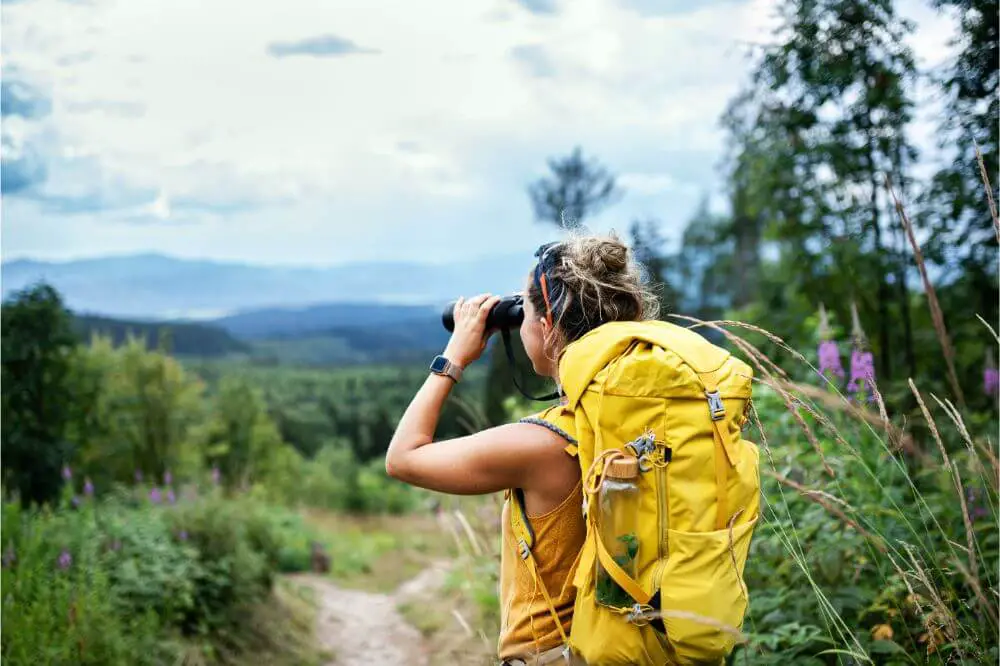 Capacity and weight: This sort of backpack should obviously be large enough to carry all the gear you need for an extended hike, perhaps a tent, sleeping bag, or cooking equipment. Look for a pack with a capacity of 50 liters at minimum, but you can go up to 100 liters if needed. Be careful here though – many people have a tendency to throw more things into their packs just "because they can". Lighter is better when hiking so make sure you can really justify everything you're carrying – you'll be glad you did
Comfort and ventilation: Make sure the hiking backpack fits well and has comfortable, well-padded shoulder straps and a padded (but breathable) back panel. As I said earlier, a waist belt can help distribute the weight of the pack more evenly across your body by sitting some of the weight on your hips. Personally – I regard that as essential, not nice-to-have in a hiking pack.
Durability: Clearly these packs need to be made from sturdy materials (nylon, polyester, canvas). Frames should be sturdy but lightweight – typically aluminum.
Water resistance: Water-resistant materials or a resistant coating is a must. A pack doesn't need to be fully waterproof (that's hard to do, given the pockets and zippers) – after all, its not a life raft!
Organization: You will multiple compartments and both internal and external pockets to help you keep your gear organized and easy to access. This should be a given on a well-designed hiking pack, but be wary of cheaper models that are cutting costs by having less material – you do not want to be emptying a pack all the time to find the items that have slipped to the bottom.
Hydration systems: If you plan to use a hydration system (i.e. a water bladder) on your hikes, look for a hiking backpack with a hydration compartment and a hose port. Frankly, I've never seen this as a huge advantage – its one more thing to clean and less versatile and harder to refill than a great water bottle
External attachment points: External attachment points, such as loops or straps, can be useful for gear that won't fit inside the pack, such as a sleeping pad or tent poles. Again, don't go overboard here – too many features can be just as bad as too few
Style: OK, this is not part of your most fashionable ensemble, so you probably won't be too fussed over style choices. Do think about colors though – bright colors could be helpful if (heaven forbid) people have to search for you in bad weather
Best for long-term travel and backpacking: Travel Backpack
OK, so what makes a pack a "travel backpack" specifically? Technically I suppose any backpack can be pressed into service as a travel pack, but the way I look at it is that a travel backpack sits between the two we just discussed.
That is – they are bigger and have more features than a daypack, without going all "everything including a tent and the kitchen sink".
So what does that mean? It means large-ish capacity, extra pockets both internal and external, but generally less of a solid frame (ideally its a bit more crushable to get into an overhead compartment) and fewer external accessory points to catch on baggage conveyor belts.
Features to look for in a travel backpack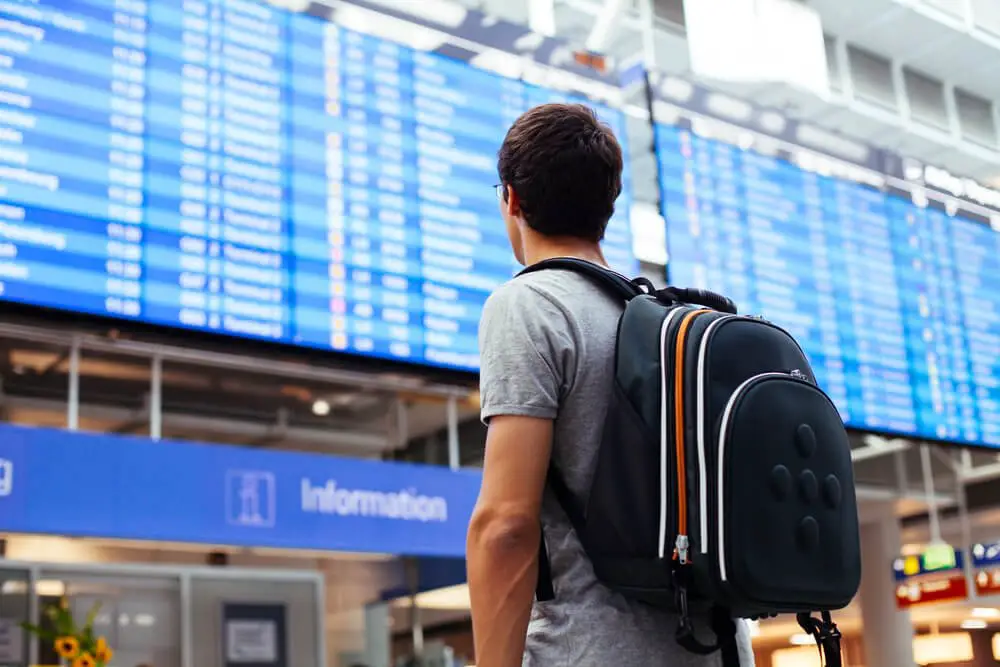 Capacity and weight: As I said before, bigger than a daypack, smaller than a hiking pack so probably 25 to 35 liters – but your mileage will vary (ok, bad pun…)
Comfort and ventilation: Since a travel pack will be carrying more than a typical daypack, especially if you are traveling long-term, make sure (as usual) this fits well and has comfortable, well-padded shoulder straps and a padded back panel. For a travel pack I would say the waist strap becomes less important than for a hiking pack, unless you have back issues in which case go for it!
Durability: As before, these packs should be made from sturdy materials (nylon, polyester, canvas).
Water resistance: My take is that's a lot less relevant for a travel pack as you should be typically within range of shelter a lot more than if you're out in the country
Organization: Dedicated compartments are key here. Electronics in particular should have dedicated sections, and many travel packs have compartments for storing battery packs so you can recharge on the go. In a world where many people only have e-tickets, and directions/guidance only on their phones, the last thing you need is to be caught short with no power
Style: You should always have stylish luggage! OK, with a travel backpack that's perhaps a bit less important, but I've found that the better dressed traveler with stylish luggage tends to get more respect ….
Best For School or Work: Commuter Backpack
OK, we might argue a bit over the name for this category, and in some ways it's a bit of a hybrid between a daypack and a travel backpack.
Nevertheless, there is a category here for people who use a backpack to take "work stuff" on a regular basis back and forth. School or Work probably doesn't make a lot of difference here, it's all about organization, and protecting more sensitive items than spare clothes and granola bars.
Features to look for in a commuter backpack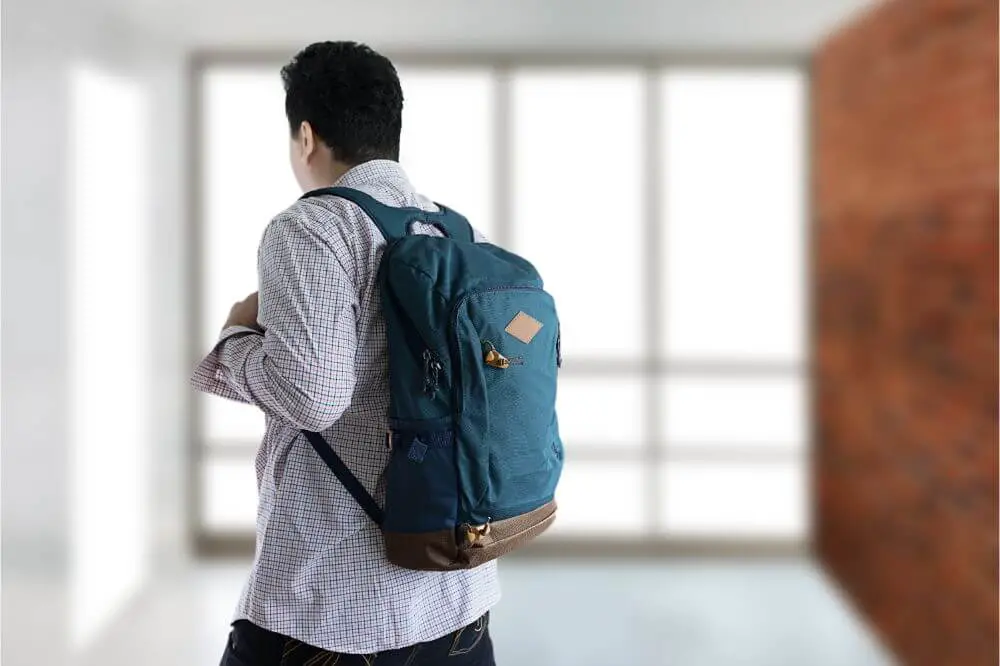 Capacity and weight: Little larger than a basic daypack, but a little smaller than a full-blown travel pack. Say 15 to 25 liters in capacity.
Organization: For me, this is the key feature of a commuter pack. The first thing to consider is your laptop or tablet – there should be a dedicated compartment for this, with extra padding all around. This way your most expensive, and reasonably heavy, item will be protected and not shift about as you move. Extra pockets are a must also – you want to be able to grab phone, keys, money, ID easily, nit have to dig into the bottom of a bag
Comfort and ventilation: Since a commuter pack will be carrying a bit more than a typical daypack, make sure (as always) the bag fits well and has comfortable, decently-padded shoulder straps and a breathable back panel so the back of your shirt doesn't end up soaked with sweat…
Durability: You don't want anything too flimsy oof course, but since these bags tend to go from home to work or school on your back, and rarely get squashed into a baggage compartment or aircraft hold then your options are a little broader for materials – they won't be thrown around after all
Water resistance: You should consider how likely it is that you're going to get drenched in your regular commute. After all, that laptop is going to be expensive to replace if it dies from water exposure, but how likely are you going to spend standing in rain letting the bag get soaked? This is really dependent on where you live of course
Style: Yes! OK, seriously though – particularly for work, think about what message your bag is sending. Work in a conservative office environment? Basic black, possibly with leather accents, could work nicely to signal professionalism. School or a more creative environment? Now you've got lots of options!
Best For Carrying Sports Equipment: Sports Backpack
For some reason, everyone always thinks of a standard gym bag when they think of carrying sports equipment. Maybe its just habit – there certainly are a lot of sports backpacks out there these days, so there's no reason not to take advantage of the better weight distribution from a pack just because you've got a racquet or gym shoes in there.
Most "Sports Backpacks" are designed to carry sports gear, but of course some packs are designed for actually using while running or cycling. The fit will really count for this type of pack!
Features to look for in a sports backpack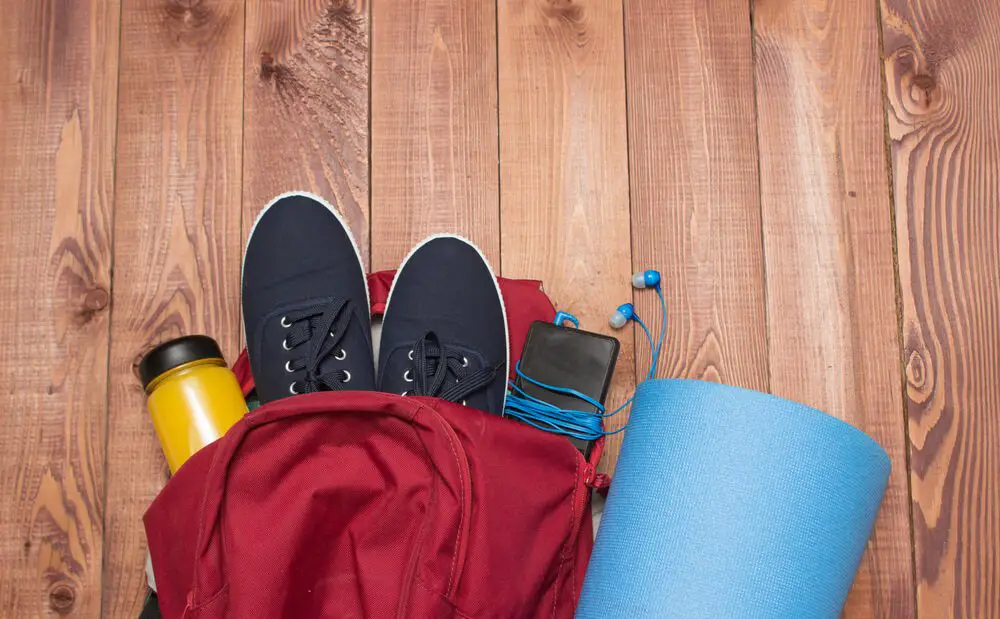 Size: Obviously your needs here will vary depending on the type of sport and the amount of gear you need to carry. A smaller backpack may be sufficient for gym shoes and light clothes, but you will need more if you're carrying equipment
Ventilation: Since you'll likely be carrying sweaty gear, look for a backpack with ventilation to help air out the contents and prevent odors from developing
Pockets: Look for backpacks with multiple pockets and dividers to help you keep your gear organized. This can include exterior pockets for quick access, as well as interior pockets for smaller items like energy bars or even a first aid kit. A pack with a section specifically for shoes is a great idea to protect your other gear from your shoes – although a shoe bag can do the job just as well
Water bottle holders: It's important to stay hydrated, so look for a backpack with a water bottle holder or pocket to keep your water bottle within easy reach
Durability: Sports backpacks need to be able to withstand rough conditions and heavy use, so look for one made from sturdy materials like polyester or Ripstop nylon that can withstand wear and tear
Water resistance: This depends on what sports we're talking about – it might be key if you're taking a bag to outside activities, or less important if you're simply carrying your pack to a gym locker
Comfort: You're never going to want an uncomfortable pack, but this will be an absolutely key feature if you're looking at a running or cycling backpack. Whether a pack sits snugly or shifts about as you move can make all the difference, so look for something that can be easily adjusted
Reflective elements: For nighttime, or in low light conditions, it's always helpful for a backpack to have reflective elements to help increase your visibility
Best For Carrying Photography Equipment: Camera Backpack
If you're carrying a high-end camera with all of the extra gear that comes with it, you're going to want to protect it from the inevitable bumps and falls. A proper bag is a small price to pay to ensure your equipment is safe.
There are, of course, a lot of high-end camera bags that have all sorts of tactical little pockets and attachments, but if you're going to be trekking far with your equipment a backpack-style bag might be right for you.
Features to look for in a camera backpack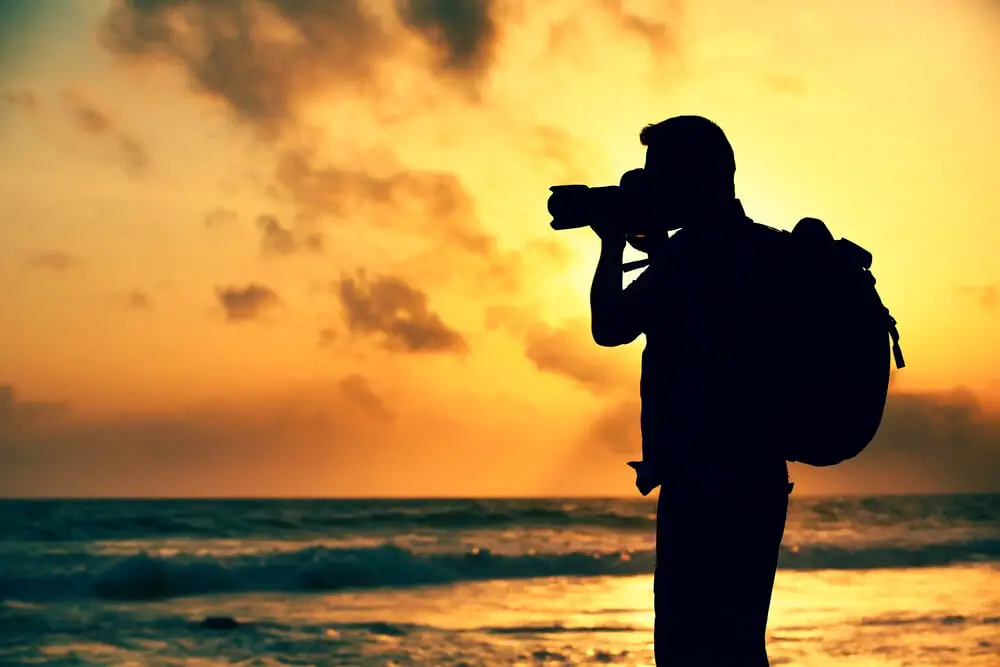 Size and capacity: Stating the obvious – the pack has to be large enough to hold all of your camera equipment, including lenses, flash, and other accessories, but this equipment can get heavy. Accordingly, we wouldn't get anything larger than you need which might tempt you to throw a few more items in. We're assuming that the main focus here is the equipment for a day of shooting, not packing everything else for a long trip (OK, maybe a water bottle and energy bar, but don't overload this)
Organization and padding: Very important – it's a given that a camera backpack will have a lot of compartments to help with organization, and that these must be individually padded. External clips and other tactical features may be helpful here too depending on how much equipment we're talking about
Comfort: As usual, choose a backpack with padded shoulder straps and a breathable back panel to make it comfortable to wear for long periods of time
Weather protection: Weather-resistant materials make obvious sense given what you're carrying
Accessibility: Quick access is also a big consideration here. If the perfect shot presents itself when you're not expecting it (hint: that always happens when you're not expecting it) then you want to be able to swiftly grab the camera at a minimum
Best For Crowded or High-Risk Areas: Anti-Theft Backpack
It's a shame that we have to cover this last type, but it's better to be safe than sorry. Sometimes you're going to find yourself in a less-salubrious area, sometimes you're going to be carrying higher-value items.
An anti-theft backpack is exactly what the name implies, a bag specifically designed to make it hard to steal from. Naturally, this plays in the opposite direction to a lot of what we've been talking about for most of the other options in this list.
We've emphasized easy-access compartments and external pockets for a lot of the packs above, and you'd expect to have to sacrifice some of that convenience for security – but it's not all bad!
Features to look for in an anti-theft backpack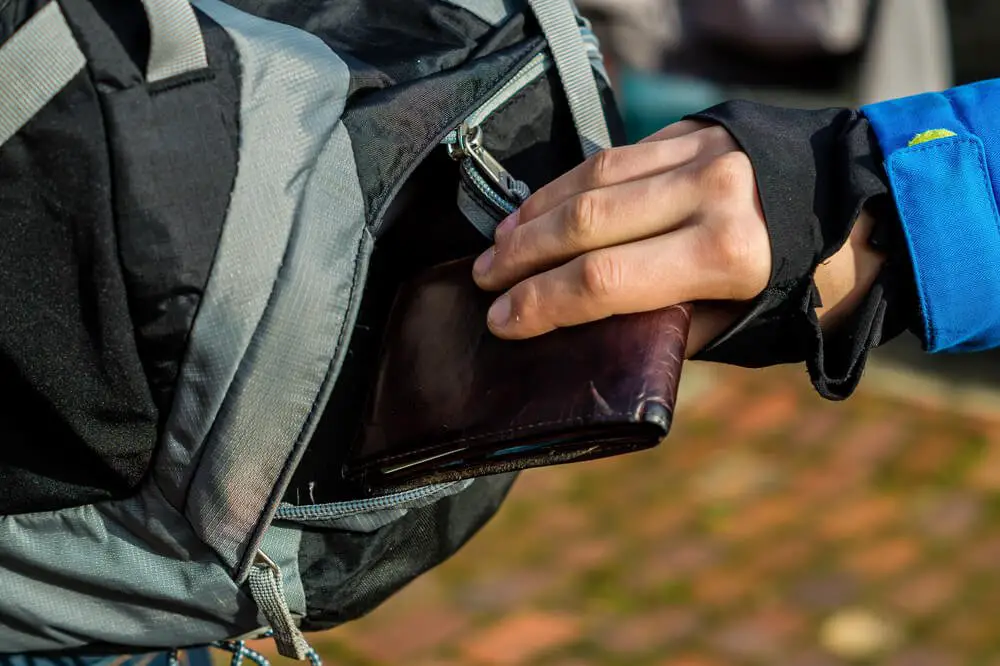 Cut-resistant material: One of the key things to look for is a pack made from cut-resistant materials like high-strength ballistic nylon. This is to prevent thieves from slicing through the fabric and accessing the contents of the backpack, or cutting the straps to run off with the pack itself
Lockable zippers: Lockable zippers can be secured with a padlock or combination lock to prevent thieves from easily opening the backpack and slipping a hand inside (you'd be surprised how easy it is for an experienced pickpocket to do that without you feeling a thing)
Hidden pockets: All anti-theft backpacks will have hidden pockets for high-value items. These are typically something like a pocket with a flap to disguise it, itself hidden inside another internal compartment. This won't stop anyone who has the pack and has time to examine it, but it buys time to deter the opportunist who is trying to quickly reach inside, grab something and run
RFID blocking: A final thing to consider is RFID (Radio-Frequency Identification) blocking technology. The jury is out on how important RFID protection is, but if you're traveling in a high-risk area it certainly can't hurt to have your cards and passport hidden from scanners
Before You Go…
OK, that's our run through different backpack types – thanks for reading! But it doesn't stop there. We've touched on materials a number of times in this list, and it's one of the main features that distinguishes backpack types. Take a look at our next article to find out more:
Related Articles:
All product names, logos, brands, and trademarks are the property of their respective owners