Looking for some affordable alternatives to North Face backpacks? A backpack is one of the most enduring and versatile staples of any closet. Camping trips, work commutes, and weekenders all require a well-equipped carryall that will hold everything from your laptop to a spare umbrella.
The North Face has long been synonymous with high-quality, long-lasting backpacks. While the North Face brand name comes with a higher price point, there are alternatives that deliver the same quality and durability with a softer impact on your wallet.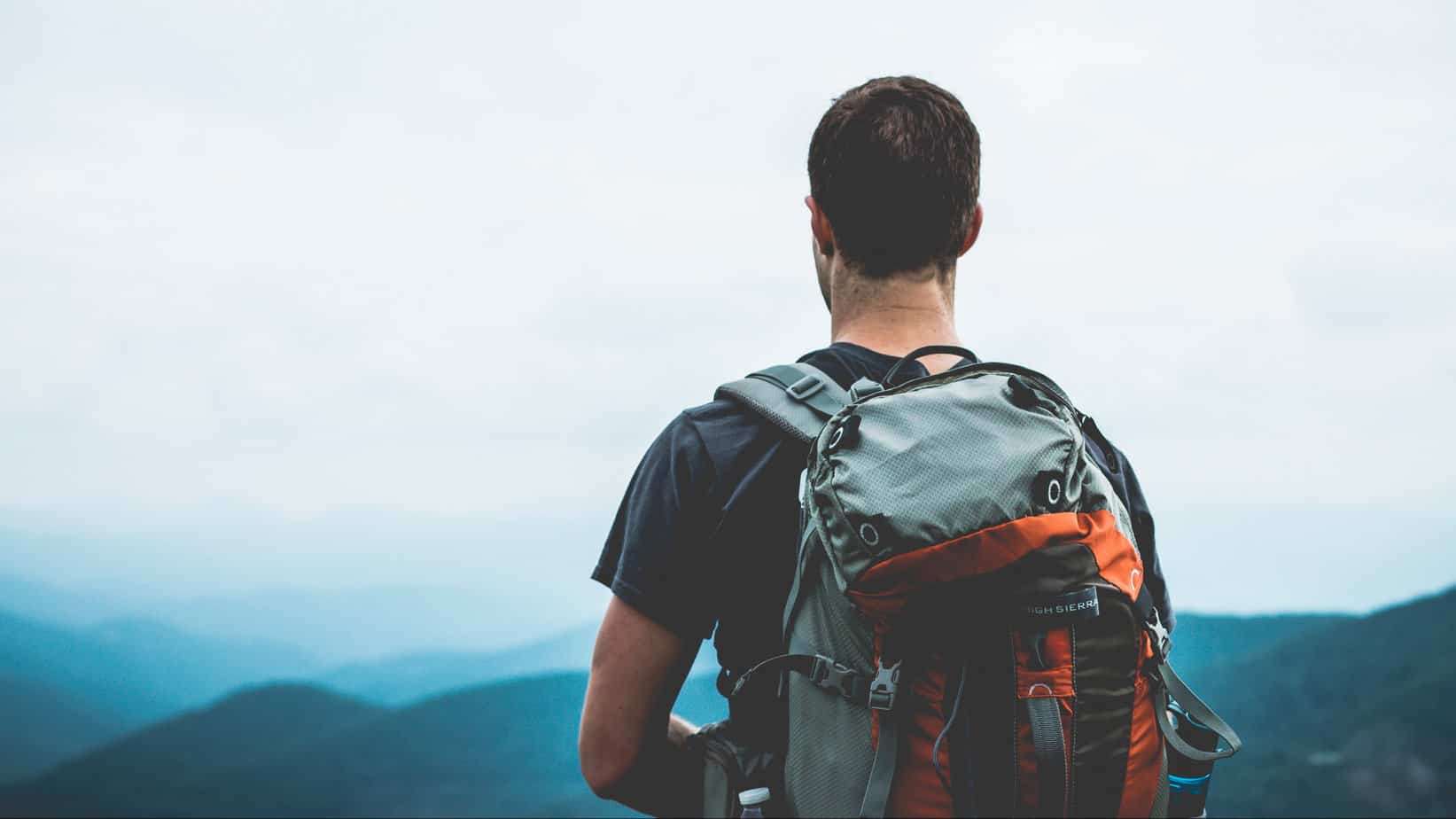 Buyer's Guide
Which bag is the "best" is a very personal decision, but there are some factors that can help narrow down the choice.
Usage:
Are you looking for a tough, camping backpack that can cope with any and all conditions? If so, take a look for something waterproof, with a lot of capacity and a high Denier rating
Are you looking for a regular work commute backpack? Then you'll be looking for compartments for all your gear so you can find everything quickly
Does this need to fit under an airplane seat for travel? Several of the packs below will do the job nicely, but we wrote a whole article on that subject
There are many more backpacks below, but these are the four we think fit best for different buyers:
Versatile and Trustworthy Pack For Daily Use
Something A Little Different
Best All-Rounder
Versatile and Trustworthy Pack For Daily Use
Something A Little Different
Want to see the full list? Let's get to it!
Alternatives To North Face Backpacks: For the Great Outdoors
Let's take a look at the best North Face backpack alternatives (that are reasonably priced). We'll start with the more traditional camping/outdoorsy versions.
Airlab Rucksack Backpack
Features:
Drawstring closure
Compression straps
Large capacity
15-inch laptop pocket
Pros:
Fits a ton of items – great as a travel bag
There's an anti-theft pocket at the back which lets you secure your most valuable items
Nice-looking with a choice of three colors
Cons:
The drawstring closure isn't as secure as a zippered closure or magnetic closure
The main pocket is deep, rather than wide, so your stuff might get jumbled up
The Airlab Rucksack Backpack is an inexpensive choice that could easily be used as an outdoor adventure bag, but also be comfortably repurposed as a gym or travel bag.
---
Kelty Redwing 50 Backpack
Features:
Perfect Fit Suspension
Top-loading
Duel hydration sleeve
Laptop sleeve
U-zipper design
Front stash pocket
Organized compartments inside
Pros:
The compression straps make wear comfortable, even for long periods
There are loops for your hiking/ski poles
The front opening makes loading/unloading gear way easier
Cons:
The mesh fabric can be uncomfortable on the skin
Not water-resistant (at least it is not advertised as such – some people have commented that it is "somewhat resistant")
Some tearing issues.
A very classic, rugged option perfect for the longest and roughest camping trip. It's a bit much for the office or classroom though.
---
Oakley Mens Men's Bathroom Sink Backpack
Features:
100% Nylon lining
Padded laptop sleeve for devices up to 13 inches
Mesh-lined straps for cooling
Specialized compartments for your gear
Pros:
This backpack is fully machine washable!
The heavy-duty fabrication will last
Oakley's brand standard = consistency in quality
Cons:
The single-zipper design isn't well-engineered
No exterior water bottle pockets
The Oakley Mens Men's Bathroom Sink Backpack is a rough-and-tumble choice for those who need a backpack that can go on the road or up a mountain with them.
---
GEARONIC TM 21L Vintage Canvas Backpack
Features:
Four external zippered pockets
Large main pocket
Drawstring closure
Leather corners for increased durability
Tablet Pouch
Pros:
The vintage canvas and brass hardware look stylish
The canvas material is extremely durable
The main compartment is large, and with the exterior pockets, you can fit all of your gear in this backpack
Cons:
No dedicated laptop compartment
No zippers (which may be a pro for some!)
No water bottle pouches
The GEARONIC TM 21L Vintage Canvas Backpack is a good choice for those who like an old-school, almost military look, and are not too fussed about having all their tech in its own special place.
---
Alternatives To North Face Backpacks: For the Traveler
OK, let's move on and take a look at some alternatives that maybe aren't quite so "go climb a mountain", but more "Which is my departure gate again?"
MATEIN Travel Laptop Backpack
Features:
17-inch laptop pocket
USB and headphone ports
Padded shoulder straps
Luggage strap
Optimized to unfold and go through a TSA checkpoint without removing your laptop
Pros:
The laptop pocket fits a larger device than most competitors
This backpack is water-resistant!
High-quality zippers that easily close
Made of extremely durable material
Cons:
Once a laptop is in the laptop pocket, some larger water bottles don't fit in the side pocket
Heavier than other backpacks when empty
The padded back traps heat and gets too warm quickly
The MATEIN Travel Laptop Backpack is not flashy, but it is highly-functional and holds up as a travel bag, outdoor take-along, and daily commuter. We like the built-in USB port that lets you put a battery pack on the inside, and access it from the outside – nice way to charge our devices!
---
KAKA 35l Travel Backpack
Features:
Terylene oxford fabric
Computer and tablet compartments
Lock with combination
Water bottle and key compartments
Pros:
This versatile backpack can be carried as a duffle bag or shoulder bag
There are several anti-theft mechanisms that come with the backpack
A large interior that can hold your entire packing list
Cons:
This bag is NOT waterproof
There are some issues with zipper placement
Smaller than it looks in photos
I'd recommend the KAKA 35l Travel Backpack for weekends away – as long as your travels don't include the great outdoors. It's stylish and functional enough to work as a daily backpack for students as well.
---
SwissGear 1900 Scansmart TSA Laptop Backpack
Features:
Made with weather-resistant 1200D ballistic polyester
Padded media pocket with headphone cord port
ScanSmart lay-flat technology for laptops up to 17 inches (perfect for airport security)
USB equipped charging capability
RFID Pockets
Easy access laptop and iPad compartment
Front compartment with organizational pockets
Two side pockets to accommodate water bottles, umbrellas, etc.
Pros:
Comfortable shoulder straps
Plenty of room
No need to remove your laptop when going through airport security
Fits in the overhead compartment on the plane
The heavy-duty grab handle makes it easy to pick up and move
Cons:
Flimsy zippers
Even when it's full, the backpack will tip over when placed on the floor
Overall, the SwissGear 1900 Scansmart TSA Laptop Backpack is a solid option if you fly a lot, but for regular work and school, you may want to consider an alternative.
---
Alternatives to North Face Backpacks: For Everyday Carry
OK, moving on again. Let's take a look at some alternatives that are ideal for everyday carry, whether you're looking for a laptop carrier for work, or books for school, there should be something here for you!
Tocode Laptop Backpack
Features:
USB Port
Built-in charging cable
Two external mesh pockets
Laptop compartment
Multifunction organization compartment
Pros:
Fits under an airplane seat with ease
Sturdy and holds up to the daily commute
Cons:
Not waterproof or even water-resistant (it got damaged after being rained on).
The chest strap is a bit small
Heavier than other options due it the material and padding
The Tocode Laptop Backpack will suit the needs of users that have a covered commute and don't plan on using this pack for outdoor recreation!
---
Modoker Canvas Laptop Rucksack Backpack
Features:
Padded laptop sleeve
Tablet sleeve
USB charging point
Front compartment
Two side pockets
The flap top closes with a magnetic clasp
Pros:
The vegan leather material looks great and is water-resistant
Large enough for all your devices
Would work as a camping or travel pack
Cons:
Sporadic issues with the battery connection in the USB port
Quality may not stand the test of time
This option is great for outdoor enthusiasts, students, and professionals alike – all for a great price.
---
HFSX Laptop Backpack
Features:
Reflectors on the straps
USB port
Headphone jack
Large side pockets
6 in laptop compartment
Pros:
Firm frame and quality fabric construction.
Many compartments, which makes organization easier.
Cons:
Smaller than it appears in the listing photo.
This backpack is not waterproof.
You get what you pay for in terms of durability – don't expect this bag to last a lifetime.
With its trendy look and low price point, HFSX Laptop Backpack is a great option for students who need a durable backpack that doesn't break the bank.
---
AmazonBasics Classic Backpack
Features:
Laptop pocket
Two exterior water bottle compartments
Inner zipper compartments
Pros:
Lots of colors to choose from.
Truly has the "classic" backpack look
Lightweight but roomy
This backpack comes in a four-pack
Cons:
It comes in a four-pack because these aren't designed to last very long
This simple, no-frills basic backpack is ideal for students or overnight travelers who know what they like.
---
Vaschy Classic Water-resistant Backpack
Features:
Padded sleeve to fit a device up to 15 inches
There's a hook for your keys in the front pocket
Two side pockets
Headphone port
Faux-suede bottom with padding to cushion your items from any drops
Pros:
This backpack is water-resistant thanks to its polyester material
Trendy design in multiple colors
Comfortable straps
A good amount of pockets while leaving lots of room inside
Cons:
Might not accommodate all the needs of students with many textbooks and binders
Some colors are not true to the photos
The straps tend to shed
Low-quality zippers
The Vaschy Unisex Classic Water-resistant Backpack is a good choice for anyone looking for a versatile and trustworthy pack for daily use.
---
JANSPORT City View Backpack
Features:
Laptop sleeve that fits up to 15-inch devices
Suede bottom
Web haul handle
Padded shoulder straps
Pros:
The Jansport brand is reliable for quality backpacks
Many color options
Roomy interior that can fit enough clothes for a short trip
Cons:
This backpack can only be washed by hand
No water bottle holder
Some people have noticed quality control issues when it comes to the seams
The JANSPORT City View Backpack is a classic, time-tested backpack that continues to live up to its reputation as a durable EDC. The City View version has an updated look compared to what you probably remember from high school, and would be appropriate for professionals and older students alike.
---
Carhartt Triple Compartment Work Backpack
Features:
Durable 1200D material
Padded pocket to hold a laptop up to 17 in
Front compartment with organized divisions
Water-resistant
Padded Air Mesh back panel that wicks away sweat
Pros:
The contoured shoulder straps are extremely comfortable
The back mesh allows air to get through and cool you
Great quality, lives up to the Carhartt brand.
Cons:
Hard to actually fit in a 17 in laptop
Some issues with the zippers sticking
The Carhartt brand is known for its durable and tough products for work and play. This backpack certainly lives up to the reputation, with some added perks to keep your technology safe.
---
BOPAI Slim Laptop Backpack
Features:
USB charging port
Flannel laptop compartment
Multipurpose pockets
Luggage strap
Water bottle holder
Pros:
This backpack has a large capacity, with 6 inner pockets
Lightweight and breathable
Professional appearance
Cons:
May be too thin for some tastes
Too small if you need to carry a big load
Looks cheap for the price
This ultra-slim backpack is best for career individuals or graduate students who want a more polished look in their backpack. It is not right for you if you like to use your pack like a duffel bag.
---
Tzowla Business Laptop Backpack
Features:
Laptop Compartment for laptops under 15.6 inches
Luggage strap to secure the backpack to a rolling suitcase
Anti-theft pocket hidden at the back
Two mesh umbrella/water bottle pockets
USB port
Breathable material designed for optimal airflow
Wide, padded shoulder straps
Pros:
Comes in various colors and patterns
Quality zippers
Comes with a built-in charger
The hidden pocket can be locked with a combination
Good value for the money
Cons:
The side pockets don't fit larger bottles
Smaller than it looks
It is NOT water resistant
The Tzowla Business Laptop Backpack is perfect for students and those who love a casual hike on the weekends.
---
Alternatives to North Face Backpacks – Wrap Up
As we said earlier, there are a number of factors that come into play when making a choice. Is it for commuting or camping? Does it need to fit under an airplane seat? What materials should it be made of?
Which is the best bag is really a personal decision. Nevertheless, we hope you found something in the list that works for you.
Before You Go…
Side note: If you've been looking for alternatives because your existing North Face backpack needs a lot of TLC… we've got you covered! Check out our next article and see if you can breathe some new life into an old faithful:
Related Articles
All product names, logos, brands, and trademarks are the property of their respective owners
Last update on 2023-11-15 / Affiliate links / Images from Amazon Product Advertising API