We get asked this one a LOT!
Although you can fling either on (over?) your shoulder, sling bags and messenger bags are very different. We'll walk you through the distinctions between them – sling bag vs messenger bag, highlighting their pros and their cons.
Let's settle this debate once and for all. (There's a clear winner here!)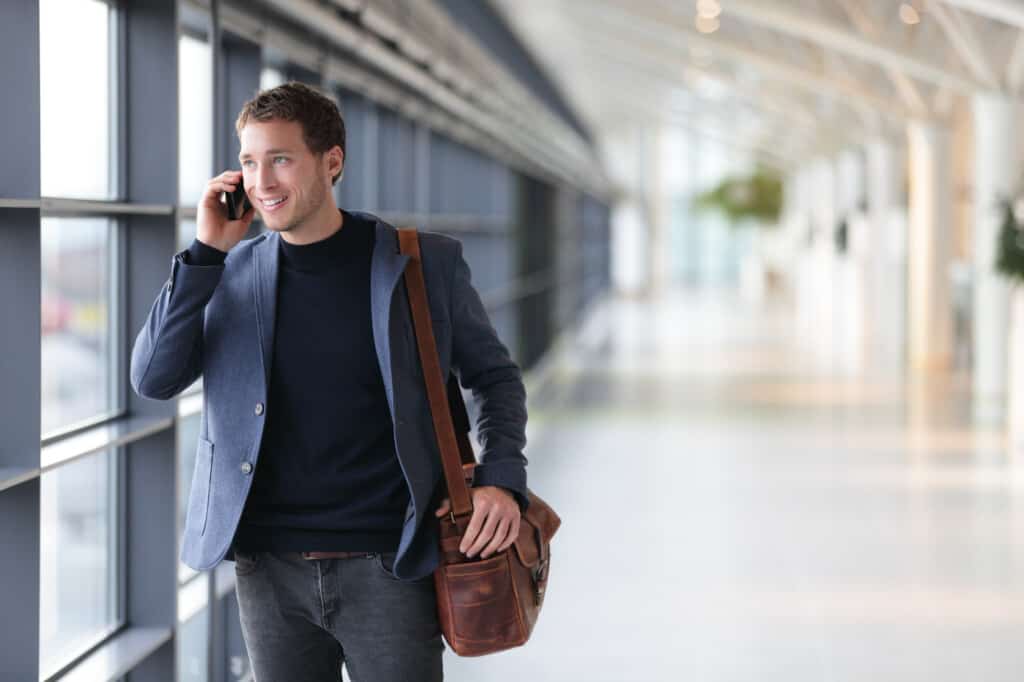 The Differences Between Sling Bags and Messenger Bags
All right, let's look at how both bag types differ. We'll go factor by factor.
Size
Generally, sling bags are smaller than messenger bags, which makes them fit for your every day, day-trip, or in-flight essentials, including sunglasses, snacks, wallets, keys, and phones.
In comparison, messenger bags have lots more storage space. Think laptops, pens, water bottles, iPads, and more.
Style
Our Take: Style is the main distinction between sling bags and messenger bags.
Sling bags are certainly having a moment in streetwear if you want to rock that urban look. Every so often, some designer or other will try to create a smaller bag of some kind for men, and this is the latest iteration.
As for messenger bags, they're classic bags that look smart (especially if they're leather ones) and are perfect for the office. So, they're more socially acceptable in professional spaces than sling bags.
Remember that word, classic.
Material
OK, fair's fair – when it comes to material, nylon sling bags are very in.
After all, they're affordable, lightweight and easy to maintain, which makes them the perfect streetwear accessories.
As for messenger bags, they're mostly available in office-friendly, strong, and durable fabrics, leather being the most popular, though you can also find them in tough-but-stylish ballistic nylon (*cough, Tumi.)
Sling Bags Pros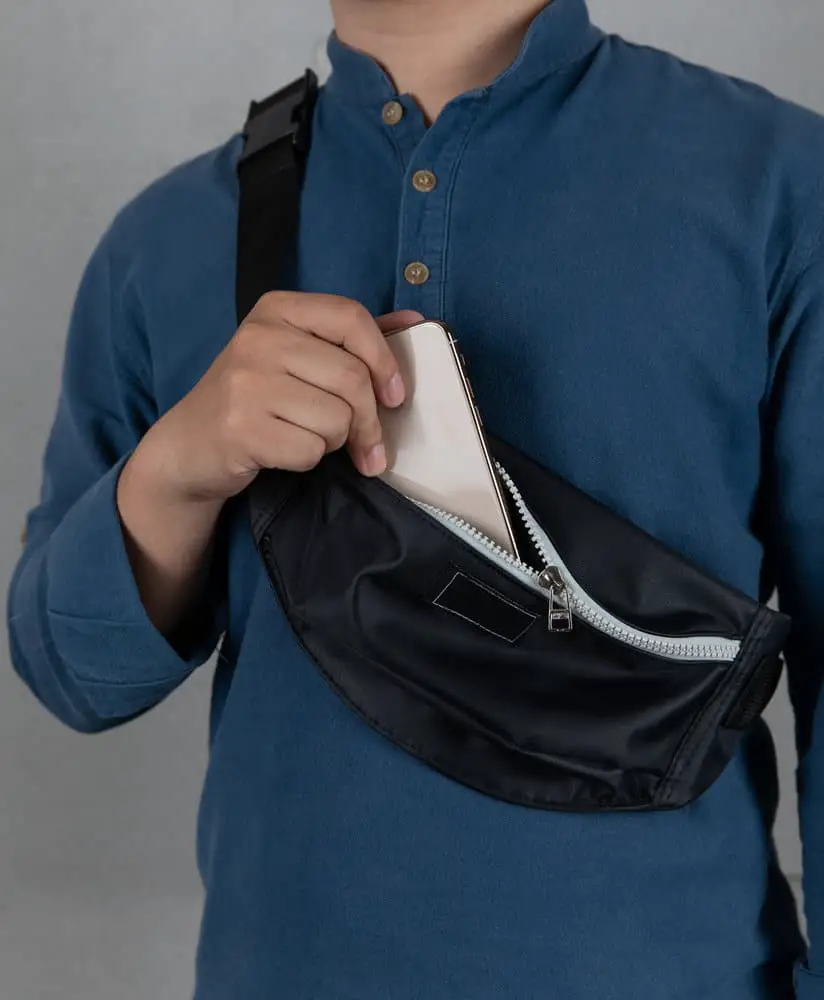 If you buy a sling bag, what value are you getting? Generally speaking, a sling bag is:
Easily Accessible
One of the best perks of a sling bag is that you can access your belongings without taking it off or putting it down. So, if its body is resting on your chest, the zipper will be below your chin. And even if you wear it on your back, you can easily shift it around to get to the pocket.
Convenient
There's nothing as convenient as a lightweight, small bag for your essentials that leaves your hands free! This makes it a good fit for travelers, as you can go about hikes and excursions with the bag hugging your torso.
Anti-theft
Speaking of travel, it certainly "feels" safer to have a bag in front of you (in terms of pickpockets). Many people like sling bags for this reason alone – carrying passports, wallets, etc in front of their bodies.
Of course, thieves are fully aware of this too…
Trendy
Although fanny packs have long fallen out of favor, they made a comeback as cross-body bags a few years ago. Trendy in the US, Europe, and Asia, the sling bag has become a staple of urban streetwear for some – to the point where Louis Vuitton had to drop their own classy sling bag designs.
Comfortable
As a cross-body bag, the strap rests close to the neck base, so you won't have to awkwardly lift your shoulder to stop the bag slipping off. The bag's weight is also distributed between the back or hip and shoulder. This way, you won't strain your neck and shoulder muscles.
Sling Bag Cons
OK, without further ado, the downsides for these bags are that they're:
Small
As we said before most sling bags fit only your essentials.
So, if you need to pack your laptop, book, water bottle, or so, a sling bag may not be what you're looking for. However, athletic sling bags are usually bigger than regular ones if you need a little more storage.
Not for the Office
Let's be blunt about this. Going to the office with a sling bag is probably not the best idea. They just don't say "I'm a serious professional."
To be clear – this isn't a downside of the bag itself, but you should note that it's casual and not meant for professional workspaces.
Messenger Bag Pros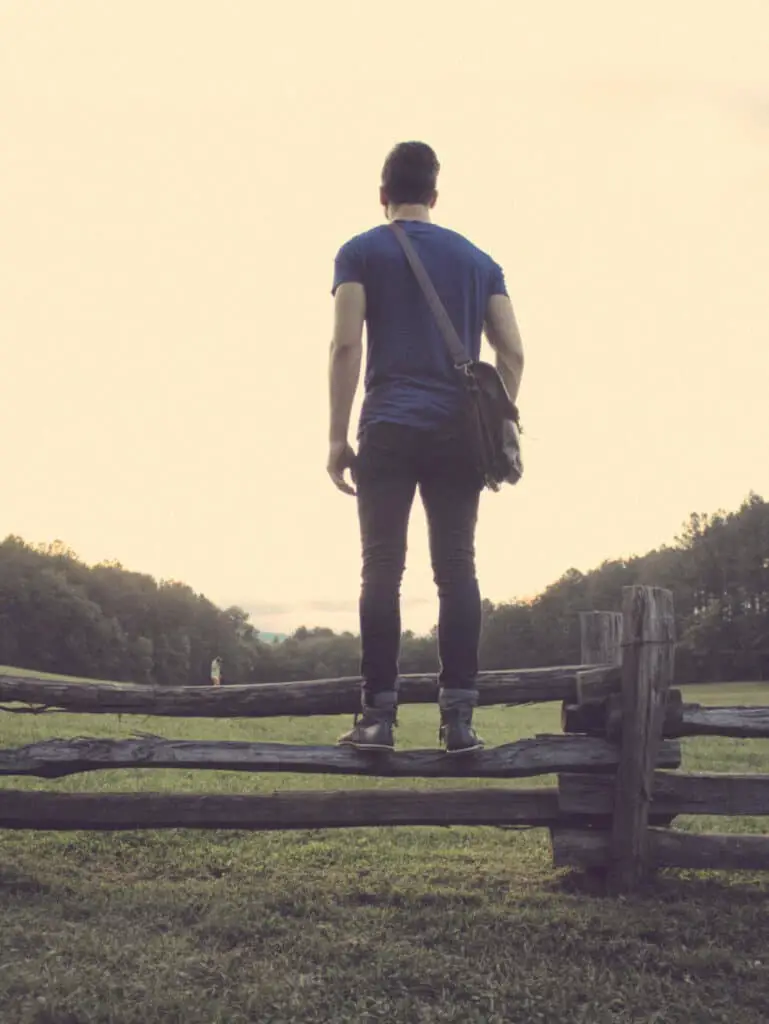 Some of the best features of messenger bags are that they're:
Excellent for Storage
With plenty of storage space, you can store everything you need in a messenger bag, including water bottles, folders, and 16-inch laptops. Even better, messenger bags tend to have several pockets or compartments, so you won't have to rummage around for your keys.
Of course, this feature makes it helpful to students and professionals alike.
Convenient
There are many ways in which messenger bags are convenient. For instance, when wearing one, your belongings are easily within reach, so you won't need to put it down to fetch an item. Also, we can't forget the convenience of the design that leaves your hands free, same as a sling bag does.
Classy
There's an undeniable elegance to sleek, simple leather messenger bags that you don't get with a backpack, laptop bag, classic briefcase, or other large bags.
Their style renders them an excellent choice for office wear, giving you a professional air.
Versatile
We've mentioned that you can wear a messenger bag to the office, but obviously there's nothing stopping you wearing it on the weekends, Thanks to its hybrid appeal, the bag is suitable for formal and casual use. In other words, it's the sweet spot between casual backpacks and classic briefcases.
Durable
Messenger bags come in many materials, and most are very durable. Whether they're made of leather, vegan leather, or canvas, they can meet the demanding needs of your everyday life, which makes them largely hassle-free.
Messenger Bag Cons
It's probably clear by now we're big fans of messenger bags as stylish carry choices for men!
To be fair though, there are a couple of downsides to messenger bags. For instance, they can be:
Uncomfortable
Although they aren't naturally uncomfortable, a messenger bag can be if you pack it with heavy objects. After all, they'll make it difficult for the bag to wrap around your body for good weight distribution, causing it to strain your shoulder or back.
Also, wearing a heavy messenger bag can throw off your balance if you're biking.
The key here is heavy bags. Don't overpack them and we think the messenger bag clearly comes out on top.
Unsuitable for Travel
If you're constantly traveling, a messenger bag might not be the bag for you. For one, you won't be able to pack it fully without it getting uncomfortable. If you must carry a heavier bag, but still need the hands-free experience, then maybe a backpack that can go under an airplane seat is the better option.
Sling Bag vs Messenger Bag: Before You Go…
Cards on the table now.
Sling bags are essentially fanny packs rebranded and popularized, but messenger bags are chic, classically-styled rectangular bags.
Our take: don't be a fanny pack guy. Get a stylish messenger bag already. Read our next article for more on these bags…
Different Types of Messenger Bags (And When You'll Want Them)
Related Articles:
All product names, logos, brands, and trademarks are the property of their respective owners