What's better than the feel of a well-worn, high-quality leather wallet? We've compiled some of our favorite handmade, high-quality leather wallets. This top-ten list includes money clips, bi- and trifold wallets, and even a few travel wallets built to hold passports and notebooks.
If you're on the hunt for a beautiful full-grain leather wallet, look no further… we've got you covered. Read on for our selection of the best handmade wallets!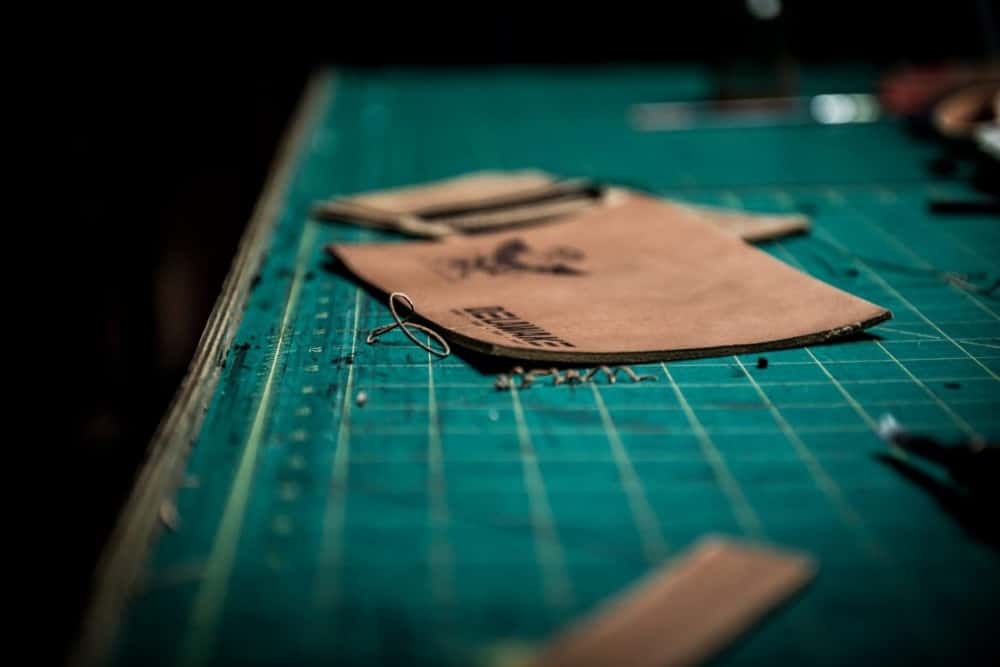 Bespoke Materials & Design
Each of these wallets use only the highest quality materials for their products. They all have smart design features that foreground functionality, keeping you organized in style. A fair number of them are crafted with the slimness necessary for front-pocket carrying in mind too. Enjoy!
---
Our Favorites – 10 of the Best Handmade Leather Wallets
Buffalo Jackson, Bison Leather Field Notes Travel Wallet
Are you the kind of guy who's always looking for a new adventure? Made from rich, authentic bison leather, this wallet holds all of your travel essentials. There's sleeves for your passport and field notes, as well as five card slots and two extra sleeves for cash.
These two sleeves are especially convenient for travelers handling two or more types of currency.
This wallet is both useful and stylish. Its rich, mahogany leather is stamped with the company's logo, a small buffalo, in the bottom right corner. And just in case you weren't already tempted to book the next flight to an exotic locale, Buffalo Jackson includes a 3-pack of Field Guide booklets for you to record your adventures.
Because really, what true adventure fits in only one notebook? 
---
Holtz Leather Company, Logbook
Maybe you're so adventurous that a field wallet without a closure is a non-starter.
In that case, Holtz makes this gorgeous logbook wallet using full-grain leathers sourced from local tanneries, and it features a snap closure to keep everything in place. With two card slots that hold 2-3 cards each, it keeps you organized without inviting you to overstuff it.
On the opposite side, there's a pocket perfectly fitted for a field notebook, which Holtz includes with your order. They've also included a pencil loop (complete with pencil!) so you've always got one handy, no matter where in the world you find yourself.
Holtz also includes free personalization, so this wallet makes a fantastic gift for any guy in your life with a travel bug. 
---
American Bench Craft Hammer Riveted Wallet
If you're looking for a more traditional wallet design, this model from American Bench Craft is a solid bet. Constructed from a single piece of full-grain leather and fastened with rivets, this wallet is truly a work of art.
The two front pockets hold 2-4 cards each, while the two inner pockets easily hold cash, business cards, or other necessaries. American Bench Craft only uses vegetable-tanned leather, so your wallet will become more supple and fitted to your needs over time.
Did we mention that vegetable-tanned leather is also environmentally friendly? And as it ages, this leather will develop its own unique patina, giving you a one-of-a-kind wallet.
American Bench Craft also traded standard stitching for metal rivets to make sure your wallet holds up to everyday use without fraying or falling apart. You can choose from black or brown leather and silver or gold rivets and optional heat-embossed personalization on the inner left pocket. 
---
Go Forth Goods, Standard Wallet
Another classic bifold wallet, this standard from Go Forth Goods is made from 100% full-grain leather from one of the oldest tanneries in the United States: Horween. Founded in Chicago in 1905, Horween has been tanning high-quality leather for over 100 years.
Go Forth Goods' wallet has been hand-stitched with waxed thread and comes in five gorgeous colors ranging from black to olive. The Standard Wallet's five pockets easily hold 12-14 cards and cash, and the card slots employ a distinctive triangular design. Go Forth Goods also offers free personalization of up to six characters. 
---
Ezra Arthur, Cash Fold
While it might look like a standard wallet, this cash fold from Ezra Arthur is in fact a folded money clip. Though it holds up to thirty bills, it keeps everything slim, so there's no risk of "Costanza wallet" syndrome.
As an added bonus, this fold does not use any metal like most money clips, so it won't pinch or poke you.
Ezra Arthur uses high-quality leather from one of America's oldest tanneries out of Chicago, Horween. Their Chromexcel full-grain leather is beautiful, developing a unique patina as it ages. But it's also durable, having been enriched with waxes and oils that prevent scratching.
You can monogram this cash fold and choose from six colors: green, navy, whiskey, malbec, jet topstitch, and jet. 
---
JooJoobs Handmade Leather Wallet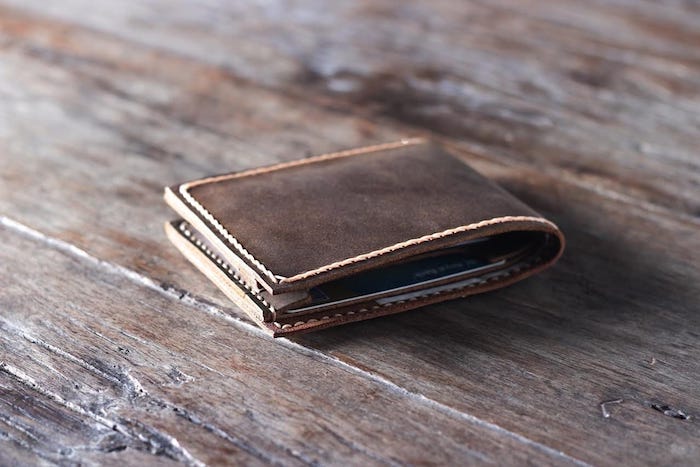 Perfected after years of experimenting with different leathers and designs, JooJoob's wallet is made from beautifully distressed leather. This high-quality, super slim leather is durable but just thin enough for a front pocket if you don't overload it
Classically designed as a bifold, this wallet has four pockets that can hold 12 or more cards, giving you plenty of room for all your necessaries. And its saddle stitching and quality leather make it especially eye-catching.
Considering that your wallet will develop its own distinct patina, you'll have no trouble picking yours out of a crowd, but you can also get this personalized. 
---
Pad and Quill, Classic Journeyman Wallet
Classic is the operative word for this gorgeous bifold wallet from Pad and Quill. Made from 100% full-grain, American leather that will develop a beautiful and unique patina, the Classic Journeyman wallet is like a fine wine: it will get even better with age.
But this wallet is not just a pretty face.
It fits 9-12 cards and cash without being too bulky, and Pad and Quill have hand-stitched it with parachute grade nylon for optimum durability. They've also included unique design features, like rounded edges that make it perfect for use in your front pocket and a modern orange accent stitch (Pad and Quill's nod to World Vision).
Did we mention this thing is super slim? And you can choose from four rich tones: chestnut, whiskey, chocolate, and galloper black. 
---
Norm Cahn Leatherworks, Cabrio ID Money Clip Wallet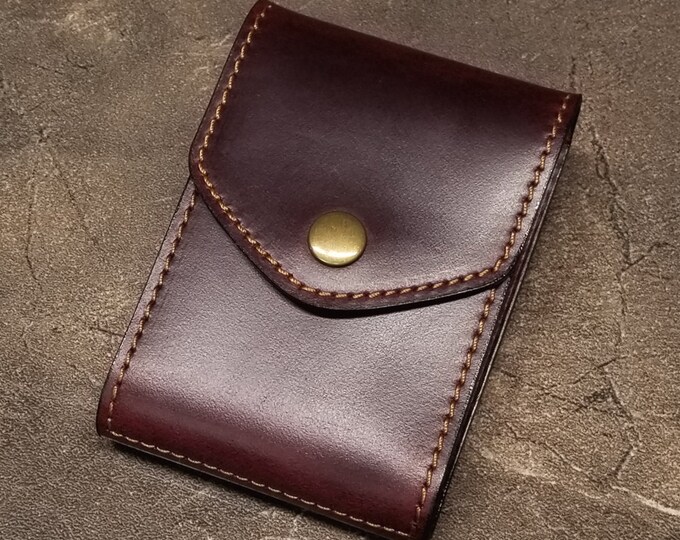 Can't choose between the beauty of a classic, full-grain leather wallet but the slim profile of a money clip?
Never fear! Norm Cahn's Cabrio ID Money Clip Wallet is just what you're looking for. Made from Horween's Chromexcel leather, this clip incorporates over 100 years of quality tanning experience to give you optimum durability and beauty.
Norm Cahn uses a trifold design that secures with a snap, keeping the 12-16 cards and cash you'll be able to fit in this beauty super secure. They've even introduced an ID window on the back for extra storage and convenient access.
The Cabrio comes in a variety of colors (there's even a limited edition alligator leather version!) and you can choose from brass, antique brass, or nickel snaps and chestnut or black thread. 
---
Mr. Lentz, Men's Wallet

(Updated)
As its name suggests, this wallet from Mr. Lentz is no-nonsense.
Sporting a classic bifold design, it's made from full-grain leather and secured with beautiful brass rivets. This wallet has two horizontal card slots and two pockets that fit 8-12 cards. A separate bill pocket holds a medium stack of cash, but it's also slim, fitting easily into your front pocket.
Mr. Lentz only uses sun tanning and all-natural vegetable-based dyes on these wallets, making them unique and eco-friendly at the same time. Each develops its own patina with age.
Mr. Lentz doubles down on that eco-friendly outlook, only using leather sourced as a meat by-product.
In other words, no cow died just to make your wallet.
You can choose from three colors (suntanned, western brown, and desert night dark) and include an optional chain. This wallet also gives you personalization options: hand-stamped, branded, silverized, or goldenized. Mr. Lentz also makes it easy to care for your new wallet, including "spiff and shine" conditioner with each order. 
****This wallet style has been updated to add new interior rivets for extra durability.
---
One Star Leather Goods, Park Sloper Junior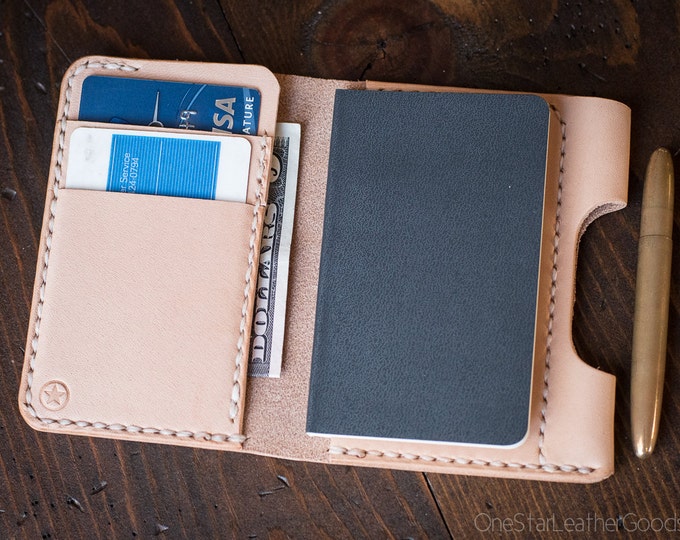 Looking for a wallet that will keep you and your thoughts organized?
Look no further than One Star's Park Sloper Junior. For this deceptively small wallet, One Star uses bridle leather from Hermann Oak tannery in St. Louis, Missouri, an all-American leather that is thin but extremely durable.
Did we mention that this is a dream wallet for the minimalist? On its left-hand side, it sports two card slots that hold two cards each, as well as a larger pocket for bi-folded bills. On the right-hand side, the Park Sloper Junior fits a compact 2.5 x 4" notebook (and comes with a Moleskine Volant, size Extra Small).
This wallet also includes an extra secure pen holder and One Star throws in a Fisher Space Pen, which can write literally everywhere–even in zero gravity.
Think this version might be a bit too small for you? Check out the aptly-named Park Sloper Senior that fits a 3.5" x 5.5" Field Notes notebook.  The Park Sloper Medium fits a 3" x 4.8" Rhodia A7 notebook. 
---
As you can see above, these handmade wallets are beautiful, uniquely made, and come in a variety of wallet styles.  A hand-stitched, high-quality leather wallet from a master craftsman will last a lifetime if you take care of it. 
---
Special Feature – Make Your Own Leather bag or Wallet
If this article has whetted your appetite for Handmade Leather goods, maybe you'd be interested in having a go at making your own?
Sale
All product names, logos, brands, and trademarks are the property of their respective owners
Last update on 2023-11-14 / Affiliate links / Images from Amazon Product Advertising API