Over the last few months, we've seen a lot of our readers looking for a good review of the FlyHawk Wallet (we've also seen it spelled Fly Hawk Wallet). Anyway, we've seen the FlyHawk for a year or so, but it's hard to give an honest review until the wallet has been out in circulation for at least a year…preferably two to three years. 
Well, we're coming up on two years, so let's take a deep dive into this wallet and see exactly what you're getting.  We'll look at the wallet across five main areas – Size/Dimensions | Materials | Aesthetics | Functionality | Durability. Without further adieu…The FlyHawk Wallet Review.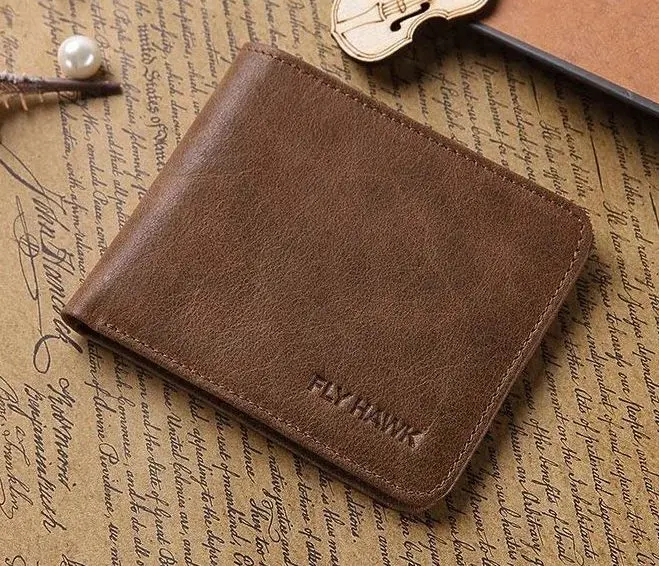 The short version is this.  They're a good little wallet maker, but you get what you pay for.  Obviously the price point of all of their products (across the board) is great.  We get it, some people don't want to spend $60, $70 even $100 on a wallet. 
All that said, when you're buying a wallet at a lower price point, you're going to compromise in a couple of areas – mainly, the leather and the overall craftsmanship (stitching, glue, etc).  Listen, it's not a bad wallet (either of their styles), but it's not something that you'll still be carrying five years from now.  And that's ok.
---
Size/Dimensions
We're looking at two different wallet options from FlyHawk – their Classic Bifold and their Vertical Bifold.  The classic bifold is almost square, while the vertical bifold is taller than it is wide. 
We wanted to make note that the wallets are actually smaller than they appear in the picture.  This was a good thing for us.  The wallet looks fairly big in the hand of the model that's holding it, but it's quite a bit smaller once you receive it.
Classic Bifold
Width: 4.5″ Height: 3.7″ Depth: .4″ Weight: ~7oz
Vertical Bifold
Width: 3.8″ Height: 4.7″ Depth: .6″ Weight: ~7oz
---
Verdict?
Both of these wallets are small-medium in size.  While we would still consider them minimalist wallets, they are a touch bigger than wallets we like to carry in our front pocket.  From a "slim" standpoint, they're good to go.  The leather that they're made from is actually quite thin, which makes it fold together nicely (even with cards) – more on the leather below.
---
Materials
This is going to be an area where we start to see some possible issues.  We've manufactured our own wallets and we know what quality leather looks like…we know what it feels like…and above all, we know how much it costs.  If you haven't seen our Leather Quality Guide, it's a good place to start, but here's the short version:
Full-Grain Leather = Highest Quality
Top-Grain Leather = Great Quality
Genuine Leather = Good Quality to OK Quality
Bonded Leather = Poor Quality…Run!
FlyHawk makes their wallets our of Genuine Cowhide Leather. Now, we don't want to necessarily scare you away from anything that's made from Genuine Leather, but your expectations have be realistic. Full-Grain leather will last for decades if taken care of properly. We have seen some decent wallets that are made of genuine leather, but none of them are lasting decades…most won't last for 3 years. Where you really get into trouble is that this type of leather is a "catchall" for all sorts of types and qualities of leather – cowhide, pig, etc..
Verdict?
FlyHawk makes theirs out of Cowhide (which is good) and we will say it does "feel" good in your hand.  That said, it will tend to breakdown much faster because the wallet isn't cut from the full-grain to hold it's integrity. It's all about perspective – the price point is excellent so it's not that big of a deal to us.
---
Aesthetics (Looks)
In our opinion, this is a winner for FlyHawk.  Quite simply, their wallets look really cool.  Both wallets comes in four different colors – Black, Khaki, Caffe (dark brown) and Blue.  Personally, we wouldn't have called the Khaki color by that name, because it's really a lighter version of the dark brown…definitely not like your dad's khaki pants though.

There are two different exterior finishes.  They're the exact same dimension wise, but the interior on each is a bit different.  We'll jump into the interior in the next section.  Personally, we like the version with the extra piece of leather on each corner, but both look really cool.
The leather has been softened, so both versions come with a worn in or vintage look to them.  Personally, we prefer a leather that comes "au naturel" from the manufacturer.  Think of it like this:
A pre-worn leather will develop less of a patina over time and won't age as well
A naturally tanned leather will develop a rich patina and age gracefully over time
---
Verdict?
FlyHawk wins in this part of the review.  It's obvious to us that the wallets were well thought out from an aesthetics point of view.  In fact, of all the customers we talked to, not one had a complaint about the way the wallet looked.
---
Durability
This is always a difficult section to look at it, because so much of durability is relative.
The number one thing that will cause a wallet to wear out, is carrying it in your back pocket.  Constantly sitting on it day in and day out will cause even the finest wallet to break down two to three times faster than it normally would.
The second thing (and not far behind the first, pun intended) is over-stuffing your wallet.  It will cause the leather to stretch and want to tear away from the stitching. The stitching is actually quite strong and doesn't seem to have any obvious issues with fraying or coming unraveled. 
Verdict?
Basically…don't over-stuff the wallet and it will be fine.
Functionality
This is probably the most important section of the entire review.  Why, you ask?  Well, the wallet can look cool, it can be the perfect size, it can even last for 10 years…but if you can't get comfortable using it, then what's the point?  Wallets that don't function are like cars with no engines – basically of little to no use.
There are a couple of ways we like to look at functionality – and both play an important role in our overall evaluation:
Layout
We don't have any issues here.  The wallets are laid out nicely.  The Classic Wallet will hold a few more cards than the Vertical Wallet, but not by much.  Technically speaking, the Classic is setup with six (6) card pockets plus a pocket for your ID.  The Vertical can hold five (5) cards, plus an ID pocket.
While it IS possible to double up in each section – i.e., two cards to a single pocket, we don't really recommend it.  You have to remember that leather only stretches one way.  Once you go with two cards, you are committed at that point.  If you try to go back to carrying one card per pocket, they'll most likely be loose and start to fall out.  Besides, if you're carrying more than 4-6 cards you need to re-evaluate why your wallet is so fat and make some changes.
Both wallets can accommodate cash, but they definitely aren't cash heavy styles.  You typically need to fold bills at least once (for the Classic) and twice (for the Vertical) to make them fit.  You wallet can get thick pretty quick if you regularly carry 10+ bills.
Usability
The wallets are both laid out well, but what about usability?  This is where we had some issues.  Our only real complaint?  The pockets to put cards into are just a bit too tight.  Don't get me wrong, the cards will fit, but you really have to get after them to get them in the first time.  And taking them out isn't any easier.
All in all, it took about two weeks for the leather to stretch enough and mold around the cards to make taking them in and out easy.  Like we mentioned above – you actually can't really fit two cards into each pocket initially.  You'd have to carry one card per pocket for a few weeks, then slide in a second card to start the process over again.  It's much easier to just carry less cards and slim out your wallet.
Verdict?
Functionality definitely has the potential to be there, but you have to wait a while.  It's not a deal breaker, but the tightness of the pockets up front was really annoying.  A little resistance is great, it means your cards won't fall out…but we felt the pocket could have been made slightly larger to make less of a chore.
---
Customers' Biggest Praise
Definitely the look and "feel" of the wallet.  A+ for most
Customers' Biggest Frustration
The card pockets!!  We weren't the only ones.  It was really tough for folks to get past this annoyance, but most admitted that they pockets did eventually stretch.
---
The Flyhawk Wallet – Final Thoughts…
Like we mentioned up front…perspective is everything.  You're paying less than $20 for a FlyHawk Wallet, which is a GREAT price point.  Some of the wallets we've gotten our hands on are $80-100 – this isn't one of those.
Who this wallet is for…someone who wants a cool looking wallet on a budget.
Who this wallet isn't for…someone who is looking for a wallet that will last for 3+ years and is super nitpicky.
---
Hope this was helpful.  Check out our other post on the Best Minimalist Wallets to see some other great options.
All product names, logos, brands, and trademarks are the property of their respective owners