It's the Ridge Wallet vs the rest! In this showdown we compare the Ridge to the other top metal wallet players: Dango, Trayvax, and (bonus!) Machine Era.
There are three main players in the world of metal wallets.  Ridge, Dango, and Trayvax have all made a name for themselves in the everyday carry space.  In a time where wallets keep getting smaller and smaller, these three really get it.
While all different and unique in their own way, they all share the same passion for quality craftsmanship and slim carry.  
These things are extremely important to us as well. Today we want to take a look at all three of these wallets, at their history, features and functionality, and pros and cons for each.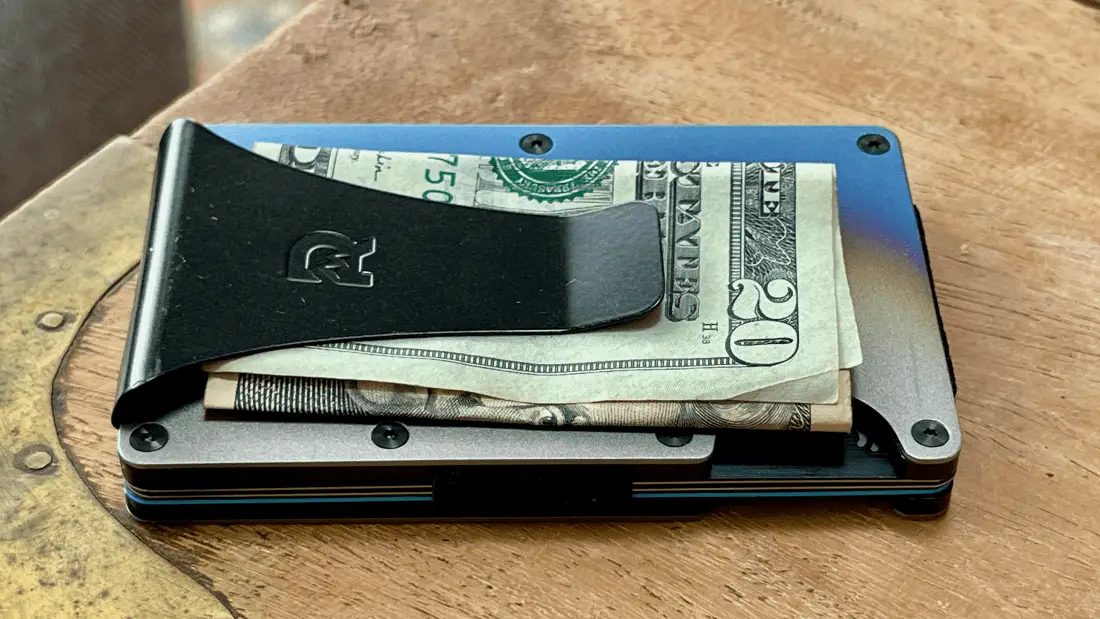 Plus: we have a bonus comparison, read on for our Ridge Wallet vs Machine Era review later in this article!
Best for
Best Range of Colors and Options
Hey, Where Did You Get That? Perfect For The Outdoor Enthusiast
The OG!
Best for
Best Range of Colors and Options
Best for
Hey, Where Did You Get That? Perfect For The Outdoor Enthusiast
The Ridge Wallet
The story of Ridge goes back to 2012. Father-Son team Daniel and Paul Kane decided they want to create a new (better) way to carry.
What they came up with changed the wallet world. Ridge is a modular design that allows for both cash and card carry. They succeeded in creating something that keeps your cards and cash secured but minimizing the footprint in your pocket.
The design is simple, but genius. Every Ridge wallet has two plates, these plates are held together by a high-quality elastic (which is also replaceable). Getting your cards in and out is super easy. While it does take a bit of getting used to, especially if you are coming from a more traditional wallet, once you make the transition you'll be hooked.
Will get into more detail a bit later in this post, but Ridge comes in two basic forms (and a ton of colors and finishes)… the cash-strap and the money clip.
---
The Dango Wallet
Dango was founded in 2016 by Charlie Carroll.
Charlie has a passion for World Travel and had traveled frequently over the previous five years. While on his travels he developed a passion for quality design, which has resulted in the quality products showcase that Dango has today.
These guys are the real deal, their production is spot-on and their goods are unique and fun.
One of the things that we really like about Dango is their ability to marry the industrial/tactical design of metal as well as the quality hand-craftsmanship of leather design.
All of their wallets incorporate both.
Their main two designs are the Dapper and the Tactical wallet. These are virtually the same wallets, but the Tactical comes with the credit card-sized multi-tool which fits seamlessly into the wallet.
We'll talk more about pros and cons of each later, but you really can't go wrong with either.
Their concept is similar to The Ridge wallet above, two plates which are held together by a band in this case versus elastic. the cards fit in between to remain snug and secure. there is also a pocket for cash and other receipts, which makes it a functional wallet overall.
---
The Trayvax Wallet
Mark King started Trayvax In 2013.
Strangely enough, this little wallet brand was born out of his attempt at creating a reusable plastic bag carrier…i.e., it hangs from the belt loop, etc..  
Anyway, that particular project never made it off the ground, but he loved the machined design. It paved the way for the most utility wallet ever invented, or so he says. After using the Trayvax for some time, we can safely say he has accomplished this.
It's definitely not your traditional wallet, but that's not what his goal was. Trayvax is perfect for the outdoor enthusiast or traveler.  The wallet is intended for someone who wants to travel light, hence they need their "stuff" do do a bit more, or fill multiple roles.
For this article, we'll be talking about The Original, but know that Trayvax now has many different wallets (seven at the time of writing).
The Original itself is comprised of two pieces of metal…anodized aluminum (lightweight) and cold rolled steel (strength), an elastic band with hook & loop/velcro (check out the best velcro wallets for more), and a paracord loosely woven to keep the steel and aluminum plates together.  
While it sounds complicated (it sort of is), it actually all fits together nicely. It gives the wallet an edgy/utilitarian style and just plain looks cool. We'll dive into more of the details below.
---
Ridge vs. Dango vs. Trayvax
Ok, so which wallet is best?  Which one is right for you? Well, only you can truly decide that, but what we want to do below is give you a detailed comparison of the various features of each.  We'll include our take as well as comments by actual users of each wallet.
Size & Weight
Ridge
Dango
Trayvax (Original)
Weight
(ounces)
2oz
2oz (3oz with multitool)
3oz
Size
(mm & Inches)
86 x 54 x 6mm

3.38″ x 2.14″ x .24″
86 x 66 x 7mm

3.38" x 2.62 x .35″
114 x 71 x 12mm

4.5″ x 2.8″ x .5″
Materials
Ridge
The Ridge Wallet is comprised of "layers".  This makes the wallet completely modular so you can change it around to your liking (although most people don't).  Everything is held together via stainless steel torx screws (T-5).
The outermost layer is one of several different materials; aircraft grade aluminum, titanium or carbon fiber…and it's SUPER thin.  This layer is what you see and feel…the aesthetics of the wallet.
Be careful when taking the wallet apart and putting it back together.  It's not exactly delicate, but we've seen a few unhappy customers because they bent it when not being intentional about where they set it down, stepping on it, etc..  
The next layer is made up of a polycarbonate material that's the backbone of the wallet.  The inner-side is polished smooth so your cards slide easily in and out without too much damage.  
It does affect the cards somewhat over time, but no more than any other "leather" wallet that you constantly take cards in and out of…nothing to worry about.  It's precisely machined on the other side to allow the outermost pieces of metal to fit nicely with the elastic sandwiched in between.
The elastic is obviously what holds everything together.  There are two versions of the elastic. One accommodates the Cash Strap, while the other is what allows the Money Clip.  
*Hint, you can swap these out easily and have one of each version.  We've even seen folks that combined the two for the best of both worlds.
It's probably easiest to view the image below to see the wallet "blown out" to get a real idea of what we're talking about. This image from Ridge:
Dango
The D01 and T01 are similarly composed of layers like the Ridge, but the one thing we noticed about Dango is that it's not quite as easy to take apart.  You can do it, but it's not as easy as Ridge to completely disassemble the wallet.
That said, this can be a good thing. The mil-spec bolts that hold the wallet together are much more snug than Ridge, and you can order a replacement set in steel or black to change up the look of your wallet.
The outermost layer of the Dango is made up of premium rawhide leather (one side) and 6061 aerospace-grade anodized aluminum (other side).  This leather-side is bolted onto a solid plate of carbon steel which is makes it virtually indestructible.
The wallet is held together by a silicone band which sandwiches the two metal plates together.  This is actually our least favorite part of the wallet.
It's so much less "giving" than the elastic, that it can make getting cards in and out a bit more difficult.  That said, we've seen that it will last a bit longer than the elastic on the Ridge (both silicone and elastic are replaceable for minimal cost).
Trayvax
You'll start to notice a theme with these metal wallets…they're all modular.  
Trayvax is no different. The Trayvax Original is the most "tactical" looking of the three.  It's also held together with mil-spec grade paracord and firefighter quality elastic. This is unique to the three, because it allows you to open the wallet up all the way without putting stress on the paracord or elastic.  Whereas with Ridge and Dango, that's a bit more difficult.
Similar to the Dango, the outer shell is made up of an anodized aluminum plate and a cold rolled steel plate.  The steel plate is the thicker (and stronger) of the two which provides the main strength of the wallet (it includes the bottle opener).  
The aluminum is still super strong, but much lighter weight. It makes up the opposite plate that compresses against your cards when you pull the paracord and elastic tight.  (this is also the piece that has color).
On the outside of the wallet, there is an elastic band with hook and loop (velcro) technology.  It's perfect for receipts, cash, or any other thing you need to stash outside of your credit cards.  
We can't emphasize enough how strong this elastic is…it's super high quality and hasn't show any signs of wear after several months of use.  
That said, because of its thickness, it requires a few more cards/receipts/cash to get it tight. We would probably sum it up this way. If you carry one or two cards…the wallet feels a bit loose and the cards can move around a bit.  It really seems to settle in with five to six cards and feels secure.
Colors, colors, colors…
Obviously all three of these brands experiment with different color combinations, so its worth checking their own sites for up-to-date options, but this gives a good feel for the ranges offered:
Ridge
Dango
Trayvax
Aluminum: Black, Gunmetal, Raw (Silver), Navy, Gold, Rose Gold, OD Green, Desert Tan, Celeste (light turquoise color)

Dango comes in several "standard" colors, but Charlie is always experimenting with special editions.  The standard colors are below with the leather being listed first, metal color second.

Rawhide (Brown) with Silver
Jet Black with Silver
Whiskey (Brown) with Silver

Midnight Blue
Charcoal Gray
Sandblasted Aluminum
Jet Black
Titanium:  Gunmetal, Black, Burnt
Special Editions:

Jet Black with Tan
Rawhide with Slate Gray
Jet Black with OD Green
Batwing Gray in Jet Black
Jet Black with Redline (Red)
Carbon Fiber
Wallet Functionality
Ok, so we've discussed what the wallets look and feel like.  But — how well do they function?
When we think of functionality pertaining to wallets, we're really looking at two things.  How much stuff can it carry (cards/cash/etc..)? How easy is it to get to? We'll look into it further in the table below.
The top row is what the manufacturer has listed.  The second row is what we recommend. We're not saying the wallets can't function at the capacity stated, but optimal performance (for us) is in the second row.
| | Ridge | Dango | Trayvax |
| --- | --- | --- | --- |
| Card Capacity (Listed) | 1-12 | 1-12 | 3-14 |
| Card Capacity (Recommended) | 2-10 | 2-8 | 5-14 |
Here's the thing with these wallets (or any new wallet), they are different.  In our opinion different is good. Different can simplify your life.
That said, different takes time to get used to.  We're so used to our traditional leather bifold wallets that these small, metal contraptions may seem weird at first. After about 3-4 days you'll get used to it. After about 3-4 weeks you'll wonder how you ever used anything else.
Below we've tried to rank each wallet in terms of "ease of use".  Honestly, we're nitpicking a bit here, but here's what we found after using them for several weeks.
Ridge – Definitely the easiest of the bunch to get used to…simplest to use.
Trayvax – Little bit more of a learning curve, but intuitive after a few days.
Dango – Cards are a bit more difficult to get in and out initially, but you do get used to it.
Not Just Wallets Anymore…
Each of these brands has also branched out into the world of "carry" with other items.  Obviously these guys are still known as "wallet" brands, Ridge, Dango and Trayvax are such innovative companies that they've come up with some pretty cool carry items to support their main line.  Let's take a quick look below.
Ridge has developed a phone case for the iPhone crowd. It's a nice addition to their main wallet, as it supports carrying 2 extra cards on the phone itself.
As with all of Ridge products, the phone case is super high quality with the leather being oil waxed full grain leather (the best grade of leather).  The leather cases come in Brown, Black and Navy. Or, take a look at their Kevlar case below:
Next on the list is the Ridge Commuter Backpack.  Very similar to their wallet, they've packed a lot of punch into a slim package.  This bag is water resistant, holds a laptop (with shock resistance), a couple of water bottles and even holds a mobile power bank.  
They've certainly chosen to expand their range of other products instead of doubling down on the wallets. It will be fascinating to see if they're successful at this.
OK, its time to move on to the awards!
---
And The Award(s) Go To…
Bottom line?
You're not going to find a bad wallet among the group.  Ridge, Dango and Trayvax are all quality products and are made to stand the test of time.  You won't be disappointed with any choice, but we did want to give out our awards below.
Sale
We hope you enjoyed this article and it helped you in your selection of your next cool metal wallet.  If you're interested in something similar to the Ridge, but at a different price point, we covered some inexpensive alternatives to the Ridge here.
Before you go though, there's one other wallet we'd like to cover…
[BONUS] Ridge Wallet vs. Machine Era
Another option we like is the Ti5 Wallet by Machine Era.  It's a great wallet to compare with the Ridge Wallet. Note though, that as of 2021, Machine Era transitioned away from wallets and are now focussing on the manufacture of high quality pens. They do still offer the Ti5 wallet though, so we think its worth checking out.
Dimensions and Weight
The wallet we're going to look at from Machine Era is the "˜Ti5 Slim Wallet'. Compared to the Ridge, this is a lot lighter with it weighing in at just 0.6 ounces. The length and width however is of a comparable size to the Ridge at 3.4 x 2.2 x .3 inches.
Color
The Ti5 Slim Wallet consists of a few materials such as aerospace grade 5 titanium. This is then sealed with "Diamond Like" Carbon coating. The combination of these two materials mean the casing itself has been made as impact and scratch resistant as is practically possible (more on this later).
The creators of the Ti5 stuck with a simple, but effective black color scheme making the wallet look professional, but at the same time, discreet.
Durability
The Ti5 Slim Wallet are made of grade 5 titanium (Ti 6AI-4V). This is commonly referred to in the trade as the "workhorse" of titanium alloys and is the most commonly used worldwide. It is known for its high strength and has been used in both of these wallets to secure any components such as cards inside from breakage if the wallet is dropped.
This in conjunction with the secure cash straps mean your money and cards will be secure.
As well as protection against scratches and impact from falls, it also offers protection against corrosion over time prolonging the lifespan of both of these products. The only difference between the two is that the Ti5 Slim Wallet lacks the RFID blocking aluminum.
Overall functionality
The Ti5 Slim Wallet comes with an area for your cards, a separate area for your cash and a cash strap which keeps everything inside secure and stops it from falling out. On top of this it has the added bonus of being a bottle opener; this is located on the rear of the wallet just above the cash strap.
Flaws
In our opinion, the only real comparison point where the Ridge might fail against the Ti5 is weight – it does weigh about four times as much so if you're looking for the lightest metal wallet, this could be the deciding factor for you. The lack of RFID protection in the Ti5 might be an issue for some, though it's not clear how big a deal this really is.
Final Verdict
The Ridge Wallet is more practical as well as being more secure physically and digitally. For us, these advantages outweigh the extra weight (there's got to be a pun there, somewhere) vs the Ti5 Slim.
The Ti5 Slim Wallet is a nice durable and functional wallet and we would probably need to re-evaluate my decision here if it incorporated an RFID blocking material to protect the cards and user in the future however for the time being our vote goes to the Ridge Wallet.
Before You Go …
Side note: We've been asked about TSA approval for Trayvax wallets a few times, so we wrote up a whole article on it. Check it out if you have any concerns about taking your favorite wallet through security:

Are Trayvax Wallets TSA-compliant?
Related Articles
All product names, logos, brands, and trademarks are the property of their respective owners
Last update on 2023-11-13 / Affiliate links / Images from Amazon Product Advertising API