Looking for the best, inexpensive Ridge wallet alternatives? That won't fall apart after a few weeks?!
The Ridge wallets are famous for their compact size and rugged durability. They block RFID, are available in a vast range of looks and metals, and are backed by a lifetime guarantee.
Unfortunately, they are also expensive, with some models costing $200 or more (yikes!)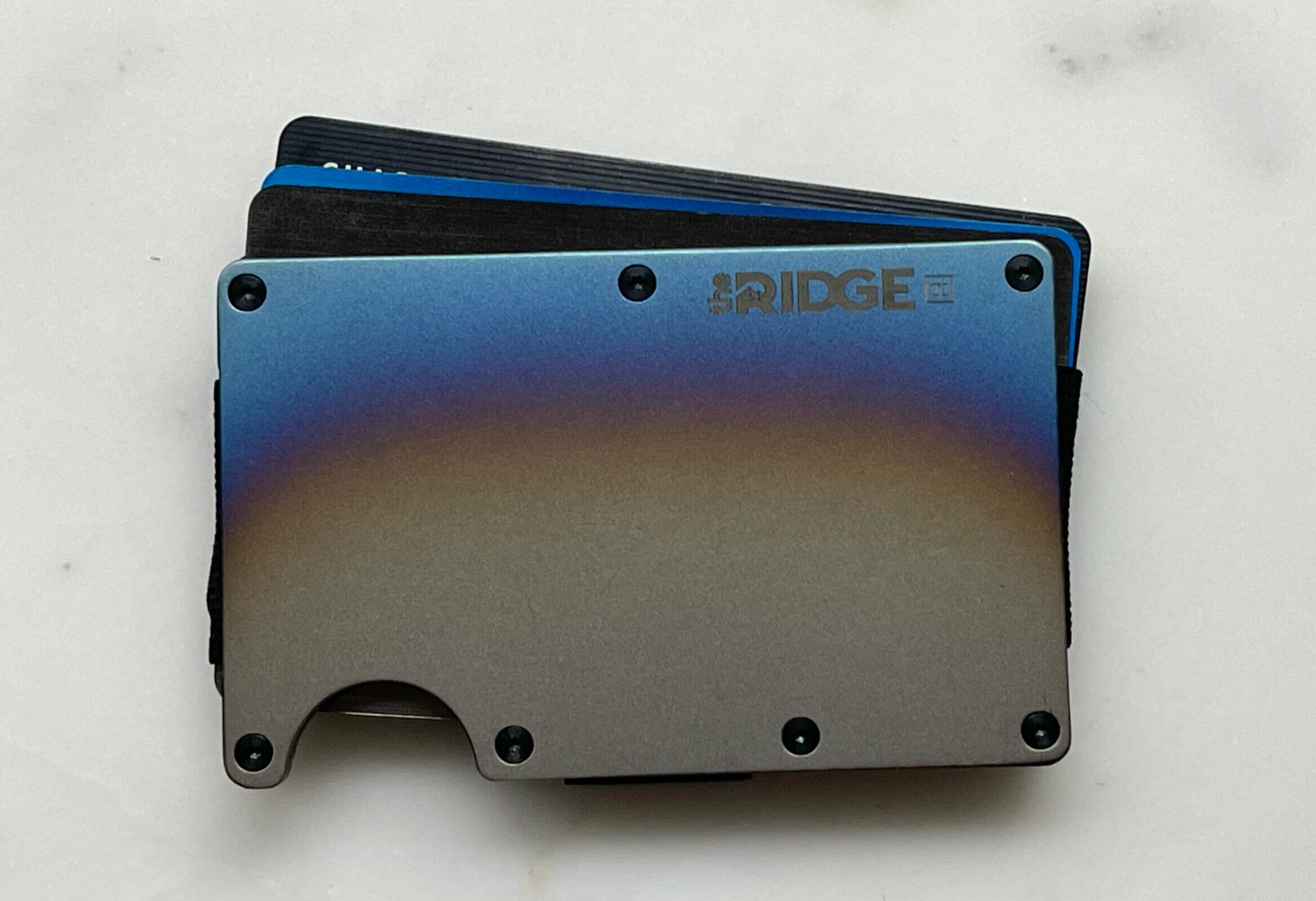 However, there are many more affordable alternatives to The Ridge wallet, and here are six of the best.
6 Inexpensive Ridge Wallet Alternatives: Reviews
Before we dive in, here's a quick summary:
Features
Two sturdy, aluminum plates held together with a strong, flexible silicone band
Combines convenient storage for cash and cards with a versatile multi-tool
Spring-loaded mechanism fans your cards out for easy access
Slim and streamlined cardholder and a top-quality leather case
Lightweight aluminum combined with beautiful natural walnut
OK, let's go through those in more detail.
ROCO MINIMALIST Aluminum Slip Wallet
The slim, sturdy ROCO MINIMALIST holds cash and cards securely while blocking RFID signals
Review
The ROCO MINIMALIST consists of just two sturdy, RFID-blocking aluminum plates held together with a strong, flexible silicone band. The band can also be used to conveniently store cash for fast and simple access to your money.
Cards slide out the side of the wallet using your thumb. The wallet comes with two bands—a slimmer version or a version that can hold up to 20 cards. This incredibly affordable wallet comes in an attractive gift box.
Pros
Flexible size expands to hold up to 20 cards
Silicone band is less likely to stretch out than an elastic band
Simple, minimalist design
Cons
Difficult to access or choose just the card you want without taking the wallet apart
---
Ranger Minimalist Tactical Front Pocket Wallet
Ranger's minimalist tactical wallet combines convenient storage for cash and cards with a versatile multi-tool
Review
The Ranger minimalist tactical wallet is made in the USA from high-quality cold-rolled steel with a Teflon powder coat finish that blocks RFID while providing strength and durability. The heavy-duty elastic band secures the wallet and provides convenient storage for cash.
Inside, the wallet can hold up to 8 cards, with convenient access to slide cards out using the thumb space. The wallet also includes a versatile multi-tool with 12 tools in one, including multiple wrench sizes in inches or metric units.
The bottle opener tool is designed to be used while the wallet is still full and assembled, while access to other tools requires disassembly. This wallet comes in four colors and is backed by a lifetime guarantee.
Pros
Slim and incredibly strong with a lifetime guarantee
Made in the US from high-quality materials
Includes a versatile multi-tool
Cons
When filled with fewer than 4 cards, they may rattle and feel less secure inside the wallet
---
Secrid Card Protector Wallet
The Secrid Card Protector is made from RFID-blocking aluminum, with a spring-loaded mechanism that fans your cards out for easy access. 
Review
The Secrid Card Protector is the winner of the Red Dot Design Award.
This incredibly slim and compact wallet protects cards from bending and breaking while blocking RFID signals. It holds up to 4 embossed cards or 6 flat cards. A patented mechanism slides the cards out with the push of a button, allowing you to easily choose just the card you need. This wallet is also made sustainably, with a 100% carbon offset.
Pros
Just 8mm thick, barely larger than the size of a card
Mechanism slides cards out for easy viewing and selection
High quality, sustainable manufacture
Cons
No capacity for cash or other small items
---
Fidelo Minimalist Hybrid Wallet
The Fidelo Minimalist Hybrid is the best of both worlds, with a slim and streamlined cardholder and a top-quality leather case.
Review
The Fidelo minimalist hybrid wallet gives you the functionality of an ultra-slim Ridge-style front pocket wallet. The inner wallet is made of lightweight aluminum that blocks RFID, with a slide trigger system allowing you to grab the selected card with the flip of your finger. 
The inner aluminum wallet holds 5 embossed cards or 7 flat cards, with a band for easy cash storage. When you want more style or more storage, slip the aluminum wallet into the included premium top-quality leather case.
The case holds another 1-2 cards or 1-10 bills in the front pocket, with a back pocket that holds another 1-2 cards. The leather case is also tap-payment enabled, so you can use your favorite card without removing it from the wallet case.
This hybrid system gives you the best of both worlds, with a minimalist wallet function when you need it and a stylish luxury case with more storage that doesn't add bulk.
The Fidelo hybrid wallet comes in a wide range of colors and materials for every style and includes an extra cash band and a luxury gift box. It is also backed by a lifetime guarantee.
Pros
Hybrid design combines a slim aluminum wallet with a premium leather case
Durable spring trigger system with a lifetime guarantee
Versatility to increase storage with tap payment when needed
Cons
Spring function works most easily one-handed when the wallet has 4 or fewer cards
---
Mountain Voyage Slim Minimalist Wallet
This versatile wallet expands as needed, storing up to 15 cards and 8 banknotes with incredible style
Review
The Mountain Voyage slim minimalist wallet is lightweight aluminum that blocks RFID signals, combined with beautiful natural walnut for distinctive style.
It comes with a screwdriver for periodic adjustments like Ridge and similar wallets. It holds up to 15 cards and 8 cash notes and has a slim and compact style.
The included money clip is removable if you don't carry cash, which gives the wallet an even slimmer profile. This wallet is available in three color/material options and is backed by excellent customer service and a 2-year warranty.
Pros
Slim, elegant style with natural wood
High capacity storage for up to 15 cards and 8 bills
Money clip is removable
Cons
No mechanism for easily removing and selecting cards, which is more challenging when the wallet has more cards in it
---
JNC Carbon Fiber Wallet
This carbon fiber wallet is compact and lightweight, mimicking the function of a Ridge wallet at a fraction of the price
Review
One of the most affordable Ridge wallet alternatives is this carbon fiber minimalist wallet from JNC. The inner plates are lightweight aluminum that blocks RFID scanning while providing sturdy protection for your cards.
The outer shell is tough and scratch-resistant carbon fiber for durable use with an excellent finish. The wallet is held together with quality stainless steel screws and secured with a wide rubber strap that doubles as a cash holder.
Altogether, this wallet holds up to 12 cards and 5 bills. It is available in various colors and comes in a beautiful gift box.
Pros
Low-cost Ridge-type wallet
Aluminum and carbon fiber for rugged use over long periods
High capacity for up to 12 cards
Cons
It can be hard to remove cards from this wallet when very full, and they may scratch against each other.
---
Buyer's Guide
If you are looking for a more affordable alternative to a Ridge wallet, here are some of the most essential features to keep in mind.
Card Retrieval
All minimalist wallets need to keep cards stored securely and make them easy to retrieve, view, and choose on demand. The Ridge Wallet is famous for having a "knack" to fanning out and retrieving your cards, and it can take some practice to make this move fast and smooth.
Similar wallets sometimes solve this challenge with an ejector mechanism, but most don't – leaving you space to push your cards out with your thumb.
If you plan on carrying more than 3-4 cards at once, the card retrieval system becomes more critical. Spring-loaded mechanisms are great, but they can break down over time, so look for a wallet with a guarantee.
Storage Capacity
Ultra-slim wallets often maintain this low profile by limiting capacity to just a few cards.
As a result, the difference between cards with embossed lettering or numbering and cards that are simply flat becomes more important.
Ridge-type wallets secured with a flexible band have the most versatility in storage capacity, while wallets with a defined thickness may only be able to store a few cards.
If you regularly carry a high number of cards, pay attention to wallet capacity and how the wallet is secured.
Versatility
Many Ridge-style wallets are secured with an elastic band designed to hold the wallet together while also providing storage for cash. However, a strong elastic band may also help store a key, clipping on a locator tag, or keeping other small items with the wallet.
Wallets without a band don't have this versatility and can't be used to hold other small things close at hand.
Durability
Wallets like Ridge all have metal plates that block RFID signals, but they come with a wide range of surface colors, materials, and finishes.
Almost all wallets will endure rubbing, scratching, dropping, and other wear and use over time, and not all these finishes will hold up equally well. Even wallets with a lifetime guarantee will usually not replace a wallet that has become buffed or scratched.
If you anticipate a lot of wear and tough use of your wallet, choose a more durable material like steel or carbon fiber, or select a finish designed to age well and gain an attractive patina, like leather.
Conclusion: Our Top Choice
Many wallets on the market offer the same compact functionality as a Ridge wallet without the expensive price tag. However, not all of these wallets have the same durability and lifetime warranty as a Ridge, so the high quality of a Ridge wallet can be worth worth paying for.
But if you want a great minimalist wallet at a fraction of the price, the Fidelo Minimalist Hybrid is an excellent choice:
Sale
Fidelo Minimalist Hybrid
The unique design combines the slim function of a Ridge-style wallet with a sleek and handsome leather case that gives you more style and storage when needed.
In addition, the tap-payment capability is a convenient feature that is more and more useful, allowing you to use your favorite card without even removing it from your wallet. The Fidelo Minimalist Hybrid has all the best features of a Ridge wallet and more at a fraction of the price.
Before You Go…
Another great option to look at (albeit not an inexpensive one) is Axwell. We like their wallet range a lot, and we can offer readers a discount too! Check out our next article for more on these great wallets (the copper one is crazy beautiful):
Axwell Wallets – Has The Ridge Met its Match?
Related Articles:
All product names, logos, brands, and trademarks are the property of their respective owners
Last update on 2023-11-14 / Affiliate links / Images from Amazon Product Advertising API