Black commands attention, attracts compliments, and let's face it, its a cool color to wear. But what colors go with black clothes?
"…the greater part of my wardrobe is black (It's a sensible colour. It goes with anything. Well, anything black)"

Neil Gaiman
Neil is right, but you can do more than just black on black. And not everyone can pull that look off anyway.
A great way to heighten that look is to match black with the right color. While it's universal and pairs well with most colors, it complements some colors more than others.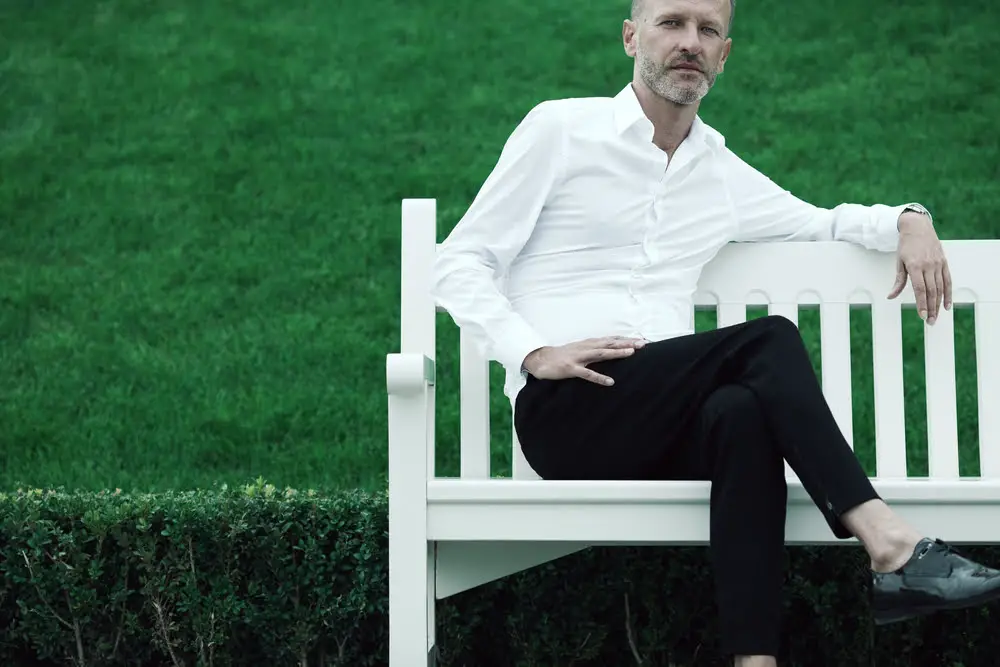 What Colors Go With Black Clothes?
In this article, we'll walk you through the colors that fit perfectly with black, others that need careful planning, and ones to avoid. We'll also provide some styling ideas for black tops and pants.
Short Answer
We'll draw a line in the sand here.
While you can match black clothes with most colors, the best ones that go with black are white, gray, dark red, dark blue, beige, and tans. Greens, pink or purple, orange, and pastels need careful planning, while you should largely avoid brown and overly-bright colors.
What Colors Should I Wear Alongside Black?
As we mentioned, black looks fabulous with almost every color, but let's look at the ones that complement it best!
White
Black and white are both seen as neutrals but contrast each other; putting on an outfit with these colors is a clever way to look put together quickly. Think of a black leather or denim jacket over a white tee; its a classic for a reason!
Minimalists favor this combination since planning a black-and-white outfit takes no time.
Gray
Gray is another neutral color that sits between white and black and complements the latter very well. Together, they don't look jarring nor overwhelming to the eyes. Wearing an outfit of black and gray is another low-effort way to look put together.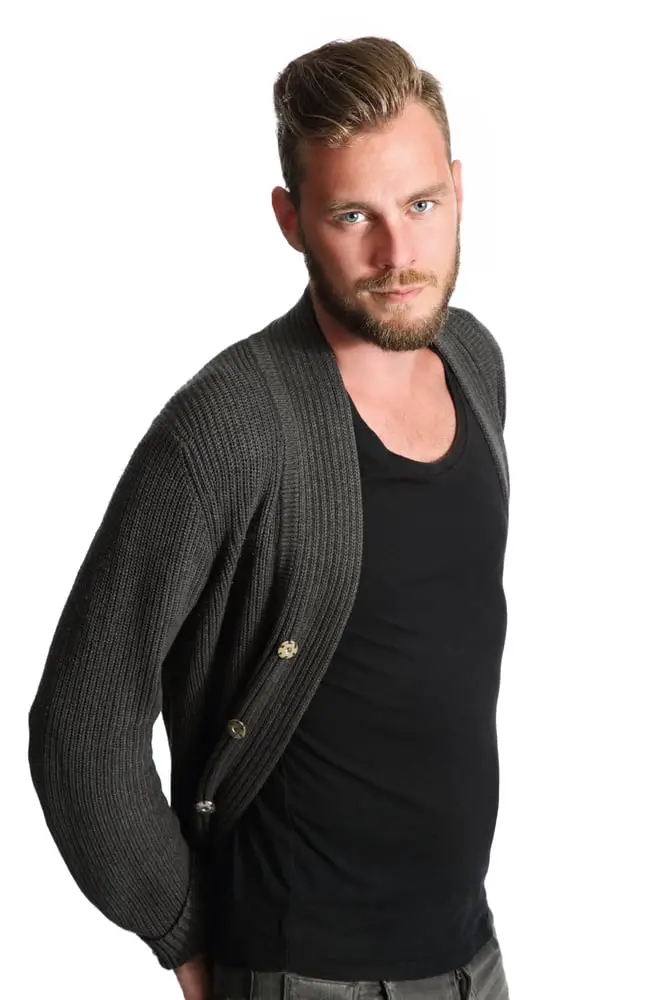 Think of gray sweaters and cardigans over black jeans or a gray suit over a black shirt.
Dark Reds
If you were to ask us what non-neutral color we'd match with black, we'd immediately pick a dark shade of red. Its energetic nature breathes life into black and is guaranteed to make your outfit eye-catching in a good way. You'll stand out in your group for your boldness and confidence. After all, color-wise, you're pairing sexy with courage!
Maroon, burgundy, and wines look great alongside black — they're romantic and elegant. You could also opt for neutral reds, cherry reds, though careful of veering toward crimson. 
Dark Blues
If the bold nature of red doesn't tickle you, blue and black is another often overlooked combination that spells sophistication and wisdom. While many believe they can't look pleasing together, many dark shades of blue work well alongside black. Consider navy, spruce, denim, or slate for a sleek look. 
Some people will quote an old style rule that you shouldn't wear navy with black because they are too similar. This is no longer seen as any kind of faux-pas, but if you are at all concerned the way around this is to make sure the navy and the black are of different textures.
Beiges & Tans
Tans, beiges, and earthy colors work flawlessly alongside black. Since they're neutrals, they emphasize its elegance while bringing a touch of brightness and coolness without being jarring, unlike bright colors.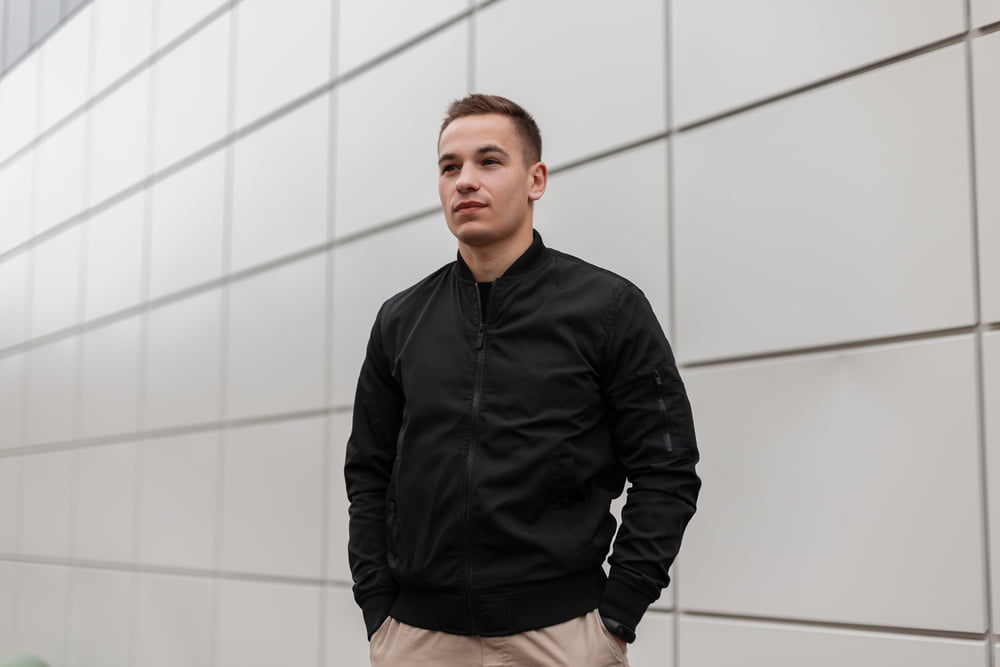 Replacing white with beige is a good trick to create a slightly different look.
What Colors Should I Carefully Plan?
Now, let's see the colors that require careful planning when paired with black. 
Greens
For black and green to match well, focus on darker shades of green, like deep or emerald green. Or you could always try shades of olives.
Their darker nature blends well with black to add to that fascinating, mysterious style you're going for.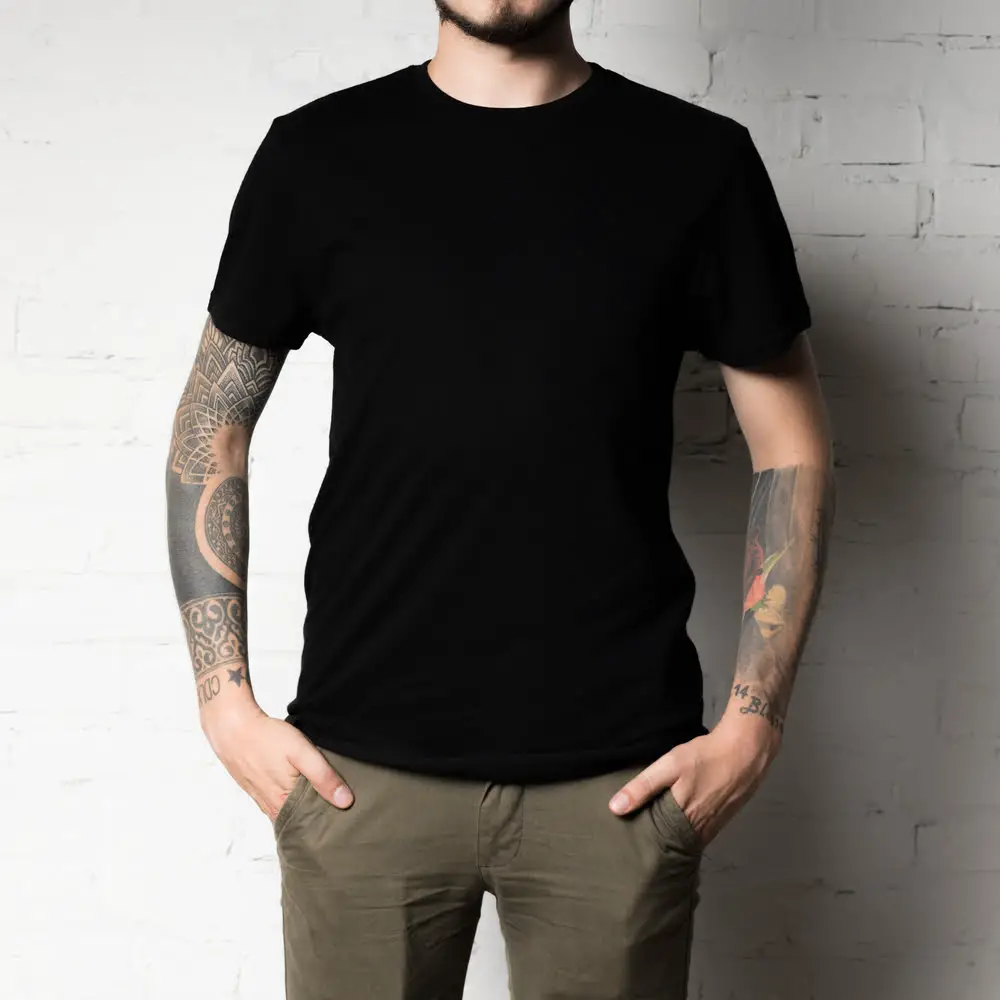 Pinks
Pink is a fun color that adds a playful air to a man's outfit when worn with confidence (and really, isn't everything about confidence?).
When paired with black, they balance each other out nicely. The result is a confident man who's comfortable with his style. However, that's only the case if you wear light pink or salmon pink. Hot pinks and magentas … just say no.
Purples
If you want to wear purple alongside black, you'll have to focus on the extremes because, otherwise, it'll conflict with the black, and you'll be seen as someone who doesn't know how to match his colors or just left a Miami party.
We'd recommend light purples for your shirts and tees, such as lavender and periwinkle. But, if you want purple to be part of your outerwear, such as jackets or suits, make sure you wear a deep, almost royal shade of it!
Orange
Orange will look best on you if you're dark-skinned. It also works well alongside black if your manner of dressing leans more toward casual styles. But, since it's flashy, it'll be hard for you to come up with many impressive combinations otherwise.
It's also a better fit for younger men.
Pastels
Combining pastels and black requires carefully studying your skin tone and complexion. Pastels can be soft, such as mint green, or hard, such as coral pink.
If you have a darker skin tone, you can wear all pastel colors just fine. However, wearing soft pastels with black can be overwhelming if you're fair-skinned, as they'll blend with your skin color and make you look washed-out, so stick to hard ones.
Warmer skin tones do vary, but for the most part, both soft and hard pastels can complement darker-skinned men.
What Colors Should I Try to Avoid?
Finally, let's make sure you know which colors to be wary of!
Brown
Brown and black is a controversial combination, and for a good reason. It's easy for them to conflict when matched incorrectly.
We recommend focusing more on lighter shades of brown and keeping your outfits simple and elegant! If you must wear brown with black, try to save it for your outerwear, such as jackets and coats. And don't mix any other colors in with black and brown, stick to those neutrals only.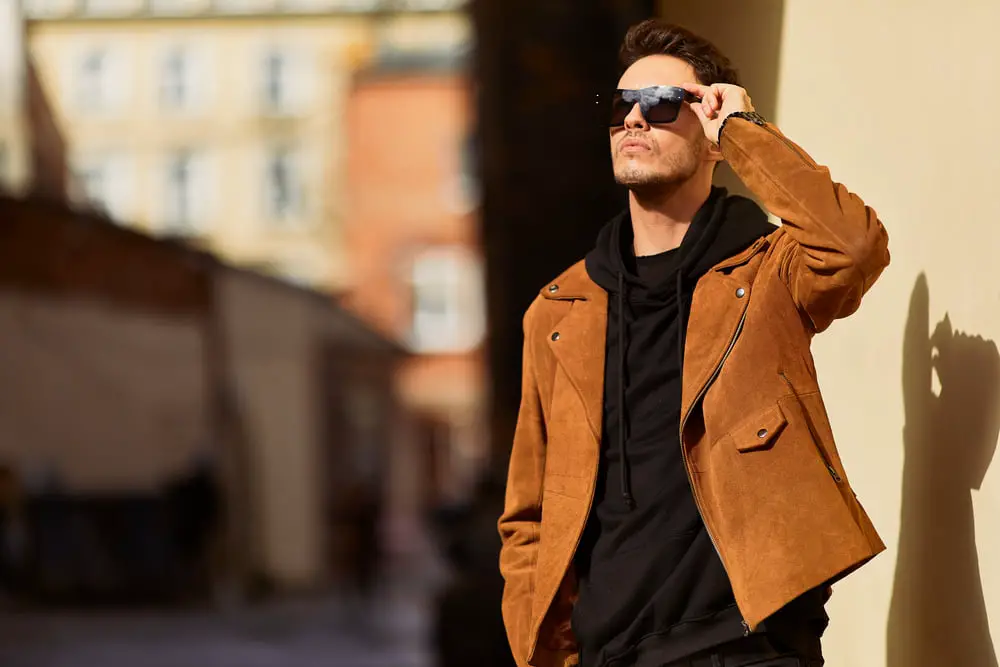 As you can see in this picture, the right mix of lighter brown and black can work, but it's not for the inexperienced. It becomes more about how the quality and texture of the pieces work together, and that's a whole other article…
Brights
Bright colors simply stand out too much.
Bright red looks overwashed, bright blue resembles a job uniform, and bright green just looks wrong. We don't want you to make the amateur mistake of combining them with black — they take away from its beauty. You're better off considering lighter or darker shades of your favorite color.
Some Outfit Ideas for Black Clothes
Here are a few tips on how you can style your different black garments.
Pants
Black pants will complement almost anything they're worn with, especially lighter-colored tops that produce a sense of balance. 
For a formal look, try wearing a white dress shirt with your black pants, and don't forget your dress shoes. This is a pretty obvious color combination, I mean, who doesn't look good in a tux?
You can also wear black jeans with a white or gray polo shirt for a casual outfit. In this case, white sneakers would complement the look (Chelsea boots can work, too, since they're versatile and can fit both casual and formal looks).
Tops
Neutrals, dark reds, and dark blues beautifully complement black tops. For example, a black turtleneck over beige linen pants will look just as great as a black T-shirt paired with maroon denim. But avoid wearing your black tops with flamboyantly-colored bottoms like green or pink if you don't plan on wearing a jacket!
Before You Go…
OK, so now we're fully prepped on what colors go with black clothes! But you know the other thing people get confused over? And often get wrong?
Accessories!
What to wear? What NOT to wear? How much is too much?
No worries, we've got you covered!
Our Guide (Dare We Say, "Ultimate Guide"?) To Men's Accessories
Related Articles
All product names, logos, brands, and trademarks are the property of their respective owners