The thing about Chelsea boots is that they can look different depending on how you style them, but they almost always look cool. They're also probably the most formal boots, but are they formal enough for a suit?
Keep reading to learn about styling Chelsea boots with suits, and you'll be looking awesome for your next event!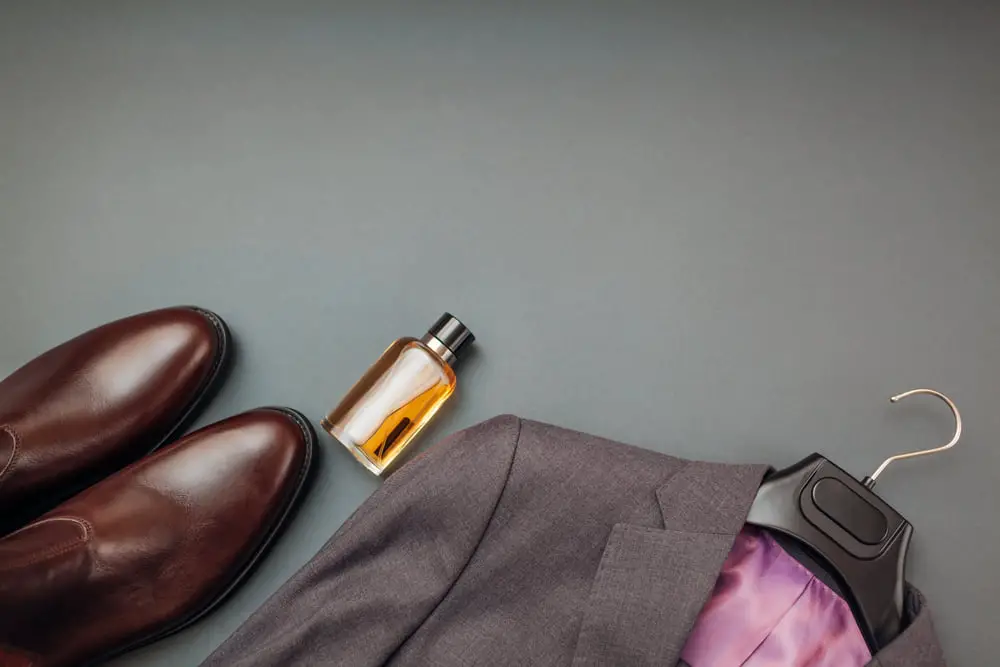 Can You Wear Chelsea Boots With a Suit – Short Answer
It depends on the Chelsea boots in question, but most of them are classy enough for suits. We'd recommend the dress shoes with a slim silhouette, high ankle, pointed toe, and polished look. Also, the suit pants must be slim or tapered with a small break or no break so that the boot's top is visible.
Factors to Consider
To wear Chelsea boots with a suit, you should consider several factors.
Determine the Outfit Formality
Yes, it's a suit, but how formal are we talking? A very formal suit or tuxedo requires more classy Chelsea boots. Otherwise, a suit with a window pane pattern or other casual patterns is a different matter because you have the freedom to wear various Chelsea designs with them.
Consider the Dress Code
Your first concern should be the event dress code. For example, if you're attending a black tie event, you might want to trade your Chelsea boots for black Balmoral oxfords. Generally, Chelsea boots are slightly casual, so you're welcome to wear them to less formal events.
Consider the Chelsea Boots Model
These boots aren't all the same, and some Chelsea pairs are more formal than others. But what makes all the difference?
Material
The material of your Chelsea boots plays into their formality. Leather is naturally the classy option for formal events, whereas suede is more casual. Suede Chelsea boots can make you look fancy without trying too hard.
Design
Your boots' design can make them more or less dressy. For instance, sleek and slim designs are classy, so they're excellent for suits. As for bigger and heavier Chelsea boots, you'd be better off wearing them with casual attire. Otherwise, they'll draw people's attention (the bad kind), standing out against the suit.
How to Wear Chelsea Boots With a Suit
Let's get down to business with some looks you can rock!
A Black Suit With Black Chelsea Boots
Are you looking for a versatile classic look that you can wear to parties, work, or any occasion? Pair a classic black suit with black leather Chelsea boots, and make sure the shoes are shiny, slim, and tall with pointed toe areas.
You can also dress this outfit down with a simple trick. Ditch your classic white shirt for a plain t-shirt, and tuck it into your trousers. After all, mixing formal and casual wear is all the rage this days.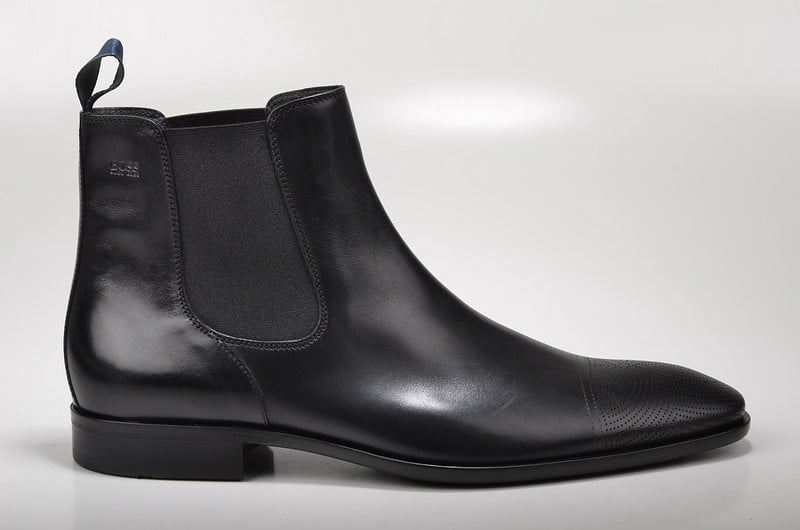 If all black is a bit too formal, a blue or navy suit with brown boots is a more laid-back option. The Chelsea boots will contrast the suit's color nicely, and you can switch the brown boots for black ones if you don't have them. How formal this look is depends on the suit's shade; the darker it is, the more formal the outfit will be.
Do you want to spruce this outfit up a bit? Get yourself brown Chelsea boots with straps, as they're a little more fashionable. They'll give your navy suit an edge and help you stand out (if that's what you want).
A Gray Suit With Dark Chelsea Boots
We love gray and charcoal suits because they go with many colors. You can wear them with black, brown, or burgundy Chelsea boots. But let's get into specifics. If you have a formal event, dark gray is better. Otherwise, you might want a light gray suit to go with your Chelsea boots for more casual gatherings.
A Dark Green Suit With Dark Chelsea Boots
A dark green suit screams confidence and class if you want to look formal but still make an impression. Wear it with brown or black leather Chelsea boots for the perfect fit. And if it's a little too formal, switch leather for suede boots.
A Suit With Suede Chelsea Boots
Do you want to dress down your suit a bit for a night out with friends and still look sharp? Try wearing your suit with suede shoes.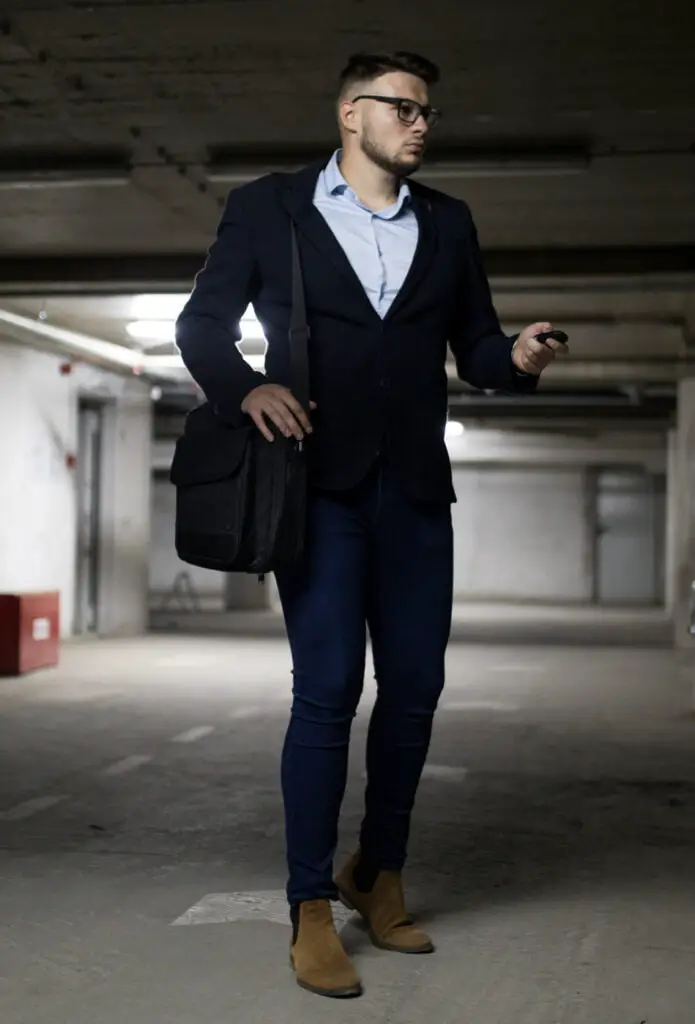 Where leather Chelsea boots are very dressy, suede ones are more textured and trendy. What adds to their casualness is that they typically come in lighter brown colors.
A Suit, Turtleneck, and Chelsea Boots
Do you want to go all out with a fashion-forward and daring look? If you aren't keen on the classic suit and white shirt combo, this is the look for you. Your suit will look anything but boring with a cashmere turtleneck and a pair of Chelsea boots!
Chelsea Boots With Suits: Tips and Tricks
It's all in the details, so let's go over some tips that'll help you nail them. Of course, the last thing you want is to mess up the sleek look you have going on, so don't tuck your pants into your Chelsea boots.
Related to our previous tip, long pants can be problematic. You want a pair of pants with a small or no break. How else will you show off the boot's top and fashionable side panel?
Also, wear slim or tapered suit pants. Chelsea boots have a sleek design and a streamlined cut, which is why they look good with slim pants.
Similarly, you shouldn't wear big Chelsea boots with suit pants. Those on the bulkier side aren't a good fit for suit pants with their slim fit. Instead, they go well with gray flannels and sports jackets.
Perhaps the most important tip is to try to keep your Chelsea boots in perfect condition. After all, if they aren't clean and polished with that businessman shine, they won't look very dressy, and you won't be able to wear them with suits.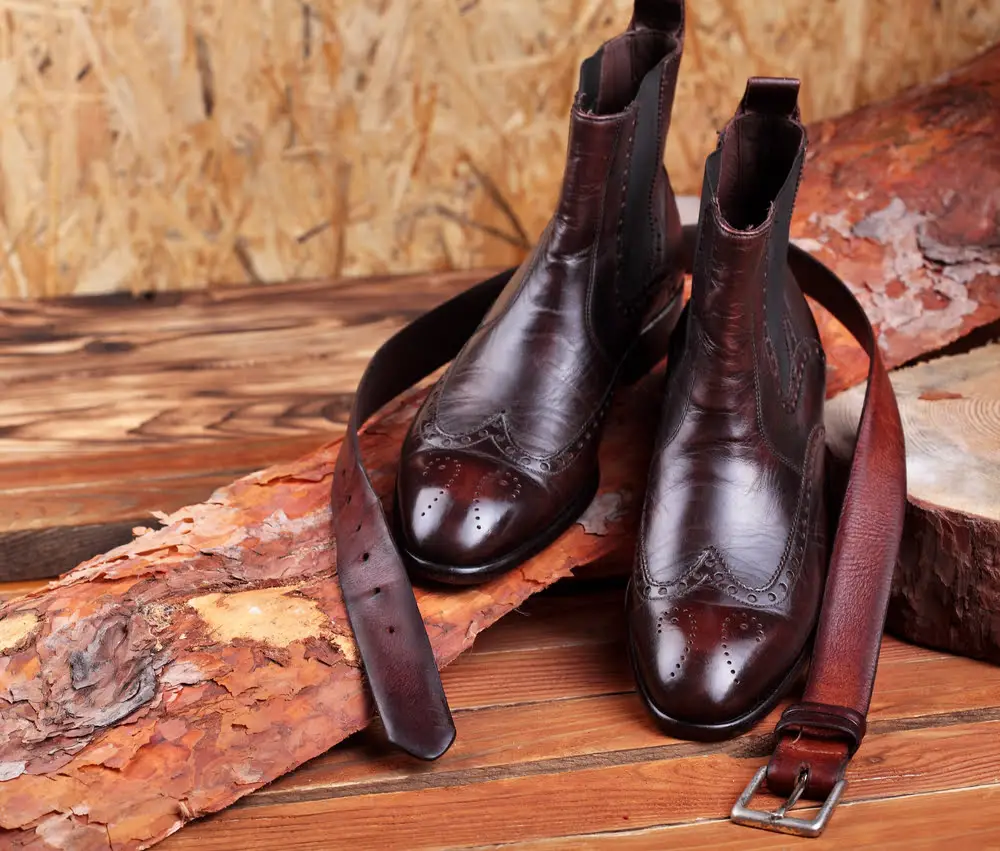 Speaking of polished, pick a pair of boots with a high gloss (not matte).
Last but not least, we've mentioned how darker-colored boots look more classy, and the same applies to soles. So, unless you're going for a utilitarian look, you probably shouldn't wear Chelsea boots with pale-colored soles.
Final Words
Overall, wearing Chelsea boots with a suit is one way of spicing up your outfit. You want the sleek and streamlined boots with a polished look and pointed toe area, as they're the most formal-looking ones.
Also, you can tone the classiness up or down by playing around with colors. The darker your Chelsea boots are, the more dressy they'll look! Pair them with tapered pants that have a small break or no break, and you've got yourself a killer outfit!
All product names, logos, brands, and trademarks are the property of their respective owners