Surprisingly enough, even in our digital-first world, there are some great options for the guy who wants to carry his checkbook as a part of his everyday carry.  You'll see below, we have everything from vintage (looking) full-grain to sleek, modern options. 
21st Century Checkbook Wallets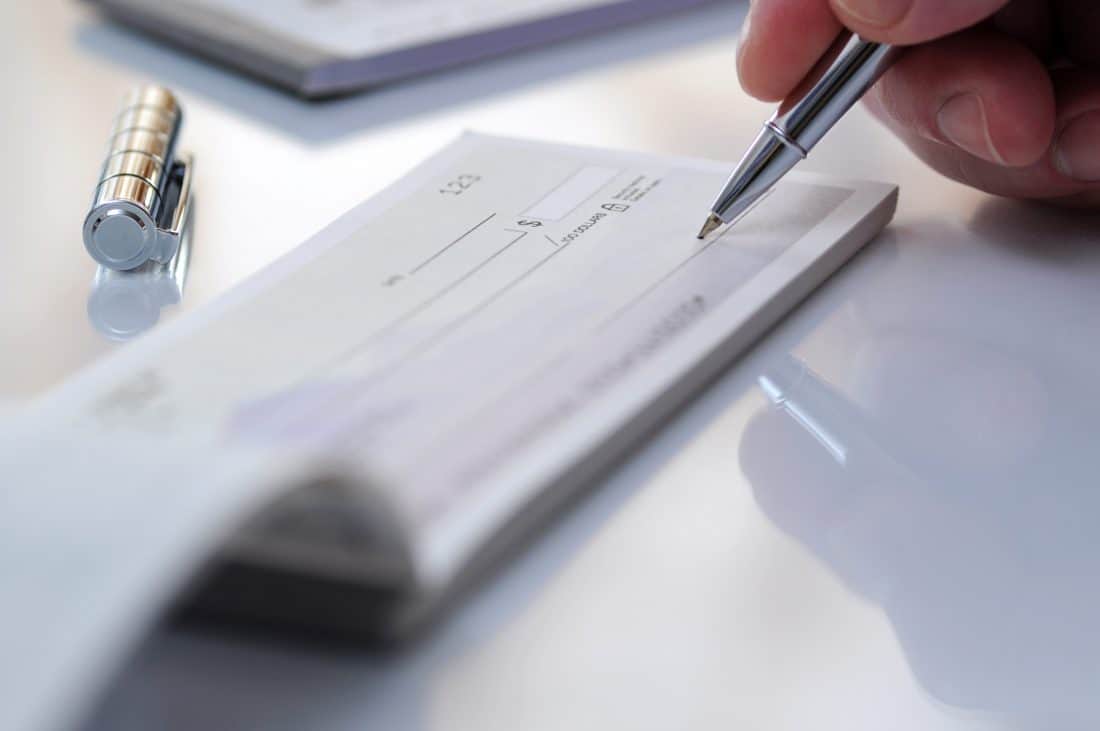 Here's the quick summary, read on for the Best Checkbook Wallets Online!
---
Vintage look, budget-friendly price
Luxury, guaranteed for life
Eco-friendly, AND Practical!
Made in the USA by Amish Craftsmen
---
F&L Classic Vintage-Look Checkbook Wallet
Dimensions: 8.94 x 8.11 x 0.98 inches
Weight: 3 ounces RFID: Yes
First up – this distressed buffalo leather wallet is oil tanned for durability and "feel".  This bifold wallet comes with nine card pockets, one ID window, and four larger pockets for bills, an oversized phone and/or a checkbook.  It's the perfect size to fit your checkbook (even with all of the previously mentioned items in the wallet). This wallet is for the guy looking to keep it simple, but carry your checkbook in style.
Note that, like many of the wallets we review here, this is a wallet to carry a checkbook, not a checkbook cover. Read on for some more great options!
---
Checkbook Wallet by Leatherology
Dimensions: 6.75 x 3.75 x 0.5 inches
Weight: 6.9 ounces RFID: No
Simplicity at its best.  Think of it as a perfect marriage of a reliable wallet and a checkbook holder.  This wallet is for the banker in you, organized and ready.  Long and slim, it fits easily into your breast pocket and features six (6) credit card pockets, an ID window, a plastic divider, a pen holder and is made of luxurious full grain leather. It might look simple, but screams "I've got it together" every time you pull it out.
It's a great gift and even comes in a high end gift box complete with bow.  You can be flashy or you can be reliable, the choice is yours, but in our opinion, flashy should be reserved for your ties and socks, reliable for your wallet.
---
Combination Checkbook Wallet by Tony Perotti
Dimensions: 3.5 x 0.5 x 6.5 inches
Weight: 11.04 Ounces RFID: No
This 100% full grain Italian leather wallet has been conditioned with vegetable oil, making it soft to the touch and unlike anything you have ever felt before. This sleek and classy wallet fits easily into your breast pocket and can hold up to six credit cards.  It also features receipt slots, an ID window and a checkbook holder.  Stay comfortable and organized with this very luxurious addition to your wardrobe. The wallet is fully lined and expertly stitched, which is expected of anything that comes in a Tony Perotti gift box – this is truly a keeper of a wallet. The best part? A lifetime guarantee!
---
Hemp Checkbook Wallet by Hempmania
Dimensions: 8.6 x 4.4 x 0.9 inches
Weight: 3.19 ounces RFID: No
We all know hemp is friendly for the environment, but did you know it makes one of the sturdiest materials for an eco-friendly wallet?  Hempmania makes a ton of different style wallets, with this one featuring a checkbook holder as its primary function.  You can see from the image above that the checkbook holder is integrated into the design. It doesn't stop there though, it features four credit card slots, two zipper pockets, a pen holder, and yes, a few more pockets. About the only thing this wallet doesn't have is a clear ID window.
In addition, its vegan-friendly and sweatshop-free. So if you want to be conscious about the environment, but still carry in style, check out this checkbook wallet by Hempmania.  It's even budget-friendly, what's not to love?
---
Yoder Leather Company Checkbook Wallet
Dimensions: 7.4 x 4.02 x 1.26 inches
Weight: 3.52 Ounces RFID: No
This beautiful, stylish " Cowhide Rodeo" Checkbook Wallet is made in the USA by Amish Craftsmen. It has six slots for credit cards on the right side with a pocket behind it for either your checkbook or cash. On the left side is another long pocket for either your cash or checkbook that you didn't put on the right side.
This wallet is handcrafted from the highest quality top grain cowhides available. Each hide is minimally processed to give each wallet that rustic look and is made to last for years to come with is quality hand stitching.
---
Coat Pocket Wallet by Bosca
Dimensions: 3.7 x 6.5 x 0.5 inches (closed)
Weight: 3 ounces RFID: No
A good quality sport coat is a must have for any professional.  One thing you definitely shouldn't have to worry about is a bulky wallet cramping your jacket's style. The coat pocket wallet has you covered when coming to protecting your valuables and maintaining the classy blazer look. Featuring five credit card pockets and four vertical stash pockets that can comfortably hold a standard checkbook, this wallet was made for your breast pocket without compromising the ever important "slim factor".
The old leather, distinct yet classic design, will be sure to impress your colleagues and friends. Made from vegetable-tanned Italian leather with a centuries-old Tuscan technique, its soft to the touch and exudes luxury. It arrives in high-end Bosca packaging and will make you happy you changed from your old wallet to one that will last  a lifetime.
---
Checkbook Covers
We've focussed on wallets (not surprisingly) in this article, but if you're not using a checkbook all the time, but still want something stylish for when you do, then a simple checkbook cover might be the right choice for you, perhaps paired with a more minimalist wallet.
This option from Leatherology is a perfect example. It fits standard top-tear checkbooks with a simple slot to "hook" the back of the checkbook into, as well as a register compartment. It comes in a range of colors and might be the perfect way to showcase a checkbook without making it a daily commitment.
---
Thats a wrap
We hope you enjoyed the best checkbook wallets we've found. One day we suspect the checkbook will go the way of the Dodo, but we're not there yet, thank goodness!
All product names, logos, brands, and trademarks are the property of their respective owners
Last update on 2023-11-15 / Affiliate links / Images from Amazon Product Advertising API