We've all been there.
A long flight. No sleep. You just want to get out of there, but the baggage carousel seems to have implemented a new rule: "Only Identical Pieces Of Luggage Allowed".
Sigh.
OK, a few people have made their stuff stand out by wrapping brightly-colored duct tape around their bags, or putting the bag into a bright neon sleeve, but that's not really you is it?
If it was you'd have already MacGyvered some solution like that yourself.
But you wanted to do it and still look cool, right?
OK, we've got you covered…..how do you make your bag stand out in style?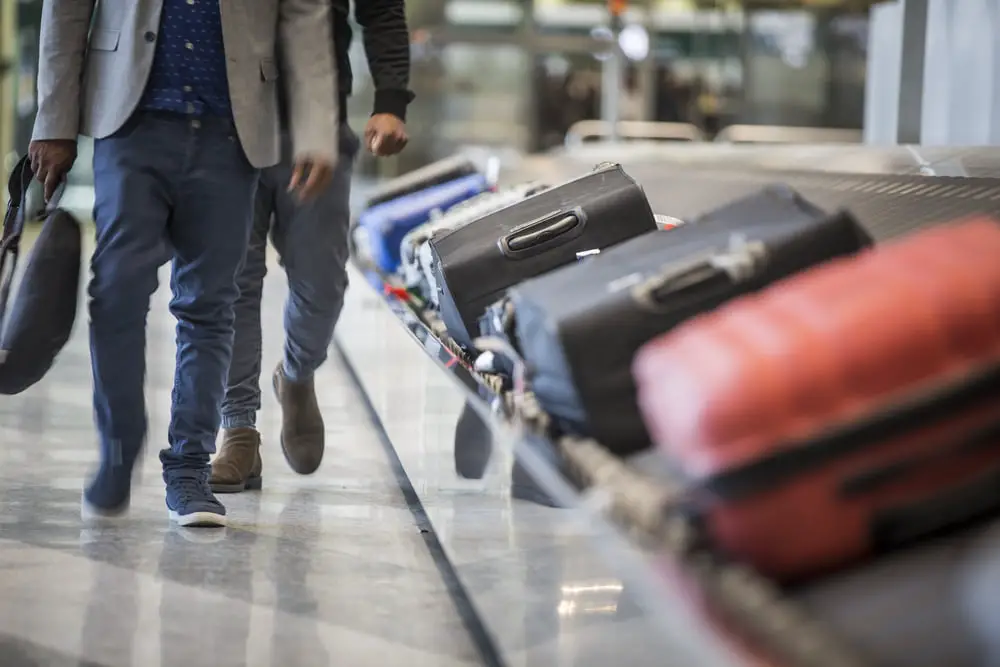 How To Make Your Bag Stand Out At The Airport
Don't worry – there are a lot of ways to have your luggage easily-identifiable without looking like a bit of a dork.
The key thing to realize is you probably don't really need to be able to spot your bag when it's right the other side of the luggage carousel.
I mean, what are you going to do, scramble up and over?
No, you're going to stand, cool as a lightly-misted organic cucumber, and watch the luggage go by until it's your bag in front of you, then pick it up casually and get on with being fabulous.
At least, that's what I do. Ahem.
So, the real thing you're trying to do is make sure you can identify your bag as it gets near.
Let's start with the obvious tricks.
Stickers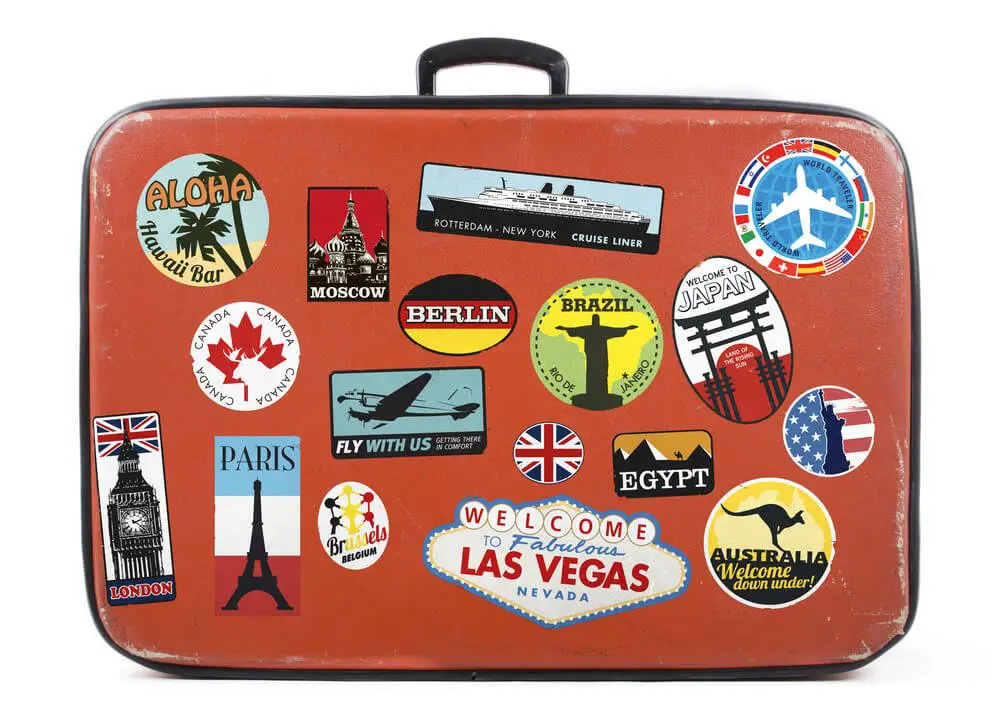 This is an easy one. Some people plaster their luggage with stickers as if doing so was a replacement for having an actual personality.
I knew a software guy once who had lots of stickers that said things like "Keep Calm, I'm an Engineer" on his luggage.
You do not need to do this.
Actually, please do NOT do this.
But, a reasonably discreet sticker, positioned neatly on the top of the case, near the combination lock (you do have a lockable bag, right?) can be enough.
If it's a contrasting color to the bag it's easy enough to see it as it approaches and you can grab and go with elan.
Tape On The Handle
OK, you could do this one, but it will look a bit less put-together.
Do: Get some contrasting color tape and make a single, neat band around the handle.
Don't: wrap it round a bunch of times, it will look clumsy and not be any more visible
Don't: Buy bright, reflective neon-like colors. You aren't trying to be visible in a force 9 gale, you're picking up your bag at an airport and heading for cocktail hour at your hotel.
Unique Luggage Tags
Ah, now we're talking.
If you're checking a bag, you have to have a tag on the bag anyway, so why not use that as your Unique Luggage Identifier (ULI – yes, I just made that up).
There's no reason to use a generic one where you write your name on it in an undecipherable scrawl (is that just me?)
Get something stylish, in a contrasting color to your bag (you see the pattern there, right?) and get one of the kind that you just slip a business card into.
You can get them in stainless steel, leather, all sorts of great (and stylish) options.
Other Options
There are, of course, lots of other ways to do this.
Luggage Straps
These are dual-purpose, providing extra protection for your bag while adding an extra layer of "individuality". There are some reasonably-stylish ones out there, so do take a look:
Luggage Covers
OK, these are a lot harder to pull off – they can very easily look dorky.
The main problem? Fit.
Like a good suit, or any piece of clothing actually – fit is everything. A sleeve that pulls over your bag is unlikely to fit snugly (unless its from the same brand) and wrinkles will make this look … tired.
(Sadly, I can relate …)
Nevertheless, there are some options out there that can work – but remember – the fit is everything.
The Best Option
There is a great option here of course. Hiding in plain (plane?) sight.
Get a better bag.
OK, no, wait, wait, wait…
Think about this a minute. What if you bought a bag that was itself not only stylish, but available in unusual colors?
Get one of those babies, add a stylish luggage tag, and you have something truly unique.
There are a lot of great luggage brands out there, but you don't have to go as expensive as, say, Rimowa, to look stylish.
We're big fans of Away Luggage, and would certainly recommend taking a look at their Instagram-friendly options, but there are also some cool basic options available:
Sale
Amazon Basics 28-Inch Hardside Spinner, Orange
28-inch hardside spinner luggage for work travel, vacations, or weekend getaways
Reliable strength with extra-thick ABS hard shell, scratch resistant Orange finish, and fully lined 150D-polyester interior
Easy to move with 4 double spinner wheels, telescoping handle, and short handle
Expandable for up to 15% more packing space; interior organizer with divider, plus 3 zippered pockets for smaller items
Product dimensions: 19.49 x 12 x 27.76 inches; Overall Dimensions: 20.47 x 12 x 30.12 inches
And Finally, Track Your Luggage
A final thought on this subject.
Having an easily-identifiable bag is one thing, but that doesn't help much if it's gone astray. We'd recommend slipping a GPS tracker into the bag as well.
Check out this next article – technically it's about wallet tracking, but that's the beauty of those credit-card sized trackers, you can easily slip them into your luggage and find out where exactly its gone …
Who Makes The Best Wallet (or Bag) Tracker?
Related Articles
All product names, logos, brands, and trademarks are the property of their respective owners
Last update on 2023-11-20 / Affiliate links / Images from Amazon Product Advertising API