We know that when it comes to men's accessories, quality, durabilty and functionality are just as important as appearance.
Today, we're diving into the world of Tumi to answer the simple question: Are Tumi laptop bags worth it?
As a longtime owner of multiple Tumi bags myself, I think I can weigh in here.
(For the record, I own a slim Tumi messenger bag, the laptop bag in the picture, a Tumi backpack, as well as three or four Tumi wallets. That's not enough to be called obsessed, right?)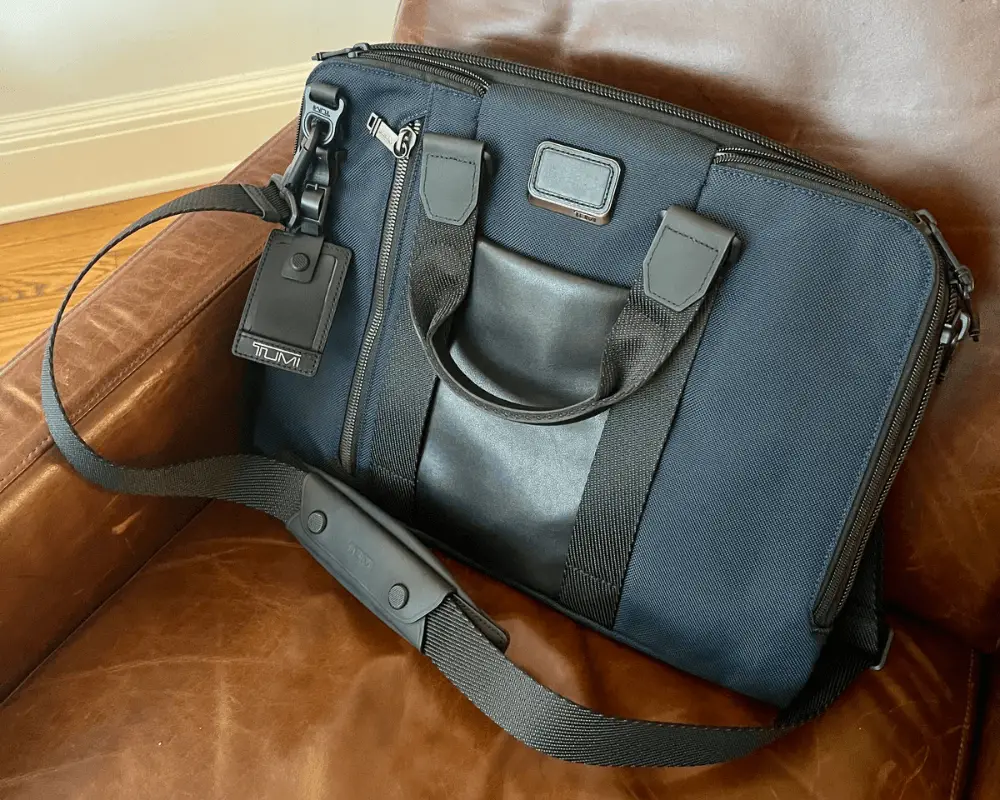 Everyone knows Tumi as a premium brand. They're known for creating high-quality, durable, and stylish travel and business accessories. They've earned a reputation for excellence, and their laptop bags are no exception.
Are Tumi Laptop Bags Worth It?
My short answer is yes, you get what you pay for, and Tumi bags are a solid investment in terms of quality and durability.
Tumi Laptop Bags: Pros
OK, let's break down the factors that make Tumi laptop bags a solid investment:
Quality and Durability: Tumi laptop bags are made with top-notch materials, such as ballistic nylon and premium leather. The hardware (zippers and clasps, etc) are rock solid. I've had this bag for a couple of years now, and it still looks as good as new!
Functionality: The bags come with multiple compartments, pockets, and organizers. I find these make it easy to keep my belongings organized and secure. My bag has a padded laptop compartment, a tablet pocket, and enough space for all my essentials. I find it ideal for business trips.
Style: Tumi bags have a sleek, modern design that's professional and fashionable. Their bags come in a variety of colors and materials, which is a step forward from the days when you could get any color you liked as long as it was black.
Warranty: Tumi offers a warranty that covers manufacturing defects and normal wear and tear (see below for more on this). It's not the most generous warranty I've ever seen, but it's solid.
Resale Value: Due to their quality and durability, Tumi bags maintain a high resale value. If you ever decide to sell your bag or upgrade to a new model, there's a good chance you'll be able to offset the cost by selling your old one if it's in good condition (see for instance, the bags on theRealReal).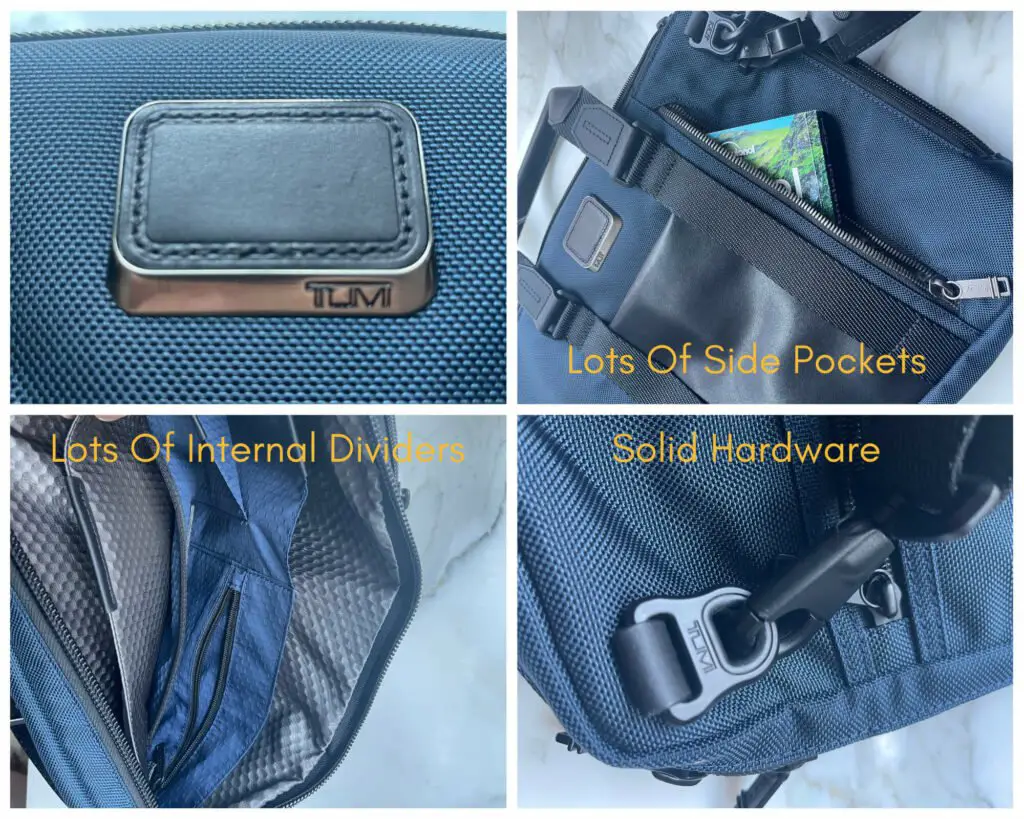 Now, let's talk about the the elephant in the room.
Price.
It's no secret that Tumi laptop bags come with a higher price tag compared to other brands. However, considering the factors we've discussed, I believe that the value you're getting justifies the cost.
In this case, you're paying for quality, functionality, style, and durabilty.
Tumi Laptop Bags: Cons
For balance, here are some potential drawbacks of Tumi laptop bags:
Price: Yup, Tumi laptop bags are on the pricy side. While the quality, style, and durability may justify the cost for many, it might not be within everyone's budget. If you're looking for a more affordable option, there are other brands offering decent quality laptop bags at a lower price point.
Brand Premium: Part of the cost associated with Tumi laptop bags is due to the brand's reputation and prestige. While the quality of their products is top-notch IMHO, some people may feel that they're paying more for the brand name than the actual product.
Weight: Tumi bags are constructed with high-quality, solid materials, which can translate into a heavier bag. If you're someone who prefers a lightweight carry, this could be a big drawback. The key is weighing the trade-off between durability and weight. I actually have a lightweight bag I sometimes use to take to the office – but I always use my solid Tumi bag for travel
Limited Casual Options: Tumi's laptop bags tend to lean towards a professional and sleek design. While this works great for business trips and formal settings, it might not be the best fit if you're looking for a more casual or sporty laptop bag.
Potential Overkill: Tumi bags are designed to withstand heavy use and frequent travel. If you don't require that level of durability or functionality, you might find a Tumi laptop bag to be overkill for your needs. In that case, a simpler and more affordable option could be a better fit.
Tumi Warranty
As I said earlier, this isn't the best I've seen, but it's pretty solid.
Short version: Tumi offers a limited warranty of five years for travel, business, or bag collections. This covers manufacturing defects and normal wear and tear. This looks very comprehensive for the first year, becoming a little less generous for the next four years, then stopping after five years.
Disclaimer: While this is our best summary at the time of writing, this is not legal advice and you should always check the official source in case it changes:
Tumi Repairs And Customer Service
I don't have direct experience with Tumi customer service (which I suppose says something – I've not needed to) but the feedback from places like TrustPilot are not good.
I'm a little surprised by this, but perhaps people who've had bad experiences are more likely to post a review.
The reviews seem to be either excellent or horrible, so frankly I would be a little skeptical. If you're concerned I would consider visiting a store in person and inspecting the merchandise, as well as gauging the sales staff's helpfulness.
(I've always found the staff at the outlet store I go to to be very helpful)
That's a Wrap!
OK, that's my take on Tumi Laptop bags! As I mentioned earlier, these are a little on the heavy side. If you're considering a lightweight bag for regular commuting instead of travel, be sure to check out our next article!
The Best Lightweight Laptop Bags (That Are Stylish, Too!)
Related Articles
All product names, logos, brands, and trademarks are the property of their respective owners