Harber London Ltd. [Est. 2016]
Since 2016, the London-based family company has been providing high quality handmade leather goods to eager customers around the world. Their products are crafted in Barcelona, Spain, and reflect the simplicity yet formality of the craft.
From the moment you open the box, their products reflect a certain elevated style and class that you really can't find in many other products. With all of the focus on minimalism these days, a wallet fashioned from handcrafted leather that is both attractive but also useful can be difficult to come by.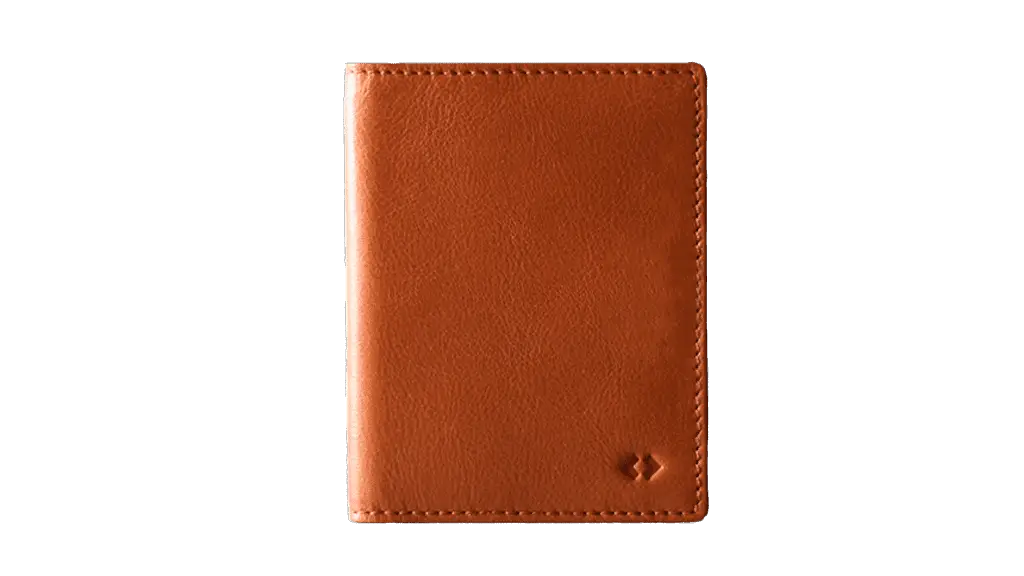 My Personal Harber London Wallet Experience
Below, I've provided a review of the bifold version of the Harber London wallet, including information about the construction, functionality, and some personal preferences. You can also check out their website for other product lines in addition to their wallets.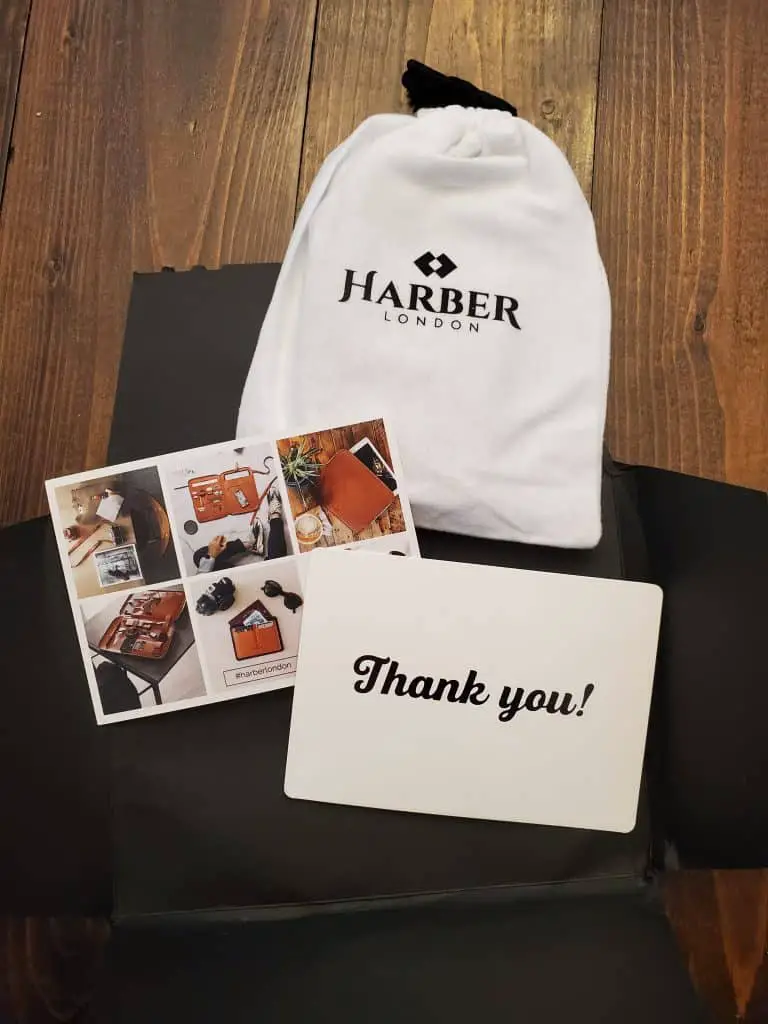 First Impressions
From the moment I received the Bifold Wallet, I was impressed. The wallet comes shipped in a sort of envelope that you have to tear open along a perforated edge to reach the contents. Inside, I found a thank you note for my purchase as well as a drawstring bag that held my brand new wallet.
I appreciated the personalized touch, even if the note wasn't exactly addressed to me, I don't usually receive items with a note inside so I found that to be a nice touch.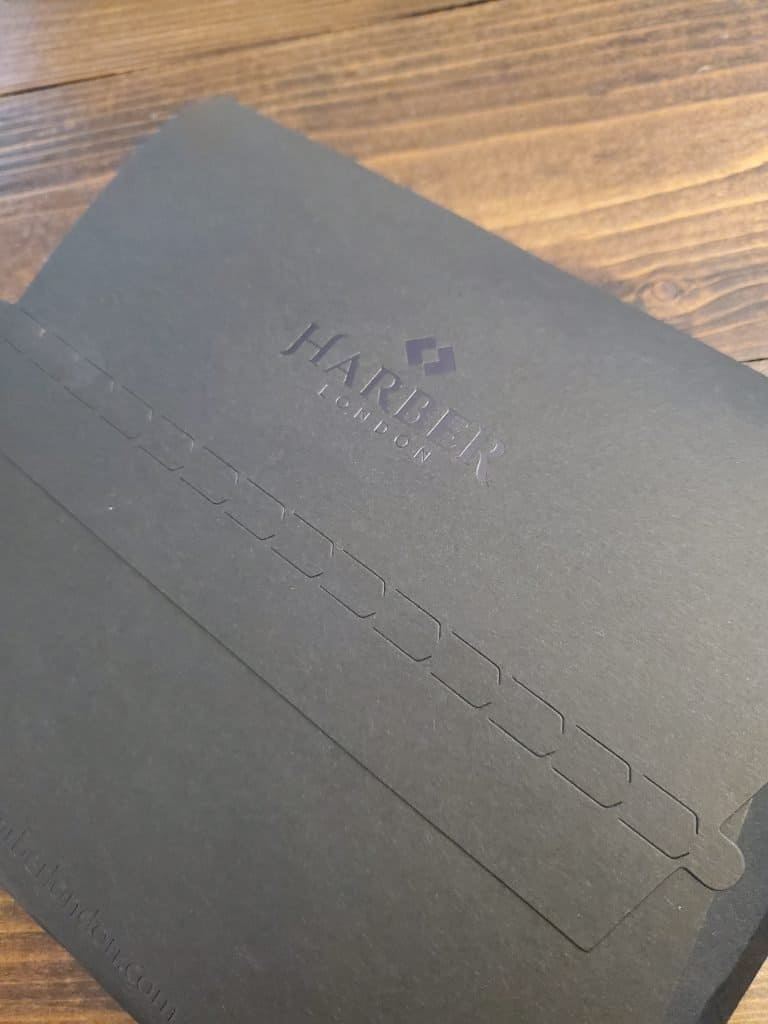 What hit me when I took the wallet out of the bag was the smell of the leather, which might sound weird, but hear me out: I'm a sucker for leather scents. The insides of cars, leather jackets, and now wallets, I live for that smell. To me, it's the smell of newness.
The second thing that hit me was how the wallet in my hands matched the picture I'd seen of it on the website perfectly. There were no surprises, it wasn't bigger or smaller than I'd expected, and the color looked exactly how I envisioned it would look after seeing it on the site (I ordered it in tan, but it's also available in black, deep brown, navy, grey, and burgundy).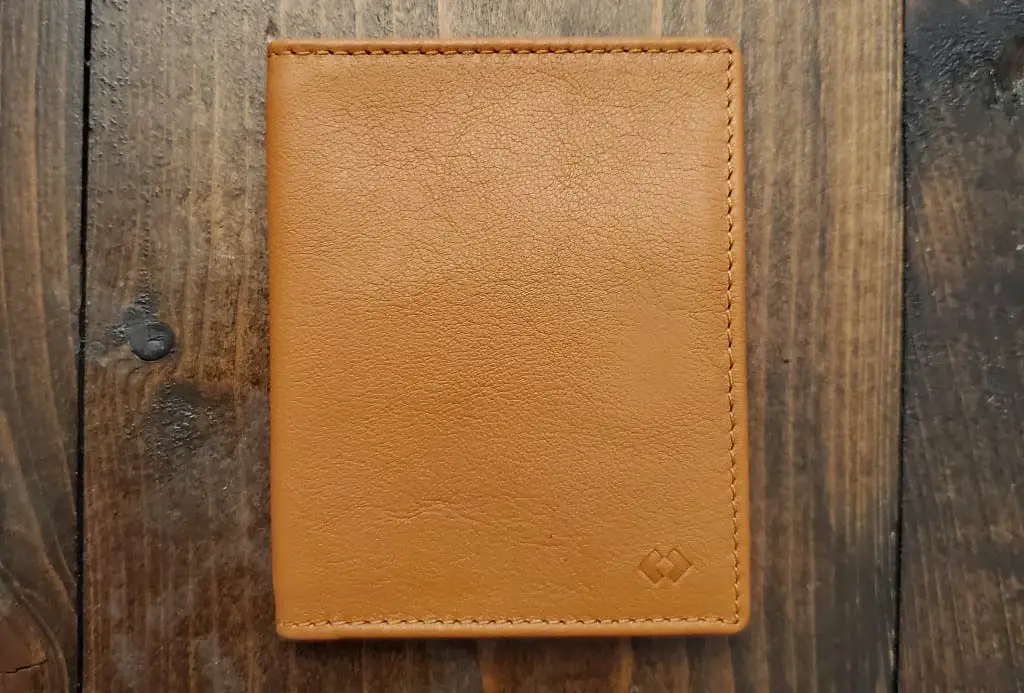 Design and Dimensions
The wallet I chose features a Super Slim design, and I wasn't disappointed. Even though this is a slim wallet, I could already tell it was going to be durable enough to hold everything that I usually carry around with me. When closed, the wallet measures 3.54 inches by 4.09 inches (9 x 10.4 cm), and when the flaps are open, it measures 7 inches by 4.09 inches (17.8 x 10.4 cm). It's also lightweight without coming off as delicate or fragile. 
Quality Craftsmanship
Harber London prides itself on the craftsmanship of their wallets, and there is something to be said for how much attention they pay to even the smallest details. The stitching on the wallet matches the color of the leather perfectly, and this might seem like a trivial detail to get excited about, but believe me: it makes a difference.
To make sure, I went back onto their website and looked at the rest of the colors to see if they were all like that. Sure enough, they were; I didn't see any light-colored wallets with dark stitching and vice versa. This makes the wallets look, in my opinion, extraordinarily professional.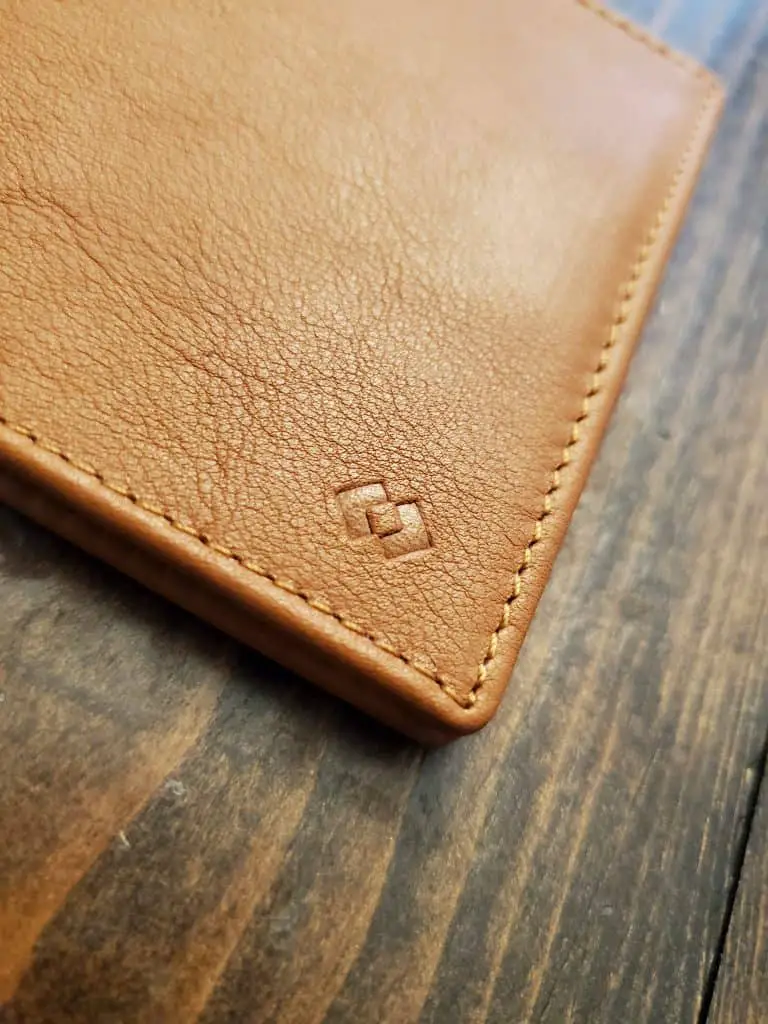 The wallet does feature their logo plastered all over it; instead, they have their insignia on the front of the wallet in the bottom right-hand corner, as well as their name on the inside flap. This contributes to a sleeker design that doesn't look overwhelmed with patterns, graphics, or other designs that could take away from the natural beauty of just the leather. I appreciated the fact that they let the high-quality material speak for itself and stand alone. 
Features and Functionality
So let's go bit by bit and explore the nitty-gritty of this wallet now that I've spoken about the design features. In my opinion, this product is worth what I would otherwise consider a steep price on any wallet. The wallet retails for a little more than I have spent on previous wallets, but I believe the price tag is justified.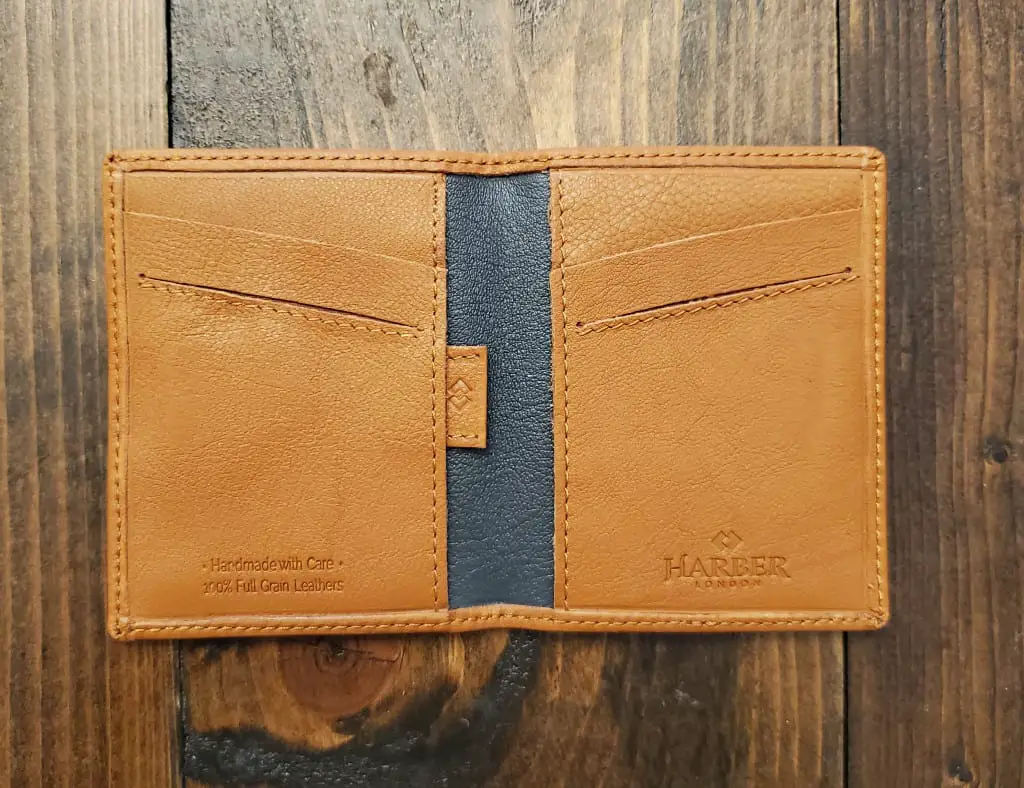 My Favorite Feature
On either side of the wallet, there are two rectangular-shaped magnets that are exceptionally subtle yet strong; they don't poke too far out of the leather flaps. The magnets are strong, so it practically snaps closed, which is an awesome feature (and under-appreciated in the wallet world). I can't stand the feeling that my wallet isn't going to keep my cards and bills safe.
Read this article if you're concerned about the magnets damaging your credit cards. The short version? Don't be…
Upon opening the wallet, it's clear to see that it has a capacity of much more than it lets on when you're looking at it while closed. The right side of the wallet features two interior card slots that can hold two to three cards in each slot. Behind those, there is a separate rear slot that can fit an additional two to three cards, so right away, you're looking at nine cards maximum just on one side of the wallet. 
Card Capacity
On the left side, it's a similar setup: two card slots with a rear slot, all with a capacity of two to three cards. The site marketed these wallets as having a capacity of 18+ (that's a major stretch).  First off, if you're carrying around anywhere close to 18 cards, you need to check out our post on how to slim down your wallet.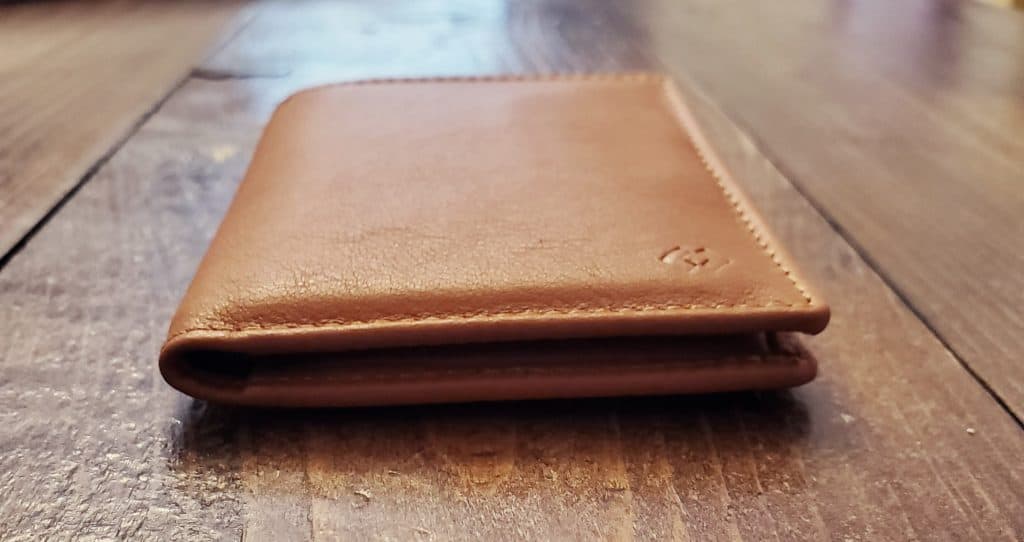 The reality is, I was able to fit all of my important cards – including ID – into the designated compartments, around 6 in total. Filling it to that amount didn't affect the wallet's ability to close whatsoever. The leather provides enough friction on the cards to hold them in place, even when I've only stored one card in each of the slots that could easily accommodate two or more. 
What's more, on the left side there is a pull tab to access the cards that I placed in that rear slot. I'm thinking that the cards I don't use that often will go into the rear slots, and the ones I use more often can be featured prominently in those front tabs. When I didn't have the wallet filled to capacity, I didn't fear that any of my cards would fall out. 
*The more cards you place in the wallet, the less easy it will close.  Using more than 6-8 cards affect the magnetic closure assistance.
A True Billfold
The billfold section of the wallet is probably one of it's best features, and here's why: it opens wide enough to let me slip in paper bills without feeling like the money is in danger of falling out. I also don't feel like I have to wrestle with the wallet to get the money in there – as with previous wallets, I've had difficulty getting dollar bills to squeeze into the billfold section, and then it became a crinkled mess. 
Within the billfold section are two other components that I really enjoyed. On one hand, you have two almost hidden slots that can hold more cards. I plan on using these hidden slots for cards that are really valuable or important, like my health insurance card. It's not something I tend to whip out on a regular basis, but I do need it on me in a safe place. 
A Place for Coins
Here's another thing I appreciated that I haven't seen in many men's wallets: the coin flap. I don't tend to keep coins in my wallet on the basis that so many of the wallets I've purchased don't feature a pocket or an area for them. If I ever did, they would go in with the dollar bills but would have a tendency to fall out when I took out the bills or if my wallet were to be jostled around in a pocket or a backpack.
The Harber London wallet has a solution to that problem in the form of their coin pouch. There's a flap that you can open and close to secure your coins. I wasn't able to fit a ton, just around a handful, but it's enough that I can grab in a pinch if I need them. 
I found the leather on the wallet to be surprisingly thin. I understand that the thicker the leather, the less flexible the wallet, and I'm trying to avoid the bulk of thicker wallets that break down after a few years' worth of use. The leather on the Harber London wallet is light and supple and bends easily back and forth.
My only concern lies with the coin flap, which seems to be the thinnest part of the wallet. But since I won't be using that section very often, I don't suppose I have anything to worry about. The flap itself doesn't prevent me from putting in bills or closing the wallet, either. 
Other Perks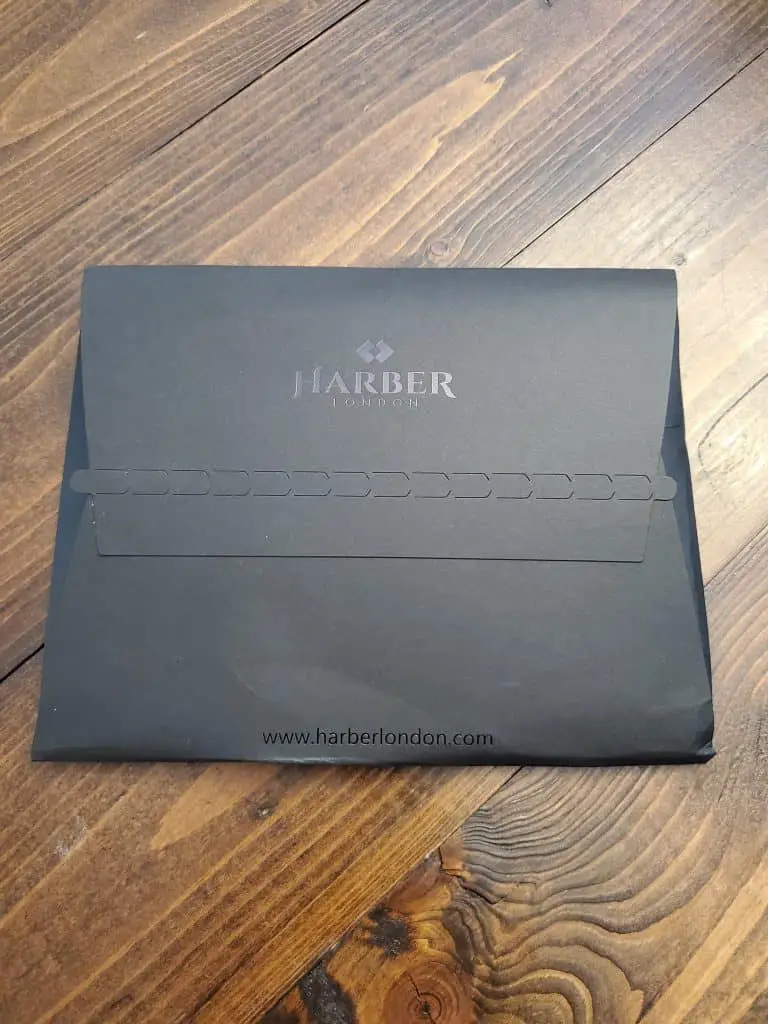 Harber London promises free worldwide delivery and a one year warranty on their products. If for whatever reason you try out the wallet and decide you don't like it, they'll allow you to return it within 30 days of delivery, and will issue a full refund. Harber London offers leather customization, so if you're intending for this to be a gift, or if you want a more personalized wallet, you can get your initials on the product. 
In Summary…
I am extremely impressed with the quality of this wallet, and when I want something simple yet classy, this is the wallet I'll be taking along with me. It's not a bulky wad in my pocket, it's slim enough to have that minimalist feel without sacrificing space for my cards, and it's crafted in such a way that makes me confident it will last a long time. It looks good and the soft leather feels great to the touch. 
I also highly recommend this wallet to people who travel extensively throughout the year. The RFID blocking technology with which Harber London fashions their products will ensure that your information and identity are kept safe. The billfold section of the wallet is also sized in such a way that it can fit practically any type of currency, so you don't have to worry about switching out your wallets when you go from country to country. 
---
Other Products from Harber London
In addition to wallets, Harber London offers a variety of different product lines that promise to be just as high quality. For instance, they have an expansive selection of non-wallet card holders, sleeves for your technology such as a MacBook or an iPhone, bags, and other accessories. In fact, their top three best selling products are the Slim Leather MacBook Sleeve Case, the Slim iPad Pro Stand, and the Leather Bifold Wallet with RFID Protection. From what I've seen on the website, all of these products have a similar look and feel stylistically to the bifold wallet. 
All product names, logos, brands, and trademarks are the property of their respective owners