These AirTag wallets are designed with sturdy, integrated holders so you can always track them down!
AirTags are a convenient way to locate and find nearly anything, and what's more important than keeping track of your wallet? We've reviewed one of the most popular trackable wallets, the Ekster, before.
AirTags though, are convenient and allow you to stay within Apple's own product range, so it's not surprising a lot of people have been asking us what the best AirTag wallets are.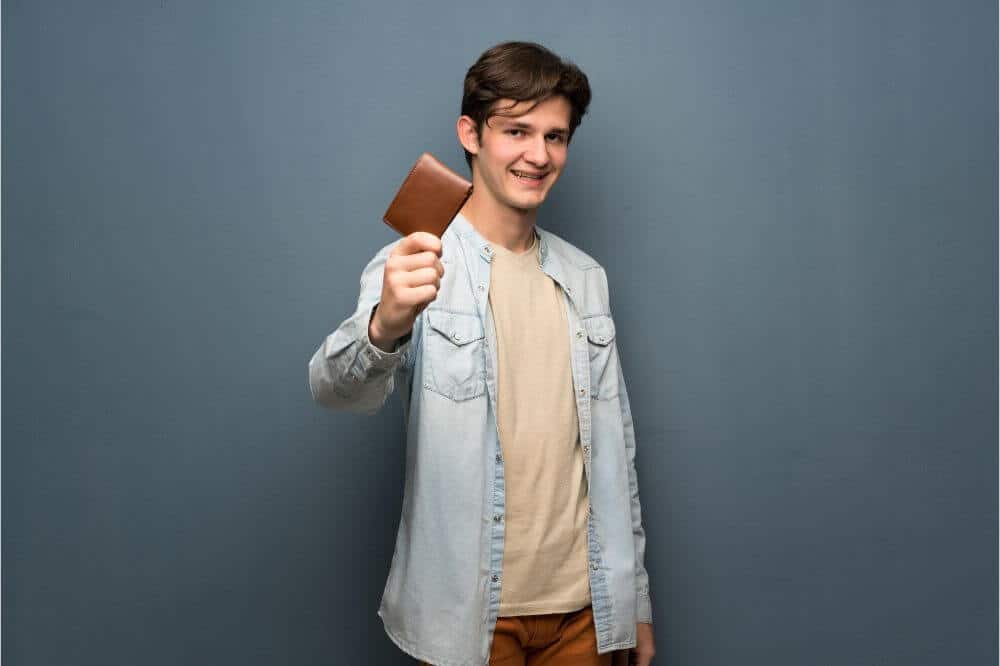 What's more, AirTags themselves are small and easy to misplace or damage during daily use. These AirTag wallets are designed to solve both problems, with sturdy, integrated AirTag holders that keep your tag and wallet secure.
[toc]
Best AirTag Wallets: Reviews
Before we dive in, here's the quick summary:
Features
Loaded with features, carbon fiber construction
Credit-card-sized AirTag case
Slim vegan leather tactical wallet, detachable multi-tool
Classic bi-fold design made of Crazy Horse leather
Slim tactical wallet with secret cash compartment and Airtag band
Slim profile and a large capacity
OK, let's go through those in more detail.
WXM Wallet for Men with AirTag Holder
This AirTag wallet is loaded with features, including carbon fiber construction and RFID blocking
Review
This AirTag wallet for men is ultra-durable, made of carbon fiber and aluminum. The metal body blocks RFID readers, keeping your cards safe and secure while remaining rugged and lightweight. This compact wallet measures just 96x54x11mm, but holds up to 15 credit cards, with a money clip that holds your cash.
The C-shape design makes it easy to access your cards, fanning them open to easily access what you need. The wallet comes with the AirTag holder and 8 screws with a mini screwdriver for easy attachment.
Pros
Slim and lightweight for a tactical wallet
Tough and durable
Securely holds an AirTag and blocks RFID
Cons
The AirTag holder may need frequent tightening/reattachment, which is why it comes with the additional screws and screwdriver
---
Spigen Air Fit Designed for Apple AirTag Wallet Card Case
The Spigen Air Fit is a credit-card-sized AirTag case that makes it easy to slip your AirTag into a wallet (or purse) and take it anywhere
Review
While not precisely a wallet, the Spigen Air Fit is a slim AirTag holder that secures your AirTag and makes it easy to slip inside a wallet, purse, or pocket. It is made of rugged materials that resist scratching, with a two-part construction, so it is easy to slip an AirTag inside.
The strong carabiner attachment also makes it easy to use this AirTag holder in various ways, clipping it to a purse, wallet, or keychain.
Pros
Compact and sturdy AirTag holder
Small enough to fit into a credit card slot in your wallet
Carabiner allows you to securely clip it in place
Cons
Because the AirTag makes the Air Fit thicker than a standard credit card, it may be too thick to use inside some wallet or purse card slots
---
Raptic Tactical Wallet Case for Apple AirTags
This slim tactical wallet has an integrated AirTag holder, is made of premium vegan leather, and comes with a detachable survival multi-tool
Review
The Raptic Tactical Wallet is slim and compact, with storage space for up to 4 credit cards or 2 cards and folded cash. The exterior is premium vegan black leather for great style and a luxurious look. Inside, this wallet has a detachable stainless steel survival multi-tool, perfect for all kinds of emergencies.
The multi-tool includes screwdrivers, a wire cutter, a box or letter opener, a pry bar, a bottle opener, a hex wrench, and a ruler with ¼ inch increments.
The integrated design of this wallet allows you to snap an AirTag in place, access cards and cash, and remove the multi-tool whenever needed.
Pros
Slim and compact AirTag wallet
Included multi-tool is versatile and useful
Vegan leather gives great style
Cons
---
doeboe AirTag Wallet Case
The doeboe AirTag wallet has a classic bi-fold design made of genuine leather, with a secure AirTag holder and guaranteed RFID blocking
Review
The doeboe AirTag wallet is perfect for men who want a classic bifold wallet, with plenty of space for cards and cash, but with a slim profile and an AirTag holder. This wallet has a practical design, with 8 card slots, a transparent window for ID cards, and a bill pocket to hold cash.
Two exterior card slots make it easy to keep your most frequently used cards even more accessible. Unlike old-fashioned wallets, it is also slim and compact, measuring just 4.24×3.02x.4 inches.
The specially designed pocket lets you slide your AirTag securely in place, and the wallet also has RFID blocking technology.
This wallet comes in a range of colors and materials, so you can choose the color that suits you best and choose whether your wallet is made of genuine leather, carbon fiber, or premium Crazy Horse leather, with an authentic vintage look. This wallet is an excellent choice for men or women and comes with an attractive gift box.
Pros
Classic bi-fold wallet design
Choice of colors and premium materials
Slim and compact while securely holding an AirTag
Cons
Genuine leather has a natural smell and should be protected from water and occasionally cleaned with leather cleaner and conditioner to maintain a good condition. Some people prefer a wallet that requires less care
---
Men's Wallet Tactical Bifold Wallet with AirTag Accessory Band
This slim men's tactical wallet blocks RFID with a secret cash compartment and an AirTag band
Review
This men's wallet from Muradin has a classic bifold design, an RFID-blocking frame made of aviation-grade aluminum, and a quality top grain leather exterior for remarkable style.
The design is compact and minimalist, with a slim profile and measuring just 4×3 inches. It has a spring lock that makes it easy to access cards stored inside the wallet and an exterior pocket for your most frequently used card. It also has a clear window for your identification card and a secret compartment that stores cash.
In addition, this wallet comes with a sturdy silicone band that holds your AirTag without loss of storage or functionality, and the wallet is available in different colors and materials. 
Pros
Combination of high-quality aluminum and top grain leather for RFID blocking with style
Sturdy and durable construction
Easy functionality, with a spring lock and exterior pocket
Cons
The AirTag band isn't truly integrated into the wallet's construction, which may be less secure than other designs. However, you can also purchase the AirTag band separately and use it with the wallet of your choice
---
Slim Minimalist AirTag Wallet Holder Case
This AirTag wallet has a slim profile, RFID blocking tech, and a large capacity
Review
This bifold AirTag wallet has a slim profile but plenty of space, with room for 16 cards and two large zippered bill pockets for cash. It is made from high-quality leather, with a secure snap closure that holds an AirTag securely in place.
When folded, measuring 7.67 x 4.33 x .78 inches, this wallet is large enough to hold a phone. It has a transparent window for identification and shields your cards from RFID readers. It comes in your choice of black, blue, or pink
Pros
Slim profile but generous size and storage
High-quality leather material and construction
Blocks RFID and securely holds an AirTag
Cons
No exterior storage and only holds bills folded in the zippered compartment, so the wallet has to be opened for every use
---
Buyer's Guide
When choosing an AirTag wallet, these are the primary features are to look for.
Storage
Most AirTag wallets are small, slim, and easy to carry, which reduces the number of cards and cash you can keep in your wallet at any one time. However, if you carry several cards and more than a few bills, look for an AirTag wallet with the storage capacity you need.
Ease of Access
Most people have just 1-2 cards that they use all the time, and the rest of their cards aren't used daily. AirTag wallets with exterior pockets keep these frequently used cards easily accessible for fast and convenient use.
However, exterior wallet pockets should need to be secure, so look for an AirTag wallet that is well-crafted with high-quality materials – you want the pockets to retain their shape and ability to hold cards securely.
AirTag Security
It goes without saying that an AirTag wallet should hold the AirTag securely in place, without risk of detachment or loss. Every AirTag wallet has a different solution for securing the AirTag, and some are more accessible than others.
If you frequently change wallets, you may want a design that leaves the AirTag more accessible and easily removable. If you don't, you'll want the AirTag and wallet securely integrated.
Conclusion
AirTag wallets are a great way to keep an AirTag securely attached to your wallet so that you can always find it when needed. They come in a wide range of materials and designs for every style and preference.
Our Top Recommendations
Sale
doeboe AirTag Wallet
For people who prefer a traditional wallet style, with a slim profile and secure AirTag integration, the doeboe AirTag wallet is a great choice
Raptic Tactical Wallet
On the other hand, the Raptic Tactical Wallet holds everything you need, an AirTag and a convenient multi-tool for people who like a slim case for carrying just the essentials.
Before You Go …
Like the AirTag but want to look at other options? No worries, we've got you covered! Take a look at other options for wallet tracking in our next article:
Who Makes the Best Wallet Trackers?
Related Articles
Bonus Video
All product names, logos, brands, and trademarks are the property of their respective owners
Last update on 2023-05-18 / Affiliate links / Images from Amazon Product Advertising API