So – are Kanken Backpacks for guys? A few people have asked us this question lately, so we decided to answer it once and for all.
In some ways, this could be the shortest article we've ever published. I mean, really. We could just go, "yes" and move on with our lives. After all, the backpack is described as "unisex" on their website, so that's the end of the discussion, right?
Ah, but…
There's a reason we get asked if guys can wear those oh-so-popular Fjällräven Kanken backpacks, so let's go there shall we? Read on ….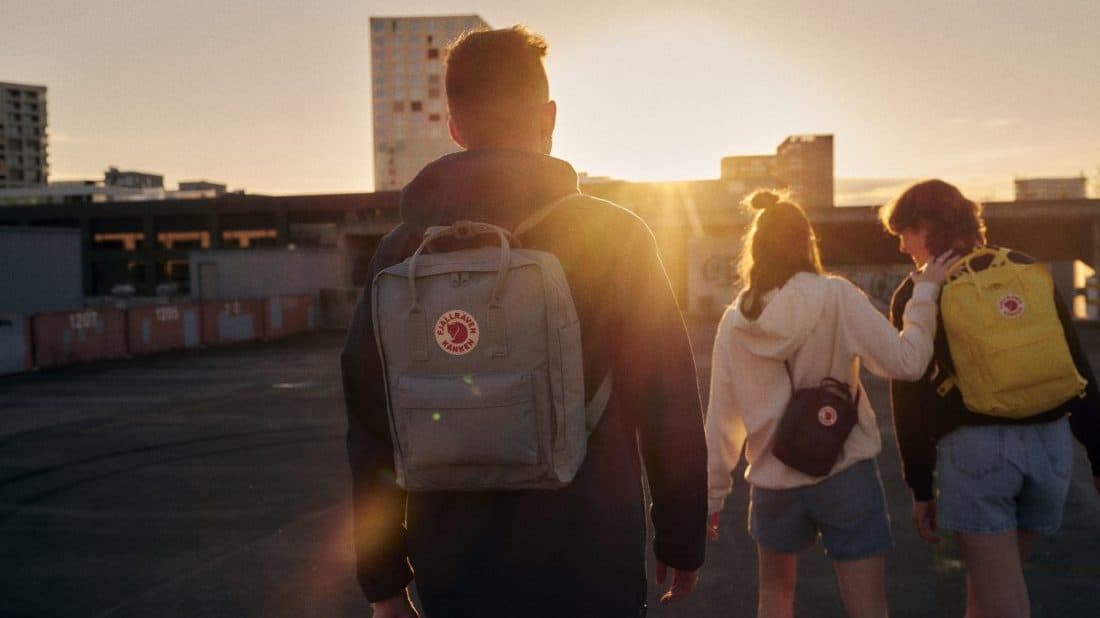 One Minute Recap – The Story of a Crazy-Popular Backpack
Before we go there, let's quickly remind ourselves of the history of the Kanken backpack.
According to the company legend, the story goes like this. In 1978, Ake Nordin (who founded Fjällräven in 1960) saw an article about how schoolchildren were getting sore backs from all the heavy schoolbooks and other stuff they had to carry around. (We can relate to that!). Being a can-do kind of guy, he decided to do something about it.
This is the man who started it all. The first product that the company made? A backpack. Naturally.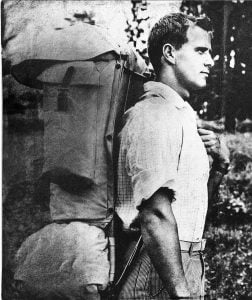 The story goes that the Kanken was developed initially for those schoolkids to help carry their stuff more comfortably. The backpacks had reinforced padding where they press into your back (they call that a "seat pad"), as well as extra padding on the shoulder straps.
This was so successful that the range was later expanded to add adult sizes and a wide range of colors. Its popularity has only continued to grow in leaps and bounds since then.
In fact, in their native Sweden, this backpack style is pretty ubiquitous and worn regularly by kids and grown-ups, boys and girls alike. (Ed: insert a picture of lots of happy Swedes wearing Kankens. Bonus points if the men look like Thor)
So why the question then? Why do some U.S. readers have the impression that the Kanken is primarily a girl's backpack?
Blame Instagram
Ah, there we go.
It's not a huge mystery, There are a LOT of images of the Kanken backpack all over Insta. Why? Because its an instantly-recognizable shape (a little different from the average backpack out there), and of course, it comes in a wide range of colors and sizes.
So if you're a budding social media influencer and you're looking for a "cute" little backpack in "adorable" colors that will jump out as a statement piece in your feed then this is a very understandable choice, you can easily find something to fit your brand.
So, Are Kanken Backpacks For Guys?
Well, duh! The whole point of the wide range of colors and sizes is that they are meant to be for everyone, so of course guys can wear a Kanken backpack. Take a look at this beauty for instance:
See? Man-sized! Manly olive color! Manly leather features (Ed: are we laying this on a bit thick here?)
This is a Kanken backpack designed for a 15″ laptop. It has an interior pocket for the laptop as well as the standard reinforced shoulder straps and "seat pad" for comfort. It also comes in a completely black edition. This is a great choice for a laptop bag. (Note: we recommended the 17″ version earlier in our list of backpacks for grad school.)
Think about all those schoolkids, happy that their developing spines are not being ruined by heavy book bags. Now apply that to you lugging around your laptop.
Get it? Of course you do. Great bags – and yes, they are for guys and gals alike. Enjoy!
Before You Go…
Is your Kanken backpack getting a little, … ripe? Need to clean it, but not sure how to do that safely? No worries, we've got you covered. Check out our next article!
How To (Safely!) Clean a Kanken Backpack
Related Articles
FAQ
What does "Fjällräven" mean?
It means "Arctic Fox" in Swedish. That's also what Swedish people call outdoors-y adventurous types
What is the Fjällräven logo?
Its an Arctic Fox (from the name of the company)
What does "Kanken" mean?
It means "to carry" in Swedish
Are Kånken Backpacks For Adults?
Yes. The Kanken was developed initially to help schoolchildren carry their stuff more comfortably with reinforced padding where they press into your back. This was so successful that the range was later expanded to add adult sizes and a wide range of colors
Images provided courtesy of the Fjällräven press room
All product names, logos, brands, and trademarks are the property of their respective owners