Kings Loot wallets have been on a roll lately (well, at least – we keep seeing them everywhere), which is all the more impressive given they only got started in 2019.
We're going to take a look at two of their offerings – the best-selling Hybrid, and the minimalist slim Traveler card-carrier. How do they stack up?
Let's get started!
Kings Loot Wallets
Kings Loot wallets started with a small range, but have expanded quickly to cover a variety of wallet designs, as well as accessories.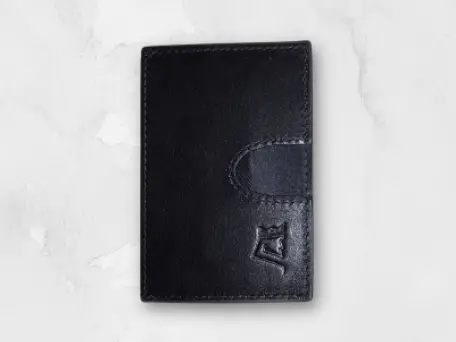 We've decided to cover what we see as the most versatile option (the Hybrid, which boasts a money clip, ID Holder, and lots of carrying capacity), and the one that we feel would fit best in our list of minimalist wallets, the card-holder sized Traveler.
The Hybrid
The Hybrid was one of the first designs that came out of the initial brainstorming and sewing-machine prototypes (more on that later) for the Kings Loot range.
And boy, did they hit a home run with this one.
The Hybrid design is by far their most popular product, and a best-seller across a range of colors.
It's clear a lot of thought went into how people would actually use this wallet.
For example, everyone has a few cards they use regularly, and a few carried for emergencies (health insurance, say). So there are two main compartments for cards – one for the most commonly-used cards, immediately accessible with a thumb-slider:
Then the other compartment for the second-tier cards is accessed through a pull-tab:
In addition to the card slots, this wallet features an ID holder (with another thumb-slider, naturally) and a money clip for holding bills.
For such a slim design (assuming you don't overload it), this wallet packs quite the punch. Heck, it even comes with RFID protection.
Specifications:
Dimensions: 0.5 x 3.9 x 2.75 inches
Capacity: 1-12 cards, up to 15 bills
Money Clip: Yes
RFID Protection: Yes
What we like: Hugely versatile, while still remaining slim enough for front-pocket carry
What we don't like: The orientation of the external card pocket is odd. It feels "upside down" relative to how you open the wallet to get at bills.
The Traveler
The Traveler is one of a few designs from the Kings Loot range that fit more into the realm of "minimalist card holder".
Made from full-grain leather, this little number boasts a few extras that take it just that little bit beyond minimalist though.
For instance, the card holder on one side is a nice addition to the classic small card-holder design. It has a thumb slider to facilitate easy removal (when was the last time anyone let you just show an ID, not hand it over?)
Instead of a set of small pockets, this wallet takes the pull-up tab approach which allows you to fan out your cards and pull the one you need.
Similar to an ejector wallet, but with less likelihood of a jammed trigger mechanism.
This wallet adds a metal money clip on the reverse side, which is a nice feature that you'll find in a lot of metal card-holders, somewhat less often in a leather model.
This feature probably lifts it out of being a pure minimalist wallet, but it's certainly a very small, slim front-pocket carry.
Specifications:
Dimensions: 0.3 x 3.9 x 2.75 inches
Capacity: 1-8 cards, up to 15 bills
Money Clip: Yes
RFID Protection: Yes
What we like: Very slim, minimal (if not quite fully minimalist)wallet with more features than you're expect from a card holder
What we don't like: Not clear how well the money clip holds up over time, some users have had issues with it loosening
The One-Minute Kings Loot Story
Kings Loot started back in 2019 with Joshua and his wife Jessica putting their life savings into the business. You can read more on their story here, its a story that will be familiar to anyone who's had an idea for a product that they just couldn't let go of.
From the early prototypes made on a sewing machine from Hobby Lobby, to suddenly (like so many of us) having to pivot in 2020 to remote work and ecommerce in order to keep the company alive, this is a story of grit and determination.
And a desire to produce great products.
Lifetime Support
You can tell a lot from how a product is supported after a sale is made.
Kings Loot's position is that they want lifetime customers, not one-off transactions. They offer lifetime replacement on their wallets.
What does that mean?
It means you pay for shipping and handling, but not for the replacement. So if your wallet is damaged, or worn out in any way, no matter who's fault it is, they will send a replacement at no extra charge.
They even have a skip-the-wait option where they will send the replacement before even receiving the old one.
Growth
The approach seems to have worked. From the early days of farmer's markets and working out of a garage (hey, Apple started in a garage – it's almost a rite of passage) they've now reached the point of building out a dedicated fulfillment center and adding new product lines.
Speaking of new product lines, the product range is impressive for such a young company.
From phone cases to backpacks and accessories, they've kept their focus on high-end leather goods, all broadly around the "everyday carry" theme (we know a little something about that …)
We'll be back with a look at some of their other products in a later update.
Our Verdict
All the Kings Loot designs feature premium high-end leather, robust stitching, and a view to creating something that will last.
They're not an inexpensive option, but like so many things in life, you get what you pay for. We feel these products are reasonably-priced given the quality of the materials, the quality of the workmanship, and the lifetime replacement they offer.
But which one would we choose? Drum roll, please…..
We like the Traveler a lot, and it's a great option for anyone on the lookout for a great card holder.
But we came to the same conclusion the majority of buyers have, namely that the Hybrid is a well-made, hugely versatile wallet, that is also slim and minimalist-inspired.
Kings Loot Hybrid Full Grain Leather Wallet
Has a slim, lightweight design for front-pocket carry
Designed for ease of use with thumb slides and a pull-tab
The money clip adds that extra touch that takes this over the top for us
This might just live up to the tagline The Last Wallet You'll Own
Before You Go…
If you're interested in minimalism, have we got the article for you! Check out our mega list of minimalist wallets in our next article:
The HUGE list of Minimalist Wallets!
Related Articles
Bonus Video!
All product names, logos, brands, and trademarks are the property of their respective owners
Last update on 2023-09-17 / Affiliate links / Images from Amazon Product Advertising API