Haxford is a relatively new company that produces a range of high-quality and affordable leather products. The brand's aim is that great leather should be accessible to the public and should not cost a fortune.
They manufacture phone cases, watchbands, and wallets, though it would be fair to say that, with the Haxford Wallet as their most well-known product, they are primarily known as a wallet brand. The wallets are generally minimal in design, and functionality is a priority as well. We took a look at their slider wallet to see if it met the hype.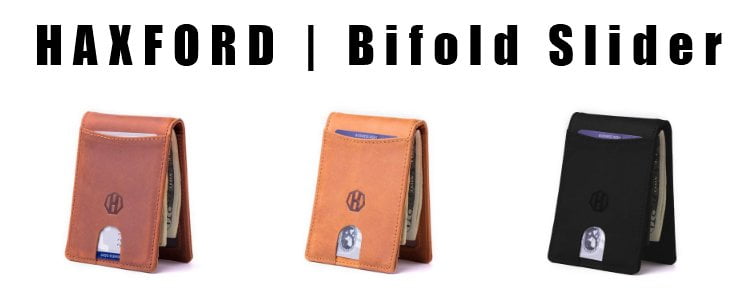 Haxford Bifold Slider Wallet
Using the Haxford Bifold Slider wallet has generally been easy and straightforward. The wallet is well-made, and the leather feels soft and supple. The following is a summary of our thoughts on the wallet, as well as some possible alternatives that offer more or less the same features. 
Features
Haxford's Bifold Slider wallet is minimal and light but can still hold up to around 10 cards. It also features a pull tab for cards that you frequently use to allow ease of access. The slimness of the wallet means you can easily store it either in your front or back pocket. Also, the wallet is designed to include RFID blocking, which is potentially an essential feature for those concerned about security and privacy.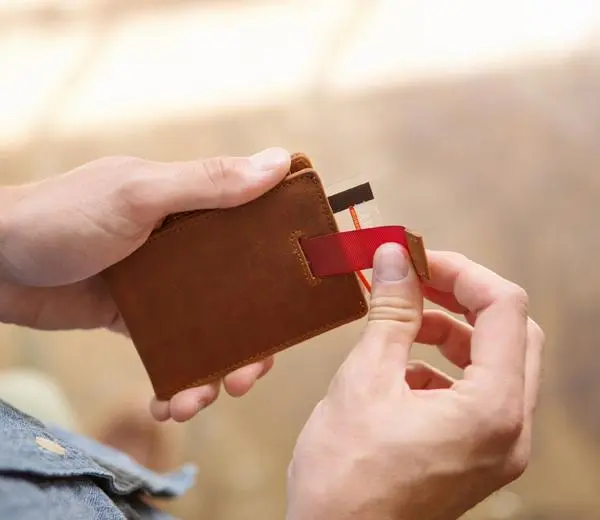 The wallet also has an ID slot, where you might choose to keep a driver's license or another form of ID for ease of access. 
Size/Dimensions
The dimensions of the wallet are 4.1" x 2.9," and it weighs around 3oz. We consider this wallet to be on the slimmer and lighter side compared to many other leather wallets on the market, which are generally somewhat bulky, especially once you begin to store your cards in them. 
Material and Colors
The wallet we received from Haxford was made of "Crazy Horse" leather in black. This is a type of leather that the manufacturer treats with wax, which helps protect it from damage and aging over time. Crazy Horse leather is generally both soft and durable, and the Haxford wallet is no exception here.
In addition to black, Haxford's Bifold Slider wallet is also available in two shades of brown: copper and caramel (pictured). 
Durability
It can be tricky to comment on the overall durability of a wallet without using it for an extended period and seeing how it holds up to different types of use and intensity. However, thus far, we feel that the wallet has been durable and aged nicely. Rather than showing any signs of wear and tear, the wallet has softened up slightly, which one would expect of good leather as it breaks in and ages. 
Haxford makes its Bifold Slider wallets from Crazy Horse leather. As we have previously mentioned, this type of leather tends to last a very long time and ages well, due in part to the wax that is applied to it and that it is high-quality leather in general. We, therefore, expect that this wallet should be very durable and continue to stand up well to use over time. 
Overall Usefulness
We feel overall that the design of the Haxford wallet is practical and that the wallet is easy to use. Several of the features make it very straightforward to access your most essential cards. Instead of having to open the wallet and rummage through it to find them, you can store the most used cards in a special sliding compartment.
It was especially useful to have the ID slot to store a driver's license, as it made it very easy to find the card when asked for your identification. The wallet is light and compact, which also makes it easy and convenient to carry around with you. 
---
Alternatives to the Haxford Bifold 
While we were overall impressed with Haxford's Bifold Slider wallet, it's not the only such wallet out there. We have tried several different bifold / slider wallets, and feel comfortable recommending a few alternatives, which we think offer similar benefits and ease of use.
These include the following:
Serman's Blocking Slim Bifold Wallet
The Serman wallet is a possible alternative to the Haxford Bifold Slider. One advantage of the Serman is that it is available in a much wider variety of colors. The appearance of the leather is also more "natural" than that of the Haxford, which some may prefer if looking for a more classic wallet. However, this wallet is quite a bit bulkier than Haxford's.   
---
Andar Leather Slim Bifold Wallet
This offering is perhaps closer in design to the Haxford wallet. The wallet is very slim and minimalist in design and is made from high-quality leather. However, this wallet is a good deal more expensive than Haxford's. 
---
RUNBOX Minimalist Slim Wallet
RUNBOX's minimalist slim wallet is more of a conventional wallet design than some of the other bifold wallets. Like the Serman, it also has a greater variety of colors available than the Haxford. However, it is a good deal bulkier than the Haxford wallet. This does help it feel sturdy but maybe a little on the larger side for people looking for a genuinely minimal wallet. 
---
Summary
We hope some of the above advice can help you choose the perfect wallet for you. On the whole, we were happy with our experience with the Haxford Bifold Slim wallet. The wallet is well-made and easy to use. Its leather is high-quality, soft, and durable. We expect that the wallet would age well and last for quite a long time and that it would be unlikely to degrade quickly or damage easily. 
The wallet has a number of features that make it an excellent choice for wallet users from a variety of different backgrounds. We especially like the emphasis placed on convenience and practicality by Haxford, though the wallet is also beautiful and elegant. All in all, we would comfortably recommend this wallet to potential buyers. We consider it to be a great addition to the market. 
All product names, logos, brands, and trademarks are the property of their respective owners